Fungi Couture : Capsule Collection 2019#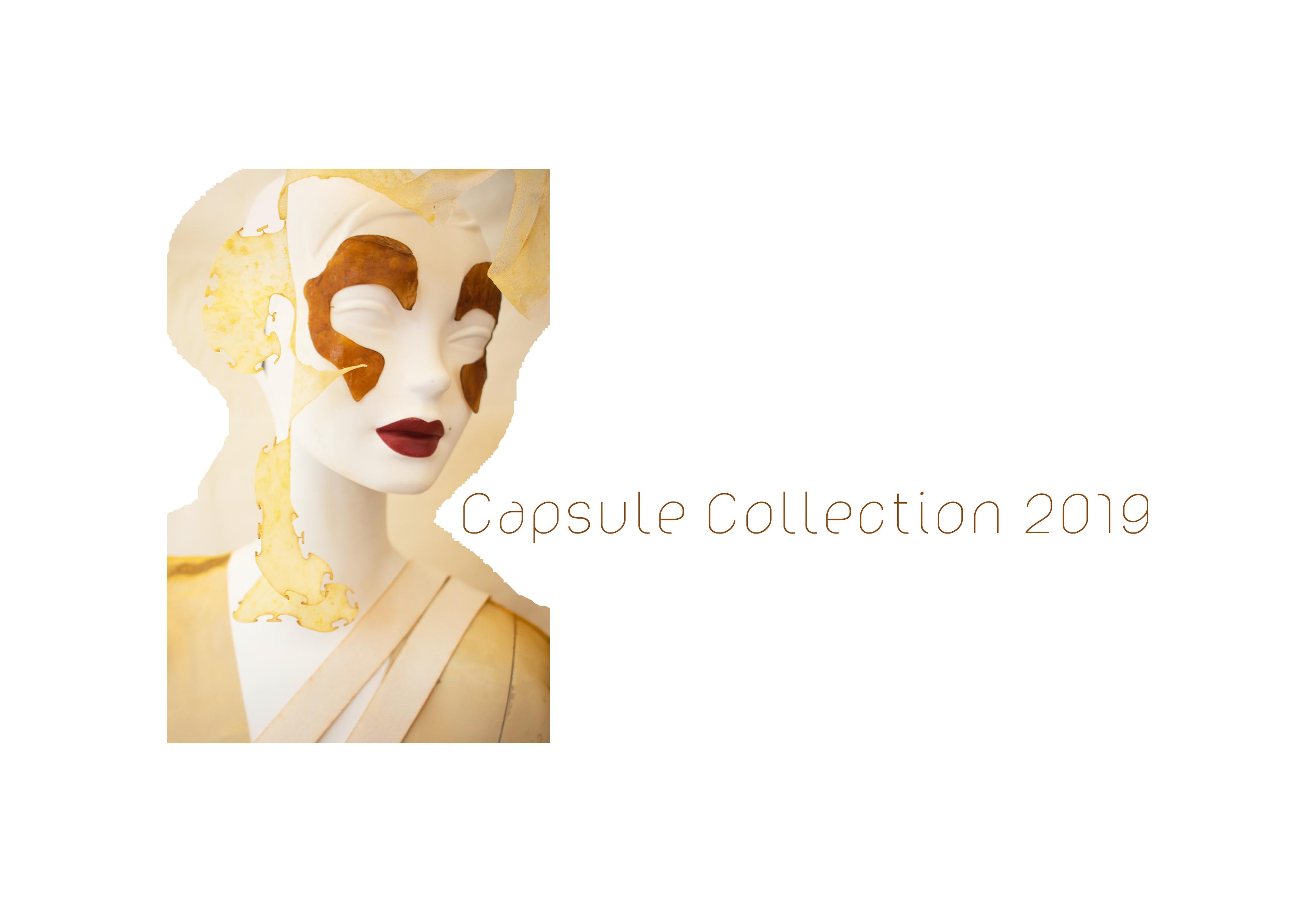 For Fabricademy 2019 :
I went on exploring the given possiblities to make a small collection of garments by using parts of the knowledge and techniques taught at the TextileLab course. Together with what inspires my creativity and designs I created Fungi Couture !
Fungi Couture : Storytelling#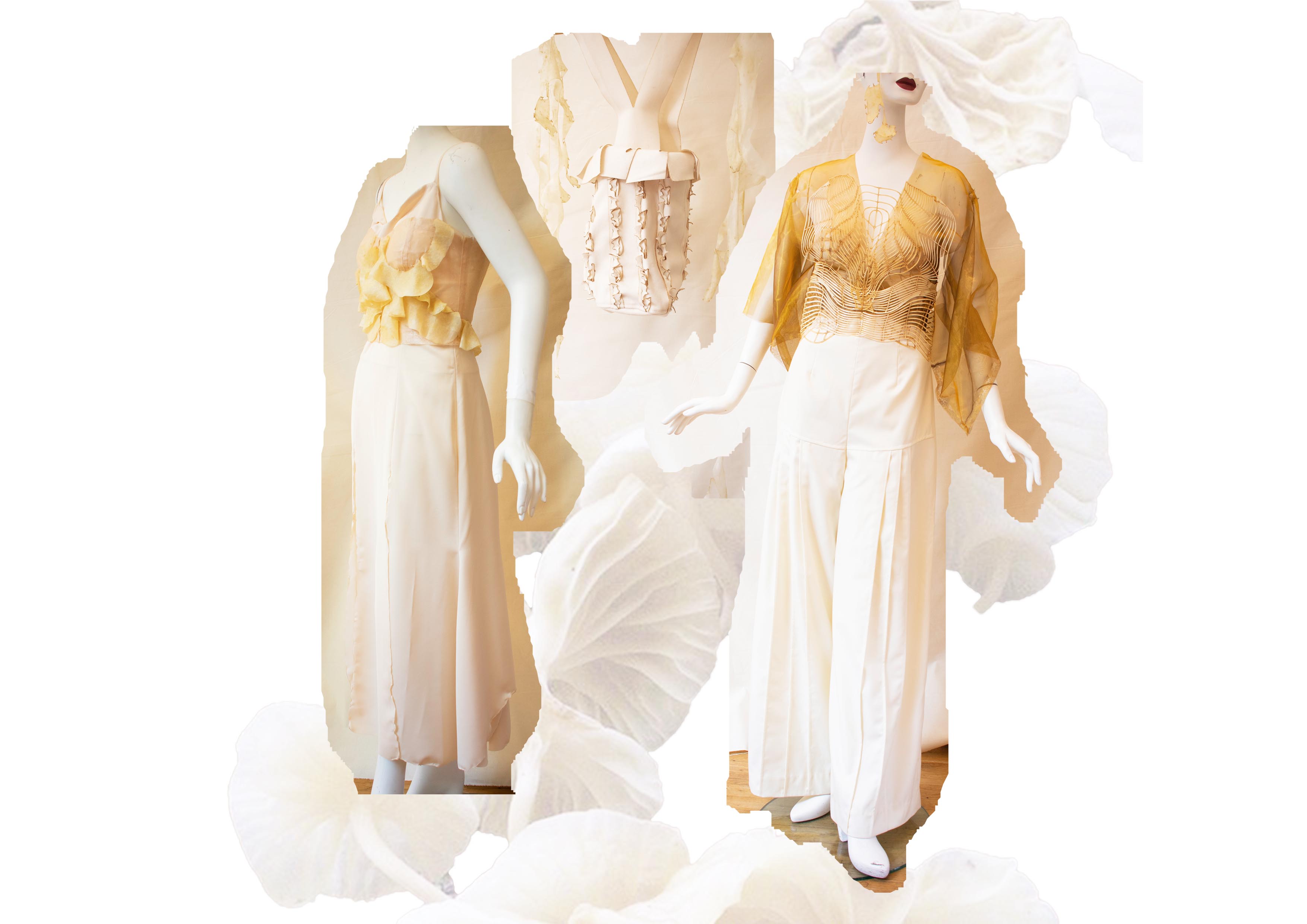 Fungi Couture is a digital- and bio- fabricated clothing collection, that took inspiration from the fungi kingdom by mimicing aesthetics - texture - design.
Fungi Couture went on researching in digital fabrication methods to decode the aesthetics and propreties of mushrooms and translate them into garments. Focusing on techniques and possibilities given by digital- and computational design created new perception and perspective of 'pattern making' and 'pattern manipulation'.
All of the collection was made around sustainable approaches, either by biofabricated materials or second-hand - low impact fabrics for the garments.
Fungi Couture wants to prove the possibilities of creating a wearable and aesthetically pleasing collection fabricated in digital-,computational-, and sustainable ways. 2.0 Fashion is here !
Brief Process#
For more detailed informations on the process I invite you to check out my documentation here : Process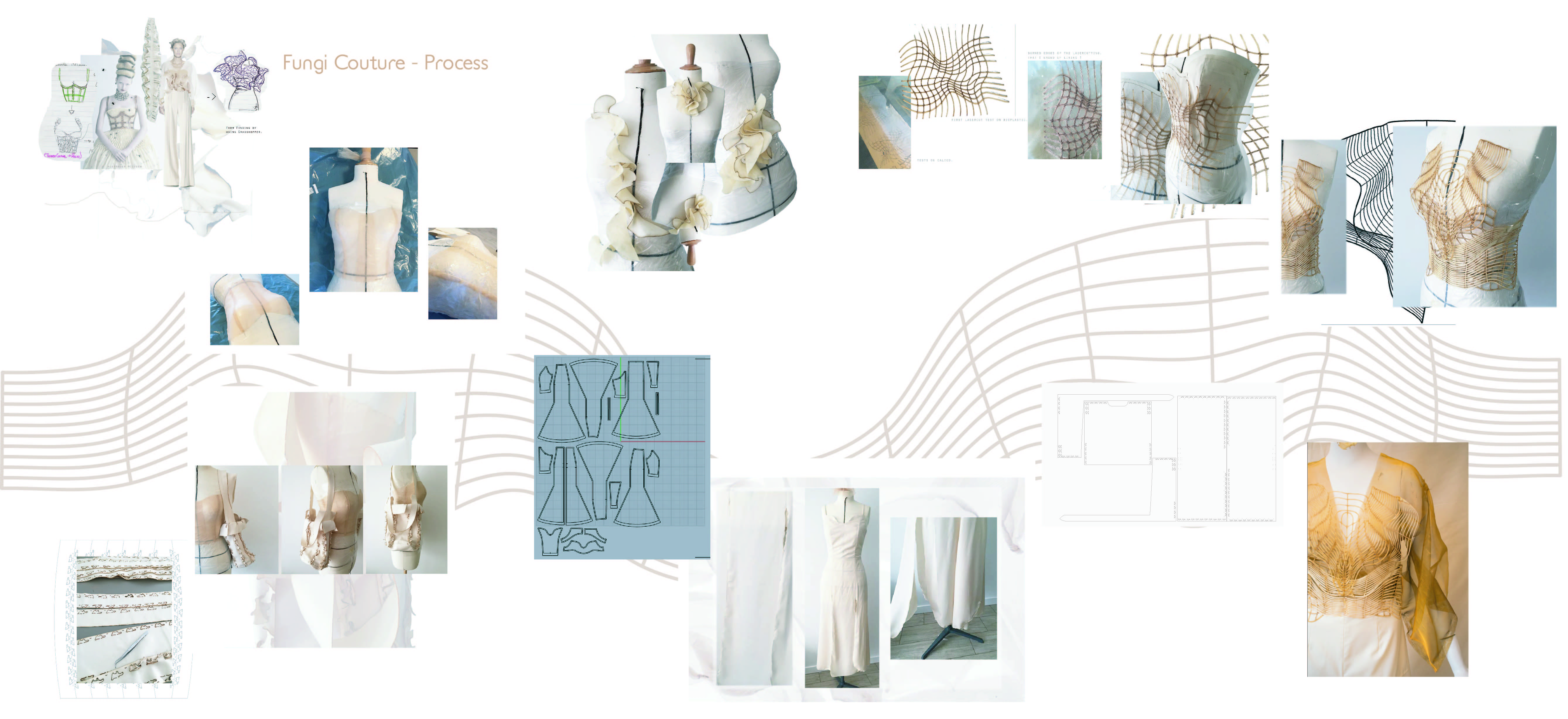 I started researching with bioplastics that include essential oils for aroma diffusions and potential absorbtion by the skin, that could be beneficial. I tried to work with the bioresin and agar-foil recipes in order to obtain a good formula of bioplastic to use as a 'fabric'. So I included several layers of tulle where I pourred the warm liquid on. I also included some beeswax in some recipes to test and rigidify the formulas, but it got too hard, at least on the bioresin..
-
Starting to drape some of the lasercutted bioplastic pieces to create fungus-like shapes/effects on the mannequin.. Next I researched on computational form finding for the mushroom designs and two of the garments that I'd like to have an interlocking assembling system.. I'm gonna do some exercises on Grasshopper and illustrator and did some tests. End of Fabruary : I started to do visual researching on my 'MakeHuman'-model in Rhino3D to see how I could play with the 'game of distorted lines'. And I was thinking to go for a 3D printed corset as my next design. So I modeled a few things still on Rhino again on my 'MakeHuman'. Next, I tried out patterns in 3D modeled examples, generated by Grasshopper. Like so :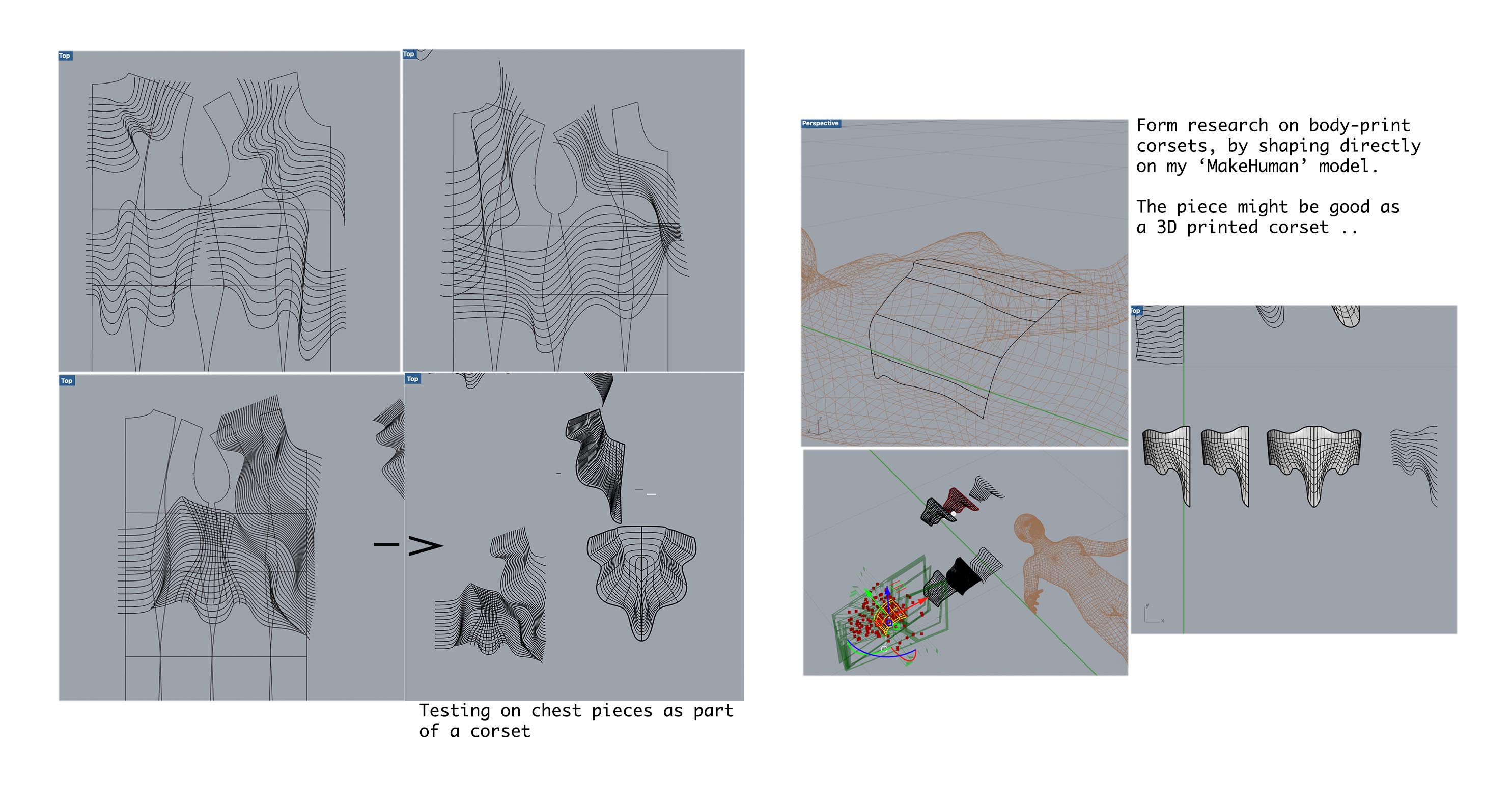 The Collection#
Fungi Couture is here to help us to take the first steps into changing this industry : How to truly embed the digital fabrication revolution into the Fashion field.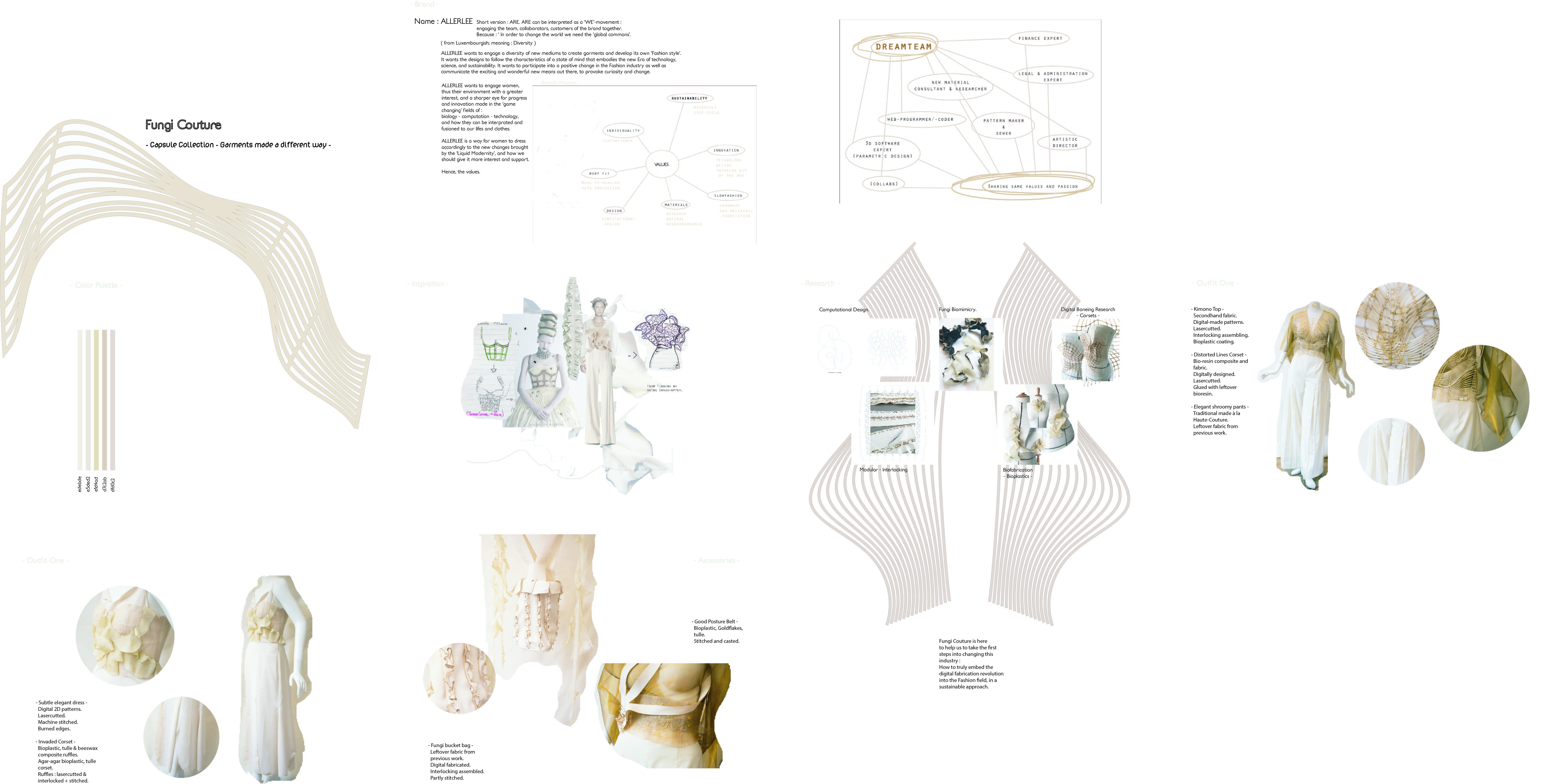 Shooting#
( coming soon )
Behind the scenes#
Out of curiousity Irene and I couldn't to try on our products once they were finished !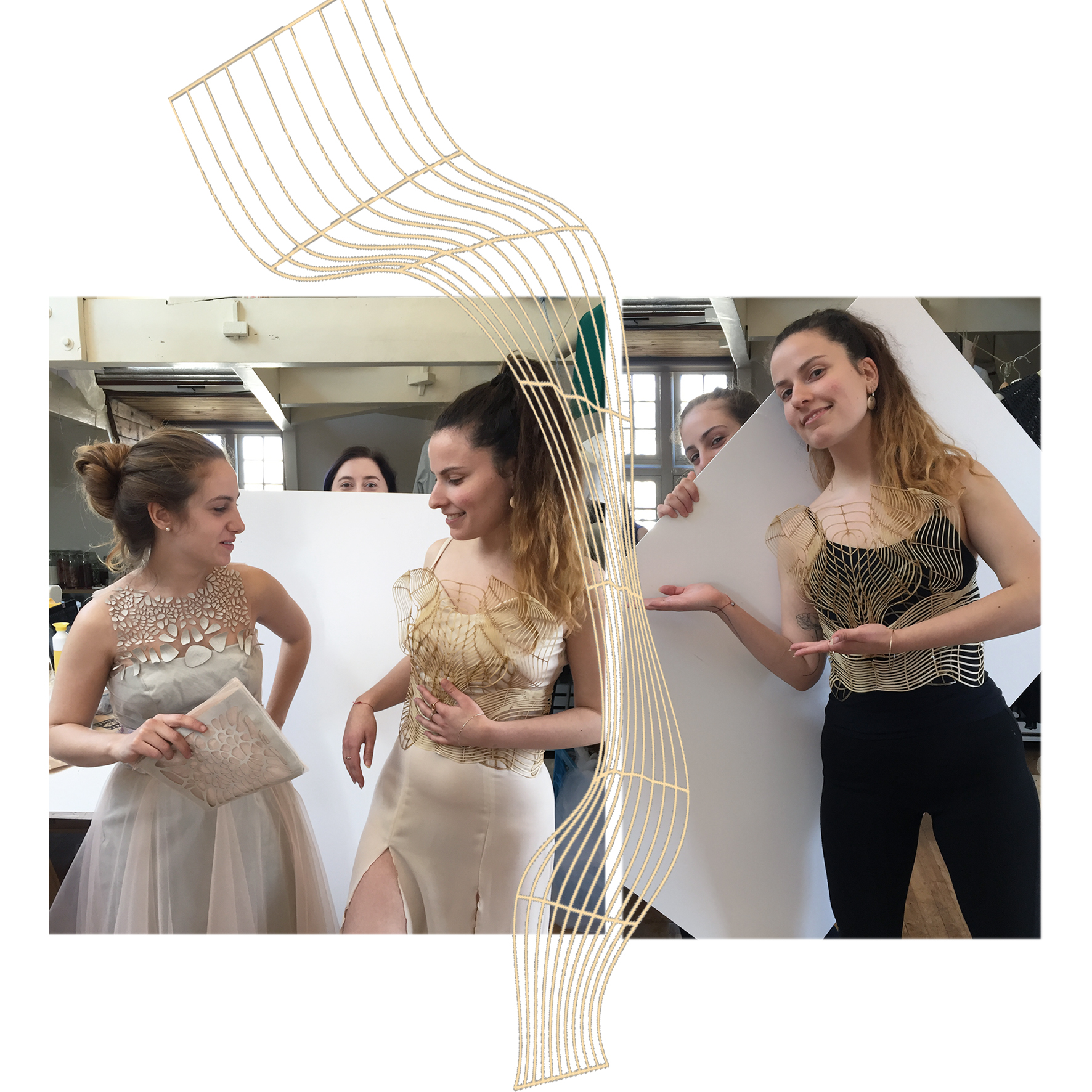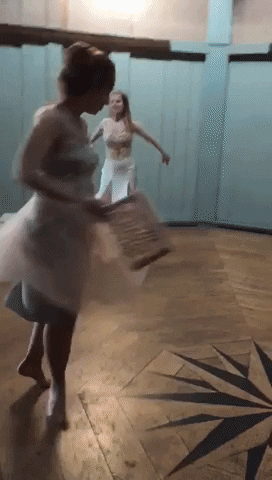 Personal conclusion#
First of all, I had a lot of fun during the whole process and making of this capsule collection. I enjoyed the moments with all the Fabricademers and I laughed, especially, a lot with Irene, Jessica and Cecilia.
Second of all, the project was a great opportunity to figure out my own way of garment-making using digital- and bio-fabrication. Researching on new materials while combining bioplastics and fabrics was a new challenge and I think it has much potential ! Using leftover fabrics casted with bio-liquids is very interesting to create new textures, aspects and new material properties..
Finally, I would like to continue that approach towards sustainable fashion and textile. I want to learn even more about biomaterials and as a future goal : create a clothing brand using those materials and rethink design and our relationship to fabric and clothes.
Thank you!#
I'd like to thank the Waag people, the Fabricademy coordination, my new friends and students of Fabricademy 2018/19 for this amazing experience and awesome memories! I hope to see them all again in the future and can't wait to go for my next adventures :)
Léif Gréiss
Stéphanie