Hello World¶
On this website you can follow my trials and errors for the next months of Fabricademy 2022 / 23.
I guess it will be a challenge for me to work on the documentation in a focused way as a self-employed person with many other important projects running in parallel. I tend to be a perfectionist and I hope that I will also experience mild & kind moments with myself.
It might happen that the style, layout and the graphic content will be replaced from time to time by a "better solution".
About¶
I am Nicole Kiersz, an artist and textile designer based in Hamburg. If it comes to my family name: I have Polish roots and experienced various versions of pronouncations and spellings. So don't worry if you spell it wrong - I am used to it.
My work is affected by the interest in anthropological, ethnological, sociological, botanical researches and experimental material studies. My main focus is to transform knowledge, emotions and observations in visual, poetic and haptic experiences mainly by weaving or any related techniques to textiles. My work appears from small to big, in cumulations and one of a kinds.
I offer customised work, assistance and consulting for textile solutions either in aesthetics or technical matters in woven fabrics. Beside I have experience in teaching and currently I am very busy in establishing the HALL 4 CRCLRTY - open lab for circular textiles with my colleague Sarah Prien.
If you want to explore more visit my website
My Work¶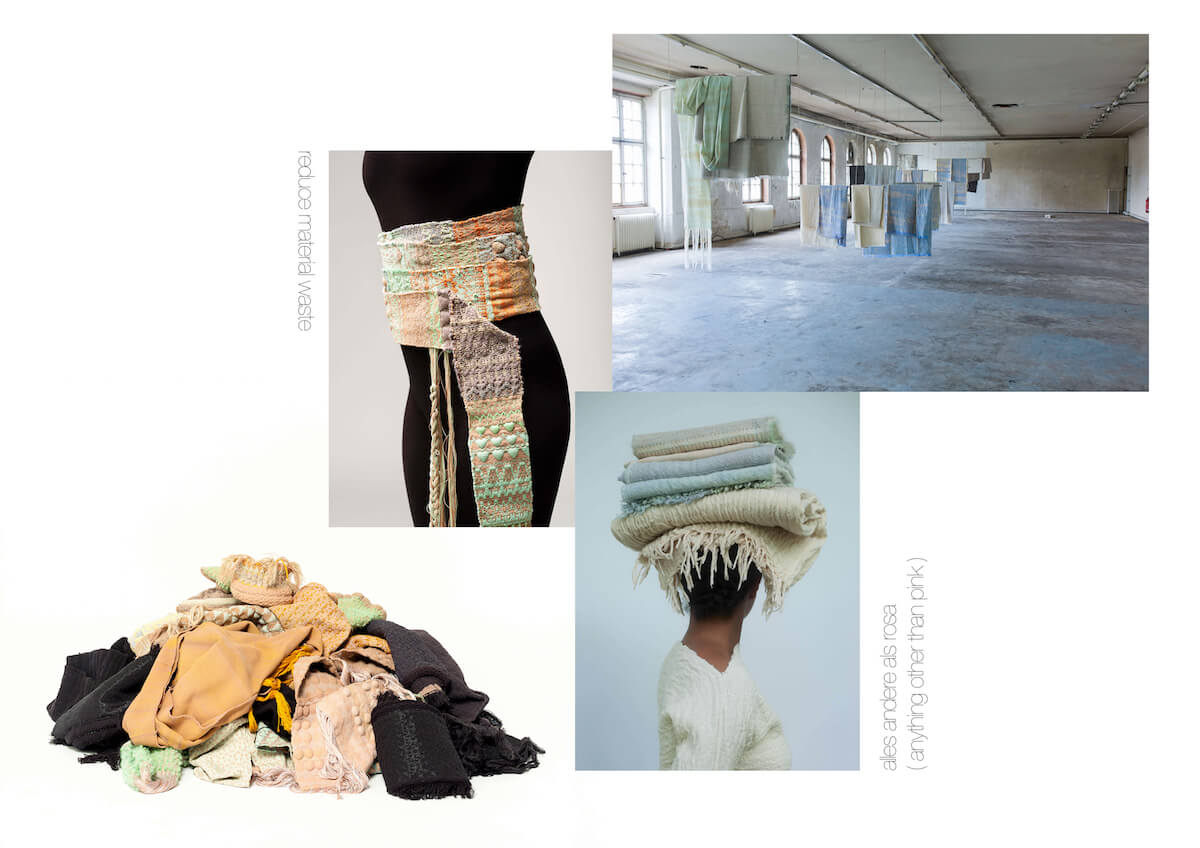 sheer tights, profane pieces of clothing with a high tendency to ladder, are reprocessed into fabric together with other materials. innovative textile designs emerge: robust and sophisticated double weaves, tube weaves, but also simple weaves for application in fashion and product design. only at second glance the sheer tights can be detected in the weaves and ensure a moment of surprise. the motivation is to reduce textile waste, so-called pre and post-consumer waste, and to upcycle intelligently. the sheer tights woven into the weft originate from a promising collaboration with a clothing bank in hamburg Kleiderkammer Wilhelmsburg that developed in the course of the bachelor thesis. this project was distinguished with the Bavarian State Award for Young Designers 2014.
*anything other than pink is a project that explores the basic human need for geborgenheit. geborgenheit is a german word which has no accurate translation in other languages. the nearest translation might be security or a description of feelings related to warmth and wellbeing. the experimental approach was the translation of the feeling geborgenheit into unique textiles with the technique of dyeing and weaving. geborgenheit is necessary to deal with stressful situations and appears through individual rituals or situations that were experienced in each individual childhood. one personal and individual association and helping moment to feel good is my preference to choose the colour pink. this association ties in with a succinct childhood memory: spending summer holidays and my grandmothers' place which had a pink bathroom. as the ability to call up the feeling of geborgenheit is experienced since the early age - the preference in pink and its justifcation in it. beside it is told or tried to proof that pink has a calming effect on stressed humans.
the technical aim in textile was to search for an individual pink-recipe that can be used to dye the weaving material. but it was not easy to do so. the result was anything other than pink and lead to the concept of the open-ended research strategy. although pink is not visible in the woven pieces and blue is dominating,it is possible to feel the idea of pink.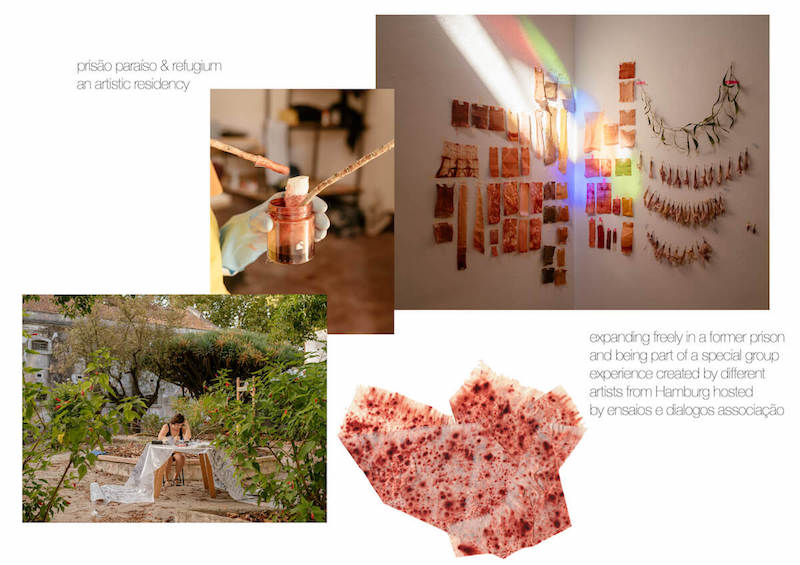 thanks to the project of gatomorto and EDA the empty prison in Trafaria was open to be transformed into an artists paradise. from August to September 2018 different artists in different terms and constellations was given the chance to live, work and experience a very special community life in between the walls of an ancient prison. during the weeks an ephemeral infrastructure was build for daily needs like constructing beds for shared bedrooms, establishing a shower and improving the kitchen. all happened in the wood workshop of gatomorto with skilled craftmanship and with lots of imagination. beside working on the infrastructure it was possible to the think about a future use of the prison which is still uncertain. In 2019 a new round was initiated to host ten multidisciplinary artists from Hamburg.
as specialised in weaving it was a challenge to work without a loom so I started to collect and archive the colours of the prison and the neighbourhood around with the method of archiving via scanning in 2018. colour was also found in the kitchen while cooking and a method was established to experiment with peels from beetroots and onion skins. in parallel I worked on a botanical installation with lost and found plants from and around the prison area. In 2019 the residency was allowed to take part in the historical and protected part of the prison. So I was able to harvest resin from the 50-60 years old dragon trees that led to a various reddish colour range. The samples were made on pre-mordant natural fiber material like silk, wool and cotton. Furthermore handmade paper, rice paper and thai cigarette paper was used.
finding out the approximate age of the dragon trees happend by a coincidence. A former prisoner came by the gate and entered the building. He did a tour around and gave a clarification about the space, his experiences as a prisoner and the garden. He left telling us that the prison is a good place with good energy - he preferred to be a prisoner than serving the military during the authoritarian regime. On the 25th of April 1974 the military coup characterised by red carnations overthrew the regime.
Schirm (engl. umbrella): an utilitarian object intended to protect against weather influences.
Strauch (engl. shrub or bush): a form of growth of plants (...) they do not have a stem as their main axis, but form regular stems from buds close to the ground.
Schirm & Strauch : a construction with a protective effect, e.g. in the appearance of a textile, which lingers in the room or on the body. But also a duo that conducts textile research based on regional raw materials sheep & alpaca wool.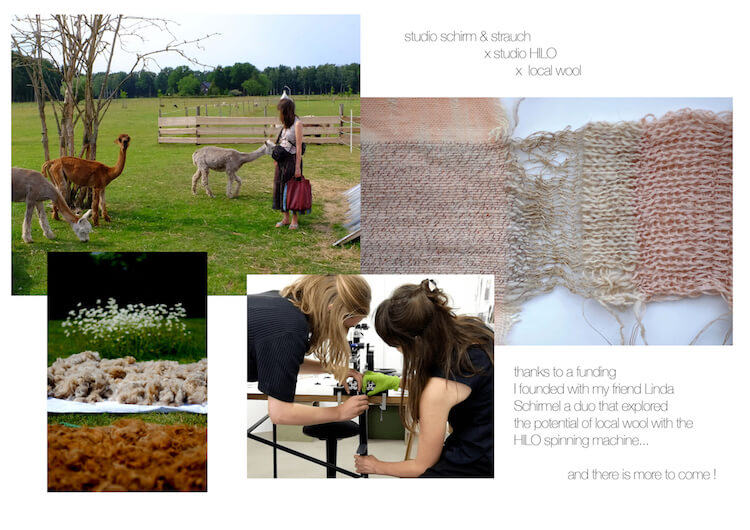 To what extent are we detached from traditional yarn production and "spoiled" by industrial standards?
Finding answers is not easy, observing is an activity that seems all the more important to us. That's why we recorded the working process in a short film, while the haptic results in the form of textile experiments (woven and knitted) form the cornerstone of Schirm & Strauch's ar- chive and collaboration. We dared to experiment with the technical combination of fabric and knitwear, and the result is surfaces that have the potential to grow and nestle around bodies as well as objects. They are soft, elastic, dense and radiate a certain calm through their natural colouring. They are as different and individual as the sheep and alpacas with whose fibres we work and were allowed to embark on a sensual journey.
Photo Credits¶
About me: Vera Drebusch
My Work: David Reimann, Tillmann Engel, Louisa Boeszoermeny
Prisão Paraíso: Philipp Meuser, Nicole Kiersz
Studio Schirm & Strauch x Studio HILO x local wool: Studio Schirm & Strauch
Status Quo: Nicole Kiersz
---
Last update: 2022-09-22