नमस्कार 🙏#
About me#
Myself Harshada raut from Vigyan Ashram, pabal doing fabricademy from ZIOS MAKERSPACE, Chandigarh.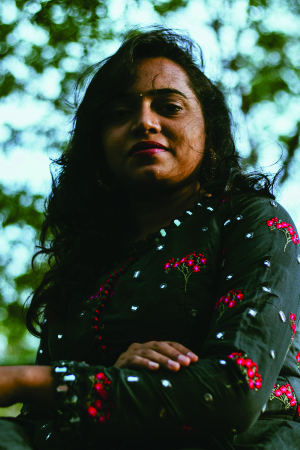 Born and raise in beautiful India. Basically i'm student of commerce faculty but i'm passionate about art,designing,creativity in sustainable things. Initially,i was designing Indian cultural dresses & doing sustainable fashion. Vigyan Ashram gave me opportunity to start my textile journey. I want to learn more about textile & so much interesting in biotextile. I want to use knowledge gain from this course to create something useful or helpful for people with disability.
Hopefully, i will learn a lot and be able to apply it & figure out more about what i want to specifically do in textile world.
Skill and training#
Textile design:- Surface texture in fabric, CNC machine embroidery, weaving, knitting, sewing, mapping, quilting and crochet.
Software:- corel draw, 123d design, photoshop, fushion360, sketch up, etc.
Other interesting skills:- drawing, painting and sketching.
my previous work#
This is my personal blog link of my previous work.
link:-sewembro sustainfashion
BEAUTIFUL THINGS COME TOGETHER AT ONE STITCH....

Fabricademy by Harshada raut is licensed under a Creative Commons Attribution 4.0 International License.
Based on a work at https://class.textile-academy.org/.
Permissions beyond the scope of this license may be available at http://vigyanashram.com/.