Home
It is no measure of health to be well adjusted to a profoundly sick society. Krishnamurti
ABOUT ME
Hola! my name is Trinidad G. Machuca and I'm from south of Mexico. After I finished my Architecture degree I studied my master in IAAC Barcelona, Institute of Advanced Architecture of Catalonia. Speaker at TEDx Cancun 2016. In 2017 I studied my Fab academy at Fab Lab Barcelona, where i did for my final project a new way of interaction through a wearable that reacts with soft robotics technologies. Also I'm the Co-founder of the Fab Lab Maya .
I'm currently working in social projects with local handcrafters, educational programs around the mayan villages through our Fab Lab Movil and pushing the entreprenour tech community with all the tools that digital fabrication can offer. I'm a member of Fab craft group, where there are people from over latin american network that works in methodologies applied in hand craft process. Since four years ago, I work to improve the ancestral techniques combined with digital fabrication. From my point of view if we don't share our technological knowledge with indigeous cultures, they will disapear because they can not compete with chinese manufacture. I'm so excited to make Fabricademy to learn new skills that will allow me to improve my knowledge to make wearable technology combined with biological processes and digital fabrication applied to textiles.
Another important reason I applied to Fabricademy is because I want to improve my textile skills. In the place i currently work, the mayan zone of Mexico, local Handcrafted works a lot with textiles, they used to do it in a sustainable way but since some years ago, a lot of ancestral techniques related with using natural color and materials has lost.
EDUCATION
Here you can see some of my education degrees. I attached my personal Linked In page and my portfolio but honestly since 4 years ago that I haven't actualized it. Hopefully one day I will find my user and password and add my newest work hahahaha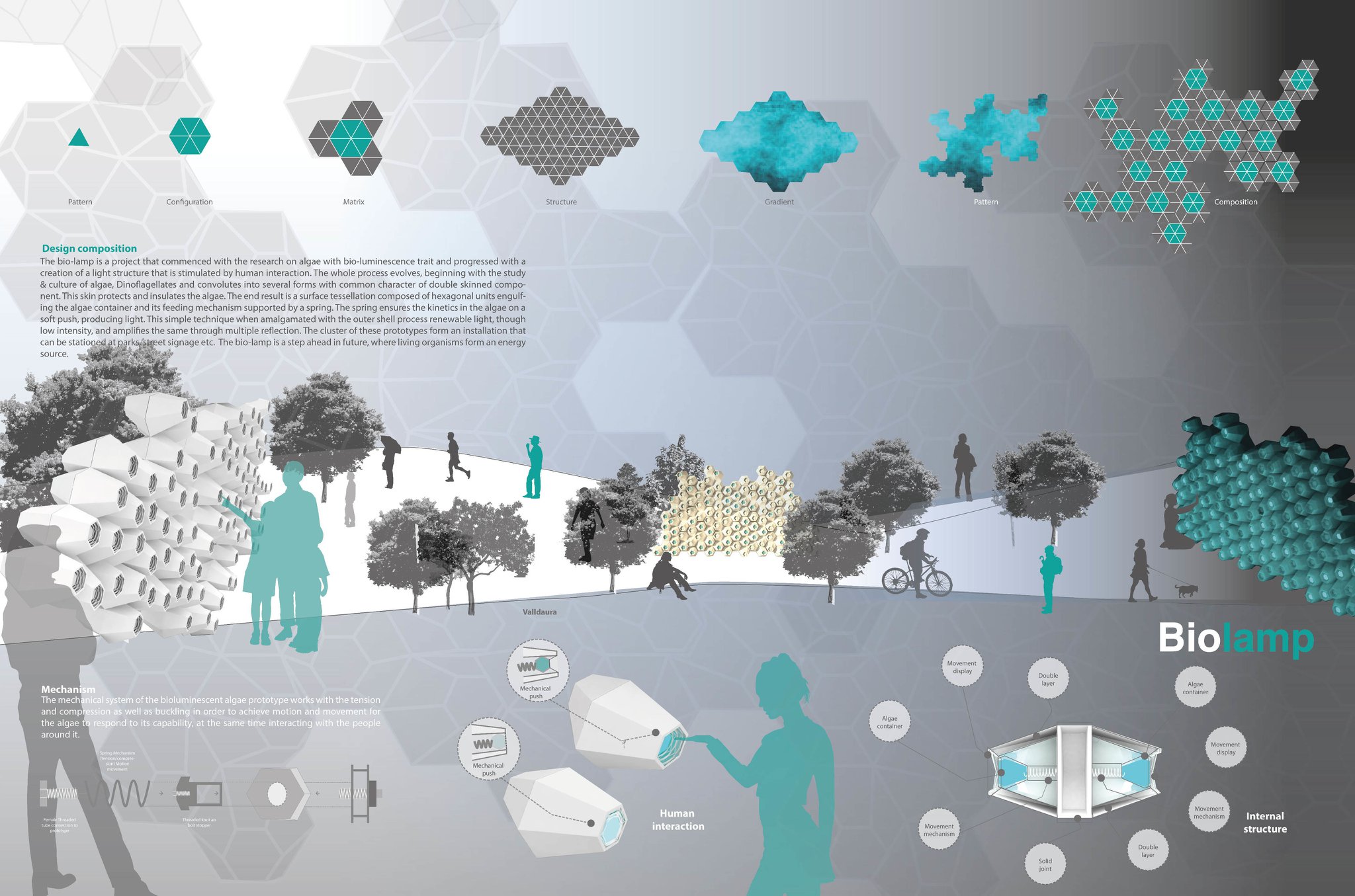 Fabricademy Fab Lab Maya (MX) 2020-2021
Fabricademy Bootcamp Fab Lab Barcelona (ES) 2017
Fab Academy Fab Lab Barcelona (ES) 2017
MAA Advanced Architecture IAAC (ES) 2013-2014
B ARCH UDLAP (MX) 2007-2012
PROJECTS
ARTESANA LAB

Last year I applied to Fabricademy but i couldn't make it because I was working on a crowdfunding campaign to fund one of my favorite projects called "ArtesanaLAB".
I've been working in this project togueter with my team since five years ago where we put a lot of effort to push mayan communities to evolve their tecniques to compete the chinese "handcraft". Mayan handcrafters sell their things to the international market that arrives to Cancún city, one of the most important cities of turism in Mexico but since some years ago all market is full of chinese imitation. The main problem is for turism is cheaper to buy a chinese handcraft than a original ones, besides they can not produce as much as the chinese manufacture. The true is that Mayan handcrafters has lots of problems, not only in the manufacture area, the lack of education, the digital gap that they suffer because in their remote villages the internet is not avialable, the gap of busines education among other topics, they can not improve their life in general.
Because of this sitiation handcrafters have to quit their ancient tecniques, they are force to move to the turistic cities leaving behind their families and their traditions, a really sad ending for one of the most powerfull cultures in the world, the Mayan culture.
After 5 years of working on the site, analycing their process, understanding their pain in the production, etc. We desingned "ArtesanaLAB" in a few words this project is like a Fabricademy or Fab academy but for Handcrafters. The purpose of the program is to empower mayan communities by teach them digital skills and entreprenour education throught combining of ancient knowledge and Digital fabrication.
We invited friends from others Fab Labs in the world that are working with technologies applied to Handcrafts. Walter Gonzales came from Perú to teach the Fab Loom, Isaac from Fab Lab Barcelona teach them Rhino and how to fabricate in the CNC milling machine, Christian Rubio works in "Racismo MX" and came to teach "Creativity applied in the bussines" and then, just in the middle of the "ArtesanaLAB" COVID arrived, it was surreal honestly but we were forced to cancel the rest of the program, the mentors from US didn't arrived because of this but we were going to to have biocromes, e-textiles, package design, story telling, color theory and other topics that we thought can help for the first step.
After all it was really good experience and I'm very sure that we learnt more from them, than they from us. You know, working with Indigenous people is really really hard but at the end it is really satisfactory.
We always face lots of problems because not all the people is agree to teach them indigineous people how to use a 3D print or laser cut but as we always say, why everyone has the opportunity to learn technology and not them? is this a kind of discrimination? Society in general is afraid to lose this ancient techniques because of technology but in the reallity this is already happening because of the Chine Manufacture and thats why we are sure that this is the right way, that Hand crafters needs to adapt to the real world.
Anyway, we didn't get all the funds for the full program, we got less than the third part that we need it but at the end we did a small version that work realy well. I let a video of the project I hope you enjoy it :)
POSiBLE / Artesana Lab de Fab Lab Maya from Fab Lab Maya on Vimeo.
FAB LAB MAYA
When I finished my master degree in Barcelona, together with my partner in crime, Mike, we decided to open our own lab in south of Mexico.
During our time in the Fab Lab Barcelona we fall in love of the concept in general and all the posibilities you can explore and in the community and all what we can contribute to the society. There have been 5 years since we open the Fab Lab Maya and we are very happy and proud about what we have done.
Like all the bussines it is really hard to open your own, at the begining we thought that we were going to make make make cool stuff all the time but the truth is that half time we have to work in other topics just like marketing, administration, human resourcer, accountancy, etc. It is really painfull for creative people like us but totally worth it.

This year we decided to start a new area, a "Bio Lab" and I'm very excited!!!!! We just started with our own garden, we want to produce what we eat for the first step, and with fabricademy we want to cultivate what we wear. Lets see what happen in the near future.
One of my main purpose with Fabricademy is to use local materials for every assigment, at least try as much as I can. For example cultivate cochinilla for dying our fabrics, try the local tecniques of embroidery, etc. :)
FAB ACADEMY InterFACE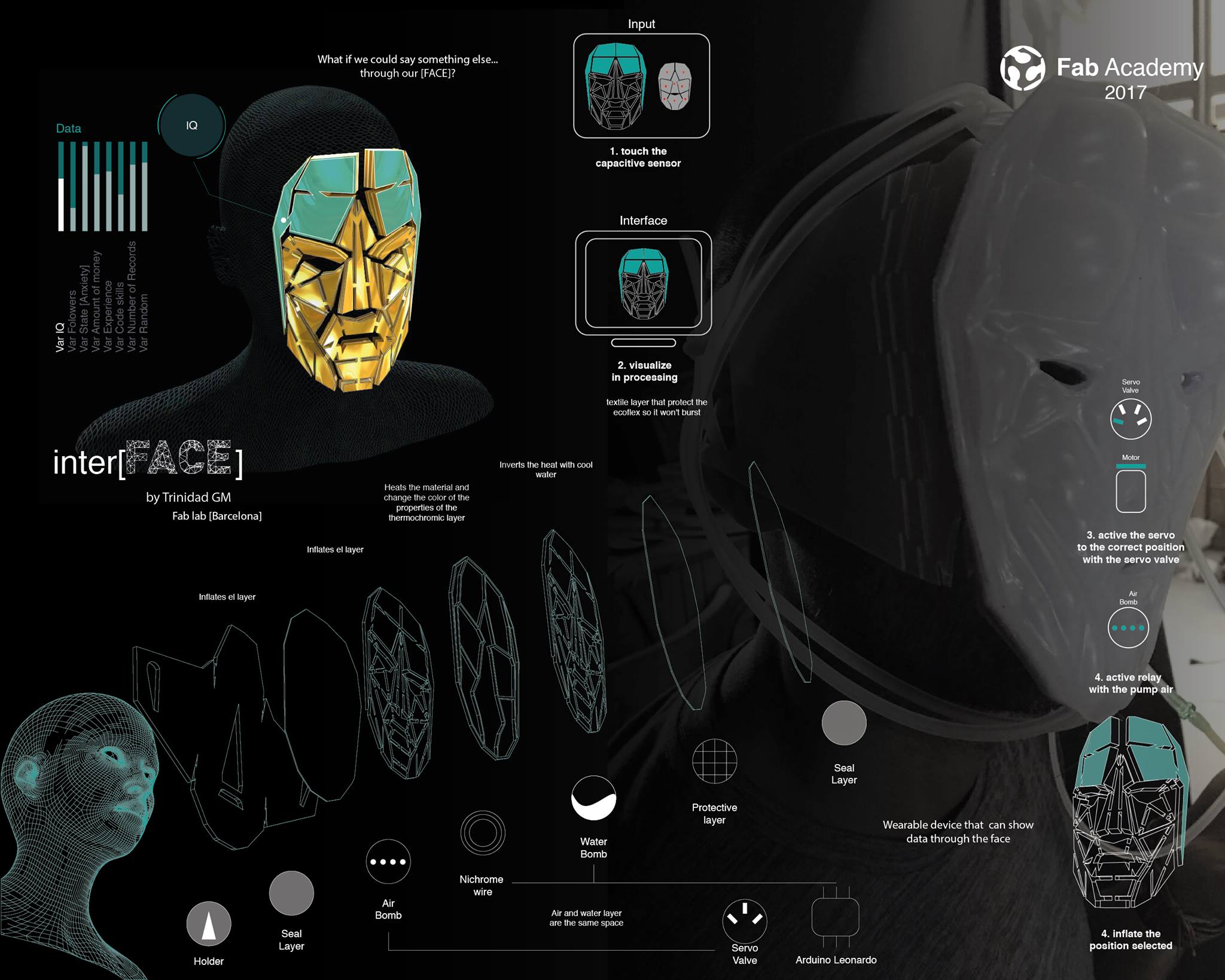 I love wearables! Since I was studying the fab academy I was really interested in wearables technology and soft robotics. InterFACE was designed to explore a new ways of interaction between humans, its porpuse was to colect data from the users and then confugurated to interact base in the variables you want to match with others.
InterFACE Fab academy 2017 Final project presentation at Fab Lab Barcelona from trinidad on Vimeo.
QUINTANA ROO MEXICO MAKERS
When the Covid started the communities of makers and fab labs over the world offer their tools to help to protect the hospital workers such as doctors, administration and cleaning people that were weorking directly with coronavirus patients. When we saw the communities of makers were doing a super nice job we decided to Join. In Mexico there was a big group called "México Makers", when we found out, we offered our machines and our help to mitigate the problem.
I was one of our hardest projects and more challenging because it wasn't only about 3d print helmets it was really about saving lives literally. I shudder every time I remember because it was really hard for all the pressure that we have. I remember i receive lots of phone calls from doctors crying and begging for a shield face and sometimes we could not do anything about it because we didn't have enough fund in the begining. Yup, it was really hard. The Fab Lab Maya were coordinating our state of Quintana Roo, we administred funds, delivers, send files, tons and tons of things I dind't expected when we start. The good thing was that we meet a lot of really nice people that really wanna to help, we had a network of almost 50 bussines with laser cutter that they were willing to help for free and with nothing in return. Quintana Roo Mexico Makers were one of the strongest networks in the country. I'm really happy to participate even because of this project I experienced my third burn out after we finished but ofcourse it totally worth it.
INADEM 3D PRINTER WASTE WALL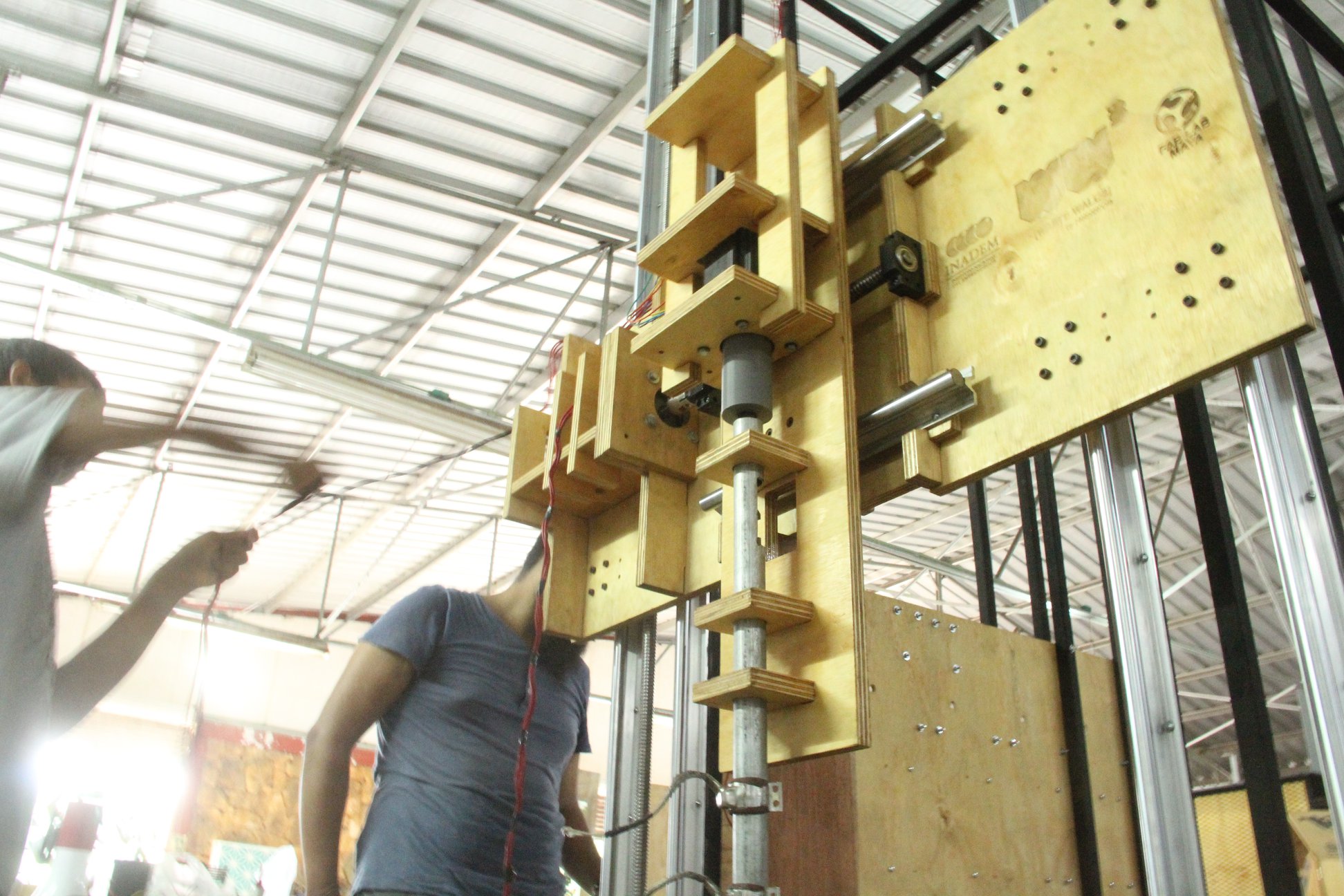 The past government had a program that supports entrepreneurs, it was called "INADEM". Specifically they have fund to support hardware or technological bussines, so I applied and I had the opportunity to build with this money a big 3d printer for building walls made of recicled plastic. I builded it and it worked but there was a lot of problems with the structure and with the electronics and in the end I didn't fixed. I'm not proud of that hahaha
FAB LAB MOVIL AND TRICI MOVIL
I'll try to be short this time hahaha. I like to talk about our Fab Lab Maya Móvil because we fabricate from cero in our lab, ofcourse with a lot of help from the experts hahaha but we designed on Rhinoceros 3D and them we fabricate all the wood part in the CNC router machine, we weld all the metal, etc. We used to travel with our machines to indigenous small villages to teach them eveything about Fab Labs, maker revolution and digital fabrication. We are really proud of this this project. Neil gershenfeld told us to "Make something Big" in Fab Academy, so we did :P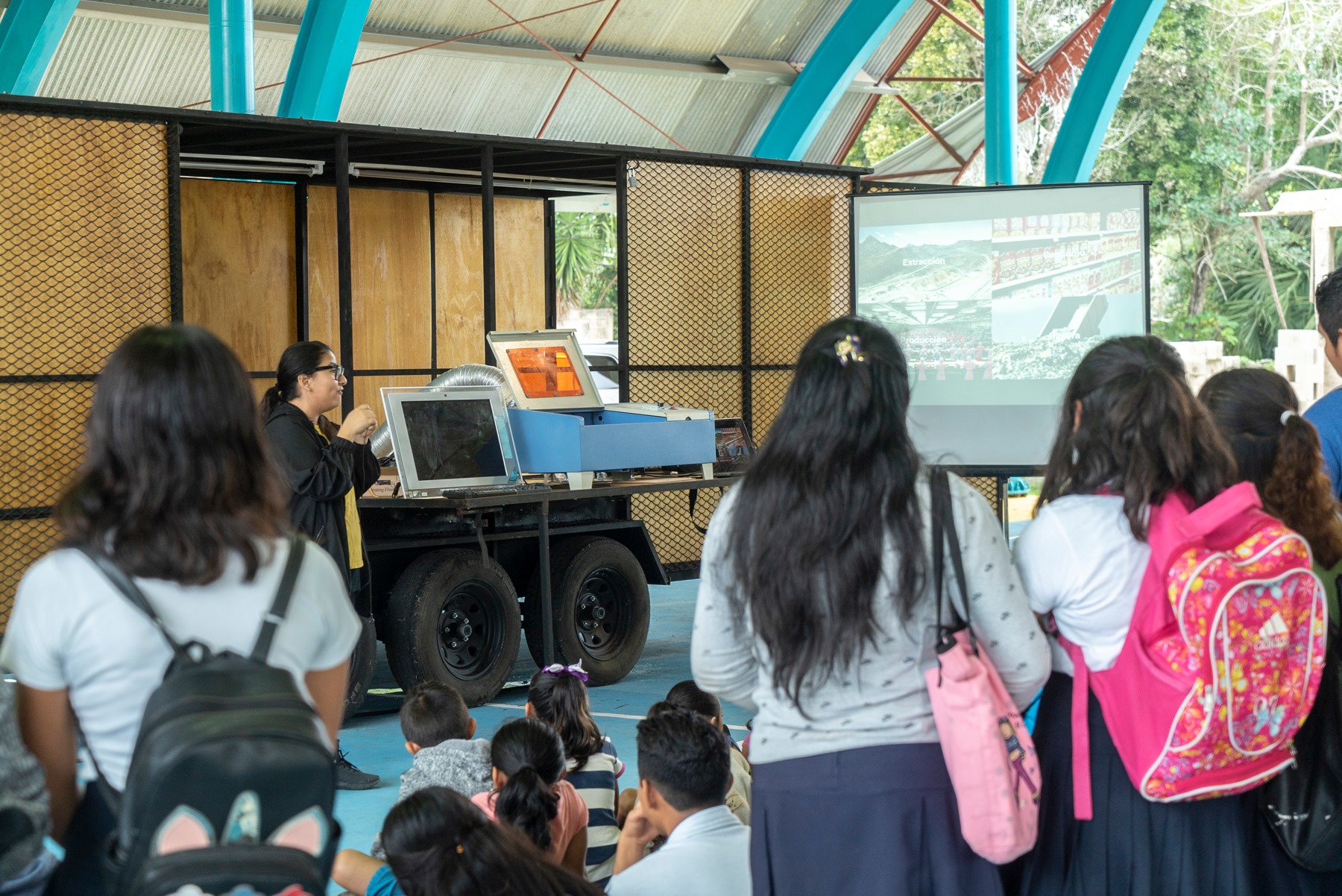 And then we we realized that it was a lot of work to move this huge thing, so we design another but this time so much smaller. Here in Mexico the street trade use "triciclos" to sell things everywhere so we took one and we converted in a Trici Fab Movil but instead of selling food, we teach and sell 3d printing things and all the thing that we usually fabricate in our lab. It like a kitch version of a Movil Fab Lab hahaha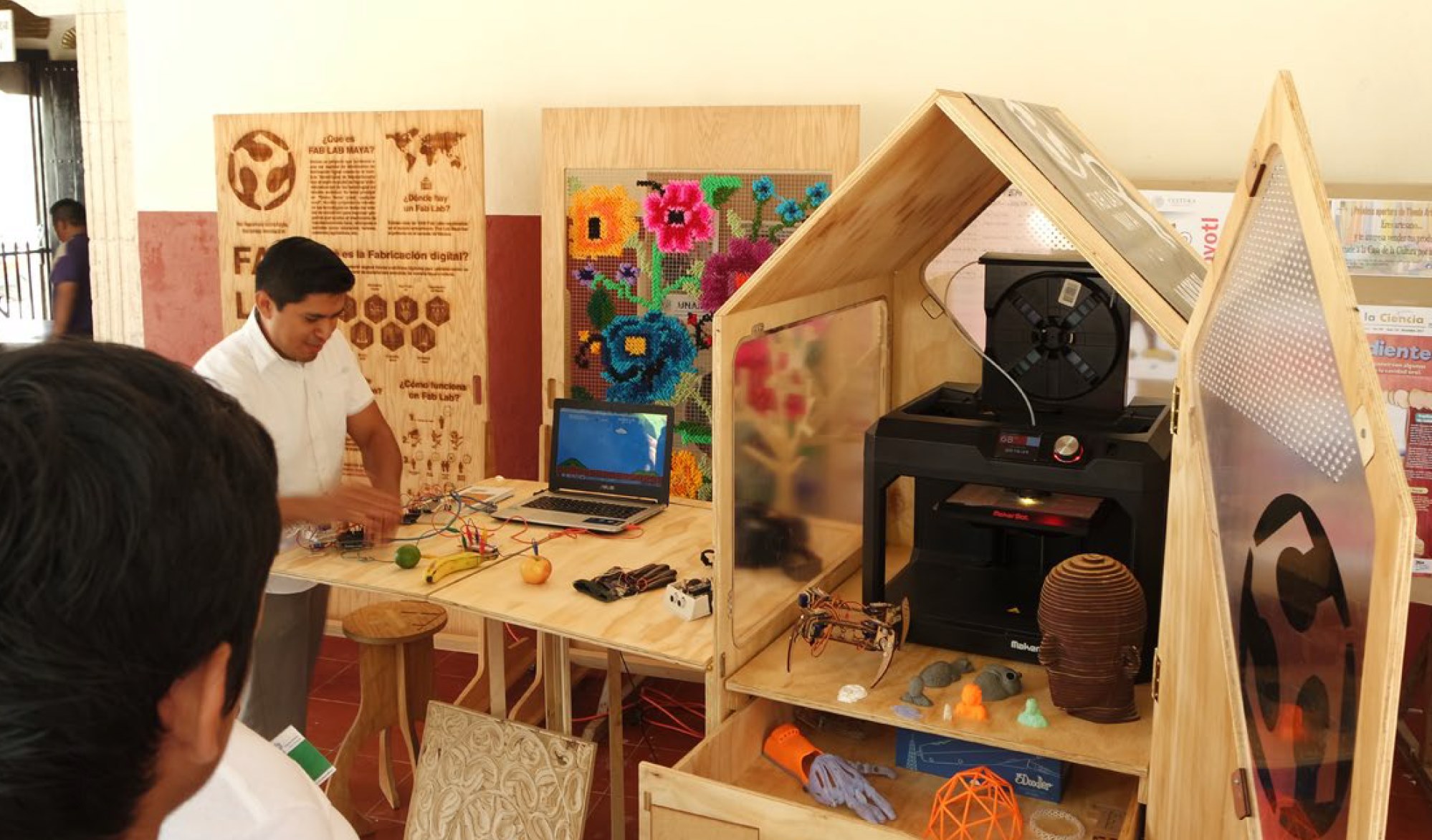 WHY I'M A TAKING FABRICADEMY?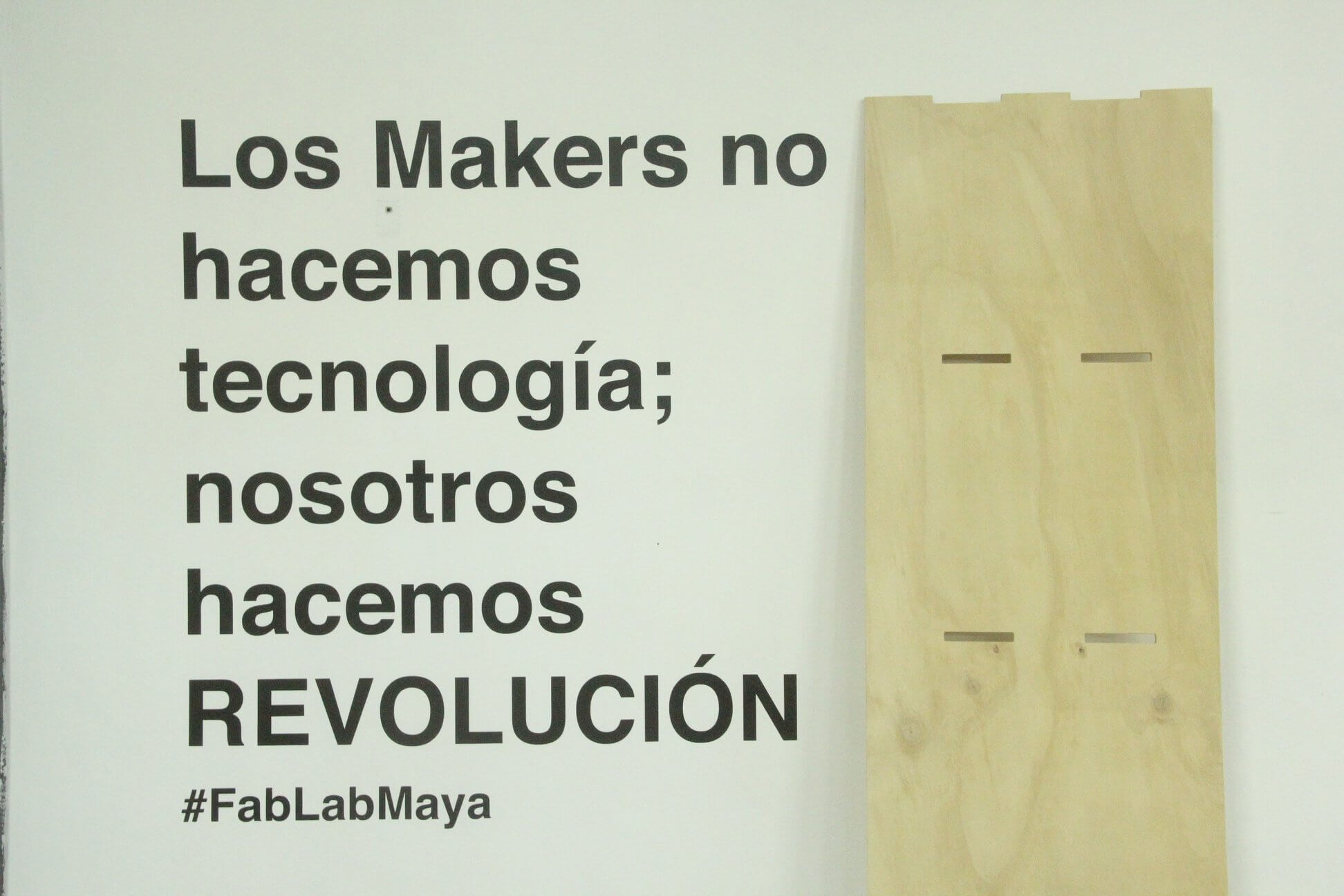 Since I partipipated in the first bootcamp in 2017 in the Fab Lab Barcelona (I didn't tell anyone but actually that bootcamp was my birthday gift hahaha), I fell in love of the idea of growing your own material. I'm very negative about future so for me taking fabricademy is, somehow learning new skills that in future will be pure gold.
Besides, I would like to learn all the biological processes that i've never experienced in my life. As you see I'm not fashion designer nether biologist, so for me, to learn how to apply digital fabrication + biology + fashion with local resources, is like lead by example. What do I mean with this? In Fab Lab world we always hear that local fabrication is the best way for the world, but it is really difficult to achieve honestly, we go and buy processed wood like MDF and triplay, 3d filament and electronics commonly from china, etc. So, for me, this program, is the very first step to achieve the real sustentability life.
And it is funny because I couldn't make Fabricademy last year, and for this time, I have a huge new mindset thanks to Covid, no jocking. I feel like universe did it on purpose because now I fell really real the horrible future that is comming for us. Fabricademy is really challenging but that's why it's so exciting. Once again, thanks to the universe :heart:
PERSONAL OBJECTIVES
[] I will design one mask per every assignment
[] I will put a lot of my atention of to learn biofabrication
[] I want to cultivate in my organic garden (as much as I can), the material that I will use in every assignment
[] I want to combine two technologies,(again, as much as I can). Maybe not for the recitation, but I can do it along the six month of the course
SKILLS
Concept Recently I've been working topics like Storytelling, Mind maps and Design thinking
2D and 3D Design I love Rhinoceros <3
Vector Design I love Illustrator <3 <3
Content production I have experience becuse I do the social media of my Lab
Grow Since I start my own garden I learnt how to grow vegetables so I will try to grow my own matereal fot Fabricademy
Work with local Handcrafters I'll try to share, as much as i can, the ancient mayan techniques
SKILLS I NEED TO WORK WITH
Parametric design I have problems with this since master
Biological process I'm not familiar with some termns, protocols and process
Videos For me It's hard to work edditing videos.
Electronics I know basics but I'm not so good at electronics, but we have two mecatronics in the lab that they can help :)
Photoshop Ofcourse I know basic but Pixels are not my friends
I'm not a fashion designer This is a good opportunity to learn from my mates
LET THE GAME BEGIN
Sorry for my really really bad bad english... :pray:
Contact: trinidad.gomez@iaac.net
---
Last update:
September 28, 2020