Home¶
Welcome on my Fabricademy documentation website!

Here, you could find a short presentation of me.
In the assignements part you could find all of my research during the first part of the Fabricademy programme.
And in the project part my final project work.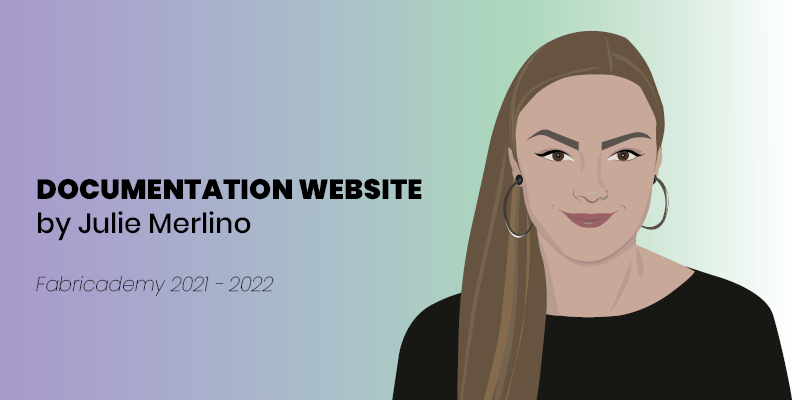 About me¶
My name is Julie Merlino, I'm French and I have a master's degree in textile and fashion design.
I'm looking for alternative processes for thinking fashion and textile industries more ethics, fare and innovate. I want to break the codes and research new creation ways.
I developed a general practice design, multidisciplinary, at the intersection of industries, craftsmanship and new technologies in order to offer a new fashion experience. I have an interest for fiction design (fiction design is a design practice aiming to explore and criticise possible futures by creating speculative, and often provocative, scenarios narrated through designed artefacts. It is a way to facilitate and foster debates.)
In addition, I like to contextualise my project in space, environment and reality as well as possible. I find it interesting to confront a production in real life. Escpecialy because I like work whith numeric tools.
My background¶
There are 4 years, during my studies, I developed a biomaterial collection thanks to an open source biomaterials recipe book published by FabLab Barcelona. Bioplastique Cook Book
The project / collection : UNF – Utopia No(s) Futur(s) (our future in French)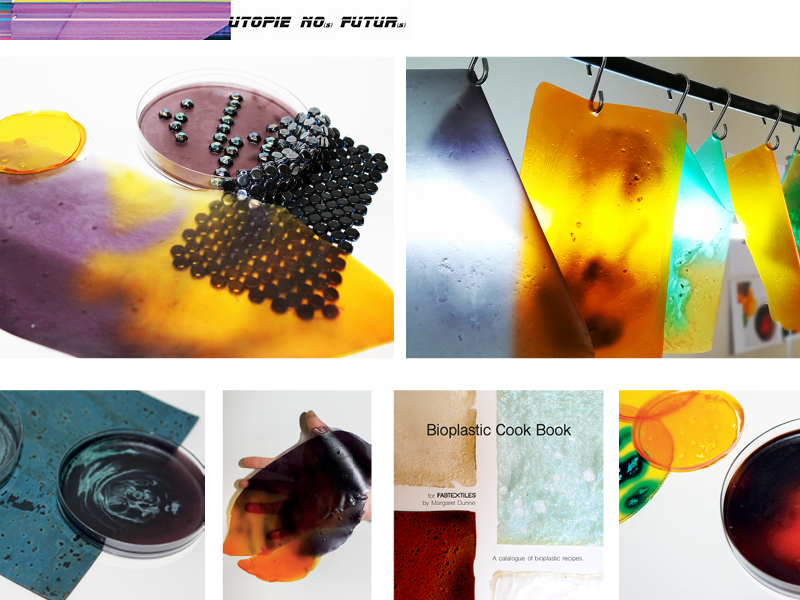 UNF Project
I discovered the maker movement, fablabs and Fabricademy at this moment. After that, my interest for this movement is growing more and more. That developed my profile designer, my aesthetic universe and my multiple commitments.
UNF is a diploma project created during my studies (Textile and Fashion design diploma, specialised in the material surfaces and textiles (two-year university degree)). This diploma taught me many craftsmanship practices (dying, weaving, knitting, embroidery,…).
After this diploma, DSAA diploma (master degrees) taught me a more conceptual design way and a multidisciplinary design. I often worked in teams with different profile designers to develop a collective mind. During the first-year diploma, I realised many projects : edition, set design, pattern collection,... I discovered many approaches to make and think design.
Following my studies, finished in 2020, I worked in an association which work in numeric arts and new technologies (AADN - Arts numériques et nouvelles technologies based in Lyon). This experience was very interesting. I learned a new vocabulary around new technologies (software, augmented reality,...). Thanks to this experience I worked in Le LabLab, an artistic lab in research and creation of new audiovisual, immersive and interactive experiences, combining technologies with the questions of the future.
My research and my reflexions¶
Essay : Humanize Fashion
The subject of my essay: 'Humanize fashion' about desires and frustrations of fashion consumers. I tried to develop, to create, a new ideal, thinking new practices of fashion design and to question and to understand quests and evolutions of contemporary people's behaviour, between their desires and their frustrations, and to define how a desire for adjustment and humanization of fashion, through design, was asserted.
The reflection of my essay "Humanize Fashion" allowed me to contextualize problems in the fashion industry and to thinking that more humane, closer to consumers and users and more sustainable evolution of fashion. Also, this essay, allowed me to conceptualize a design project and to start creative practice. This research directs the project towards a mutation of fashion shop windows, for them to be more interactive with the customer. The aim of this work is to develop an awareness of consumers by upgrading clothes and taking away from commercial aspect. The goal of this upgrade is to present the garment newly, through scenography work and sound and tactile garment staging.
Master degrees project¶
In 2020, I created my master degrees project. I developed it at the same time than my essay.
Project : Awarness showcases
Fast fashion has become a dominant way in recent years. This way is based on the principle of mass sales of low-cost products. In this society of hyperconsumerism, everything is allowed and everything pushes to consume. This way defines consumption as a means of fulfilling one's life.

Fashion showcase – an attraction that creates the temptation to enter the temples of consumption – is a space that drives desire, inciting people to buy. It plays with desires and frustrations of consumers by 'selling them dreams'. Shop windows are frontal and inaccessible, alienate and maintain a frenzy, vertigo and hypnosis. They manipulate by playing by the sensitivity and immediacy.

Awareness Showcases are alternative showcases constructed as intuitive or reflexive independent worlds, inviting the viewers – consumers to consider in a questioning way their own effect on consumption.
The aim of these showcases is to create awareness through sensitization.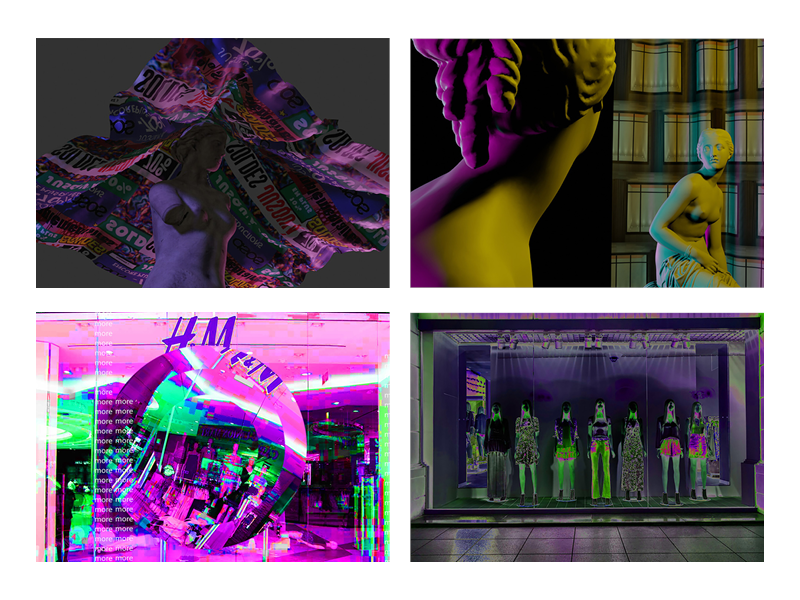 See more (external website link) : Awernew Showcases Project
---
Last update: 2022-07-21