IV. Biochromes¶
Inspiration¶
THE DOGWOOD DYER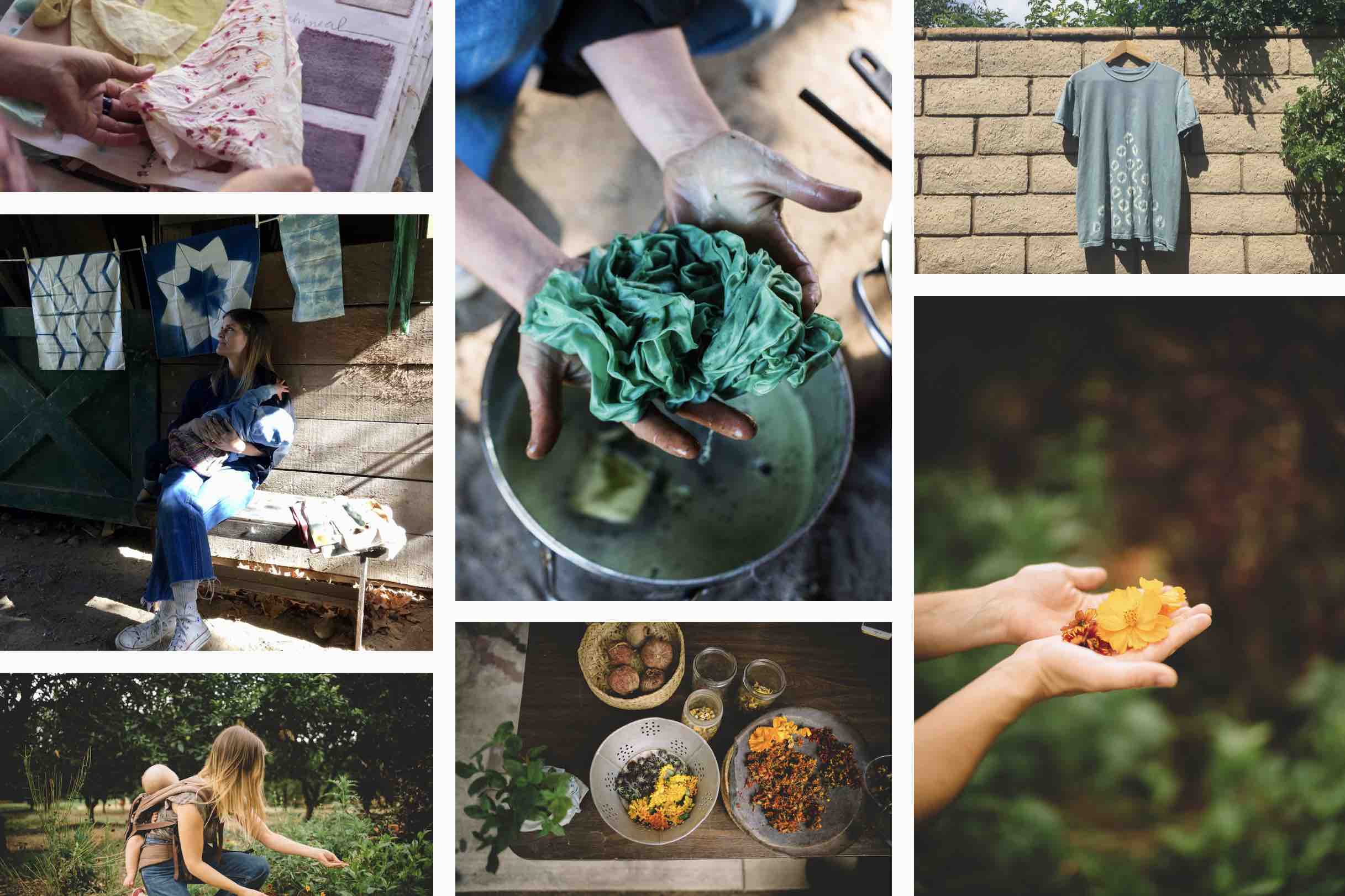 See full site here
NATSAI AUDREY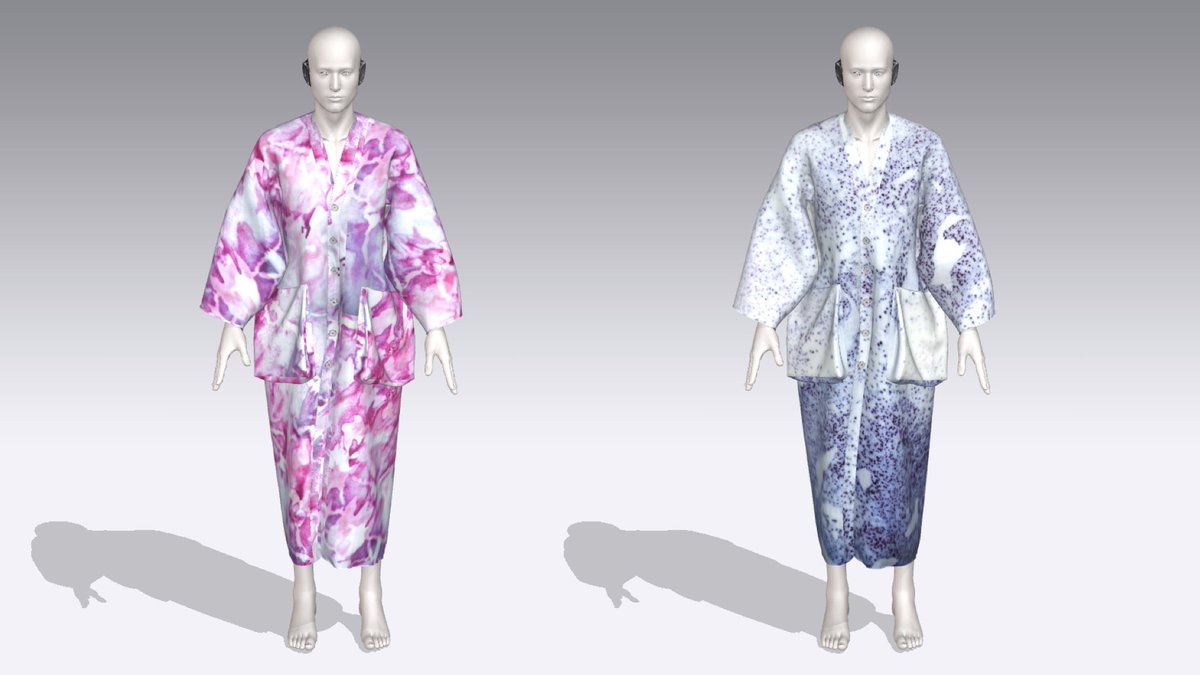 See full site here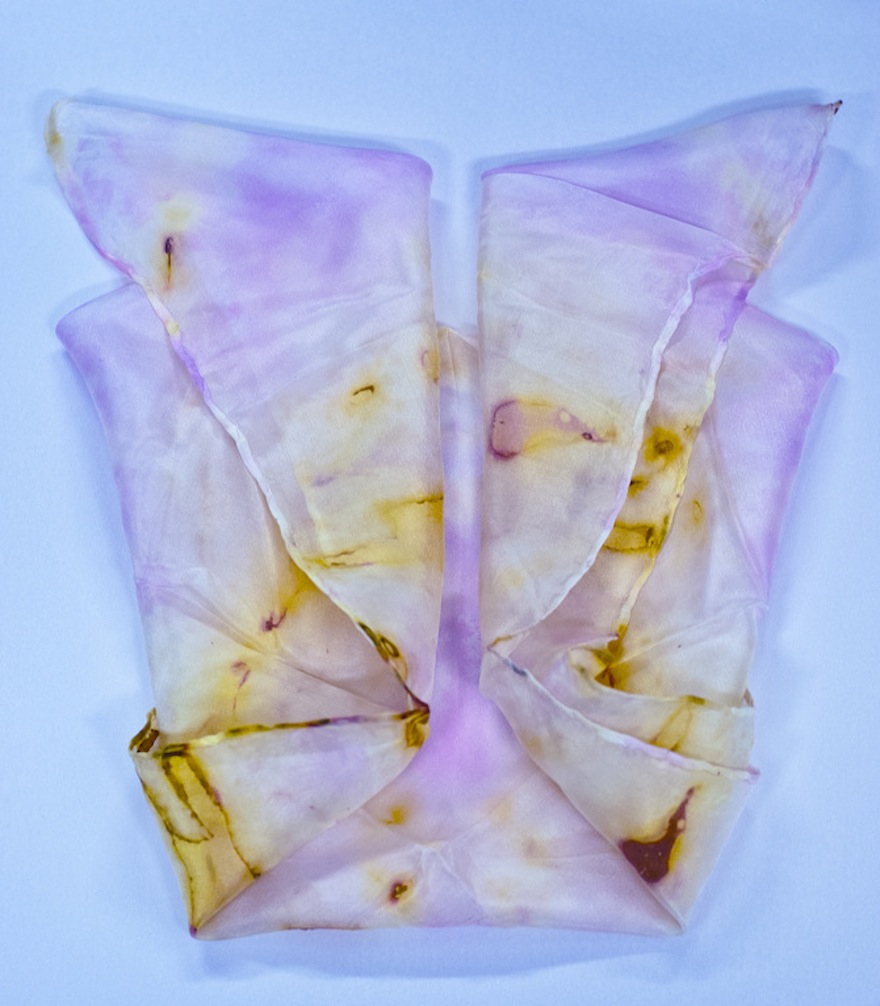 Reference here
BETIANA PAVON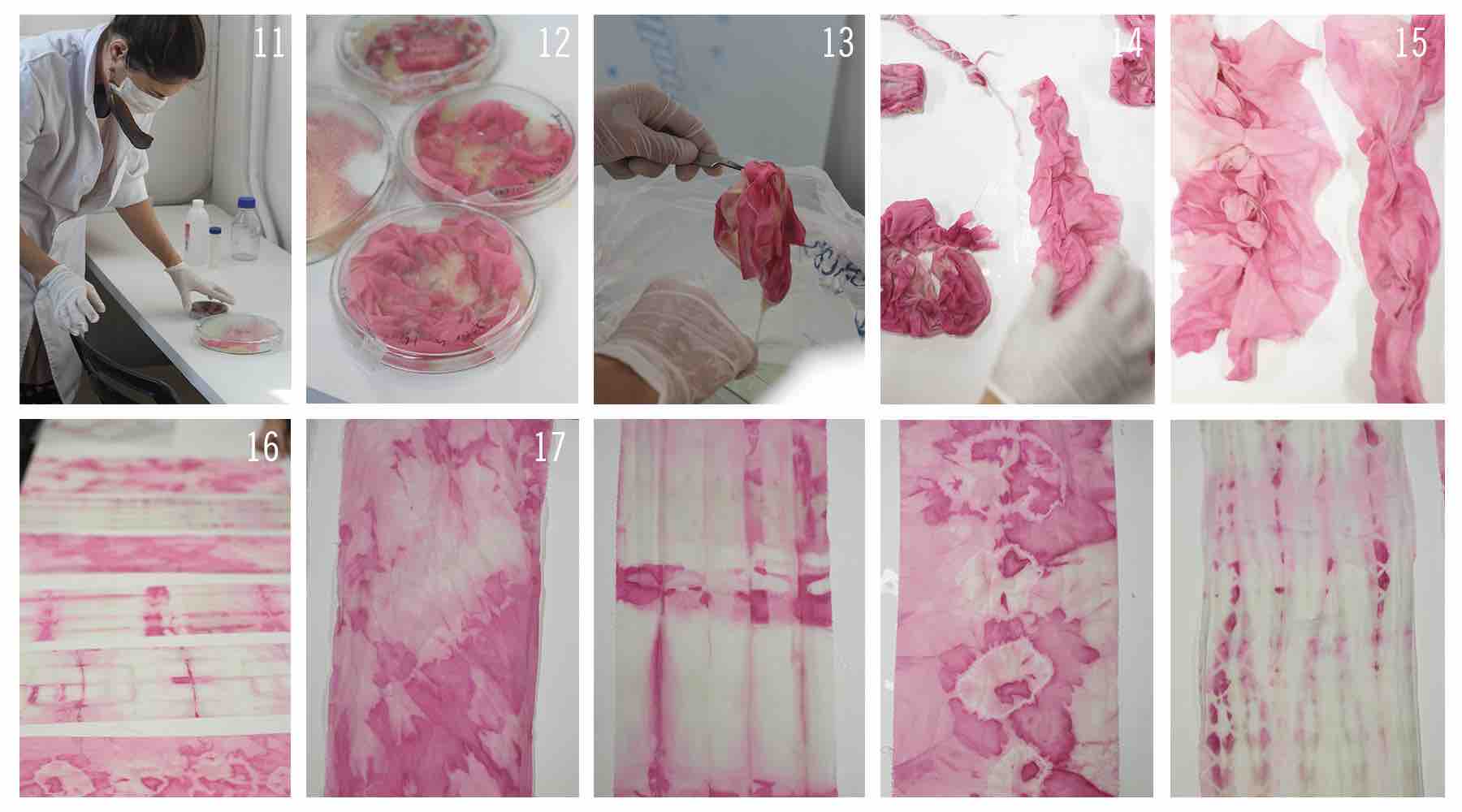 Reference here
PILI STARTUP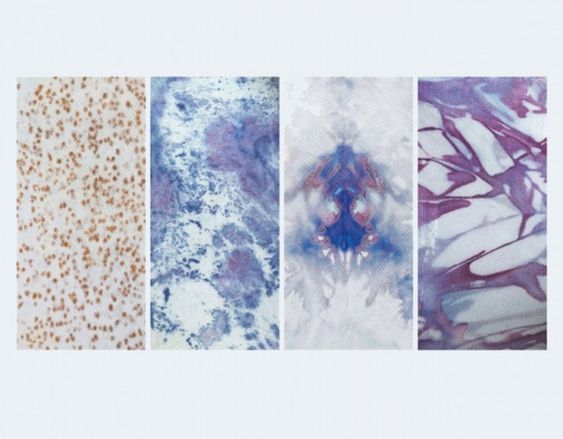 Reference here
COLORIFIX STARTUP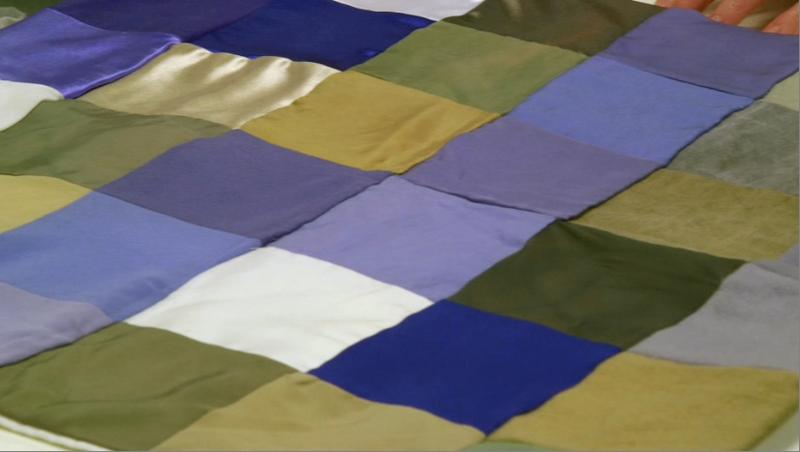 Reference here
References¶
About Biochromes¶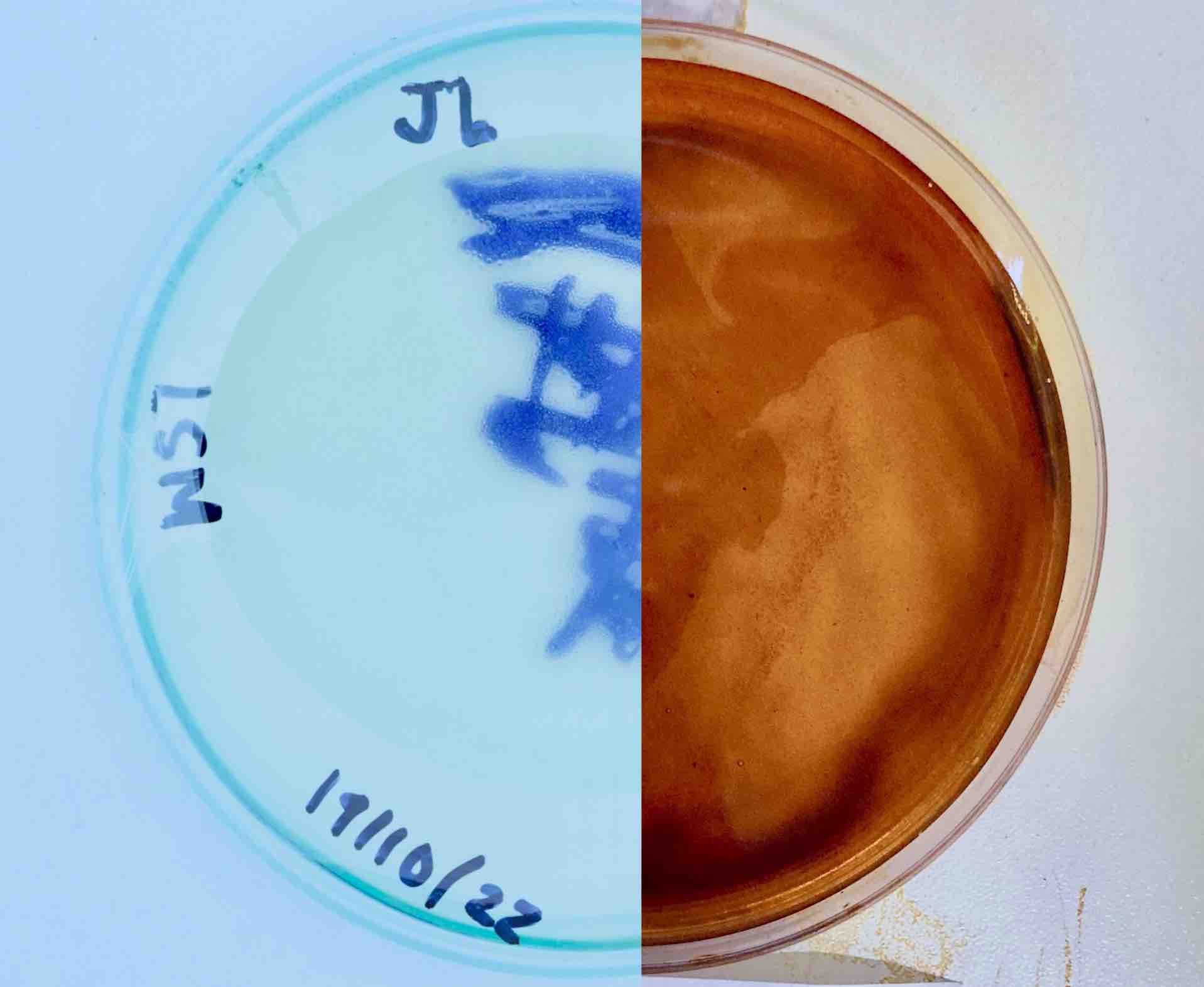 This week we are exploring Biochromes which are substances produced by living organisms that have a color resulting from selective color absorption. Biological pigments or biochromes include plant pigments, flower pigments and animal pigments. We´ll be experimenting with plants, flowers, fruits and vegetables as well as a bacteria strain called Janthinobacterium Lividum.
Let´s continue by establishing the two categories of fibers we´ll be working with and how to prep them for mordanting/dyeing. First of all, as you see in the chart below, there's Natural fibres and Manmade ones. We will only be working with natural fibres because natural dyes or inks are best absorbed by natural ones. This also applies for the bacteria.
---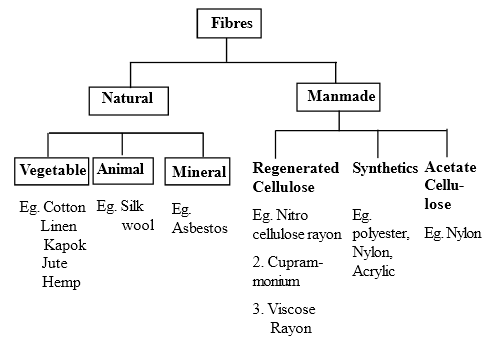 SCOURING RATIO - Cleaning the fibres¶
Animal Fibres: 250 gr WOF (weight of dry fibre) 3L of water + 1 tsp Soda Ash + 1 tsp neutral ph baby soap. Vegetable Fibres: 450 gr WOF (weight of dry fibre) 5L of water + 2 tsps Soda Ash.
MORDANTING RATIO - Prepping the fibres for pigment absorption¶
Animal Fibres: 100 gr WOF (weight of dry fibre) 10-20%Alum of WOF + 8%Tartaric Acid of WOF. Vegetable Fibres: 100 gr WOF (weight of dry fibre) 10-15%Alum of WOF.
NOTE: These are the measurements for the amount of fabric I used, you must calculate de percentages based on the weight of your fabric (dry).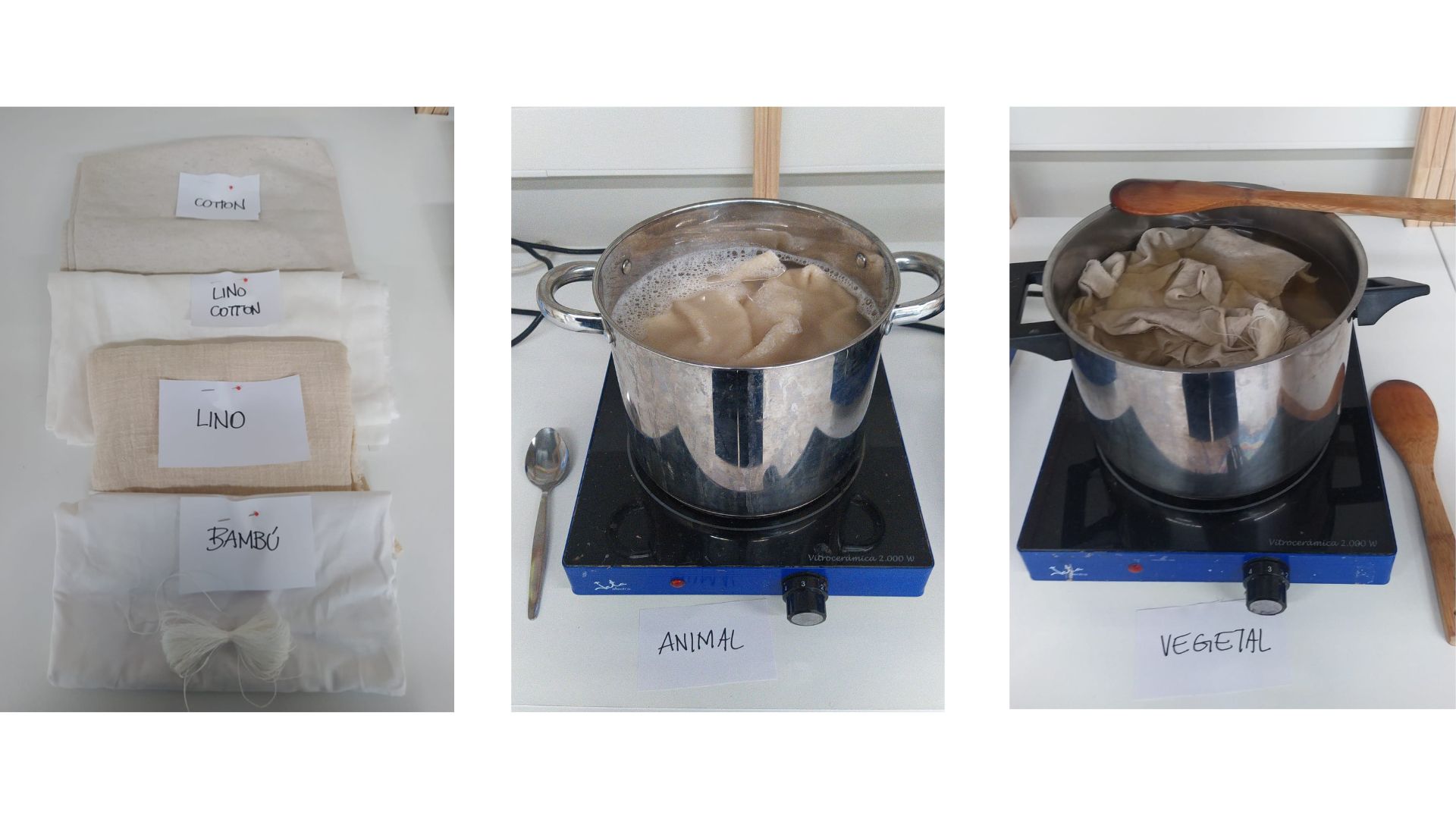 LOGWOOD or Corymbia Opaca¶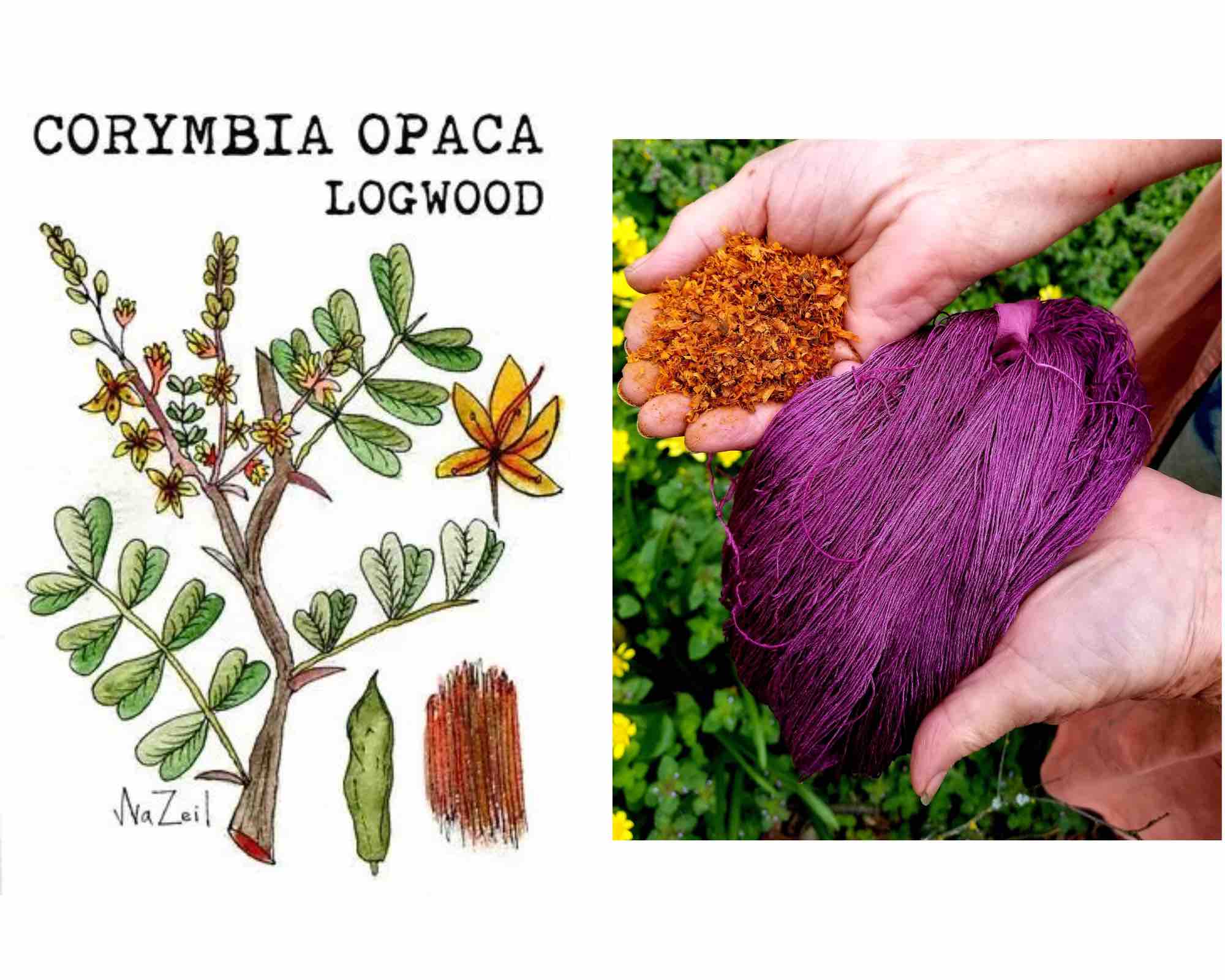 * Images by Stalph & Aurora Silk
Extraction of Logwood¶
In this particular case, the formula I used was 1/2 WOF (weight of fabric) of dry logwood left in hot water for 4 hours then slow cooked for 20 minutes and finally strained.
*Experimenting with MODIFIERS
Experimenting with Modifiers & Logwood¶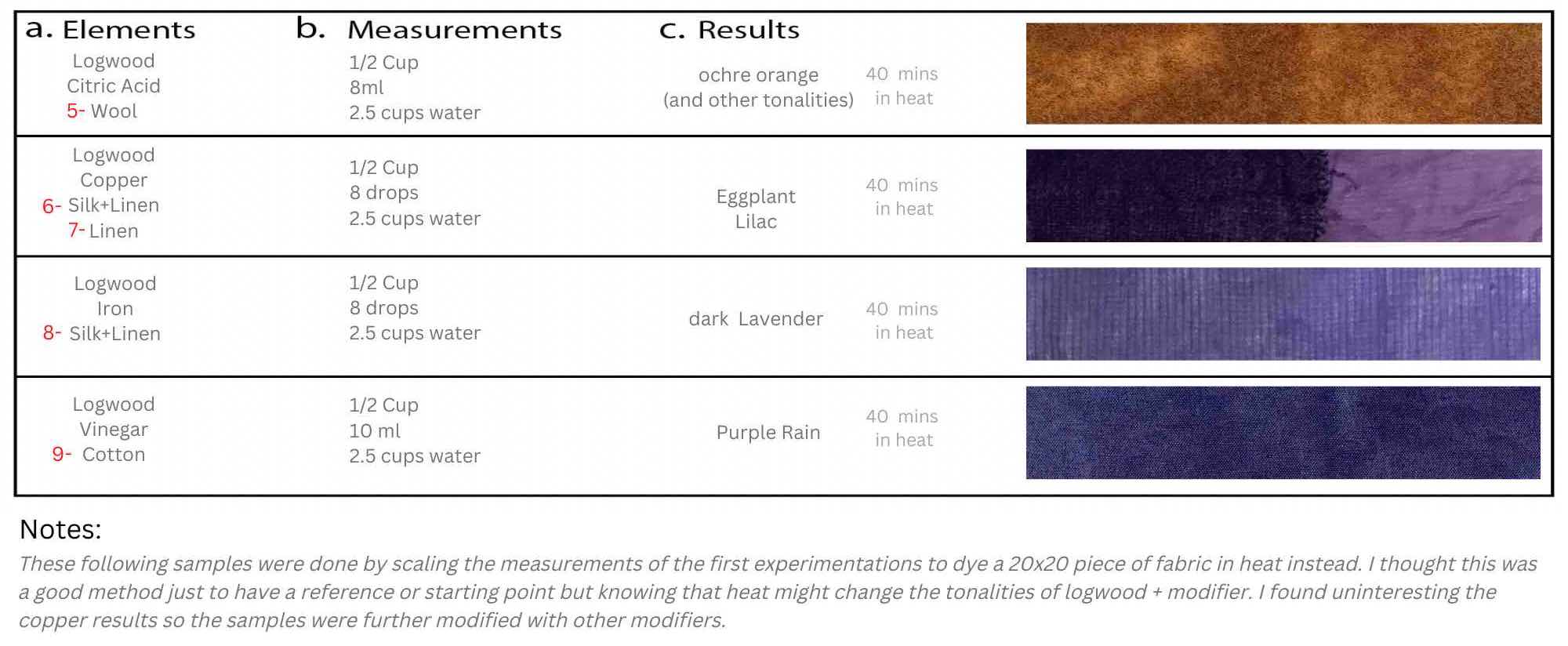 LOGWOOD + Copper¶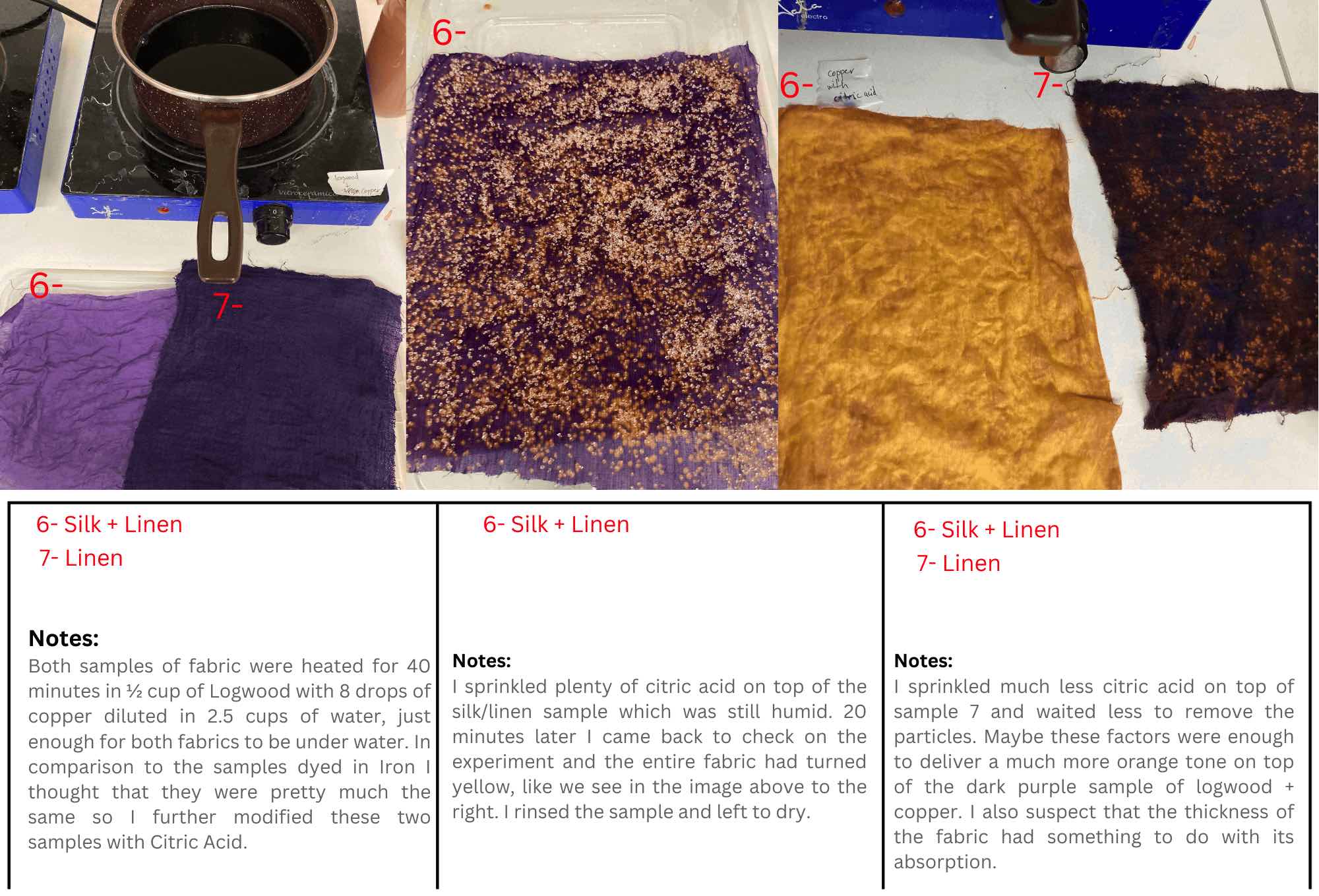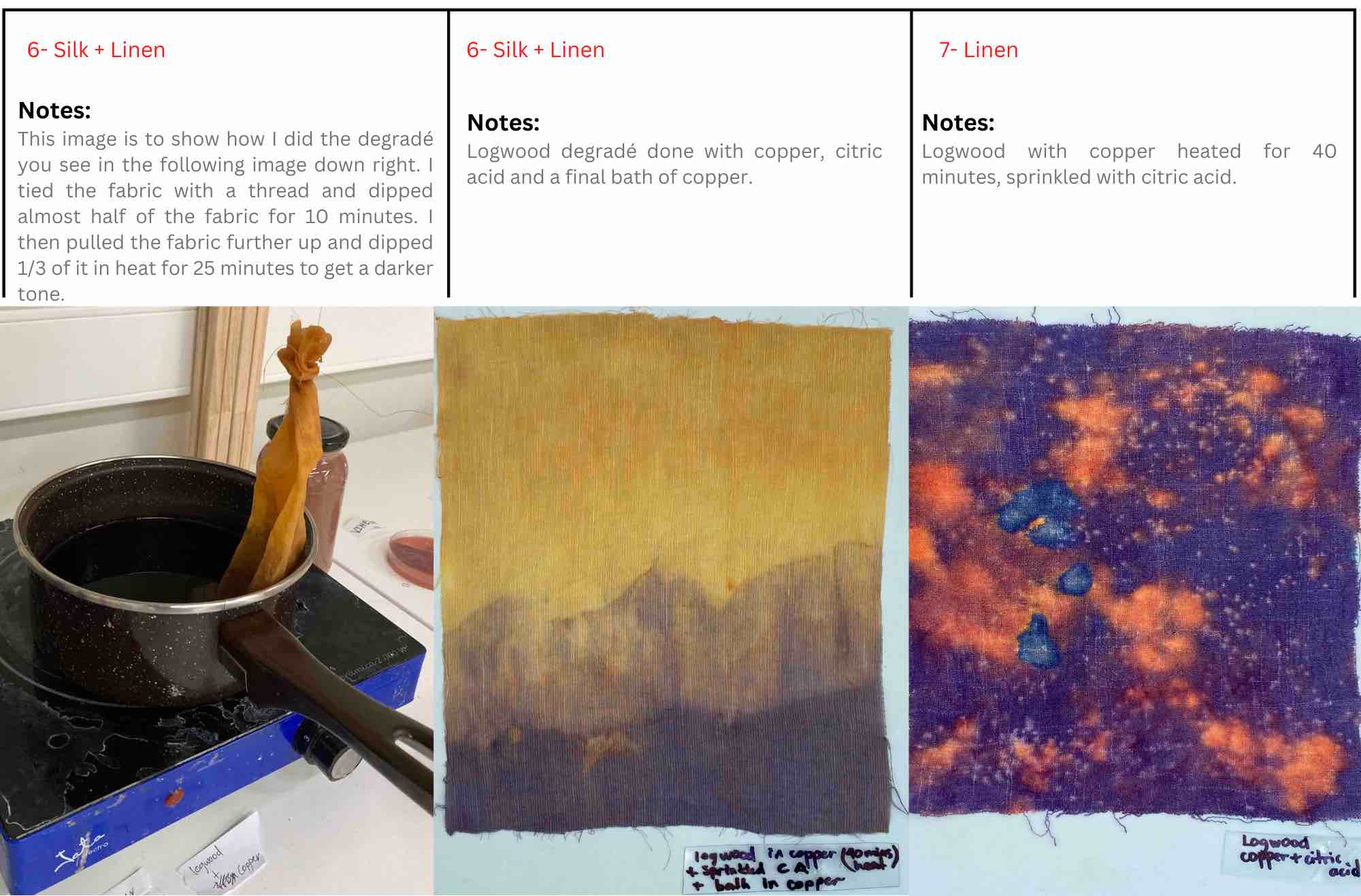 LOGWOOD + Iron¶
The base of these textiles are logwood and iron but they were then intervened by other modifiers like citric acid and iron once again, this explains the yellow tone (citric acid) on top of the purple and the deepest purple within the yellow (iron).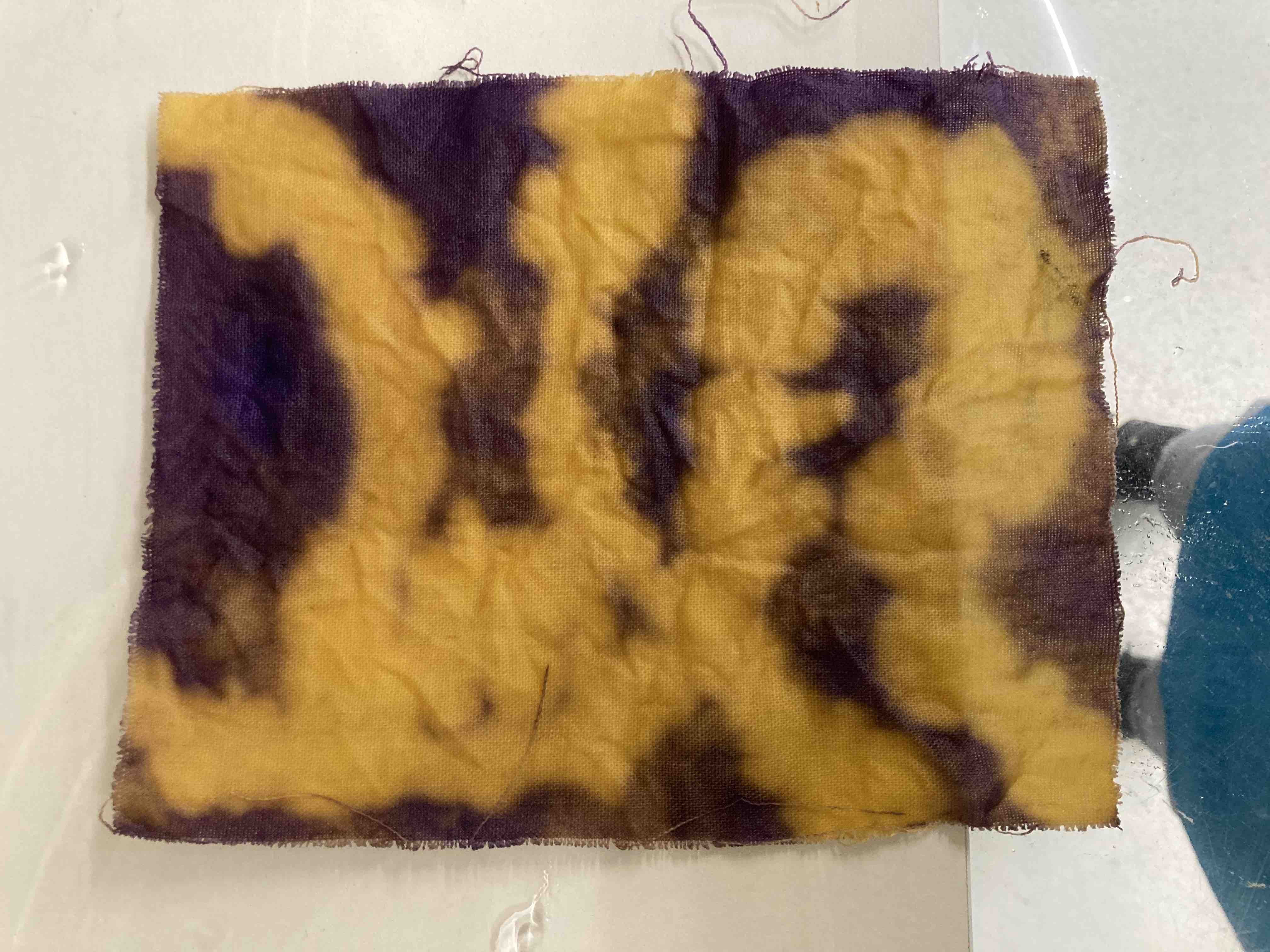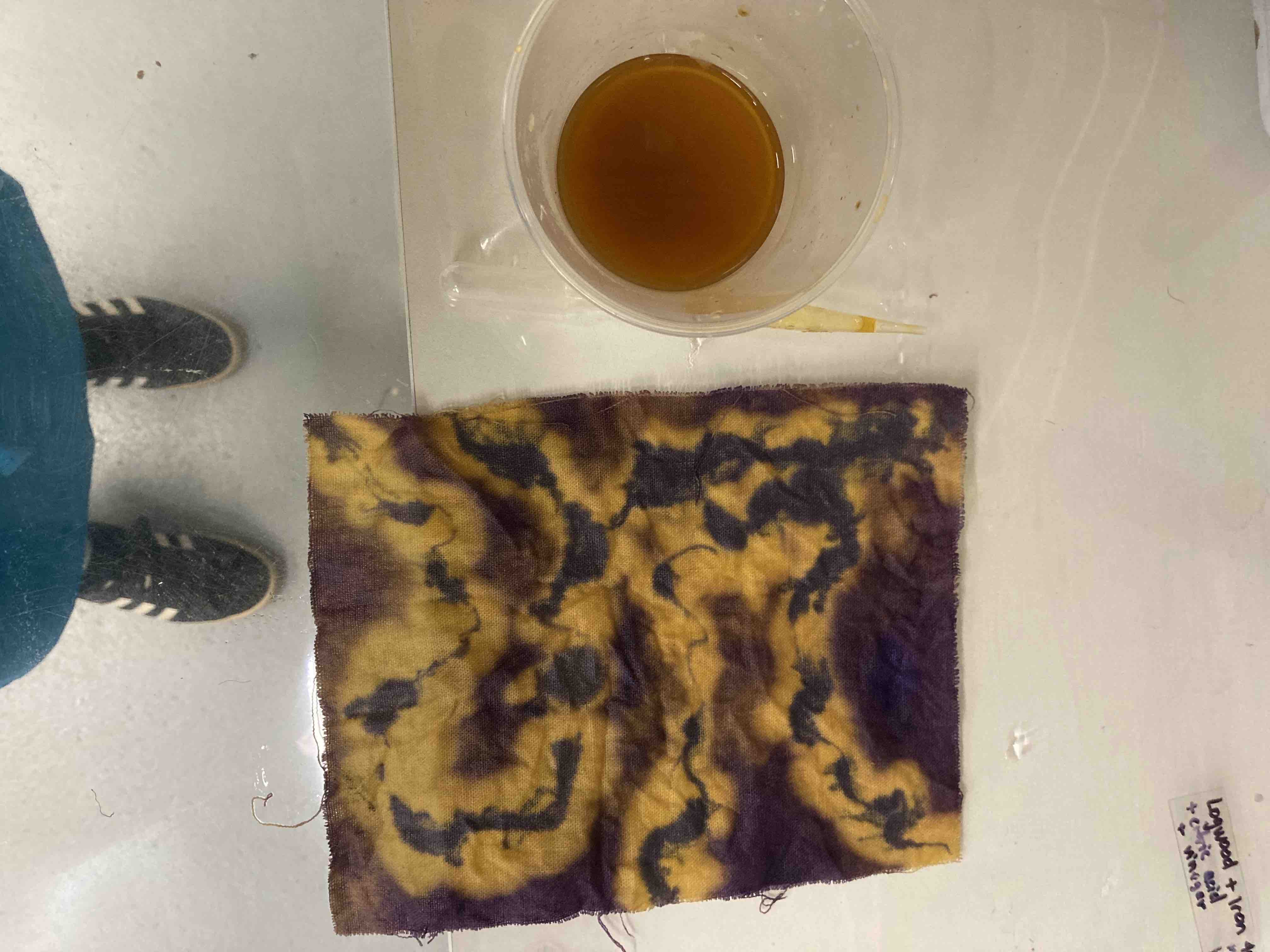 ---
Process and workflow¶
My first step was to write down the measurments of tint in the petri dish and add the same measurement of modifiers in all of them. I added small samples of all kinds of fabrics into all petri dishes so I could understand the relation between the material, the modifier and be able to compare how these tonalities vary depending on the mixture or the type of fibre.
Example of formulas to implement.¶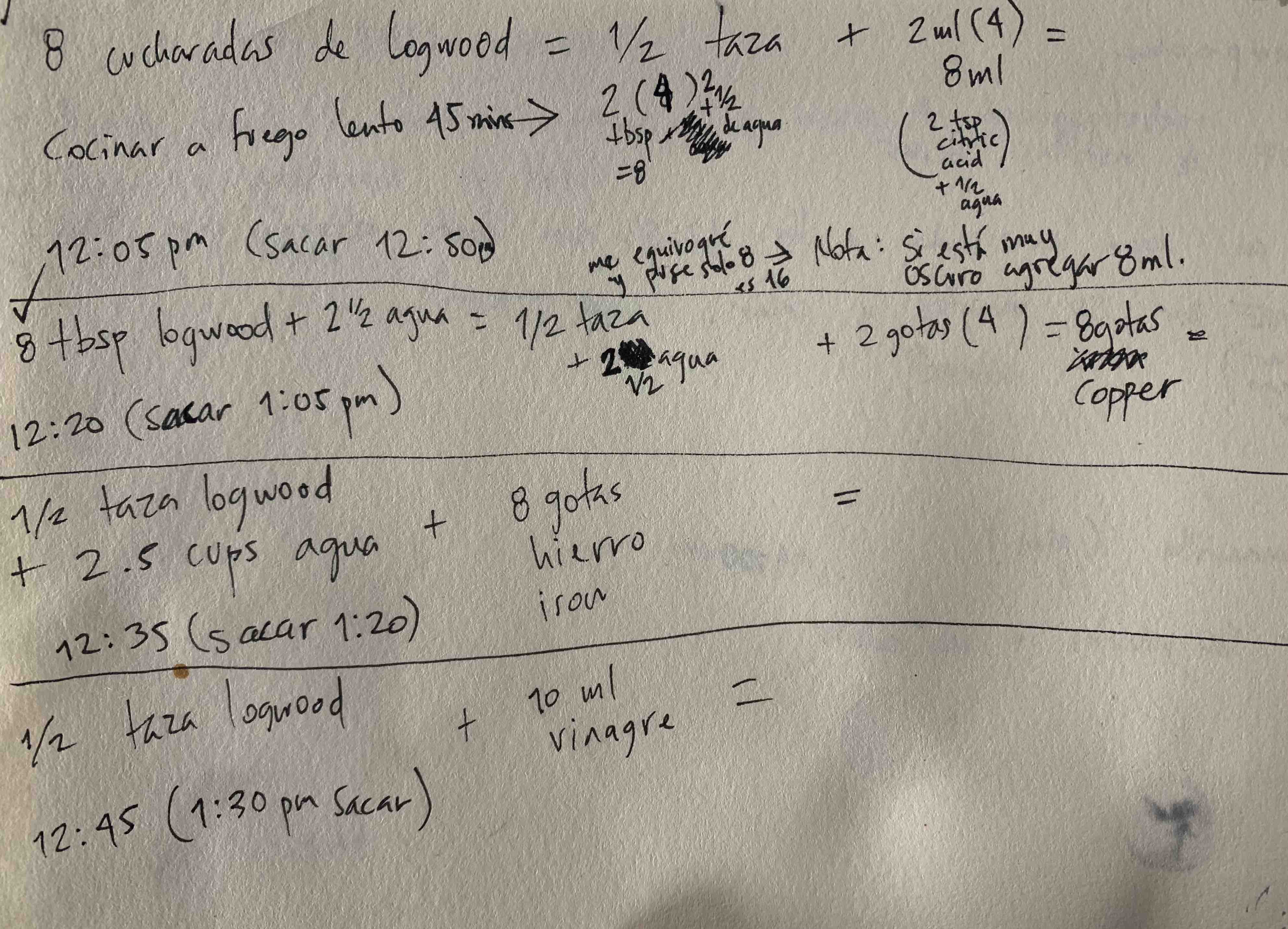 measure

add
simmer
mix
remove
strain
repeat
---
Bacteria Pigmentation¶
The workshop was carried out by Jessica Dias.
"Textile dyeing chemical processes contributes significantly to pollution and results in waste products that find their way into our rivers and oceans. This problem can be addressed through the use of natural dyes, and by educating consumers on how to develop these on their own, using local raw materials. In the future, even the materials themselves will be consumer-produced. This forges a closer relationship between consumers and products, leading to a more sustainability-conscious society. Could dyeing with bacteria be an alternative to chemical dyes? "
TEST 01 - SILK¶
The bacteria used is called Janthinobacterium lividum (violacein).
Process and work flow¶
Before placing the bacteria in our petri dishes with the fabric we did a couple of steps. Here´s a summary of those prior steps.
Step 1¶
Working with living organisms is fragile and must be done cautiously and quickly. Pull out all the materials, tools and ingredients you need so they can be at hand but also so you can sterilize them.
* measure cup and spoons
* gloves and mask
* paper towel and alcohol
* petri dishes with inoculated bacteria
* digital kitchen weight scale and slowpot cooker
* fire lamp and lighter
* sterilized petri dishes and nutrient/food for the new bacteria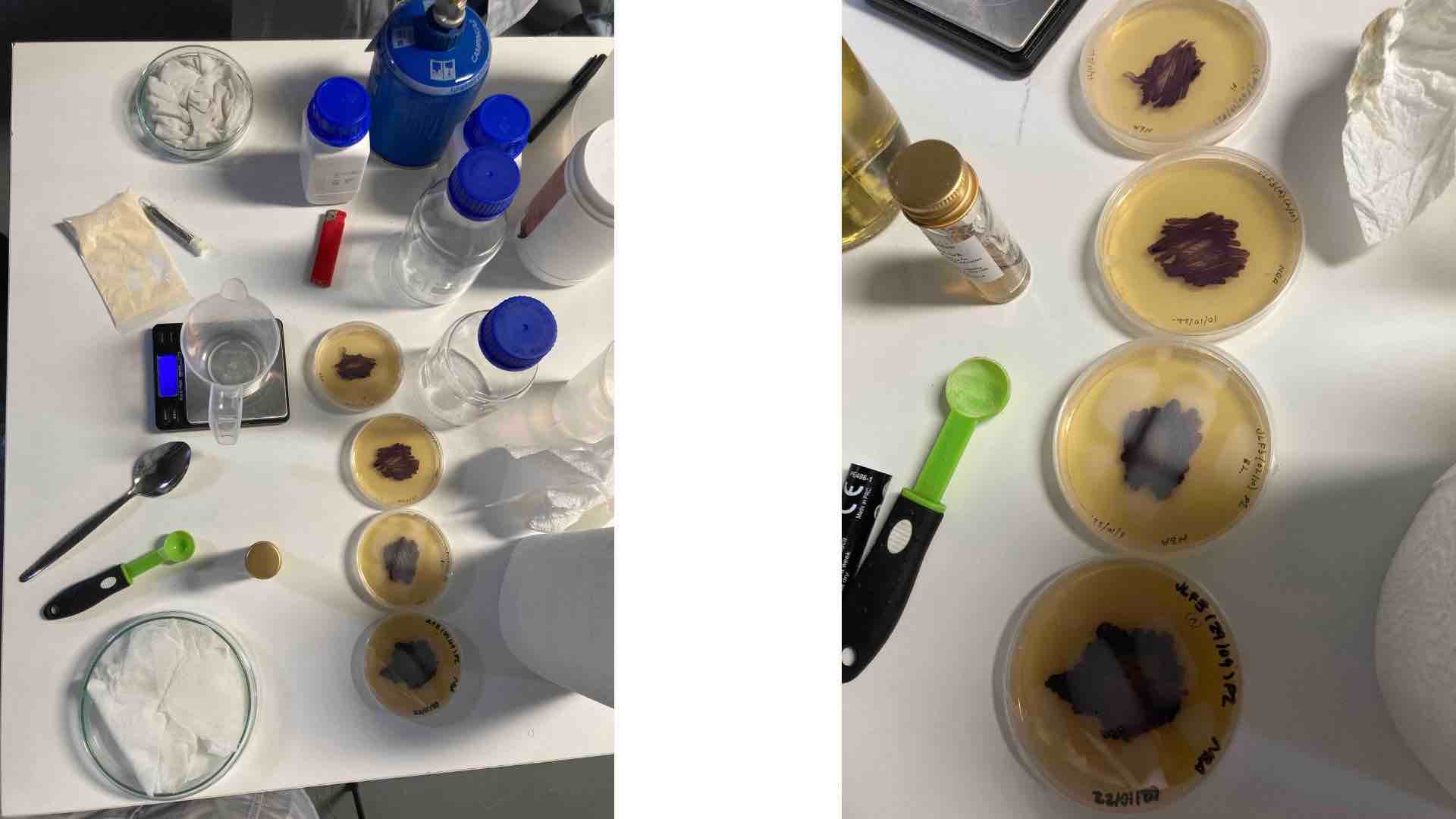 Step 1-A¶
AGAR AGAR and NUTRIENT AGAR is the bacterias food. Meaning that you must mix this with distilled water for reproduction in a petri dish and to pour over the fabric inside the petri dish. This food will keep the bacteria inside alive by providing the necessary nutrients for its reproduction.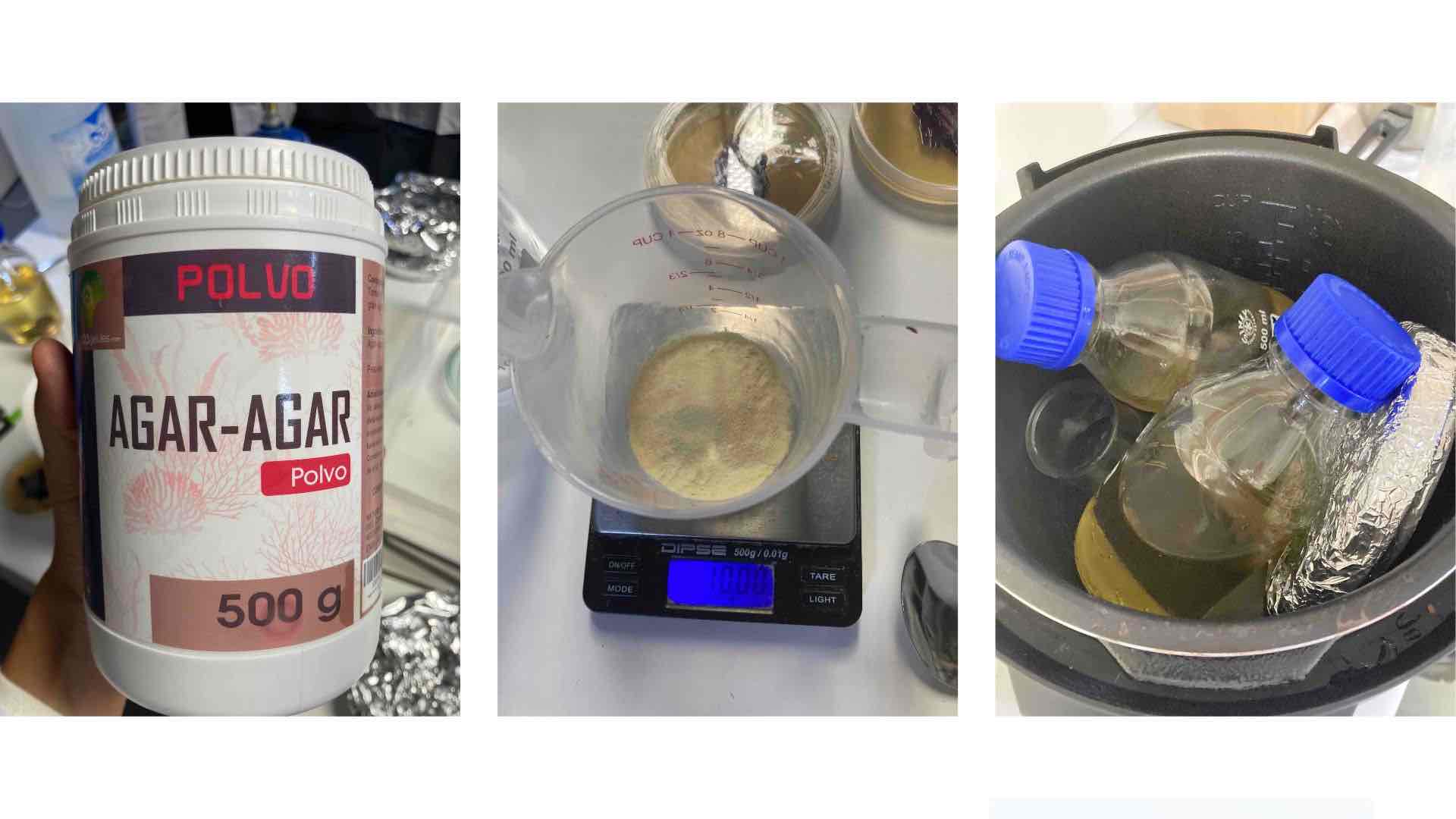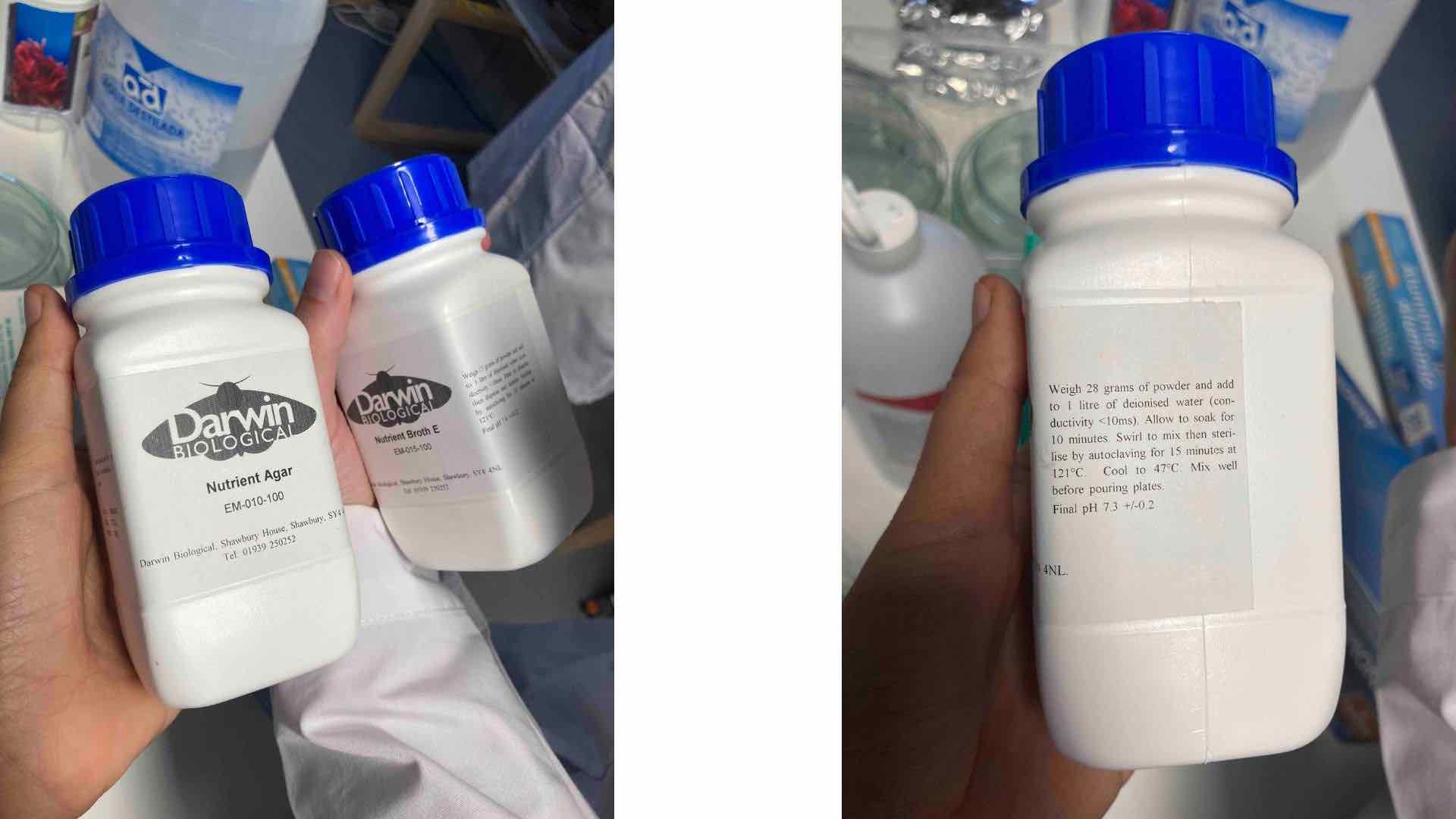 Step 2¶
Below you can see an example of how to inoculate bacteria ie. reproduce more bacteria to keep it alive.
The bacteria petri dish in the left is the "old" bacteria. Petri dish on the right is the inoculated "new bacteria".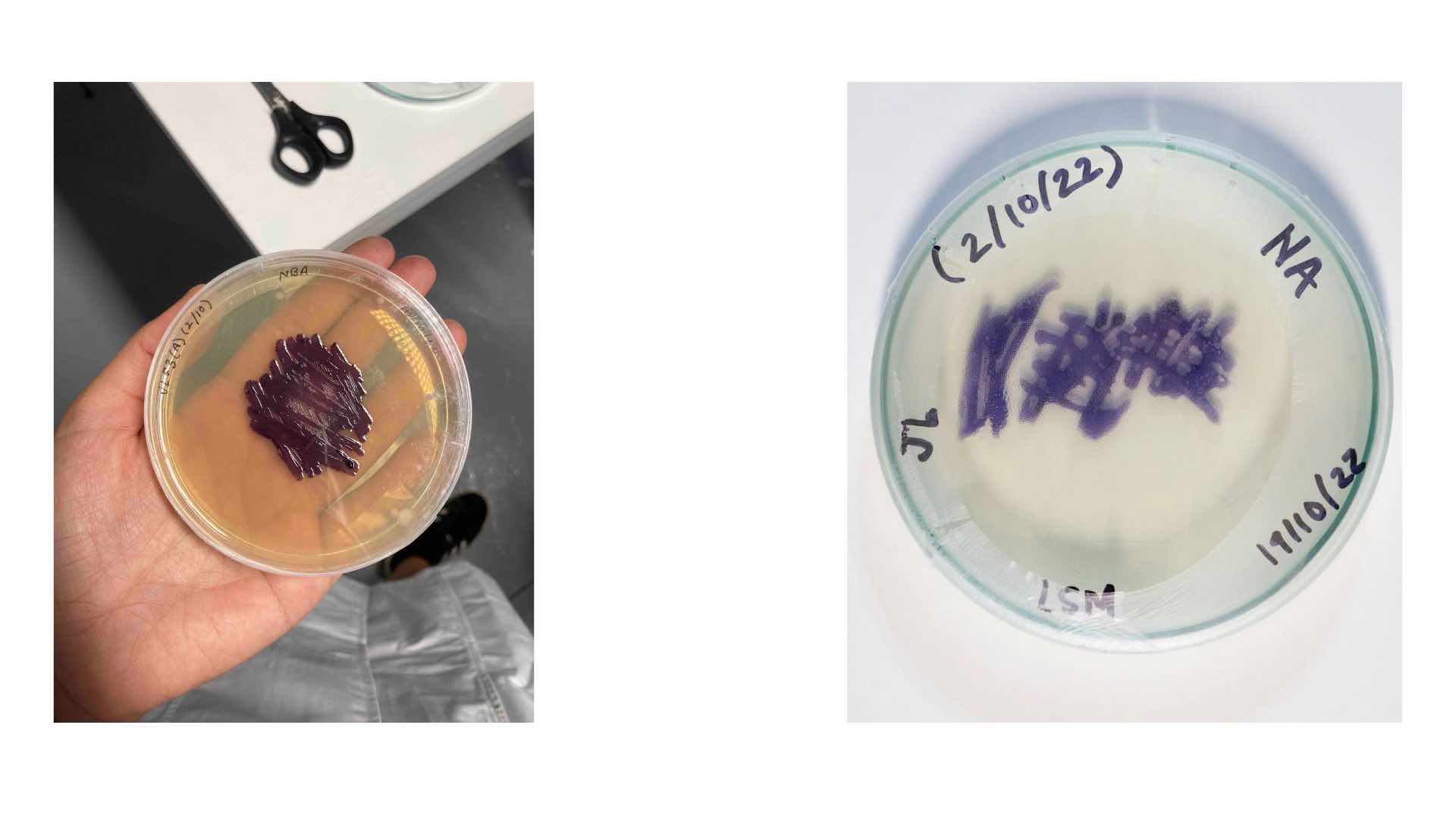 Step 3¶
Below you can see an example of how to inoculate bacteria into the fabric.
FINAL RESULT¶
After a week in the incubator at 25 degrees celsius, this is the result. The way to kill the bacteria is to place the petri dish in the cooker for 20 minutes and a high temperature.
The fabric was then rinshed with a bit of soap.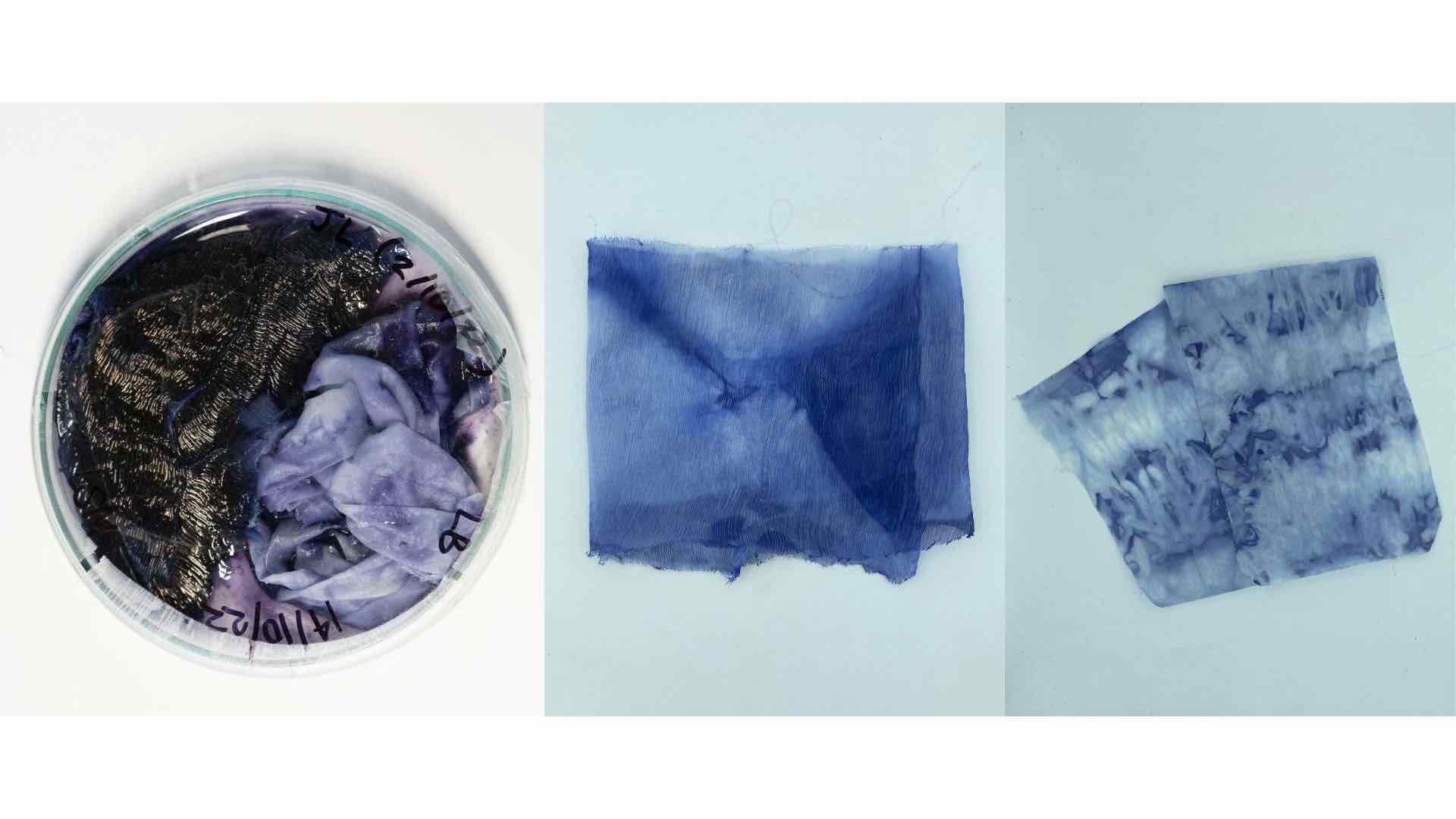 Notes on bacteria dye¶
The patterns in the fabric can vary depending on the way it has been folded. The research on bacteria behaviour made by Laura Luchtman & Ilfa Siebenhaar is incredibly interesting, please check it out here
---
---
Last update: 2023-04-28