Home
HELLO MY NAME IS RAY LIKE THE SUN RAYS!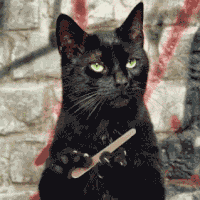 WELCOME TO MY EXPLORATORY QUEST
Stray cat from Mars; lived in space for many years, but now I wonder do you know where I'll go next...
FINAL PROJECT BA GRAPHIC DESIGN / TRIBUTE TO MY GRANDFATHER'S / DIGITAL ARCHIVE OF HIS CHRSISTMAS CARDS TRADITION:
WHAT I LIKE MIX & MATCH

MCQUEEN LEE
MARGIELA
REI KAWAKUBO
Issey Miyake
Alejandro Jodorosky
Wes Anderson
Christoper Nolan
Circular Fashion Philosophy
Globalization and Cultural Exchange
Elasticity (Tiny and but expandable)
UV protection
Bio materials
Biochromes
Heat press seams
Spray on textiles
I wondered for a while going to one extreame to another making chaos and order, while my journey has taken me to various places, my roots are firmly planted in the picturesque region of Umbria, in Italy, surrounded by the vasntess of nature. What truly drives me is the fusion of technology with craftsmanship, allowing me to craft vast, imaginative"better" worlds for myself and whom ever wants to join. Fascinted by fabric manipulation, exploring the fascinating realm of bioengineering, and consistently seeking practicality in construction and visibility. I'm on a mission to expand my knowledge and make meaningful contributions in these fields.
I wonder what will come next. My goal is to be as free by any constructs exploring all of my 'whys,' pushing myself out of my comfort zone, and making the most of every little bit of this incredible journey. In my creative process, I bring together ideas, colors, and knowledge, making it a space where experiences take shape. I'm all about the journey, not just the final product, and I aim to share my beliefs and voice. My vision is to design in harmony with the environment, taking cues from nature. I want to change how we see clothing and make a broader impact on the fashion world, reflecting its role in our society. As a passionate creative and researcher, I'm all in on exploring possibilities like expansion, flexibility, heat, UV, and other cool factors. These are at the heart of my quest for innovative projects that can reshape how we use materials and technology.
bio