2. Digital bodies¶
MY WORK¶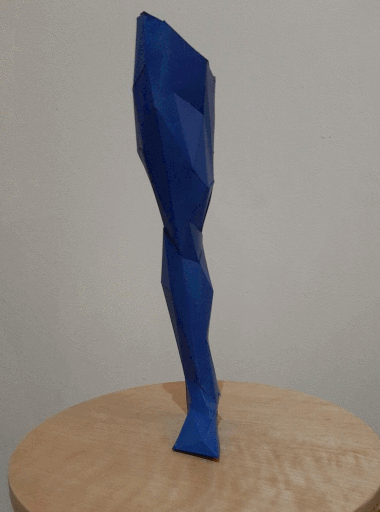 SOME INSPIRATION¶
Firt of all, I searched works of artists who had approached on the representation of the human body with different ways
THE MESH IN REAL¶
DAVID BEGBIE¶
He has been creating sculptures out of steel and bronze mesh since 1977. The light material fascinates the artist because of its ghostly presence which makes you doubt the artworks' existence, if only for a second. Begbie strategically lights his sculptures, causing them to cast shadows that echo and amplify the graceful, muscular figures.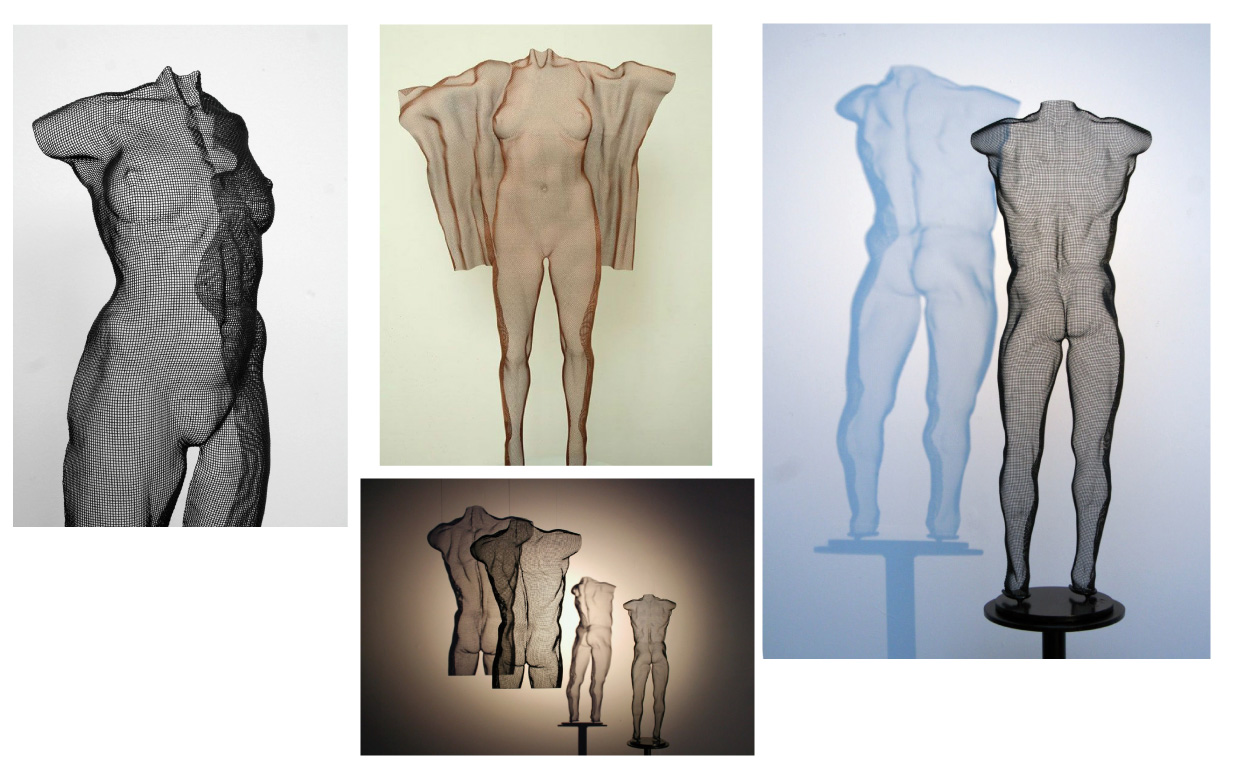 MOTO WAGANARI¶
He is in fact a german artist (whose real name is Lutz Wagner). He creates filigree polygon sculptures , andwhen you shine a bright light on them from the right angle, they cast spirited and dramatic shadows that bring them to life. Using a 3D printer to create a network of wires, he combined technology with inspiration, crafting delicate, surreal shapes and forms that play off light and darkness.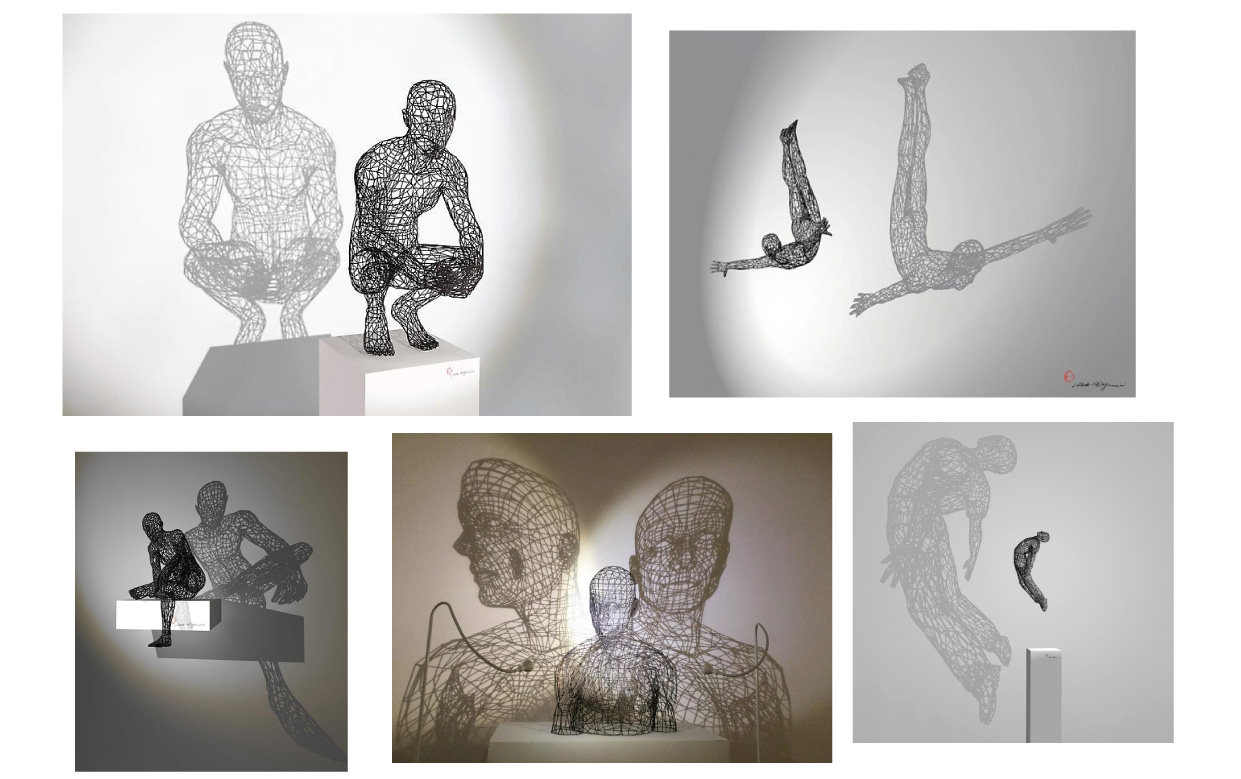 THE MIX REALITY / MESH¶
YUICHI IKEHATA¶
A japanese sculptor and photographer who creates chilling scenes that bridge the gap between reality and fiction. In his surreal ongoing series "Fragment of Long Term Memory," his intention is to comment on the fragmentary nature of memory and render it physical.
"Many parts of our memories… are often forgotten, or difficult to recall. I retrieve those fragmented moments and reconstruct them as surreal images. I gather these misplaced memories from certain parts of our reality, and together they create a non-linear story, resonating with each other in my photographs."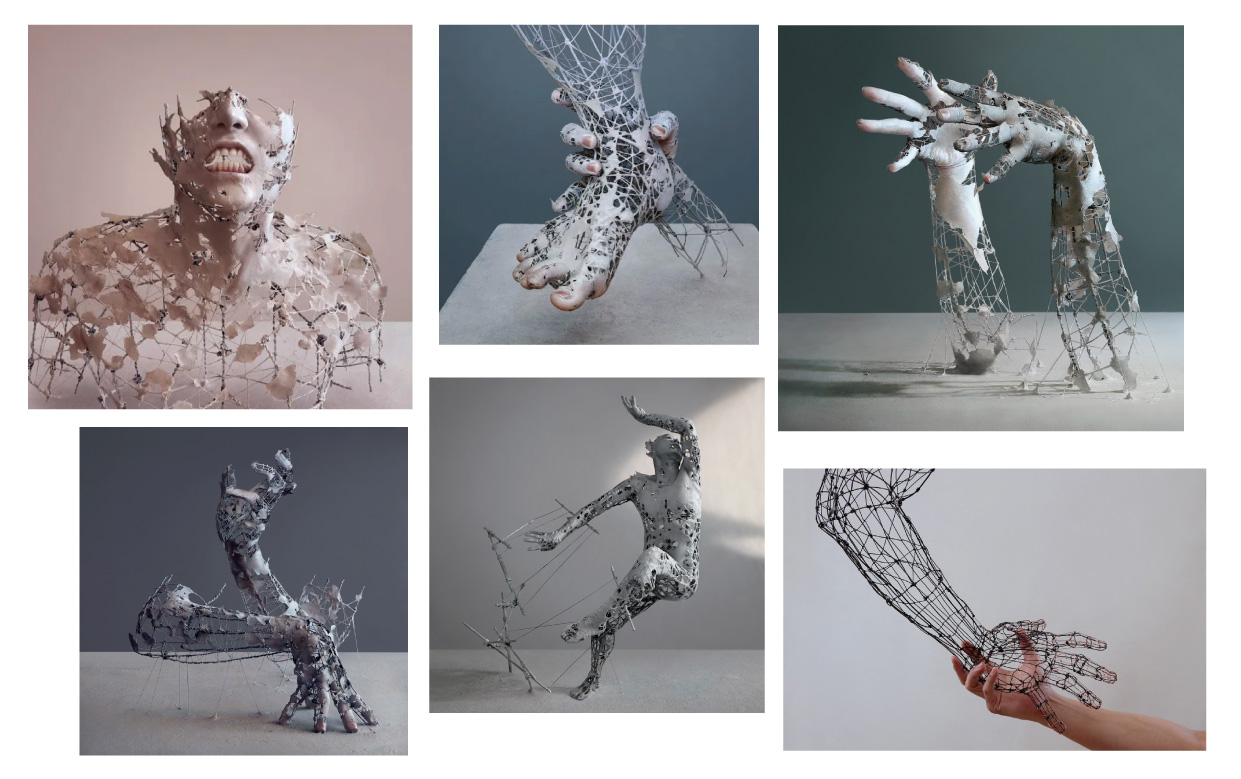 THE MOST SURPRISING¶
DAISY COLLINGRIDGE¶
who is a london-based textile artist, graduated from Central Saint Martins with a degree in fashion design. Her practice revolves around fabric manipulation and crosses into the realms of sculpture and performance. Her quilted body suits are reminiscent of plush children's toys or fictional characters, with exaggerated body parts such as boobs, stomach or muscle systems.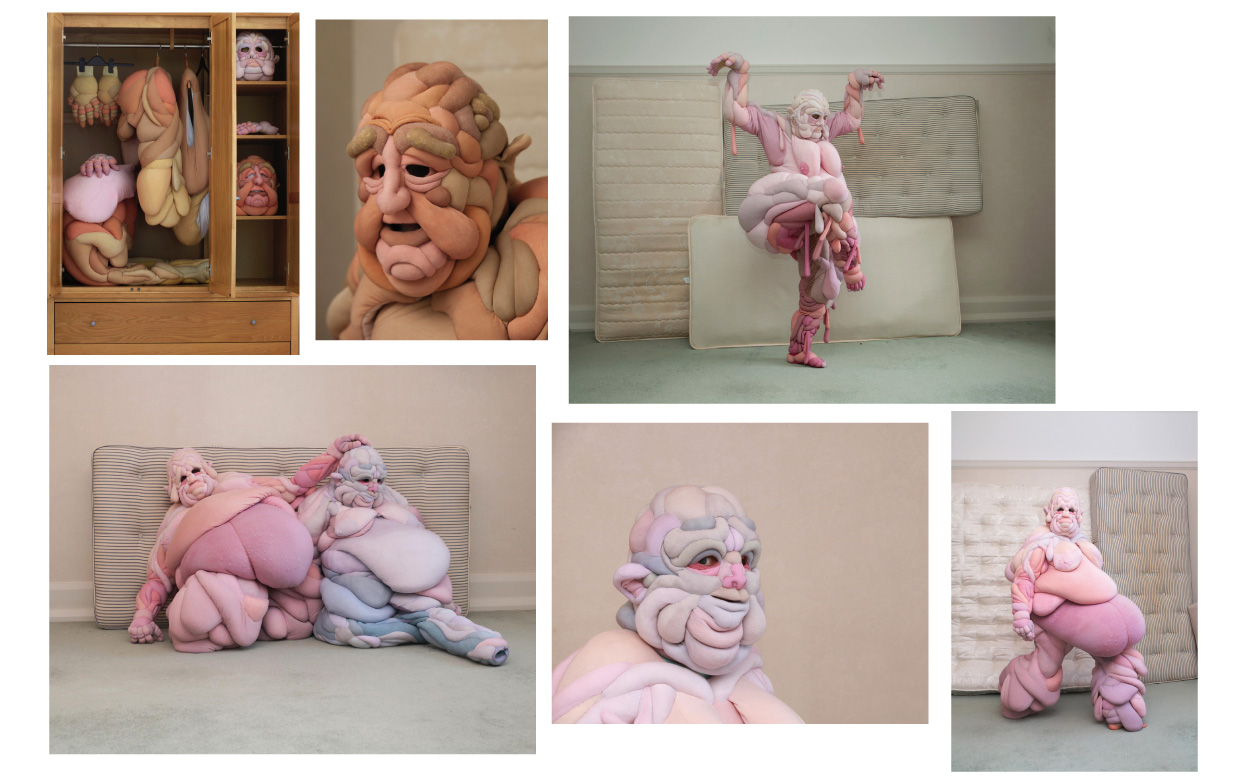 THE FOLDED PANELS¶
XAVIER VEILHAN¶
He is a visual artist from Lyon who lives and works in Paris. Since the end of the 1980s, he has been developing an artistic approach multiple: sculpture, painting, environment, show, performance, video, photo… His work is a tribute to the inventions and inventors of modernity through a formal language that mixes codes related to industry, technology and art. His works question our perception and cultivate an interest in walking spaces, often evolutionary, in which the visitor becomes an actor.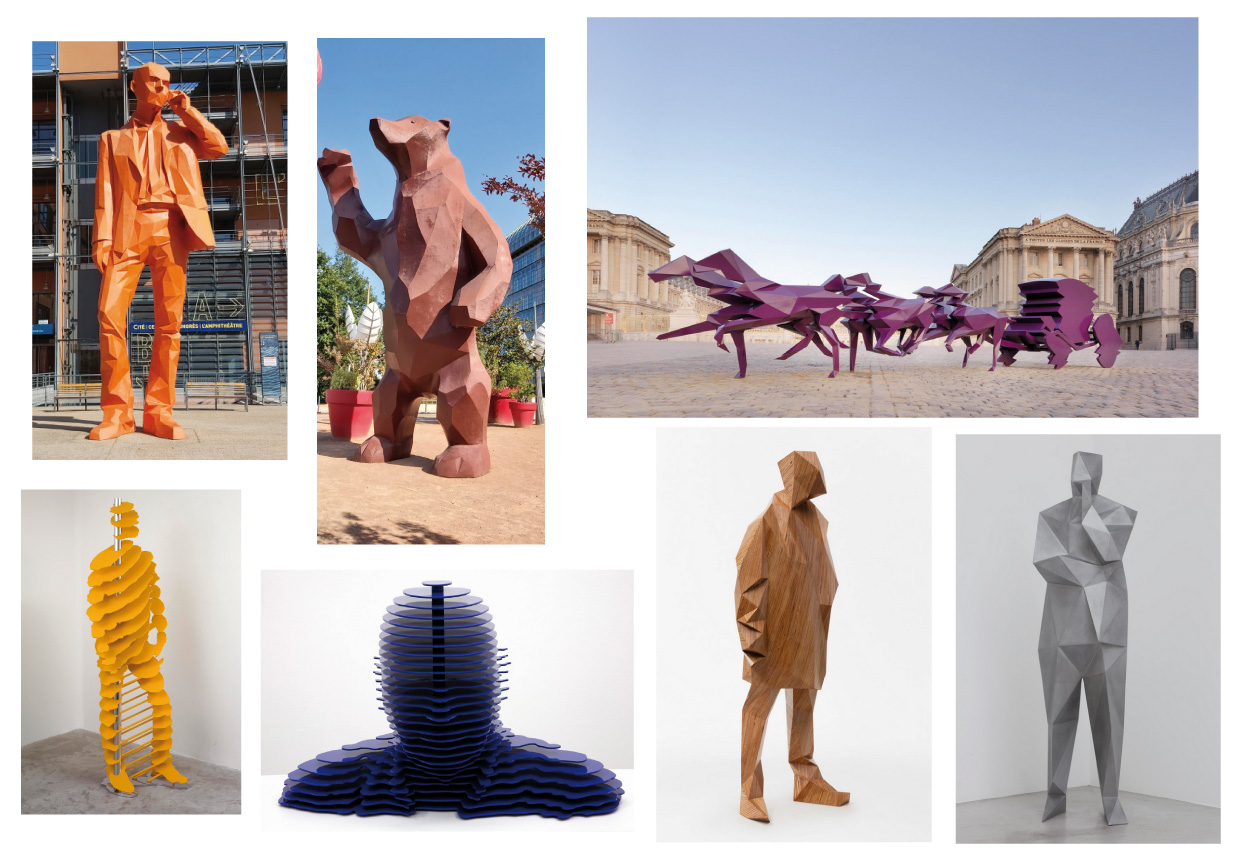 WEBSITE
MY EXPERIMENTATION¶
This week's goal was to discovered new digital tools which could help us to design, represent or make new projects with 3D representation. The inspiration was focused around the human body.
SOFTWARES
we discovered the following software
MACHINES
we used the following machines
SITES
I also discovered 2 sites with shapes 3D free
CHRONOLOGY OF MY EXPERIMENTATION¶
As these days, I have a customer THERM-IC who asks me to design Outdoor socks, I decided to focus my work around the leg.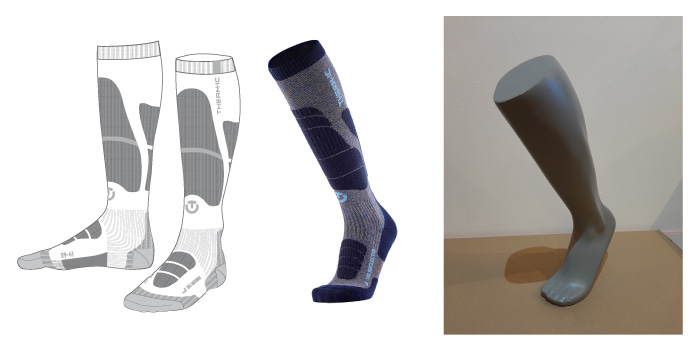 Here are the different steps of my research during the week_2:
1_MAKE HUMAN¶
The first program allows you to make your own human 3D Model. I first wanted to find a leg in a active situation, close to the sock mannequin, with an avatar running.

But as I was not satisfied with the rendering: I preferred to set up a more static and especially muscular man.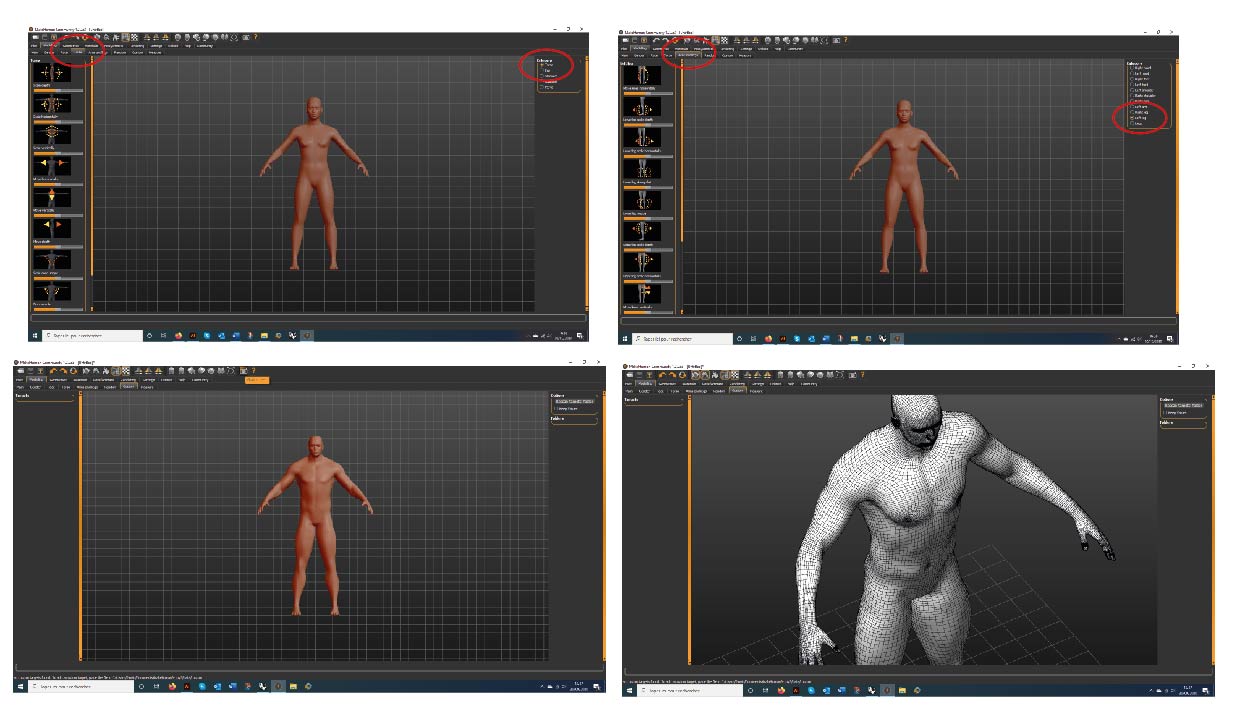 2_SLICER¶
I made a first test with SLICER to identify the effect (technical construction) that would suit me: I like the variant FOLDED PANELS which has a tech spirit and and it made me think about the work of Xavier VEILHAN

3_RHINO¶
The first step was to cut off the body parts (chest and upper arms) that I no longer needed. To keep only one leg in the end. Then I spent time finding the right mesh, so that once back in SLICER, the FOLDED PANELS effect was optimal: without holes and with as few pieces as possible.
Do not forget to export these files to .obj, in order to re-open them in SLICER


4_SLICER (a second time)¶
It was then a question to:
1_Set the working format for the laser cutting machine
2_Define the final dimension of the leg
3_find the right number of vortex Count so that the result is satisfactory


5_ILLUSTRATOR¶
I then went through ILLUSTRATOR to reduce the number of panels to cut and reduce unused spaces. Be sure to export these files to .dfx (in order to read them in the VOXELIZER interface).

6_LASER CUT PRINTER¶
Then I used the VOXELIZER interface to visualize my panels in the 3D printer and generate a file .gcode Then I moved to printing with the ZMORPH 3D PRINTER in laser cutting mode.

7_CUT & ASSEMBLY¶
It's time to come back to a real leg with the assembly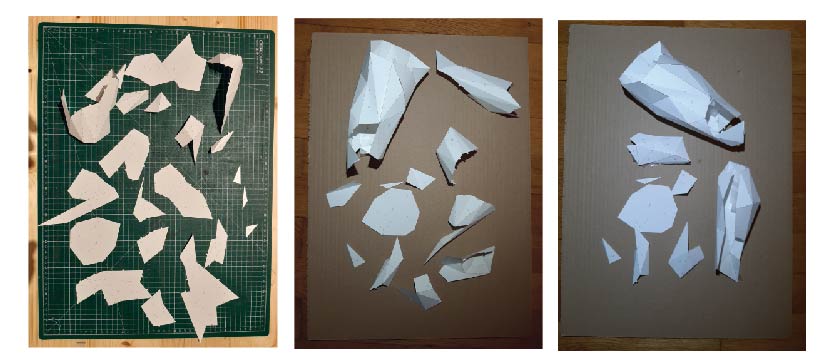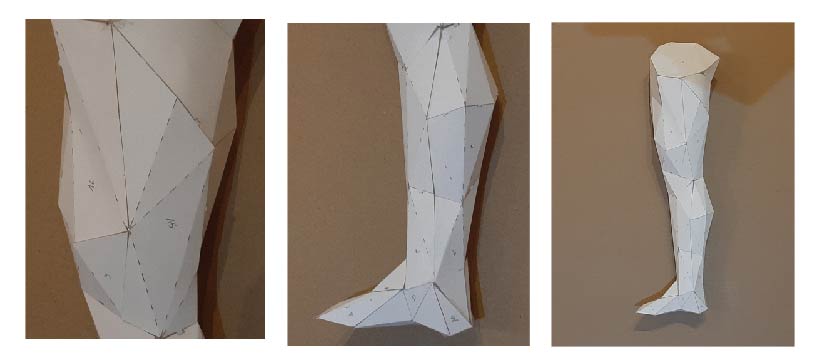 8_USING THE SCAN¶
The time has come to go the other way: from reality to digital. Using a KINECT camera, we scanned my leg and then via SKANECT, I recovered one file and then went from RHINO to SLICER to optain a new FOLDED PANELS LEG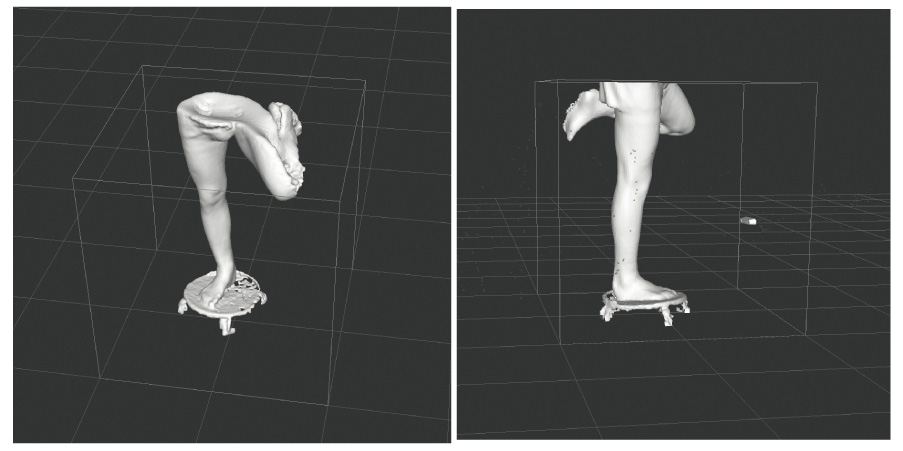 9_RHINO (a second time)¶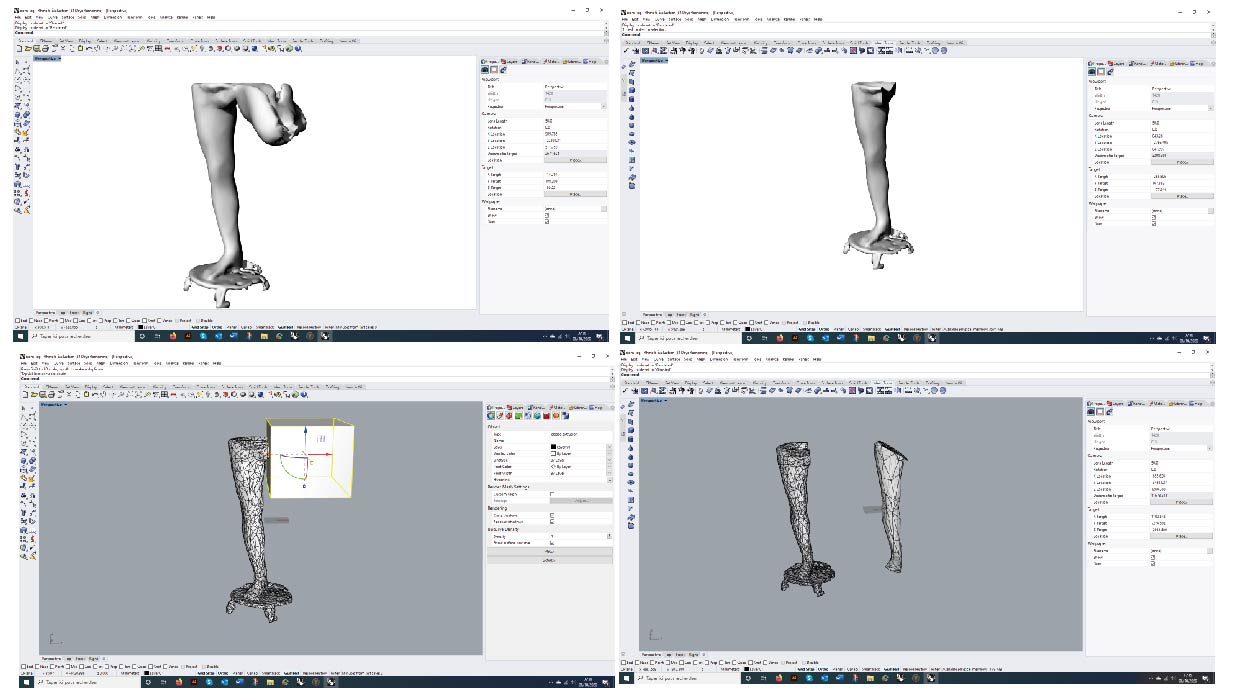 10_SLICER (At least)¶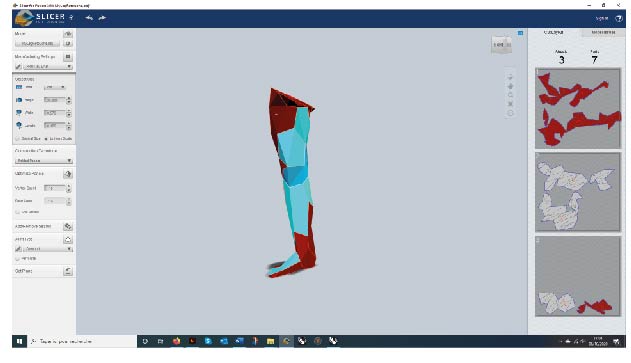 11_CLO 3D (Just a quick test)¶

---
Last update:
January 12, 2021