5. E-textiles¶
(Made up during the WEEK_10)
THE OBJECTIVE OF THIS WEEK¶
In week_5 the mission was to get acquainted with the basics of electronics & tools. The process may seem simple but for many of us it is our first time using programs such as this week's Arduino.
In this week's lecture, Liza STARK explained all we needed to know about circuits and sensors : how to create them, what tools and materials we need, and how to make connections between hard materials (electrical components, boards) and soft materials (fabric and thread, conductive or not).
Our task this week is to create sensors:
A digital sensor (on/off switch)
An analog sensor (for example a pressure sensor)
Connect them to an Arduino board to manipulate the values
Integrate one of our sensors into a swatch using hard/soft connections
MY INSPIRATION¶
KOBAKANT¶
KOBAKANT is both a tailor shop KOBA for electronic textiles and wearable technology in Berlin and also an artist collective with Hannah Perner-Wilson and Mika Satomi.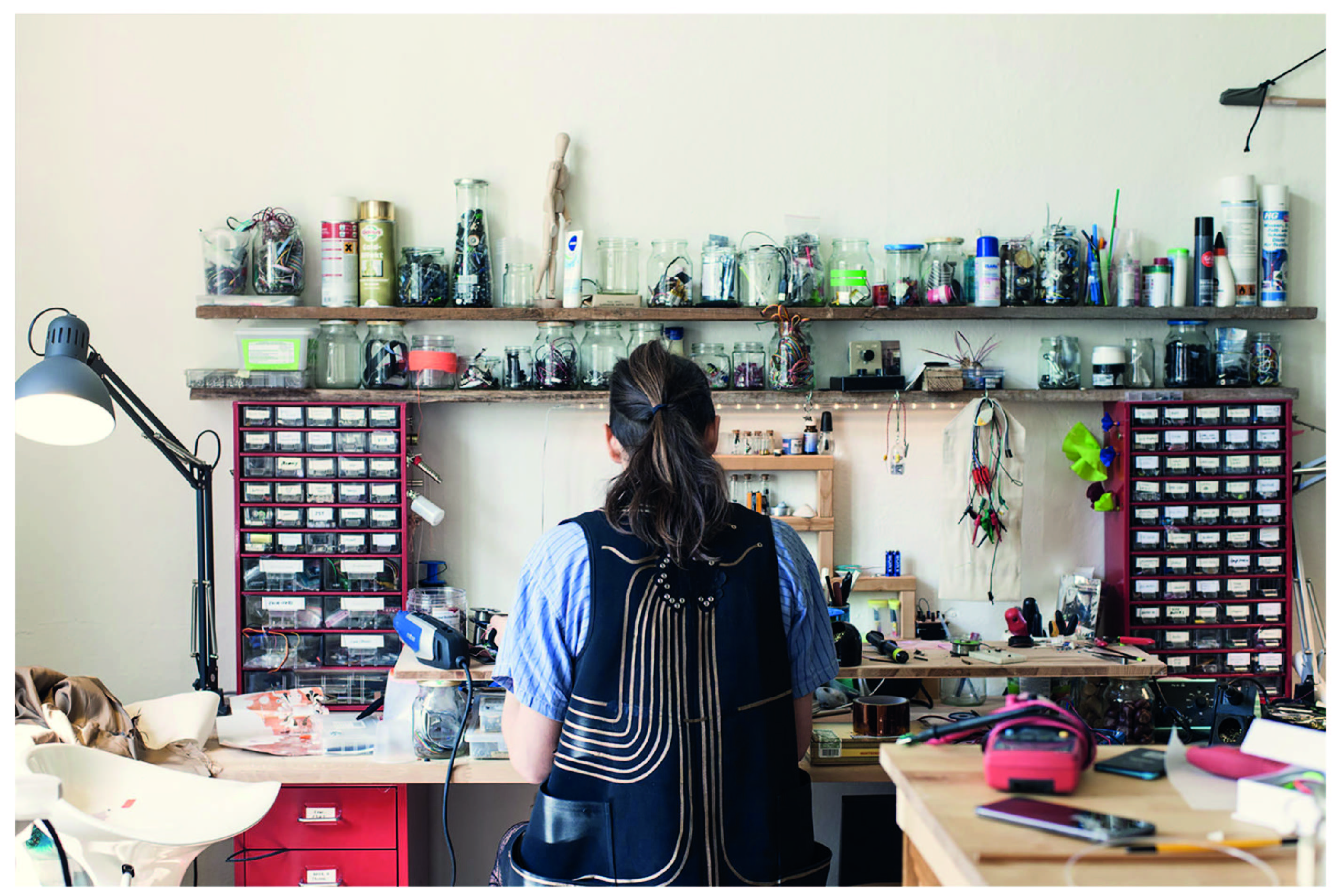 Their work is very varied and includes:
COMMISSIONS for E-Textile/Wearable prototypes.
ARTISTIC PRACTICE explores the combination of textile crafts and electronics as a medium for commenting on technological aspects of today's "high-tech" society. The results of which are often performances, interactive installations, wearable interfaces.
INDEPENDENT RESEARCH and online publication.
TEACHING university-level courses and public workshops that cover E-Textile techniques as well as conceptual themes.
ORGANIZING a range of events from summercamp to swatch exchanges and gatherings to discuss certain topics.
ARTICLE LINK: Interview of KOBAKANT
IMOGEN HEAP¶
IMOGEN HEAP is an English singer-songwriter, record producer, and audio engineer. She developped her Mi.Mu gesture-control gloves, which allow her to control instruments and computers on stage by using hand gestures. "For the first time I get to see how somebody else uses the gloves," Heap told us. "The minute somebody puts their hands in them, they're starting to think creatively about them. I'm really happy that you're going to see what they're up to." Imogen Heap's Mi.Mu gloves will "change the way we make music"
RACHELFREIRE STUDIO¶
Rachel FREIRE is a London based artist and designer working in fashion, costume and garment technology. She is self taught in pattern cutting and trained in Design for Performance at Central St. Martins. Her work inhabits the spaces where disciplines meet with focus on intricate, evocative detailing, narrative garments and exploring the relationship between futuristic applications and traditional techniques. She accidentally launched a conceptual fashion label in 2009 to explore the idea of clothing as armour, embarking on a self taught fashion degree live on the catwalks of London Fashion Week.
Rachel Freire Studio focuses on value attribution and how to make sustainability inherent in future design logic, contributing to the roadmap of boutique production and scalability for wearables: integrating technology, craftsmanship and experimental techniques with high-end garment manufacture processes. Her East London atelier hosts a myriad of projects and collaborations, working with highly skilled artists and technicians who can be found in the credits. She is currently fascinated with the reality of combining fabrics and circuits to create functional garments for the future and is the textile designer of MI.MU GLOVES, a gestural interface to compose and perform music with your hands. Her work is designed to tell stories, or to inspire them.

LIZA STARK¶
Liza STARK, our professor, is a NYC-based designer, educator, and artist working at the intersection of craft, DIY electronics, and smart materials. She specializes in e-Textile development, wearable technology, human-centered design, and playful learning.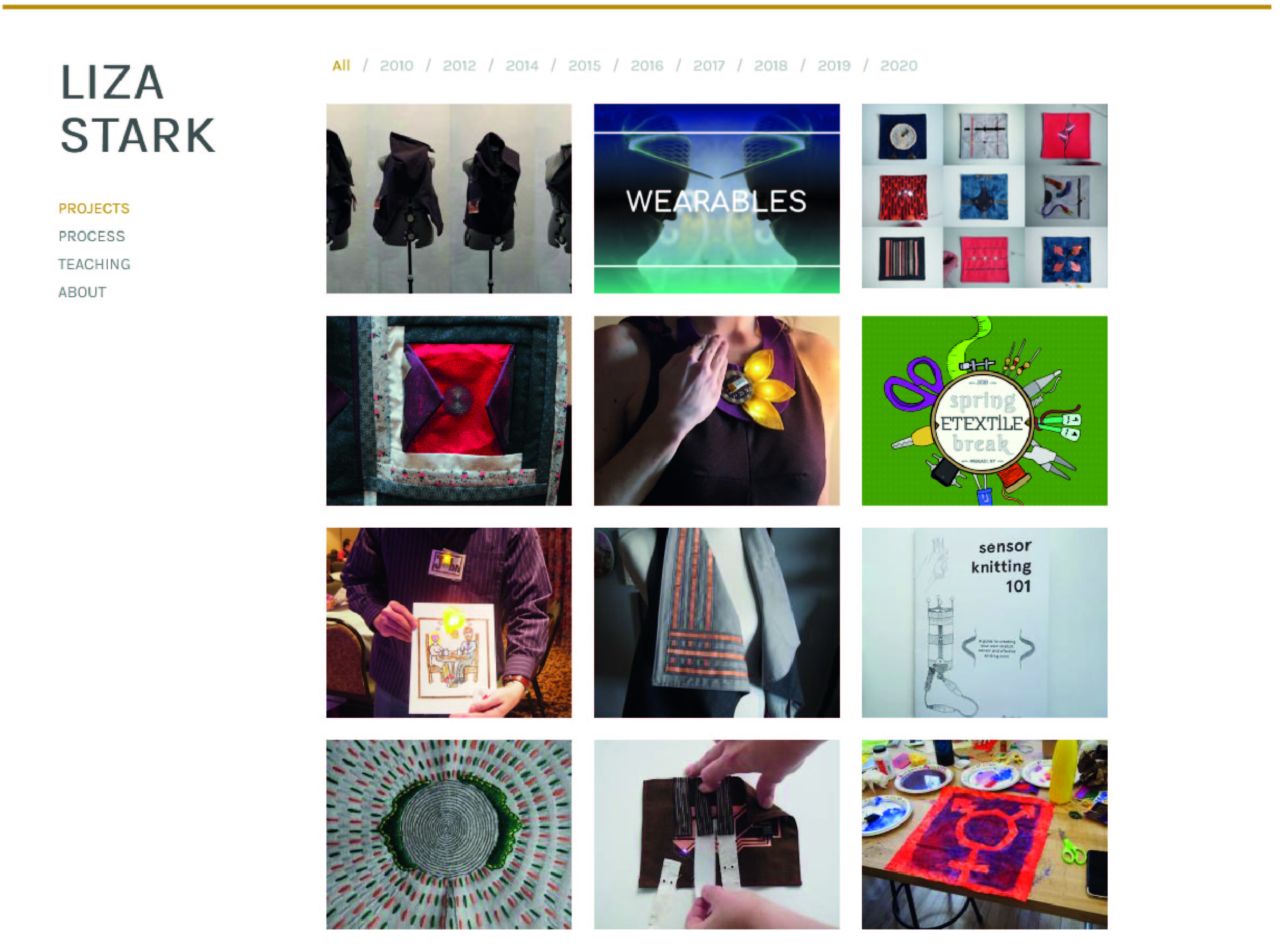 VIDEOS LINK:¶
MAKEYMAKEY MUSIC¶
How to learn to make musical instruments with a lot of thing and in a funny spirit
SPARKFUN¶
SPARKFUN is an online retail store that sells the bits and pieces to make your electronics projects possible.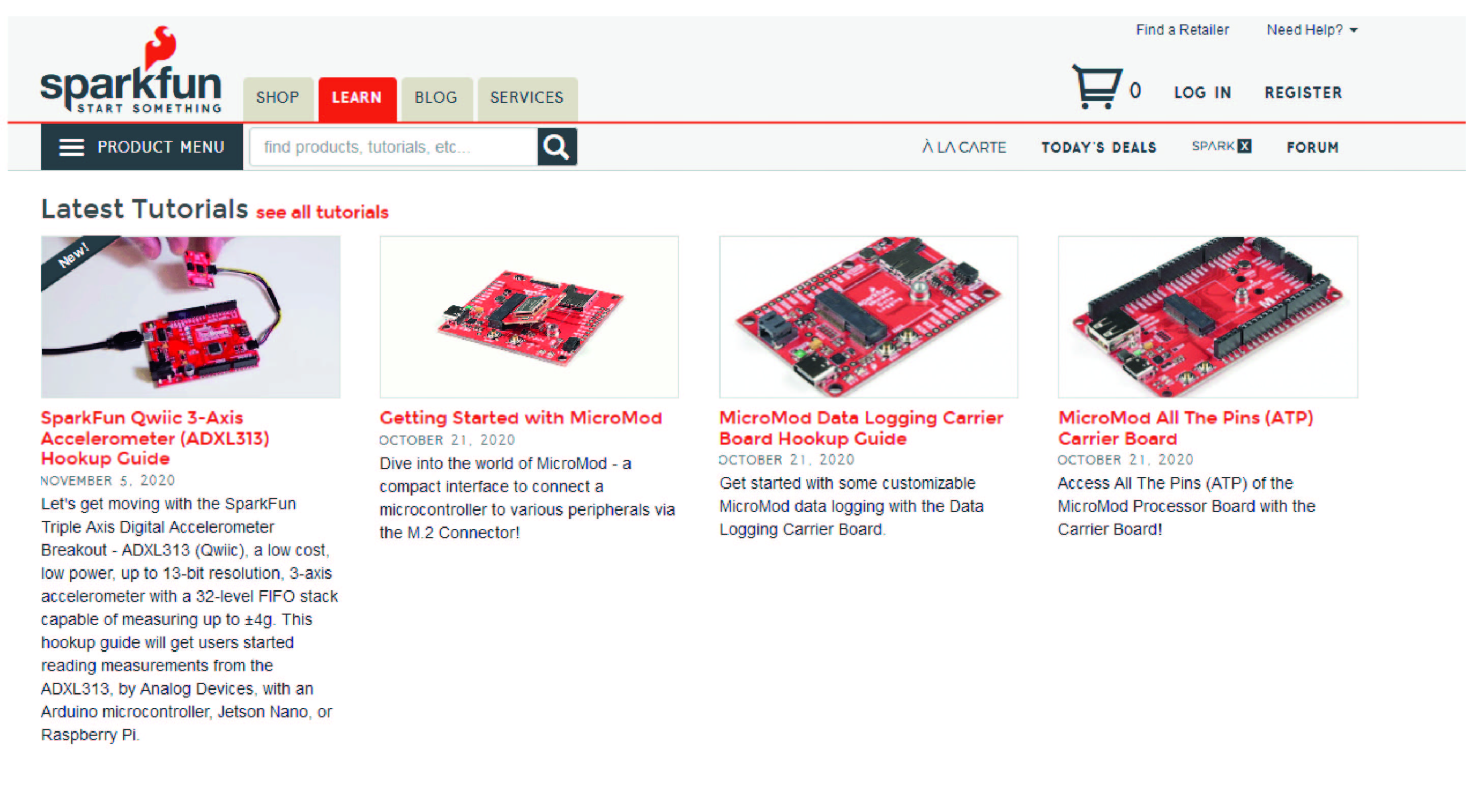 MY WORK¶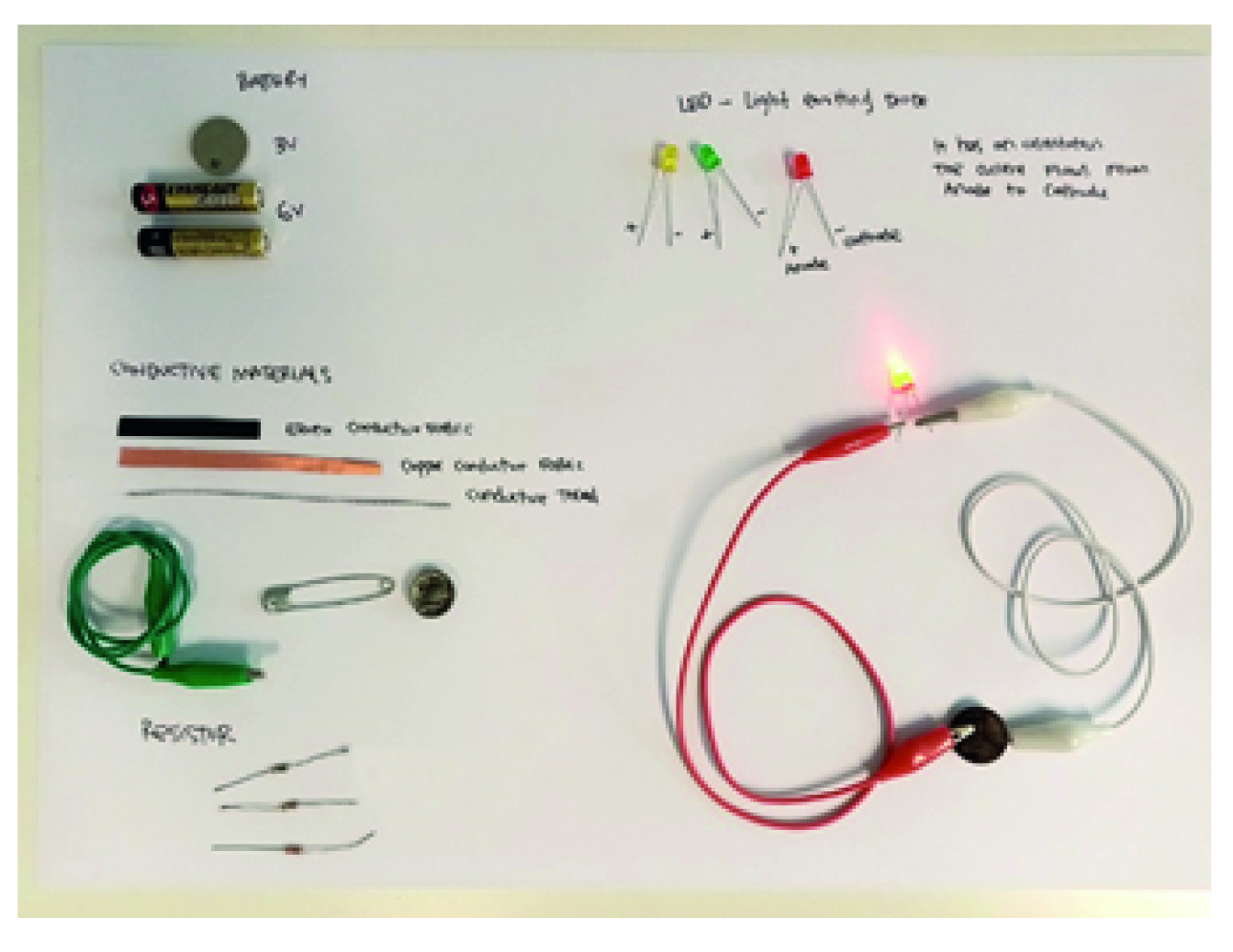 FIRST STEP¶
The purpose is to realize a soft digital switch
Déf. DIGITAL SWITHCES: - A switch is a break in a circuit. Since the circuit is not complete, no electricity can flow to the components.
So, I tried to develop a bracelet with these elements:
a safety pin at one end,
and one conductive piece of conductive fabric
conductive thread
2 LED
1 battery
I drew a diagram, then I quickly moved on (too much!) to making a first cut. But nothing works !!?
In fact my conception of a parallel connection of my LEDs was not compliant. I then correct the system unpicked parts.
But following the modifications, only one LED does not light up: I mounted the other upside down !!
I correct my mistake but then none of the 2 leds light up! ??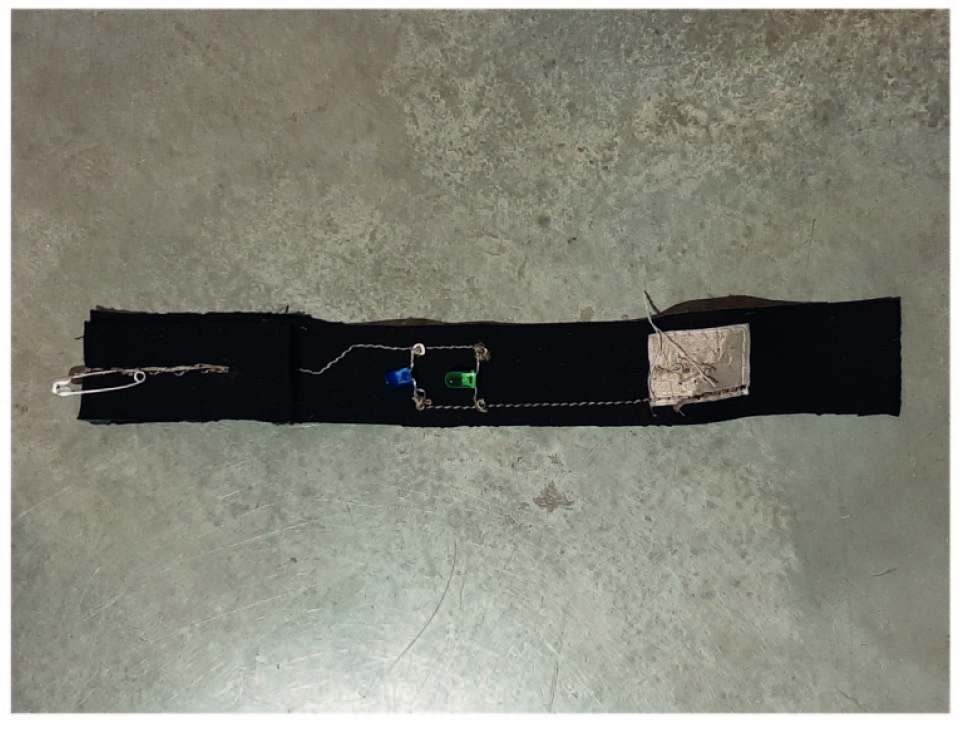 SECOND STEP¶
This time, the purpose is to make a soft analog sensor
Déf. ANALOG SENSORS: - Analog sensors use resistance to get a broader range of values. By varying resistance of your imput -allowing more or less current to get through- you can change the output. That is why they are also called variable resistors a resistance changing in distance & surface aera
to execute this seonsor, I should use these elements:
1 velostat fabric / potentiometer
1 Arduino card
1 breadboard
First of all, I need to understand how use a Arduino and a breadboard
ARDUINO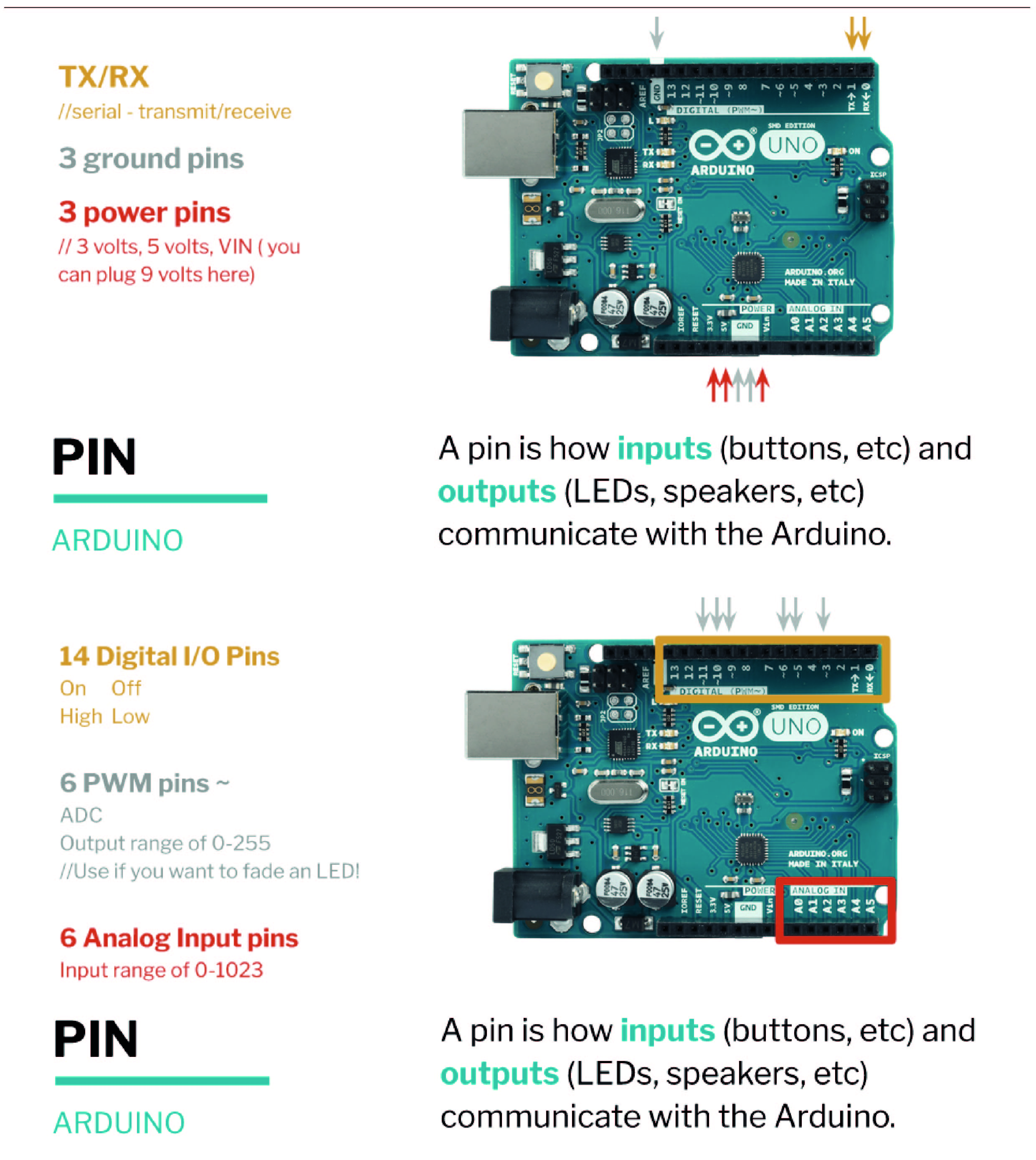 VIDEO LINK
BREADBOARD
---
Last update:
January 12, 2021