Welcome !¶
Welcome on my page on which I'll try to show and explain my Fabricademy journey ! So we're in !! "Fabricademy 2021" started 2 days ago and I'm so excited to be part of this great worldwide adventure !!
This area, which I discovered yesterday during the first tutorial, will look like a daily diary, in which I'll lay down everything that seem important to remember: mostly new skills, artistic discoveries, inspirations, but also feelings about.
So welcome on my board, and thank you for reading ;-)
A few things about me¶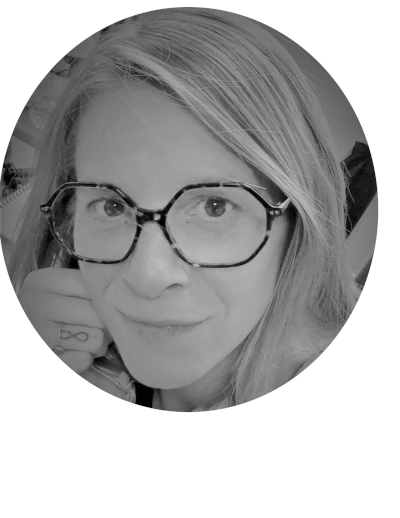 Hi! My name's Marie-Charlotte DESFORGES, I'm 41 and live in Clermont-Ferrand, in Auvergne, right in the center of France. I have 2 children : a 14 year old daughter, Faustine, and a son of 11, Marcus. When I'm not sewing, I love rambling in the volcanos that surround me, listening to music, meeting new people, and sharing moments with friends and family. I'm also really interested in all the techniques that allow you to grow your self-help, and of course all about improving our link and respect to Nature. Little by little, I'm finding my way between my personnal life and my professionnal ambition, which is not always easy being a woman and a mother, struggling to find time for everything and everyone ! I've learnt the vertues of being patient, and recognize every good event as a present of life !
If I should define myself, I would say I am a dreamer, a lover, a mother, a friend, a sewer, a hard-worker, but also an adventurer : I try to keep on challenging myself, and let the unexpected (very often magical) happen.
Find my way to textile...¶
I was born in a farm near Orleans, in a large family of 5 siblings. As far as I remember, I've always been interested by Fashion and looked at creators like "out of common" people. To me, it was the definition of a dream that couldn't meet my reality ! By the way, that's the reason why I found it so hard to choose a professionnal orientation...I finally decided to do a Business School in Clermont-Ferrand, which allowed me to gain a "super adaptability", discovering very different structures, people and ways of thinking.
Completely "by chance", my first job brought me directly in the temple of Fabric (!), a well-known french fabric store, Bouchara. I instantly fell in love with all fabrics, as much for upholstery than for clothes. At that time, I didn't know anything about sewing, and had a real admiration for people who knew how to sew, and globally make and create.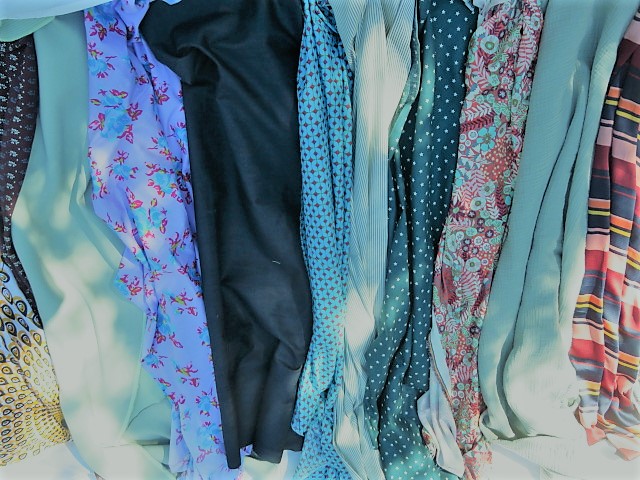 I came to textile a few years ago, as I decided that several things had to change in my life : my pre-quaranteen crisis
Changing my professional orientation had become an obsession. It was crucial to me. I realised I needed to create, I had to learn to do things with my hands. I bought a sewing machine, and began to sew for hours and hours : it brought me calm and joyfullness, as I was repairing something inside me.
My choice was clear : I wanted to learn eveything about sewing ! By chance, I've been enrolled in a one-year training during which I've learnt all about the traditionnal technique of tailor-made sewing techniques. This was the first part of my dream finally coming true!
After that training, I really wish I could set up my own business, but I had to admit I missed a lot of practice to be able to. So I took the decision to take a job to earn my living, and gave all my free time to sew things for me, mainly my own clothes and accessories. This is my way to fight against the fast fashion !!! And honestly, I love wearing what I make !! And I want to go further, thinking about the ecological impact of the fabrics I'm buying, and also the waste created by cutting my pieces.
☛ Please have a look on what I've done so far before arriving following this link
So, why Am I here ?¶
Why Fabricademy ?
First, I'm here to find my place in the universe of textile. I feel like I've made an important first step towards my new professionnal journey, but I need to explore further, and understand what is actually happening in this field, so that I can really choose in which direction I want to carry on building my new career !!
Second, I'm here to complete my skills with new technologies, deeply convinced that Innovation will help to find solutions to stop ecological and social damages caused by fast fashion.
As for me, a creative process happens when tradition meets innovation.
So, the main topics I'm impatient to learn about are : Open Source Circular Fashion and 3D Softwares, Biochromes and Biomaterials and Open Source Hardwardware : Almost everything in fact !!
Inspiration¶
Artists, brands, creators, events that have awaken me :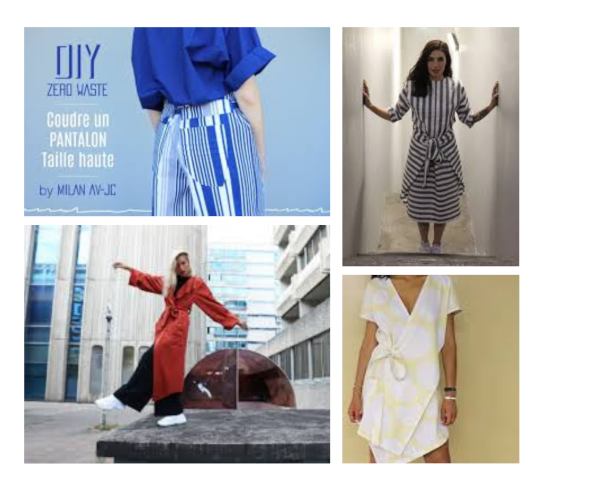 Milan AV-JC, Mylene L'Orguilloux, Zero Waste Designer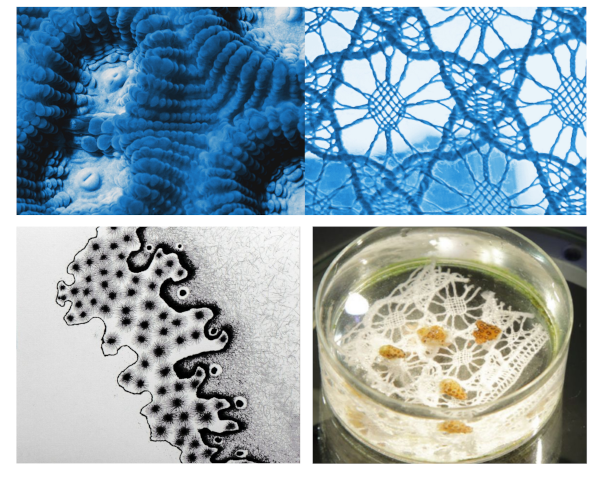 Corail Artefact, Jérémy Gobe
The FITE, Festival International des Textiles Extraordinaires
About Recycling
There are many ways to recycle fabric, and we can find some many inspiration to avoid throw your little scraps of fabric. For instance, Jude explains in a tuto how she gathers many little pieces of fabrics to recreate other objects : Jude's blog
Brands like InfinitDenim are also very inspiring. They are setlled in Barcelona, I discovered them by chance during a trip in april !!
Denim is one of my favorite fabric, love all the colors and different tones, and all the possibilities it offers with recycling !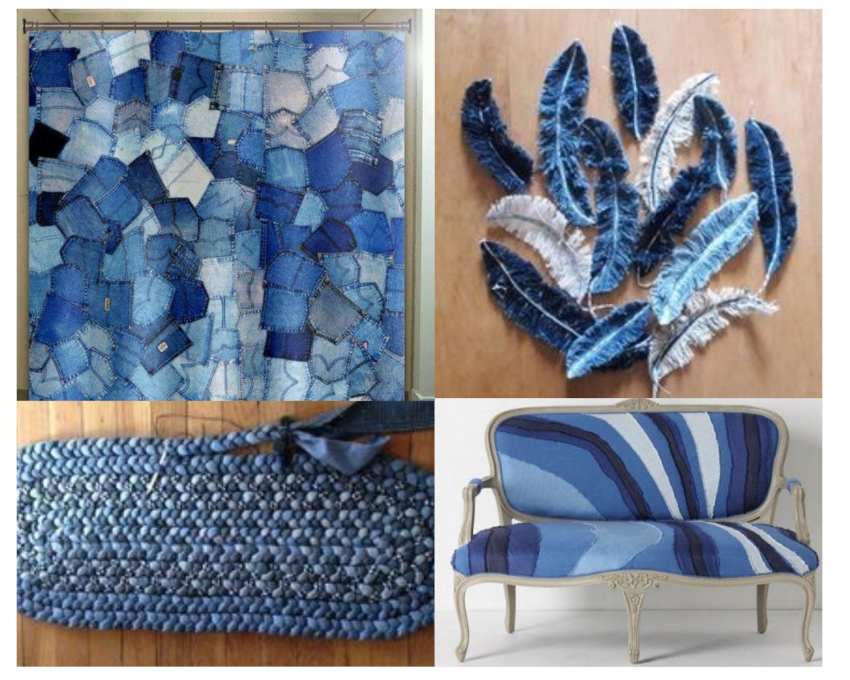 Final Project¶
This journey through Innovation and Textiles will offer me new professionnal perspectives, like maybe opening a Textile Lab in Clermont-Ferrand. I'd love to show and explain people, and in particular children and teenagers, that a sustainable fashion industry is possible, and that everyone can change its way of consuming clothes, being conscient of what they buy and wear.
As I explained it in the previous paragraph, I focused on making my own wardrobe, and little by little, using Zero Waste patterns. One of the issue I'd like to explore with the 3D softwares is the possibility of creating a zero waste pattern with one's person measures : Tailor-made + zero waste !
---
Last update: 2022-05-09