9. Textile as scaffold¶
This week was 5 weeks in one week aha there were so many things that I wanted to try! As some other week, we (the girls) did very different thing so at the end it is super enriching!
RESEARCH AND INSPIRATION¶
Pine resin by Arrosia to showcase forest by-products
Recycled hairs to highlight textile by Antonin Mongin
Reinvent furniture with FabBRICK
Recycled jeans and threads by embroidering them : ohmadeit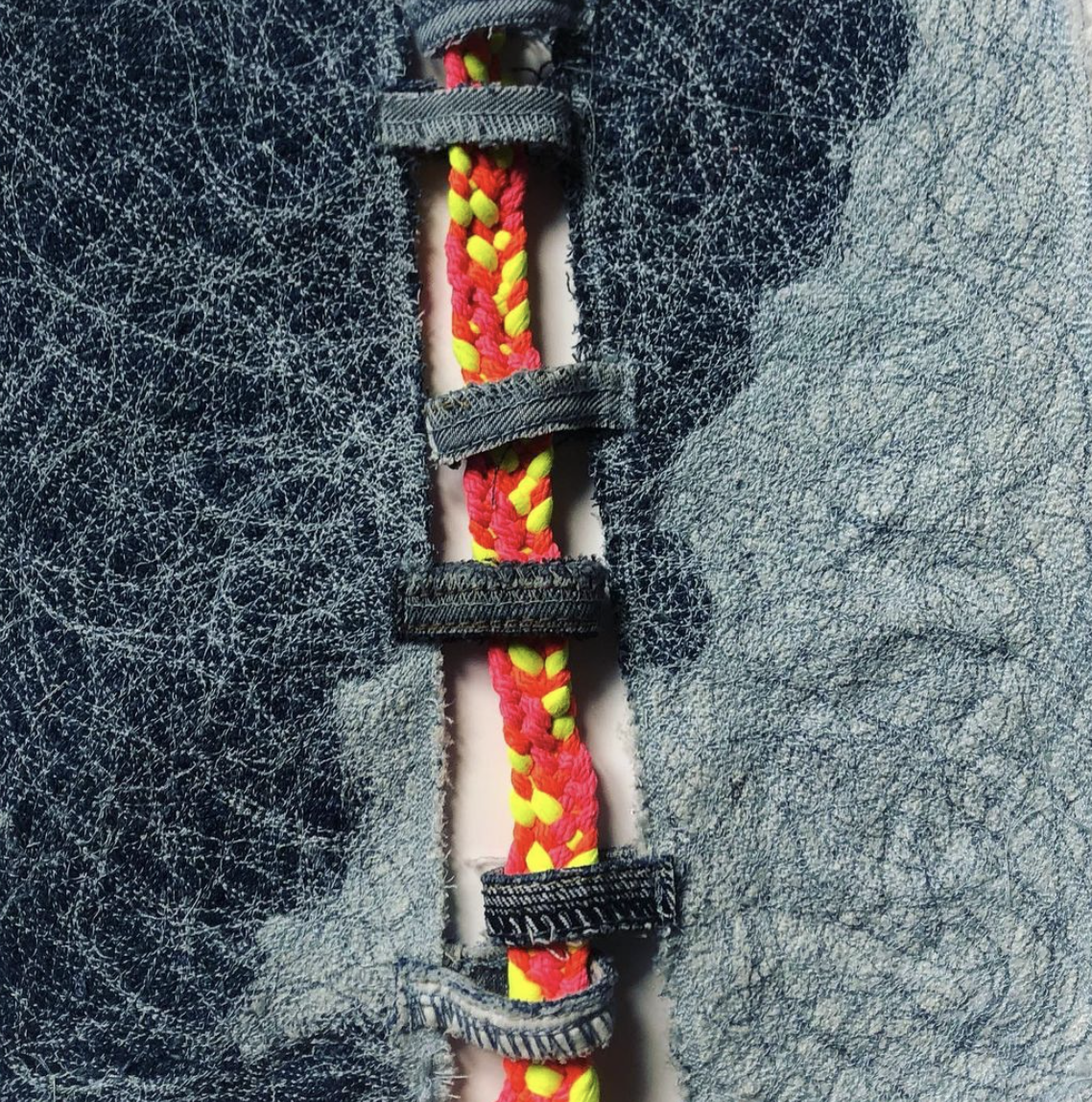 Crafts into contemporary shapes by Gatean Bobichon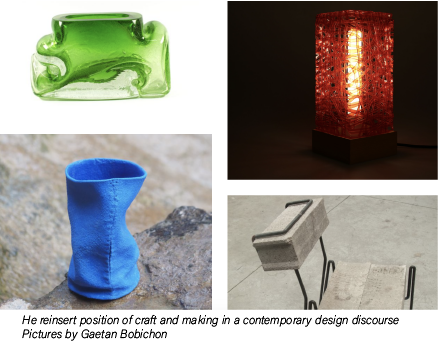 Making paper with recycled fabrics by Atelier retailles
KNITTING HEART:¶
Zaha Hadid Architects and ETH Zurich develop knitted concrete system
MY PROJECT : RECYCLE EMBROIDERY MACHINE'S PAPER AND THREADS¶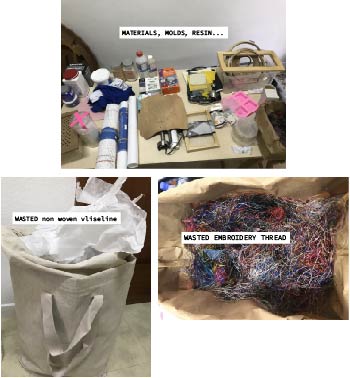 This week, I worked with Marie-Charlotte. We wanted to use waste threads and paper from the embroidery machine that we have at Textile Lab. We had the idea to make paper with it if we cut it in small parts.
*Unfortunately, I was seek the thursday so I couldn't continue the work with MC :(((((((( That is why, for all the process and the full experience aahaha you can look at Marie-Charlotte's work :)
Paper from textile wastes : non-woven Vliseline
This waste is from the embroidery machine. This one is not glue coated. It looks like a thick and untearable paper.
Material :
non-woven Vliseline

frame

glue for wallpaper

containers

mixer
Steps :
Cut the non-woven in small parts

create a bath with water and non-woven during a night

In an other bath, put a spoon of glue

put the first bath in a colander and keep only the textile

than, put it in the bath with glue and wait 3-4 hours

mix everything

spread on a frame (thin layer)

put a textile on it to absord the water

than leave it to dry during at least a day (in summer) (longer in winter)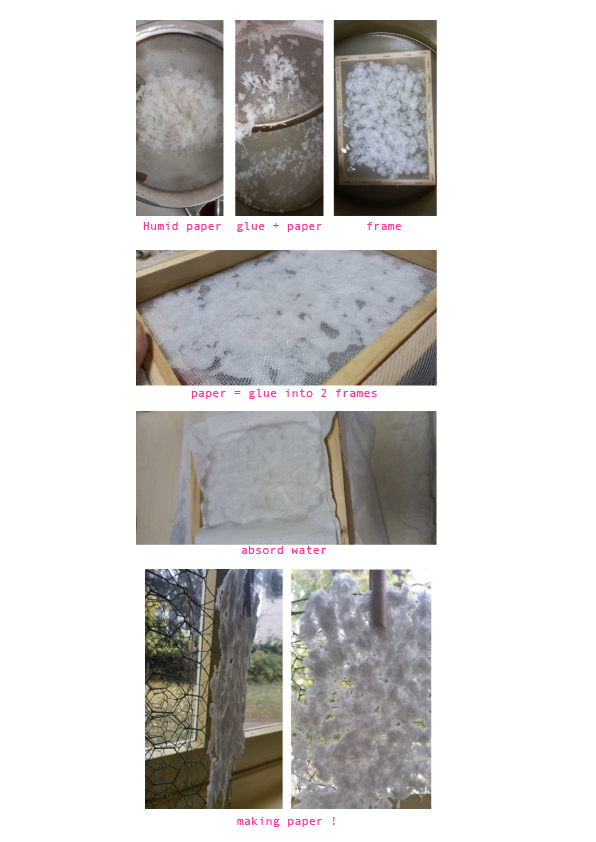 CRYSTALLIZATION AND CROCHET¶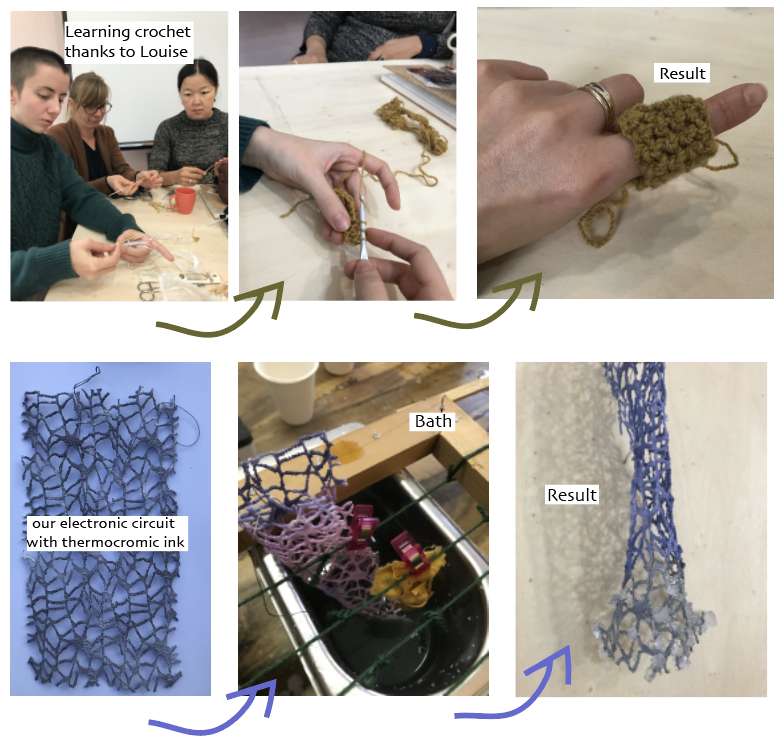 I wanted to see how our electronic circuit and thermocromic ink react so I put the sample we did last week.
Recipe
Dissolve 250g of alum for 1L water (distilled water will give you clear crystals)

Filter the solution and pour it in a jar (to avoid impurities and crystals forming on the bottom of the jar)

Add the textile sample : they MUST NOT touch the jar walls.

Put the jar in a space with minimum vibrations so that the crystals can grow in a homogenous shape
Thanks to Louise, we learned how to crochet. We tried with the non woven vliseline but it was to breakable. So we used the died wool made by Diane during the bio material week :)
I did a big ring ahahah.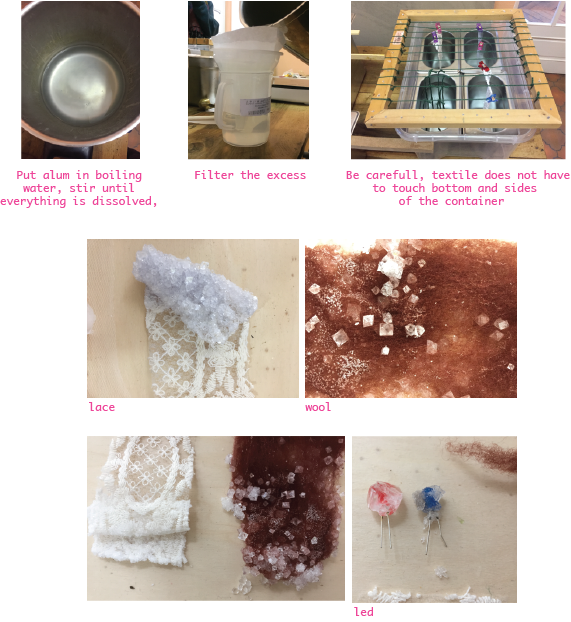 Notes
The cooling duration affects the physical shape of the crystal, the longer the cooling time is, the larger the crystal becomes.

Less vibrations means homogenous shapes

Distilled water will prevent from white crystals

Pigments can be added to the solution to obtain colored crystals
USEFULL LINKS¶
KEY WORDS OF THE WEEK / REFLEXION¶
---
Last update: 2022-08-31