WEEK 13 - SKIN ELECTRONICS¶

Last Update: Jan 31, 2022
December 13-29, 2021
This week I learned how to solder and connect neopixels together and assemble them in a silicone casing for skin application. Unforutnately I don't think my soldering job was great as the connections were poor and couldn't light the neopixels up well. Regardless, I also learned how to encase LED strips into silicone and create shapes that could fit onto the body.
Keywords: neopixels, wires, soldering, coding, Arduino, connection, skin electronics, lights
Quick Summary¶
Tools/Resources Learned:
Tools Refined:
Silicone casting with Smooth-On Ecoflex 30
What I still want to learn better:
incorporating neopxiels directly on skin in a cleaner manner (more invisible looking cords/wires)
---
Research and Inspiration¶
I spent a loooot of time imagining and re-imagining and drating what I could possibly do for this. I relied primarily on the lecture notes and Adafruit documentation for ideas and inspiration. I was also highly inspired by my colleague Amanda Jarvis and her project.
I was also really inspired by Cyberpunk characters and the electronic integrations on their skin. (note: I did not end up emulating this, just admired lol)
To keep track of some of my many many thoughts I made quick sketches of potential areas to pursue.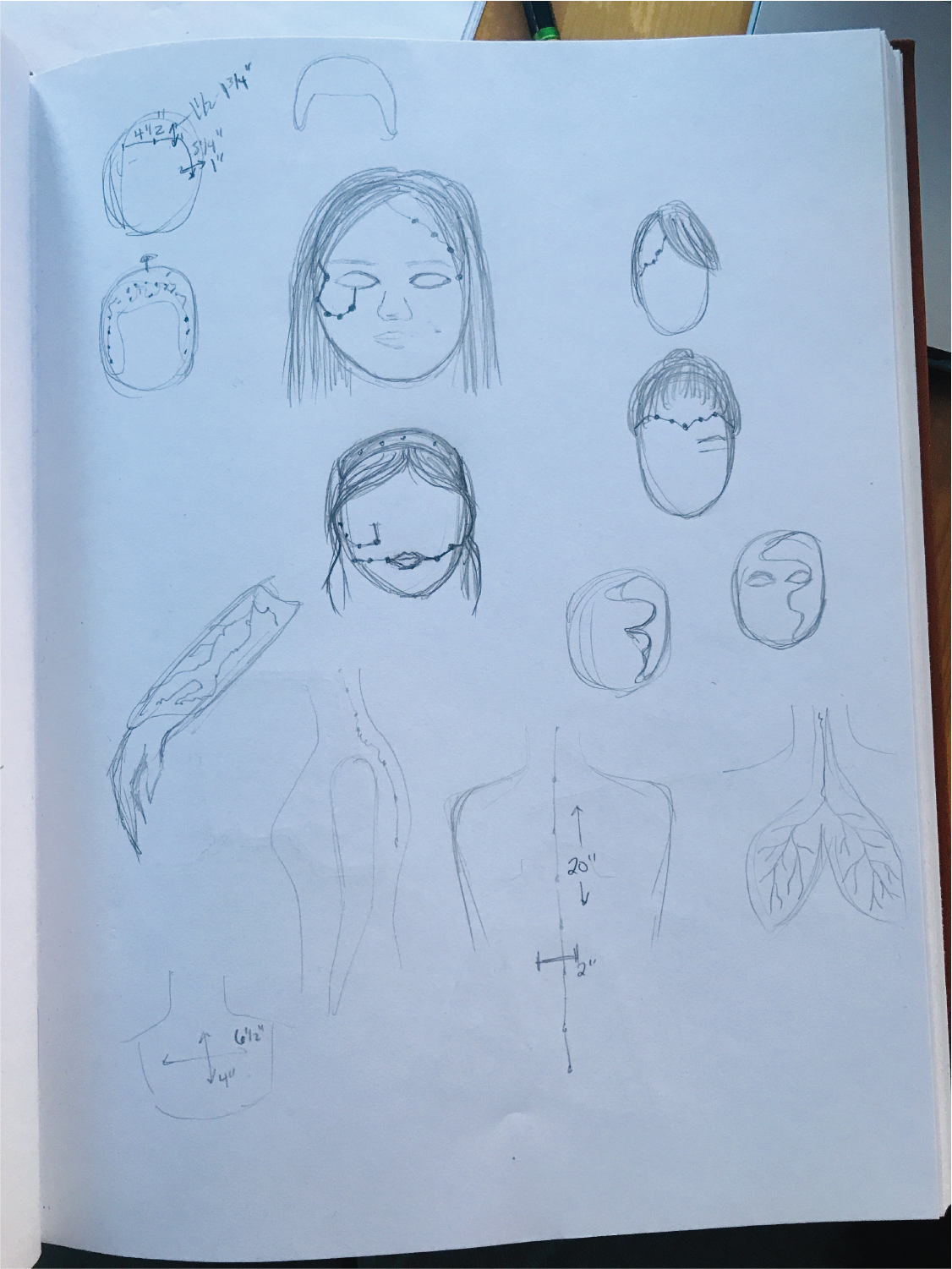 ---
Silicone/LED Collar¶
For this and the next project, I started by handmaking a headband out of some extra fabric I had laying around.

The following video summarizes the process of making a band / collar that I actually thought could be attached to my back along my spine. But in the end I thought it was fun to put on my neck as well ha...
A downside of this sample was that it was much too thick (about ¼ inch)... so I wanted to try again with a different shape.
---
Silicone/LED Necklace¶
Similar to the project above I made another sample in the shape of a wide necklace that was much thinner than the last. I also figured that I could make it thinner by flattening the LED strip with another sheet of aluminum.

To connect the LED to the battery that was sewn to the headband, I hung a couple wires from the battery and used alligator clips to connect them to the LED tips. Note: I had to burn off the tips of the LED strings to remove the insulation coating and expose the conductive parts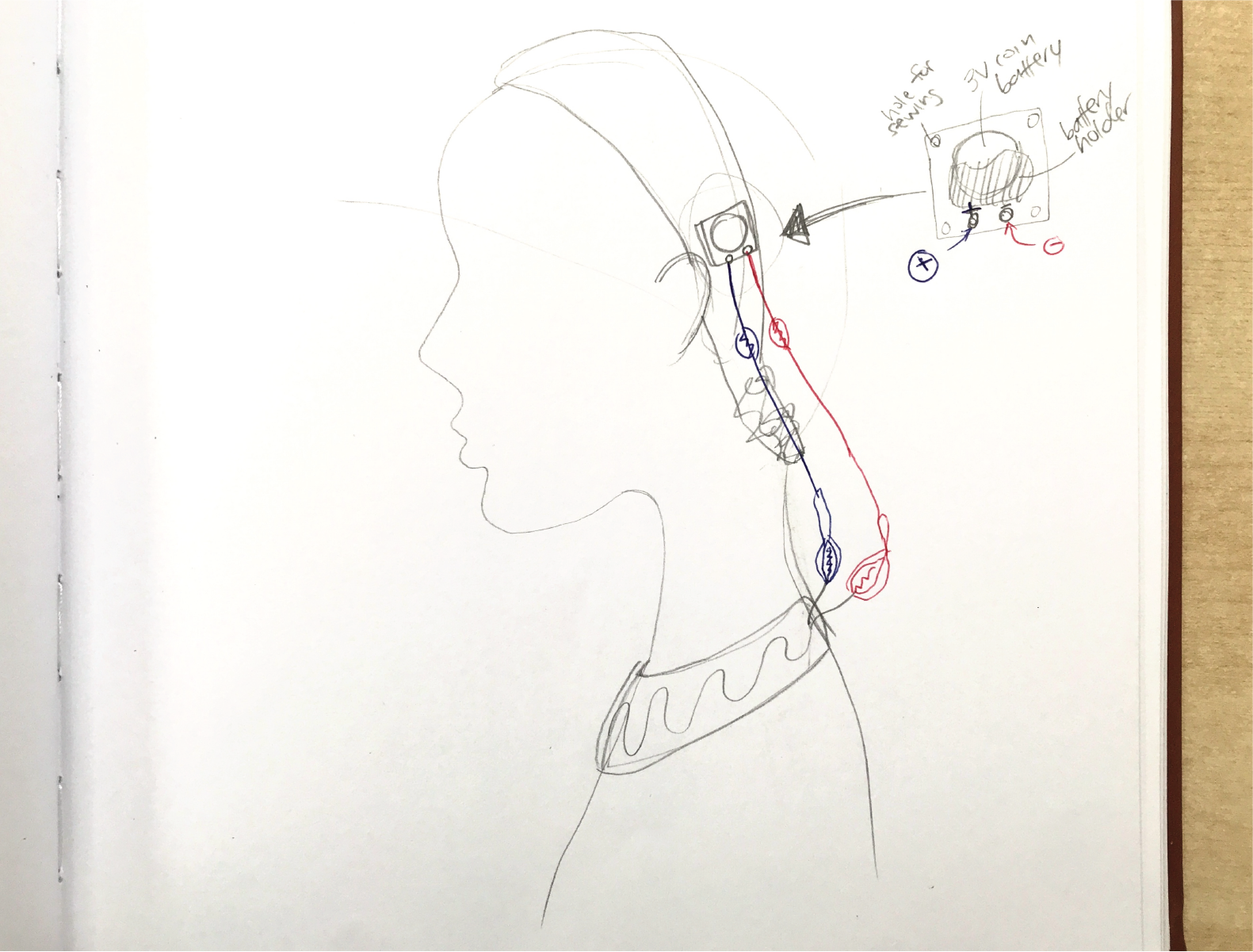 ---
Microcontroller¶
While there was no microcontroller used for this week's assignment specifically, I used a Gemma board and Arduino Nano BLE 33 Sense board for my final project. Click below to see more details:
Final Prototype 1
Final Prototype 2
---
Final Results¶
I was genuinely surprised and pleased that I was able to complete this assignment with some results that I liked. I dreaded most of this week's assignment in fear of making something unfavorable especially because I had to take pictures with my face in it.. Anyways here's the final shot!

---
Other Sources and Resources of Inspiration¶
---
Last update: 2022-05-15