About Me¶
---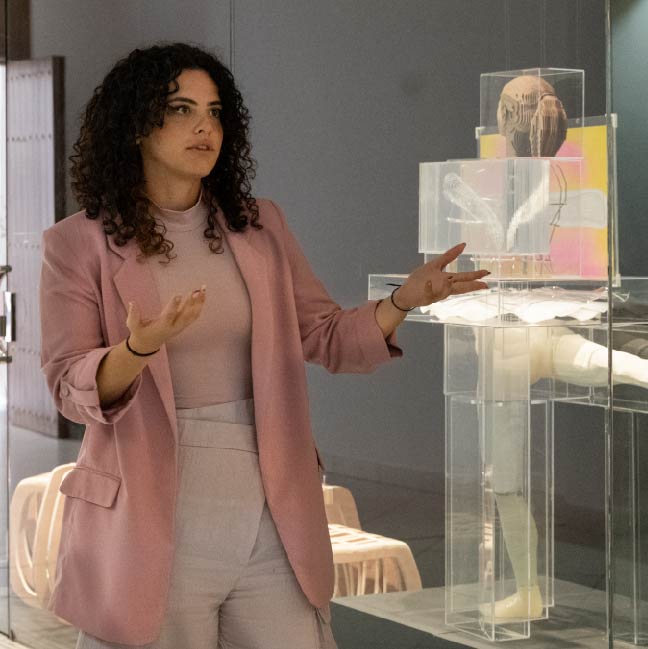 My name is Hala Amer, a Jordanian designer/artist/maker raised and based in Qatar. I grduated from Interior Design and immediately found passion for Making in the School's FabLab and have been there ever since! I have developed and evolved both myself and the Labs at VCUQatar for the past 2 year by developing projects utilizing all the machines/tools/equipment available to further push student projects and research. I'm here at Fabricademy to take the time to focus on my own projects and research!

My education includes¶
Bachelors of Fine Arts in Interior Design // Virginia Commonwealth University, School of the Arts in Qatar (VCUQatar)
Masters in Design for Emergent Futures // Institute for Advanced Architecture of Catalonia.(IAAC)
My experience includes¶
FabLab Technician // VCUQatar
FabLab Specialist // VCUQatar
PrintLab Specialist // VCUQatar
Interim Digital Fabrication & Woodshop Coordinator // VCUQatar
Digital Design & Fabrication Coordinator // VCUQatar
---
View my CV
---
My interests include¶
Exploration of Fabrication Techniques for Design & Arts
Interactive Artworks & Exhibition Installations
Teaching Fabrication+Design+Arts
My selected works include¶
---
Learn more about my selected works on my website
---
My interest in Fabricademy¶
During the summer of 2023, I attended the Fabricademy Bootcamp in and around Jordan. It so happened to be at the same time I was searching for an outlet for research and creativity. Throughout the Bootcamp, I could envision the research, topics of interests, and projects I could achieve with all the knowledge and added skills.
In the past year, I have been collaborating with designers and makers and working on commissioned installations. Through the skills I will acquire from the differnet weeks, I hope to continue in this path while developing more well-rounded personal projects.
At the end of the Fabricademy Bootcamp, we worked on a 2-day final project in groups using one to two of the topics introduced to us in the 8 days. Below is the result of our group:
Projects that Inspire Me¶
---
Last update: 2023-12-05