SURZHANA RADNAEVA¶
Hello everybody!
I'm very happy to be part of Fabricademy 22-23 and looking forward to this beautiful and intense journey of learning, exchanging knowledge and creating!
Let's start! ;)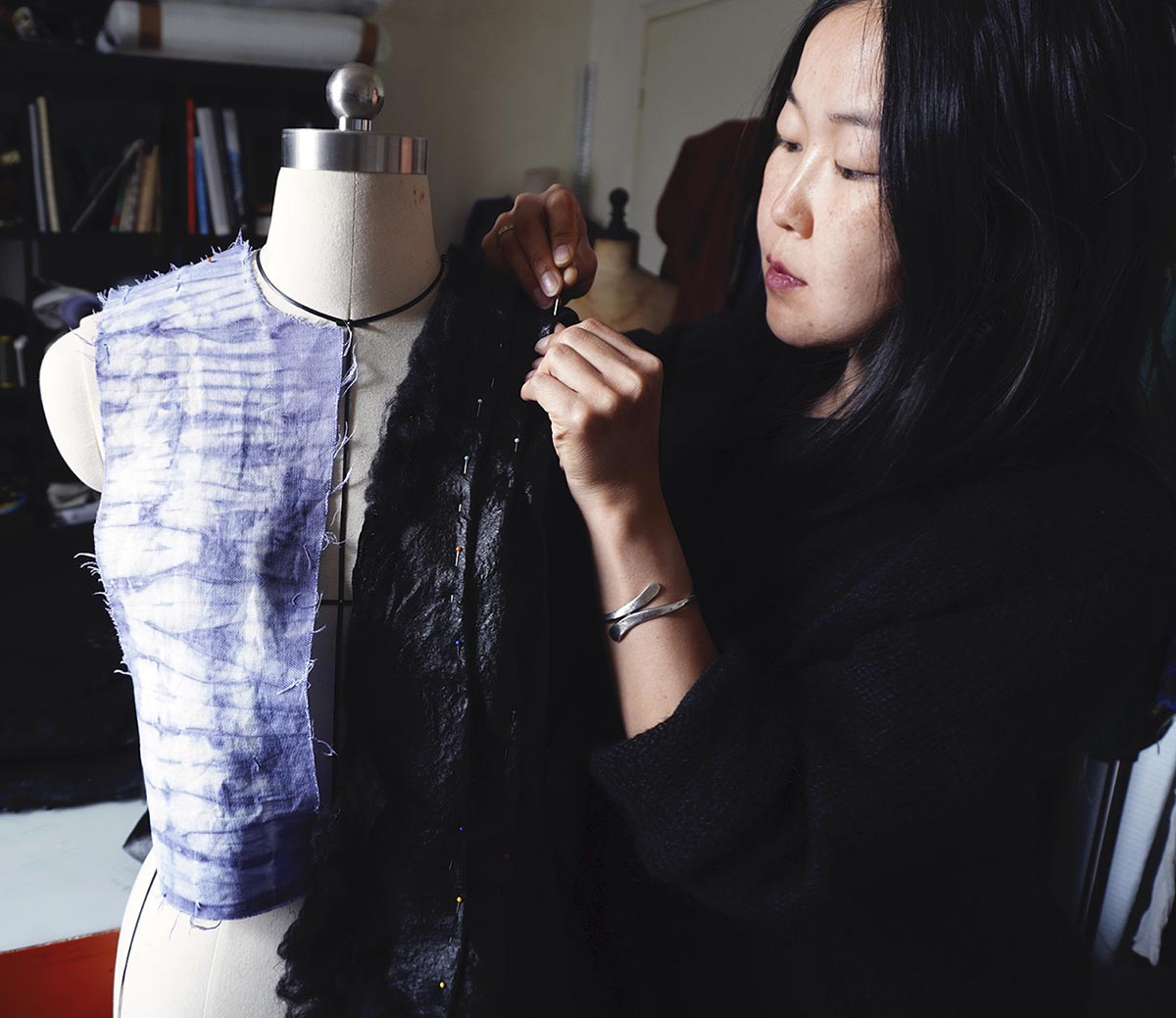 About me¶
My name is Surzhana Radnaeva. I am a Slow Fashion designer, photographer and art performer based in Marseille (France) working on modernisation of traditional costumes and techniques in order to keep and remember our roots, research of old and new biomaterials and their application on garments for sustainable futures, I take analog photography and make art-performances on different personal subjects.
You can visit my website to see all what I talked about above: TRADITIONAL FUTURES
My background¶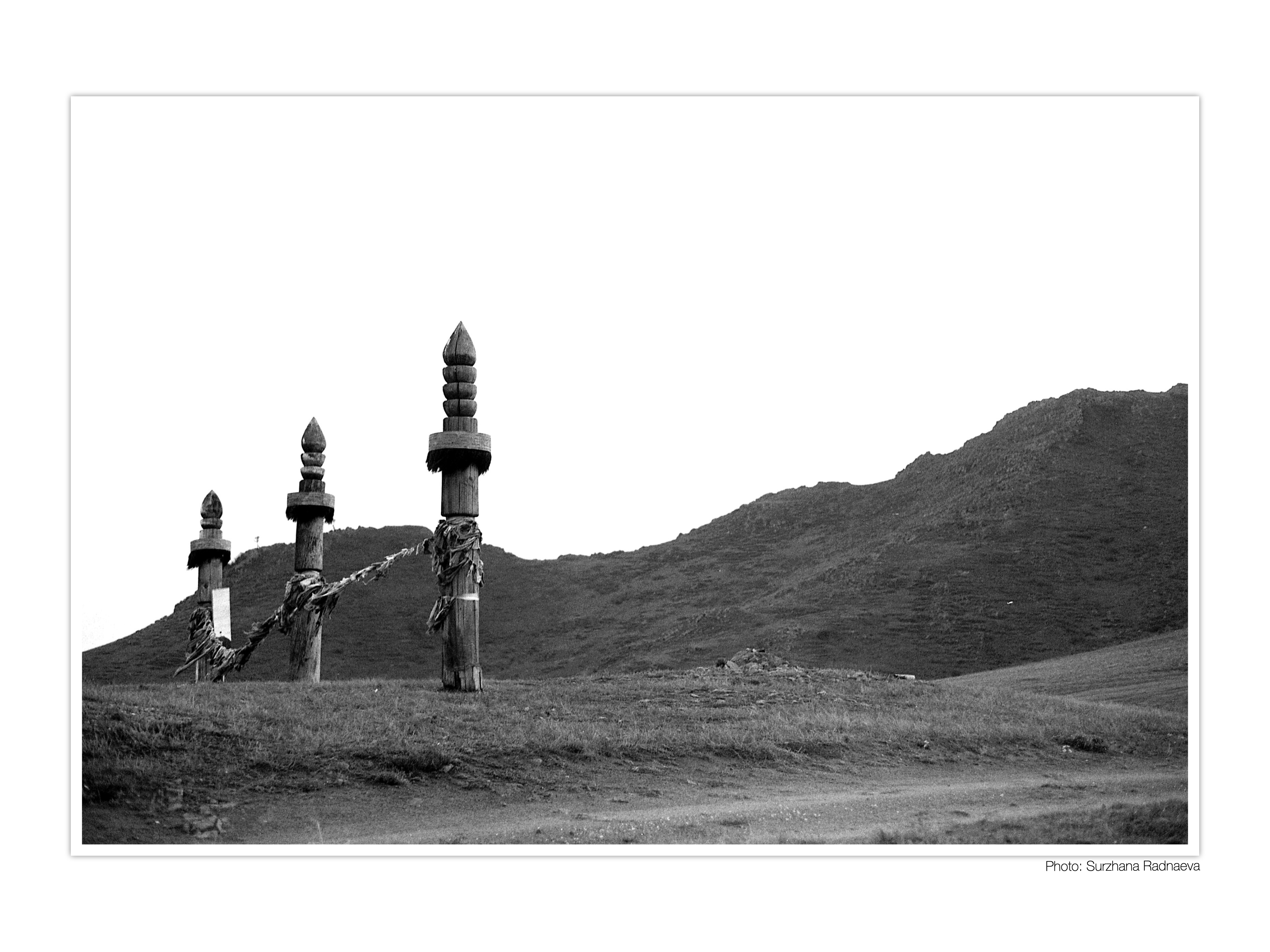 I was born in Ulan-Ude which is a capital of republic Buryatia in Siberia (Russia) and raised in the vast steppes in the South of Siberia. I was very lucky to grow up surrounded by nature and animals which later on influenced my vision, aestetics and philosophy of my work. From 11 years old I lived in Moscow and made my first degree in Art History at Moscow State University. In 2010 I moved to Beijing (China) to study Chinese language and in 2011 I started my Fashion Design studies at Beijing Institute of Fashion Technology and later on after my graduation I worked as a fashion designer and Art Director at German Sustainable Luxury brand Rechenberg studio. From 2016 I live and work in Marseille, France where I founded my own brand TRADITIONAL FUTURES and meanwhile always continuing to work on my photography and dance-performance activities.
FASHION DESIGN¶
In general I'm not a fan of the term 'fashion design' for my work as its something that is meant to change all the time (especially in our modern world where evertyhing is in speed) and what I try to focus on is something more slow - learning, observing, respecting and making by hands with attention. So the term "Clothing design" (by the way that's how we call it in Russian "Дизайн одежды") would be closer to what I do.
So what do I work on exactly?
Three subjects are very interesting for me:
Modernisation of traditional costumes around the world
Use and research of new and old biomaterials for wearable garments
Recycling of leftover fabrics and threads from my collections to not have waste behind me
Modernisation of traditional costumes¶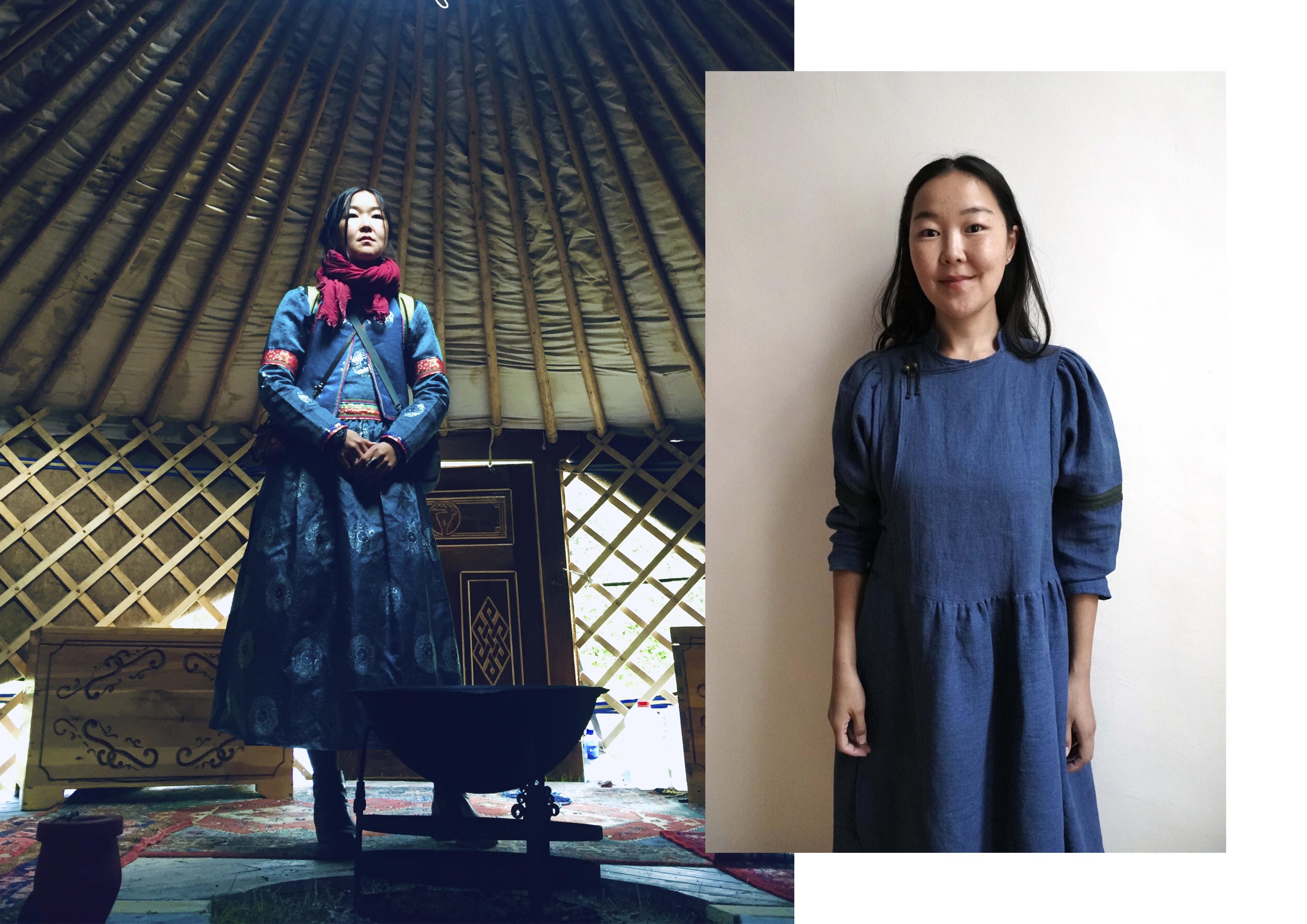 I learned from my grandmother a traditional Buryat costume and adapted/designed for our modern world where traditional costume is worn only on special occasions, not worn at all or sadly forgotten.
After making a lot of different clothes I started to wonder how come I never made my traditional clothing and I asked my grandmother if she could teach me, she was very happy to hear that and I spent a week learning and making together things that you don't find in universities. Very grateful to have this knowledge from my dear grandma.
Old and new biomaterials¶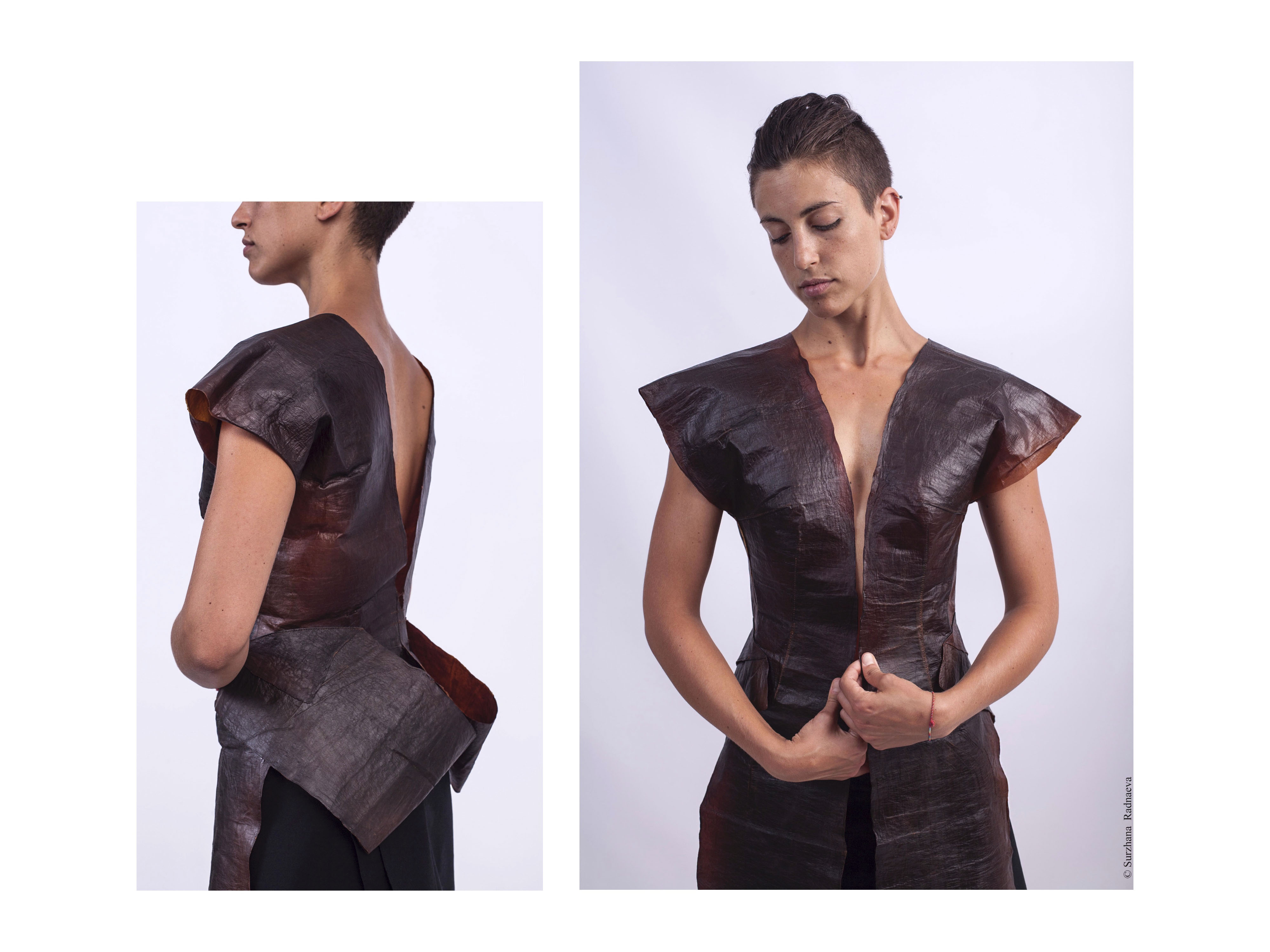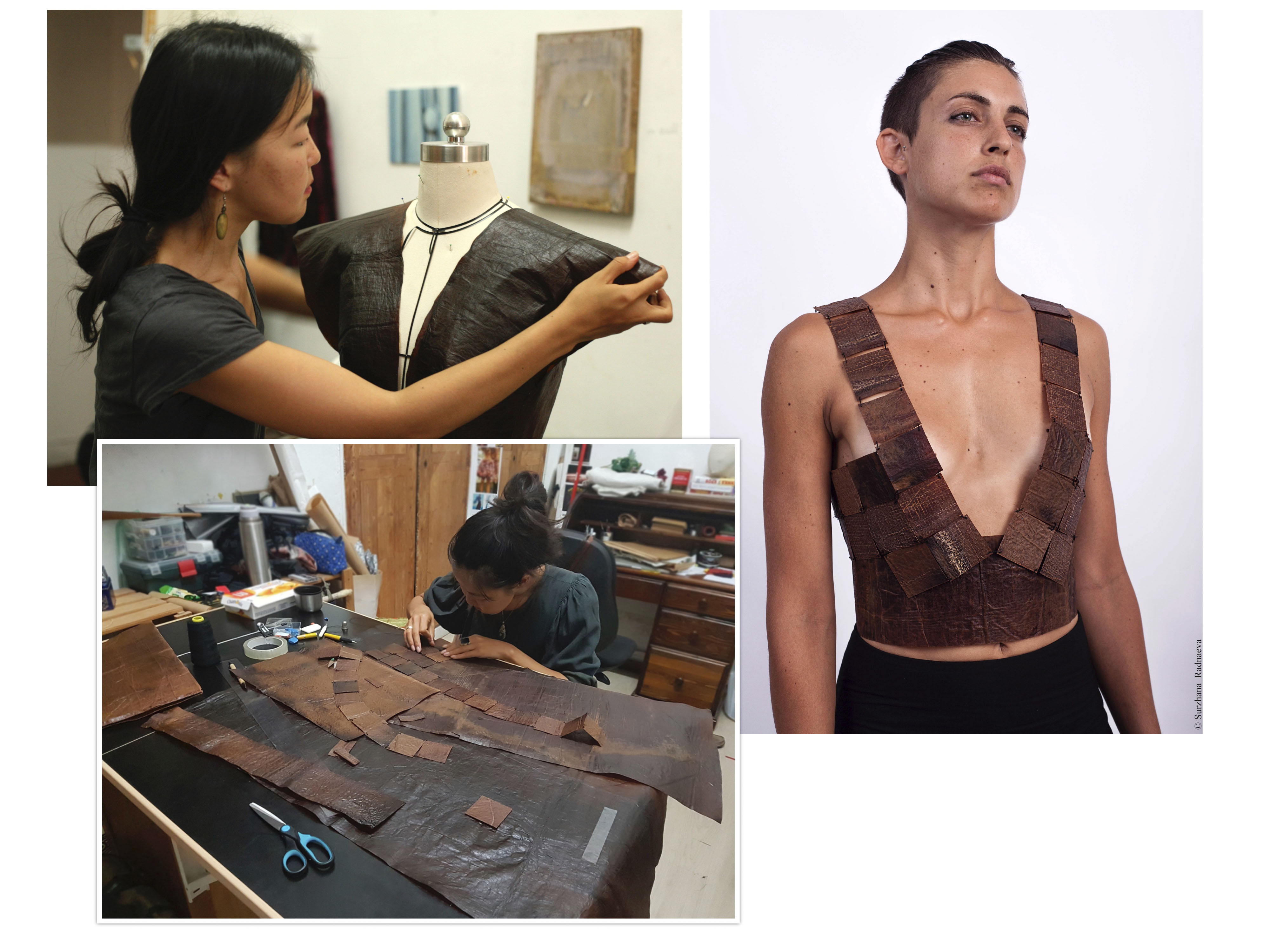 In 2018 I started to work with biomaterials, the first project was Kombucha. With ecosystem designer Benjamin Denjean and medialab team thr34d5 we developed Skin Health project ReGrow that won Reshape 2018 competition in Wearable Technology category, you can see more following this link.
In 2019 I was part of Paris Fashion Tech exhibition for which I worked with 3 different biomaterials to make 3 garments: Paper, Agar-Agar Sequins and Mycelium (micro-organisms) material.
Paper vest made from artisanal French paper from Moulin du Verger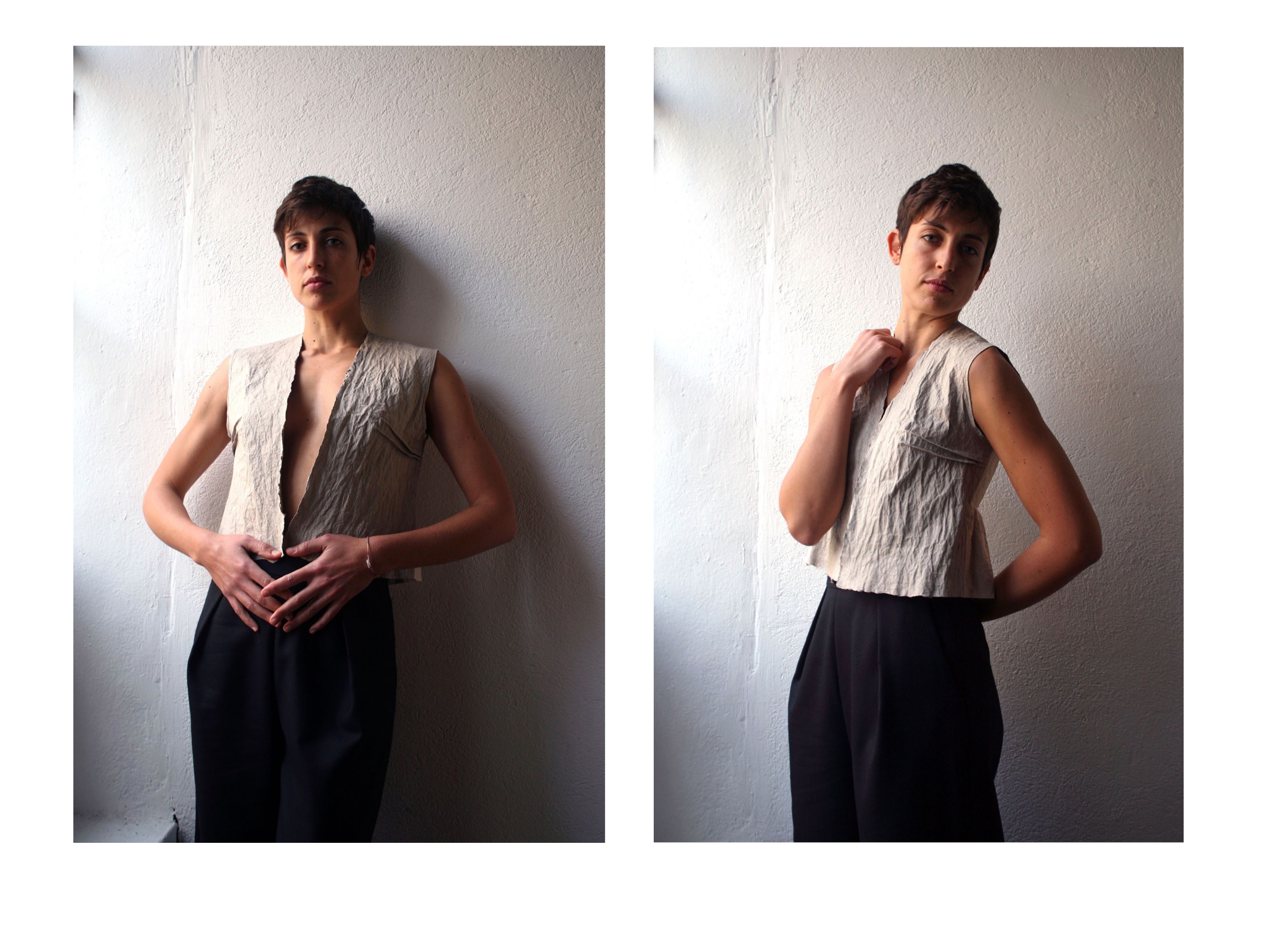 Agar-Agar Sequins party top. Agar-Agar sequins made in collaboration with Carolyn Raff
Mycelium (micro-organisms) modernised Buryat jacket with silk sleeves. Micro-organism material made by Fungus Sapiens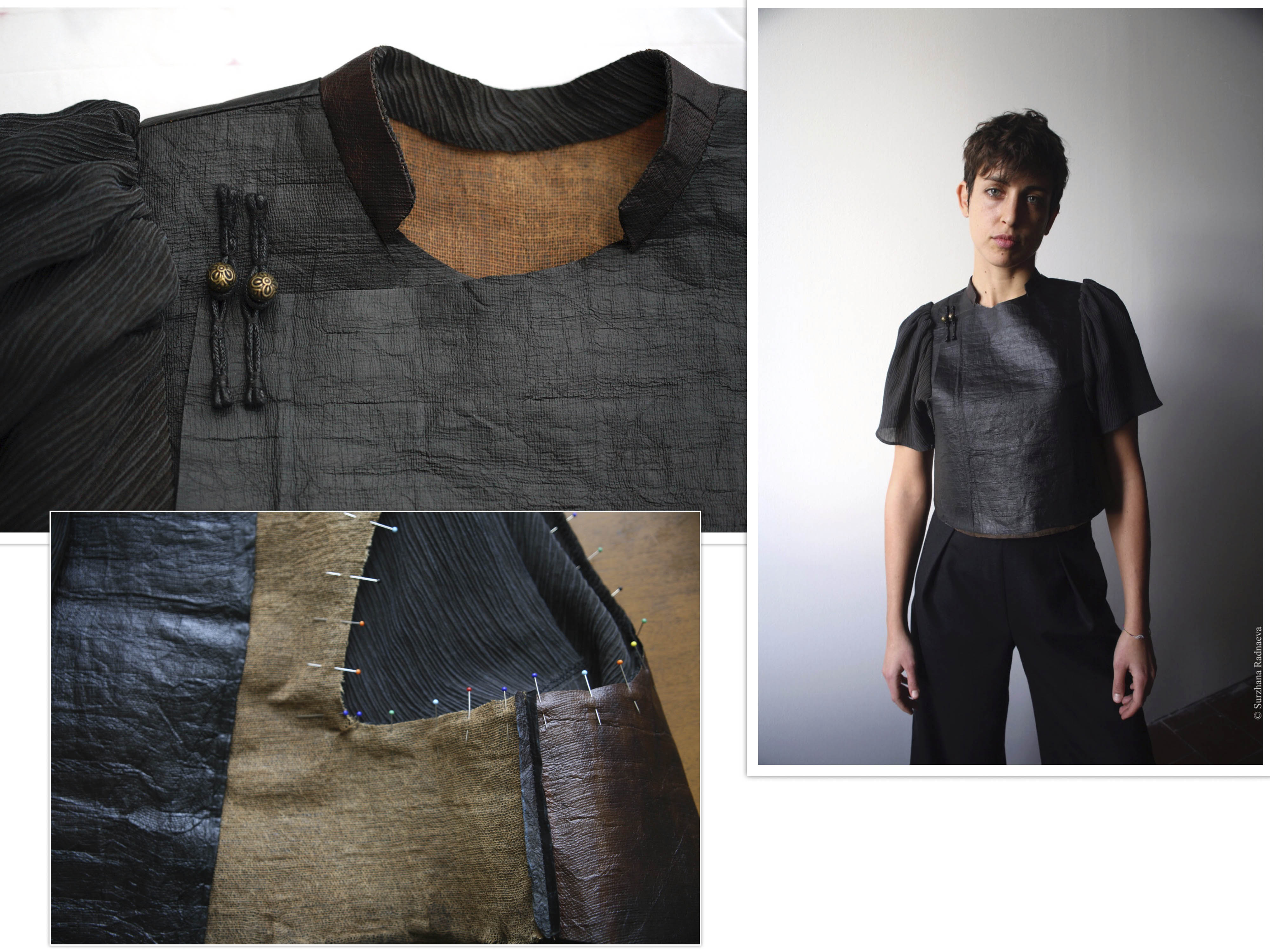 In 2020 had a great opportunity to concentrate on development of biomaterials for Materia Bruta collection thanks to Worth Partnership Project together with FabTextiles Barcelona and FabLabBCN we worked during 1 year on the collection.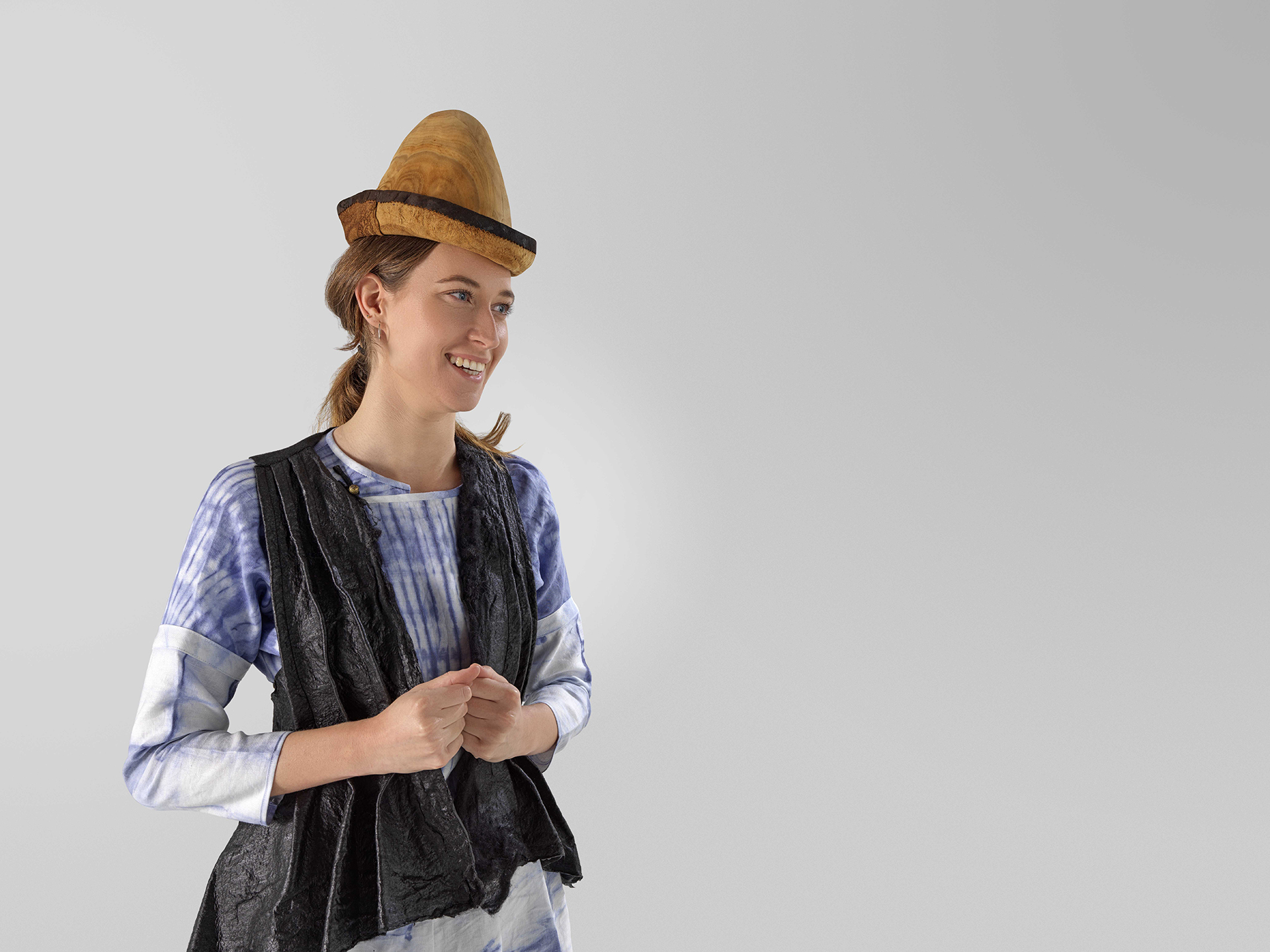 Recycling¶
In our world of enormous quantity of waste I think it is a responsibility of each fashion designer to recycle their own waste/leftover of fabrics or turning into zero-waste designs. So what I do is I reuse all the small pieces of fabrics and threads that are left from my creations and make a new textile from which I make a new garment which is symbolically a map-history of what I've made.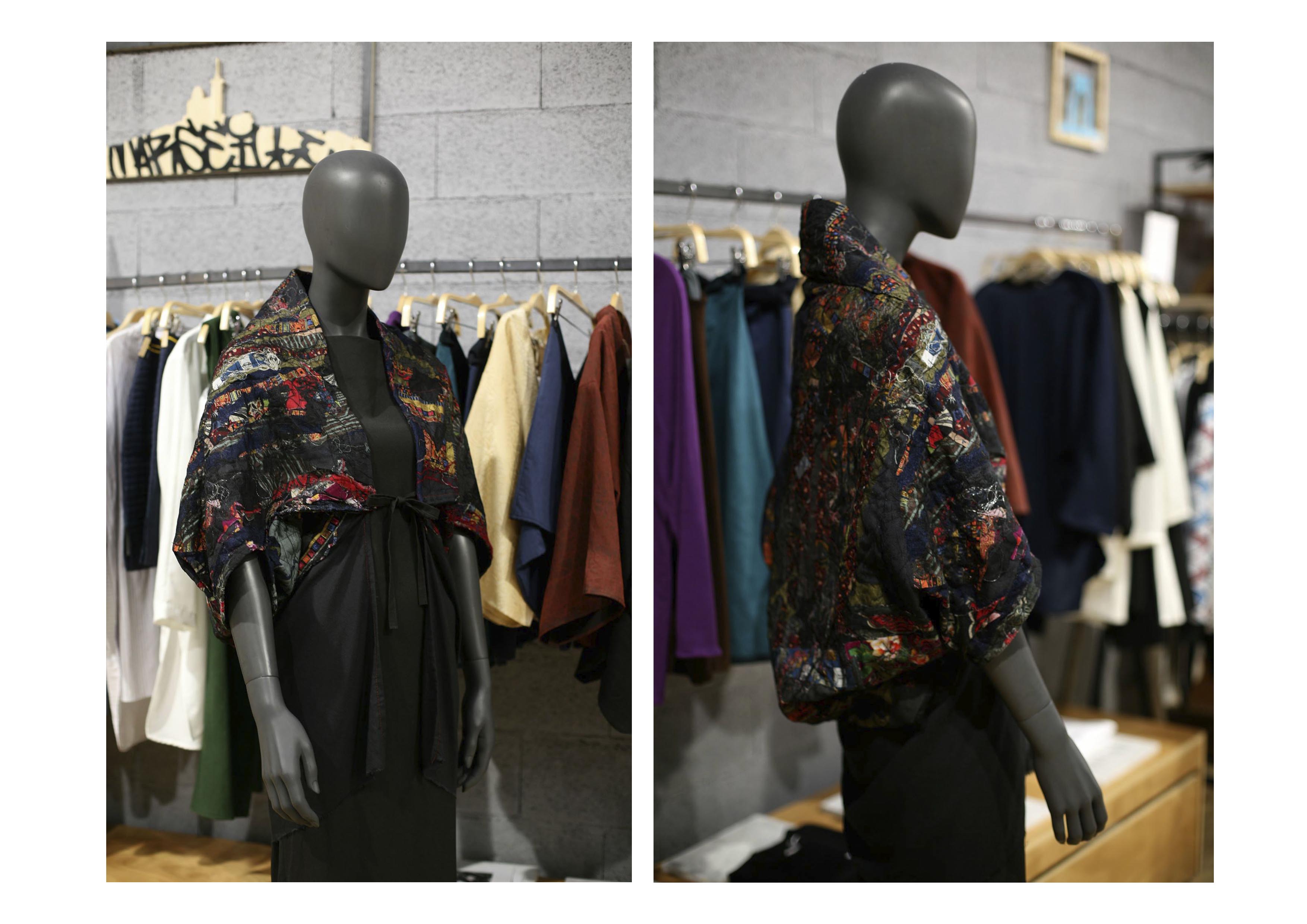 Photography¶
I have a big passion for photography, espesially for analog photography, most of the black and white photos I develop by myself, it is a beautiful process of excitement, mystery and waiting for the result.
Art Performance and Dance¶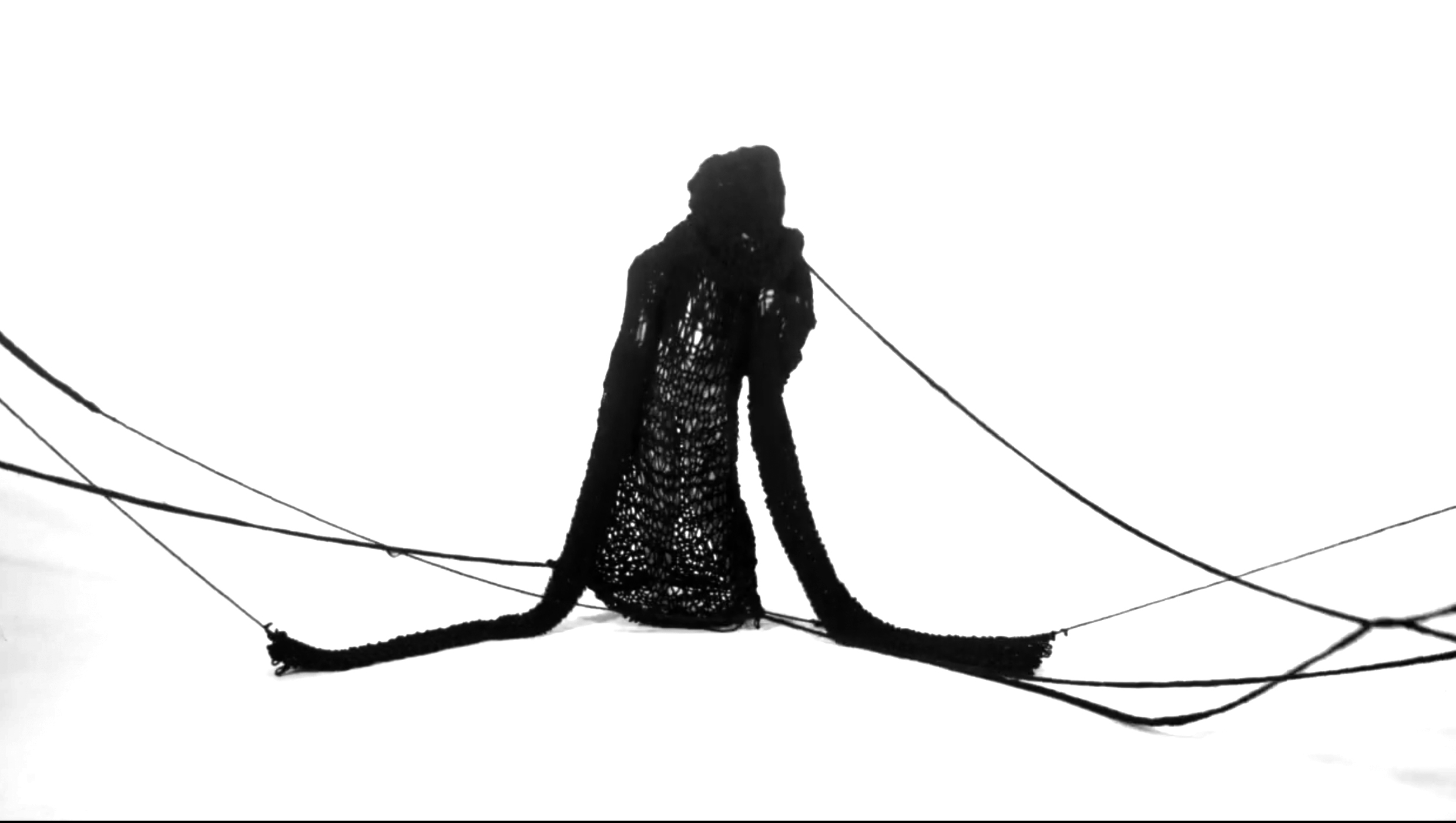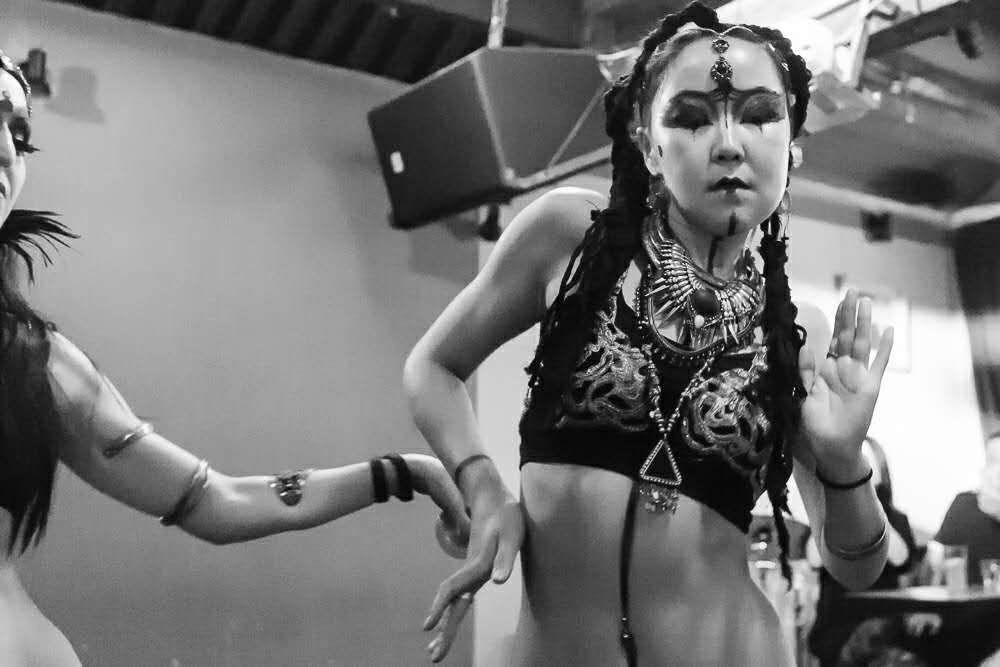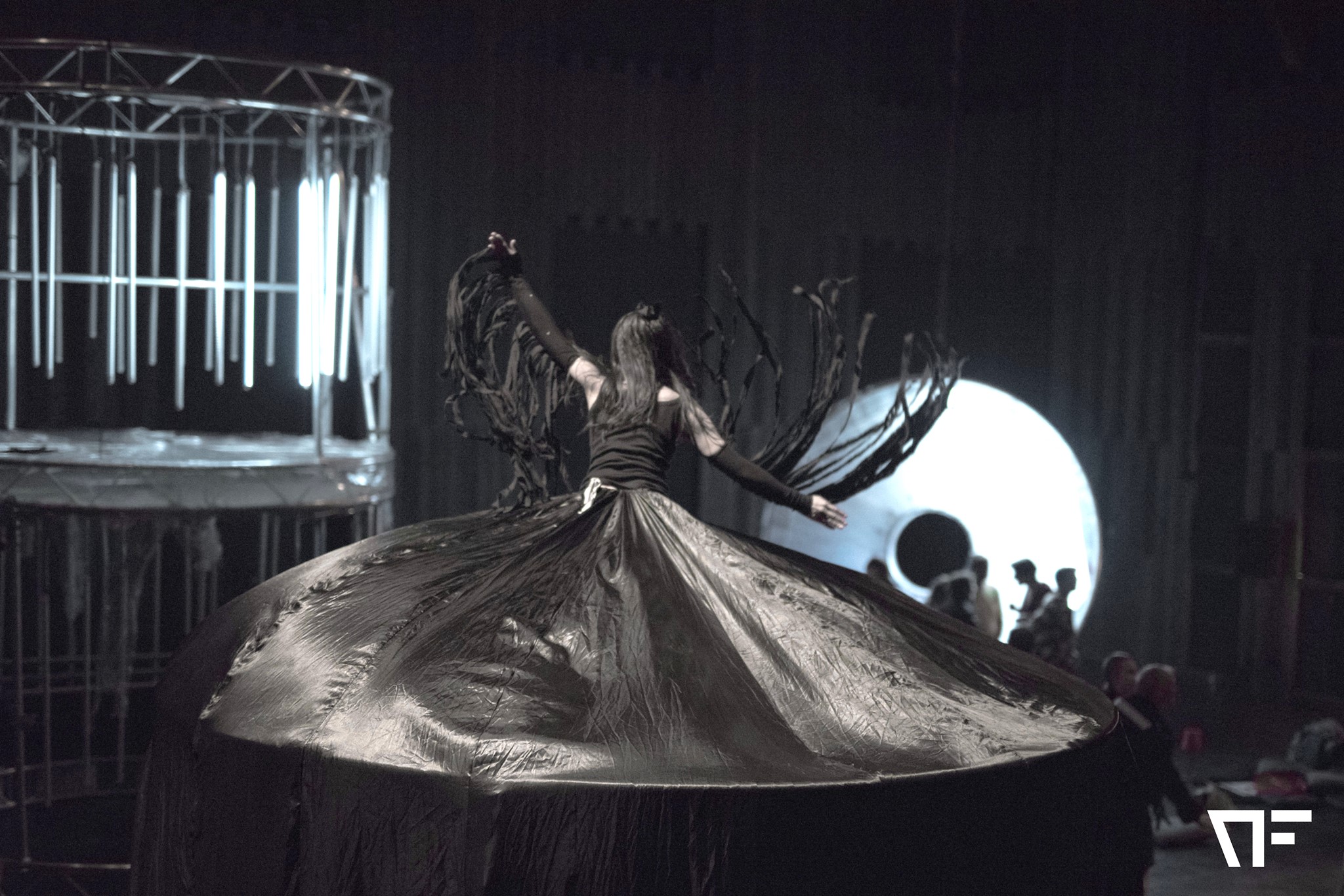 ---
Last update: 2022-10-13