4. Biochromes¶
I was so happy to spend this week away from my computer and to learn to dye.
Before the assignement I managed to get some rainwater from my garden in order not to waste water.
I tested the PH of rainwater (on the right) and tapwater on the left. Both water were a little acid but rainwater was more acid with a PH of 6.
All the dye bath were made with rainwater and fiber were rinse with tapwater.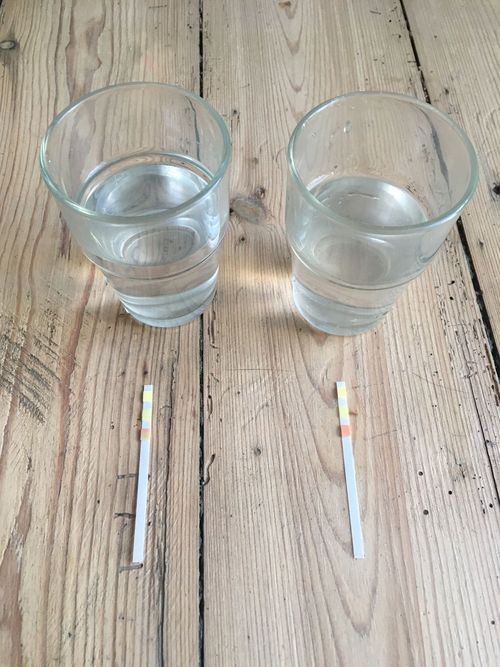 Fiber preparation¶
I started to prepare the yarn and fabric with the mordant.
Yarn¶
For the yarn I used this mordant recipe :
For 1kg of yarn : - 150g of Alun - 60 of sodium bitartrate - 20l of water
I put the alun and the sodium bitartrate in a small amount of warm water to dissolve it and then put the rest of the water.
Put the yarn in the water and then heat it in small boil for one hour.
I let the yarn in the mordant bath for one night.
After that rinse well under the water.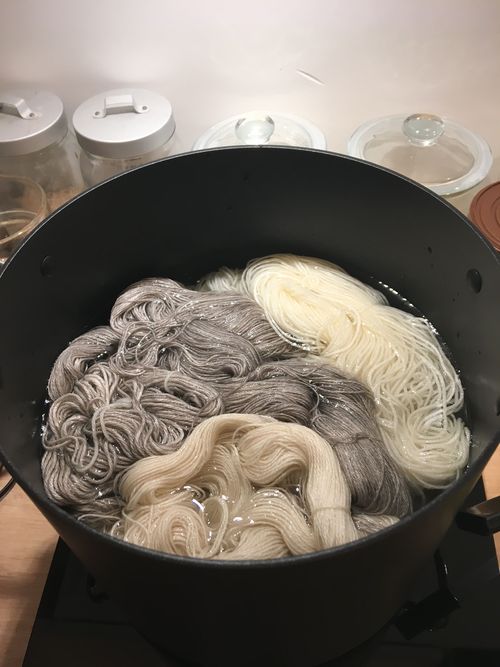 Fabric¶
For the coton fabric I used this mordant recipe :
For 1kg of fabric : - 200g of Alun - 20l of water - 2 l of vinegar - 100g sodium carbonate
I put 60g of sodium carbonate in warm water and boiled with the fabric for 30min.
Put the alun in a small amount of warm water, mix and slowly put sodium carbonate in the water for 2min (some foam was created). Add vinegar and the rest of the water.
Put the fabric in the solution and wait one night.
After that rinse it under water.
Fig tree¶
I might be living in belgium but I have a beautiful fig tree in my garden.
I read that fig tree leaves could be used to dye and give a yellow chick color.
As leaves are just about to fall, I decided to try to dye with it.
I collected all the natural yarn rest from previous knit and dyed them with the fig tree leaves.
I wanted to see how the dye would react with the different yarn bases.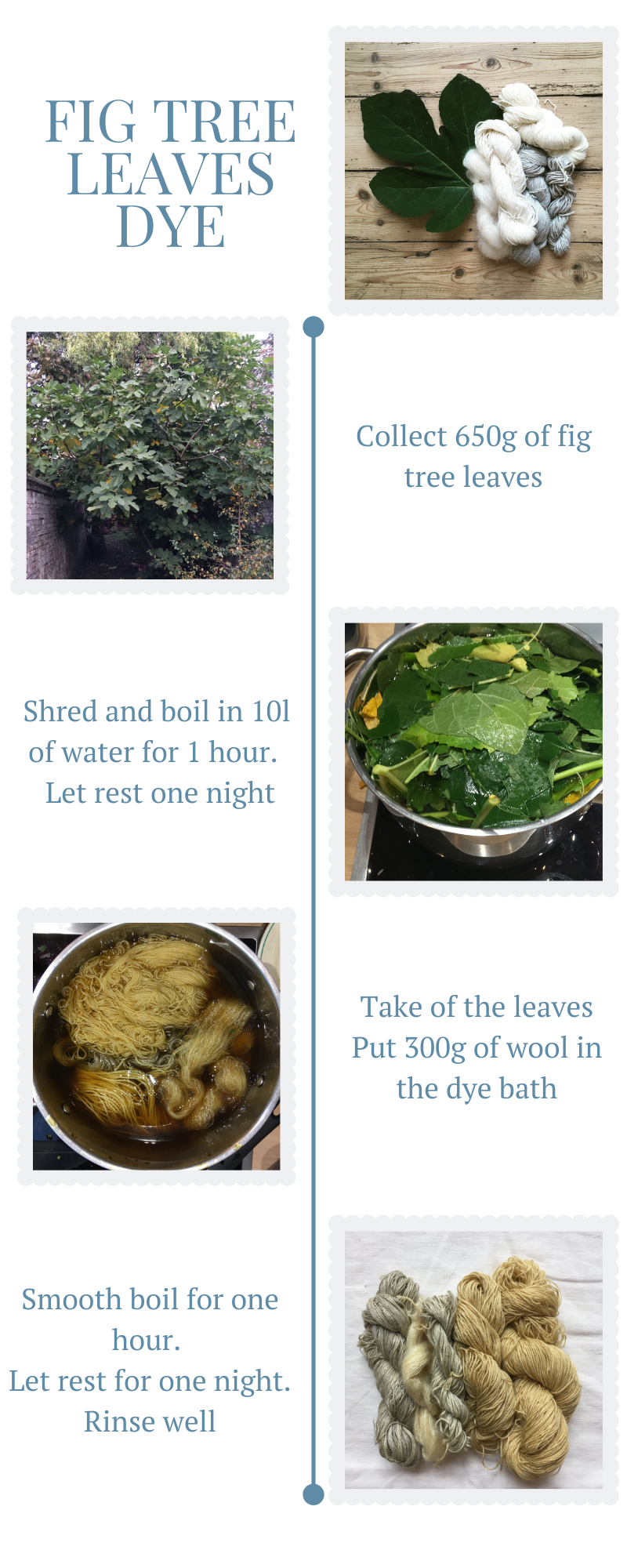 I collected a big amount of leaves, 2 times the weight of fibers.
I shred the leaves in small pieces, put them in a pan and boiled one hour. Then I left them in pan for one night.
The day after, I filter the bath, taking off the leaves and then put the prepared yarn in the pan and smooth boil for one hour.
After that I let cool slowly in the dye bath.
Recipe : - 650g of fig tree leaves - 6 l of water - 300g of yarn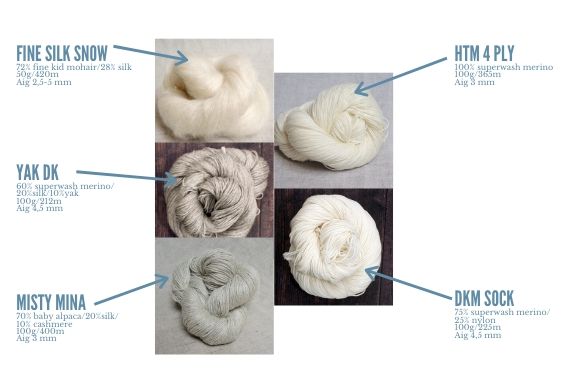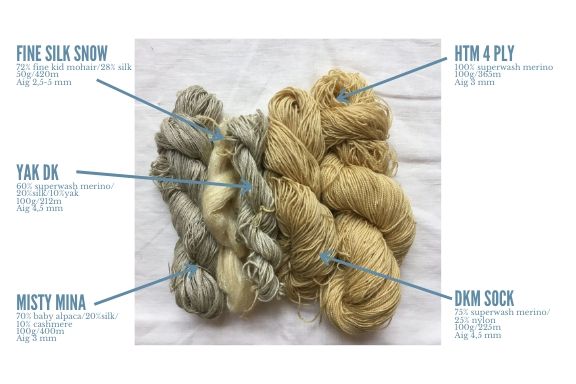 We can see that the fig tree leaves dye works pretty well on the white based yarn, but is very light on the grey based yarns.
Red eucalyptus leaves¶
I had a very small amount of red eucalyptus leaves, with a really nice color that I found to be food coloring. I thought it could be fun to take back the colorant to dye the yarn.
I had no idea if it would work but it turned out I got a beautiful pink.
To dye I used the same steps as the Fig tree leaves
Recipe : - 15g of red eucalyptus leaves - 2 l of water - 10g of yarn
Cochineal¶
The fablab had cochineal. As it's giving a very nice color I tried to dye with it. Cochineal final color really depend on the water PH. In order to get more orange color the PH should be acid, to get a more purple color the PH should be basic.
As my water was already a little acid I decided not to modify it because I wanted a deep red.
Recipe : - 24g of cochineal powder - 10 l of water - 300g of yarn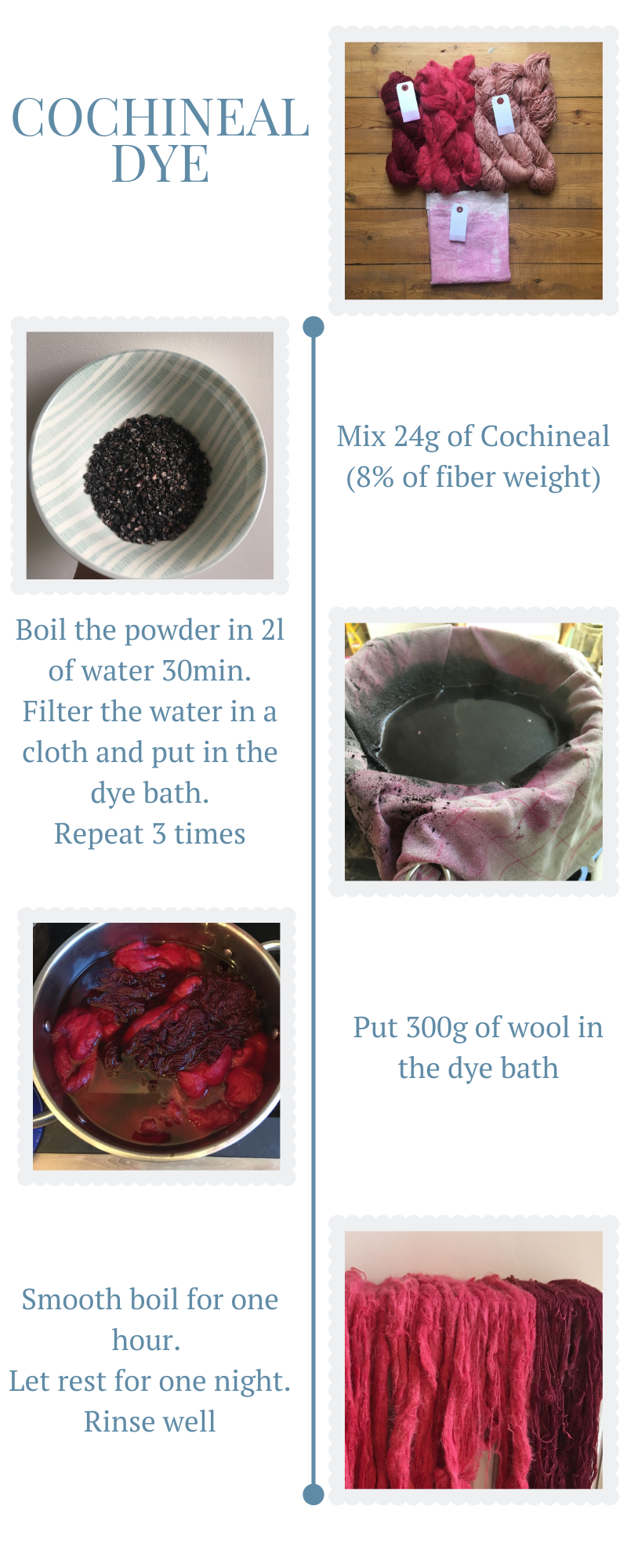 In the first dye bath I dyed some suri yarn and yak yarn. The color results were very different on the 2 bases but really nice.
After that I decided to dye some coton fabric in the dye bath. I fold a fabric around a piece of woodboard with elastics and boiled it for one hour.
The result gave a nice pink nuance piece of fabric.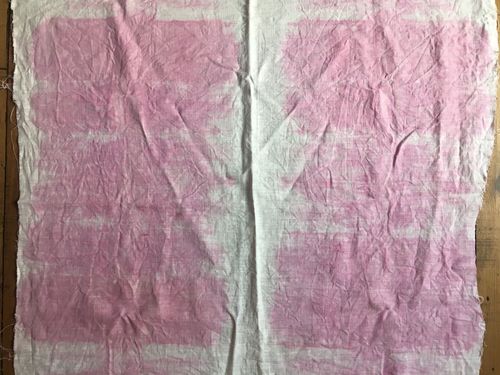 As the dye bath was still colorful I made a last dye with camel yarn, and it gave a super light pink.
Cachou¶
The fablab also had cachou powder, cachou gives a light brown color but can be nuanced with iron in order to get darker colors.
Recipe : - 100g of cachou powder - 10 l of water - 400g of yarn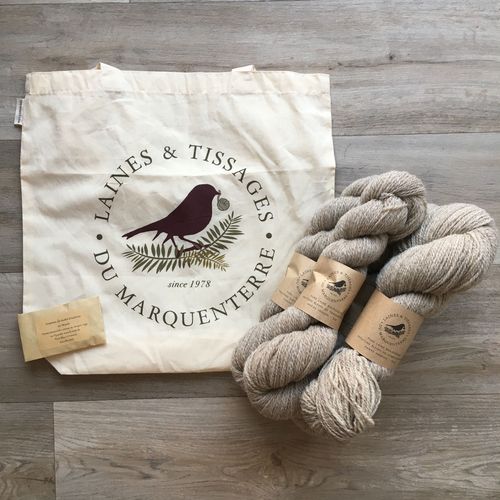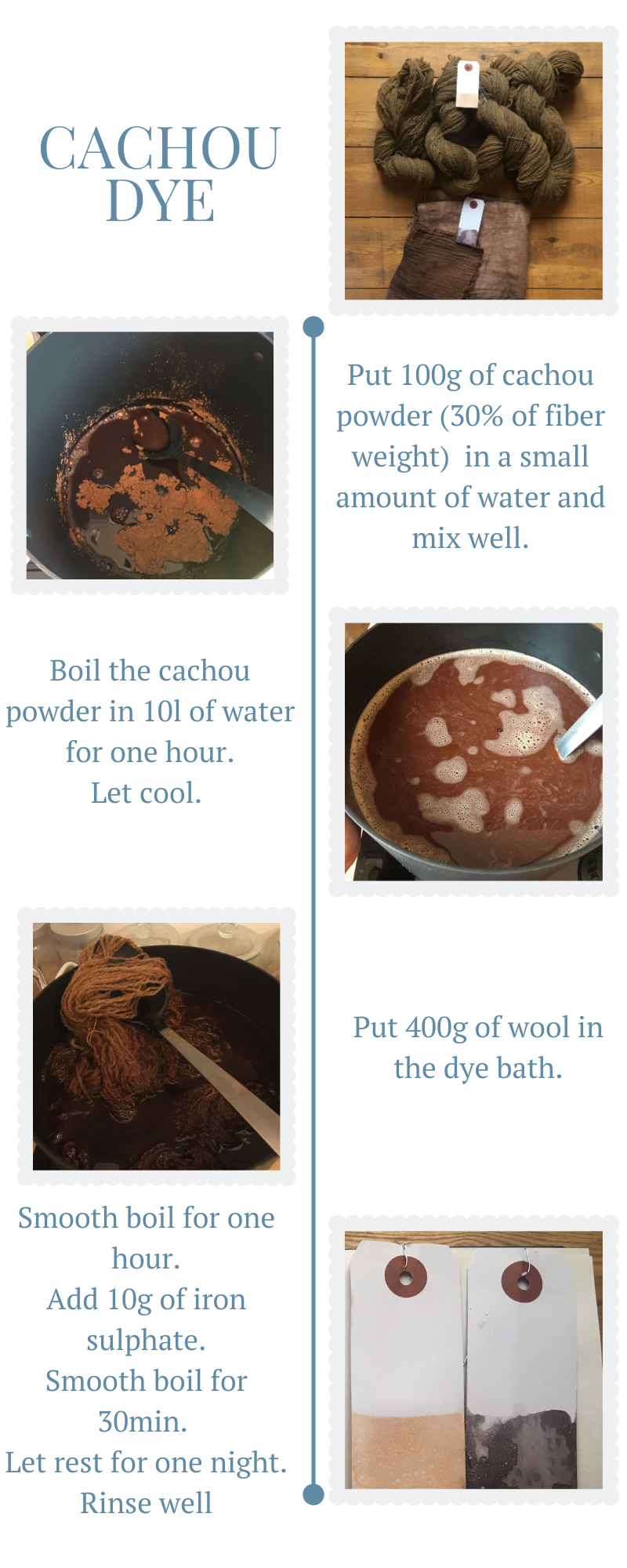 I dyed some rustic yarn in the cachou powder. The yarn was not white, but beige because of the sheep coat color. I dyed this yarn in the cachou and put a little of iron (10g) to make it a little bit darker.
The result was a nice chestnut color.
After the yarn, I dyed a piece of coton fabric. I wrapped the fabric around some eucalyptus dry leaves branches and put it in the water to boil for one hour. The smell was really nice.
The result was very nuanced and we could see some iron spots and also some eucalyptus spots.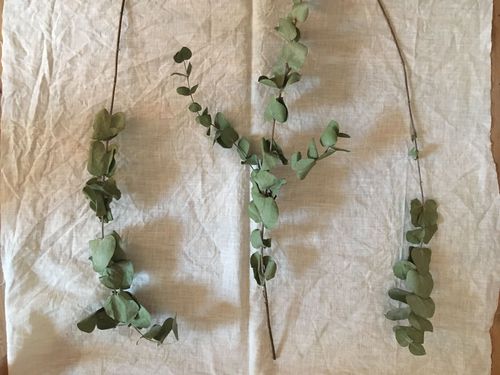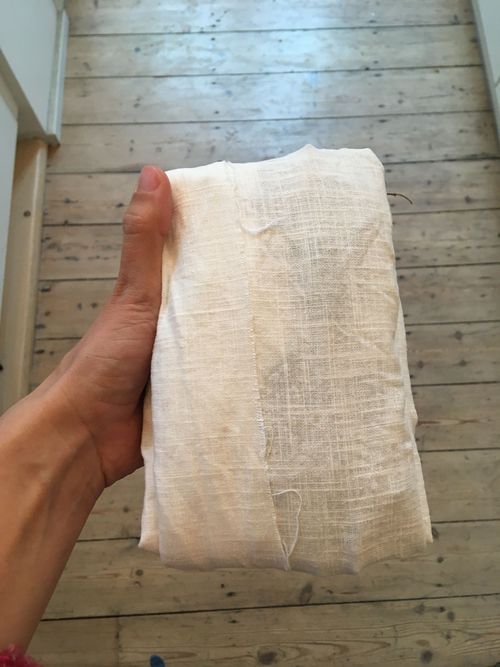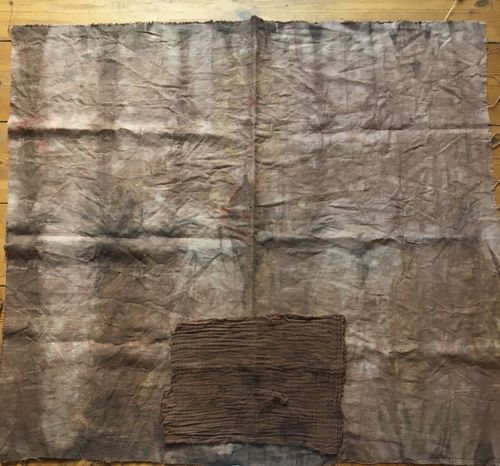 I finally put a piece of fabric that I previously tried to print with leaf impression in iron.
Ink¶
I kept a sample of every dye bath and put some arabic gum in it in order to make some ink.
For the cochineal sample I put vinegar in one and chaux in the other one.
We can see a clear difference in the pot, but not so obvious on paper.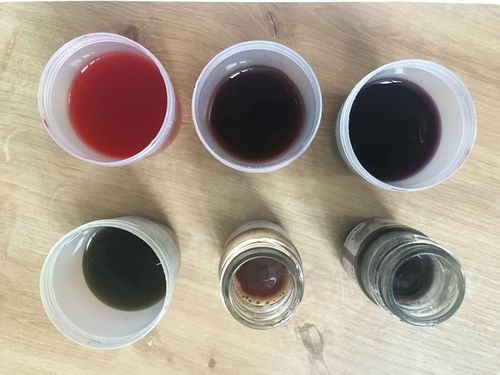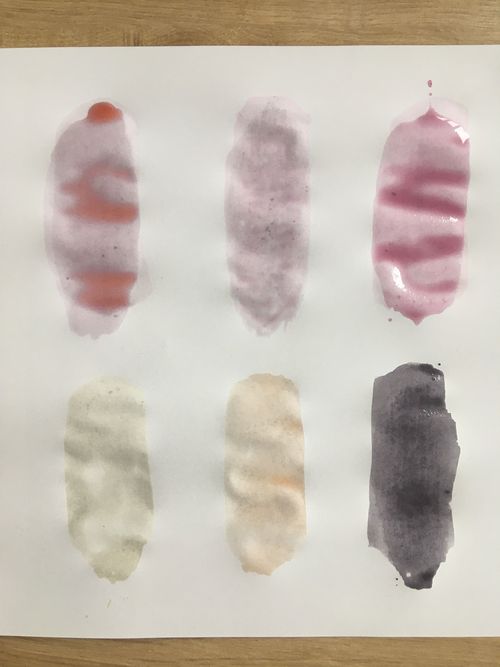 Conclusion¶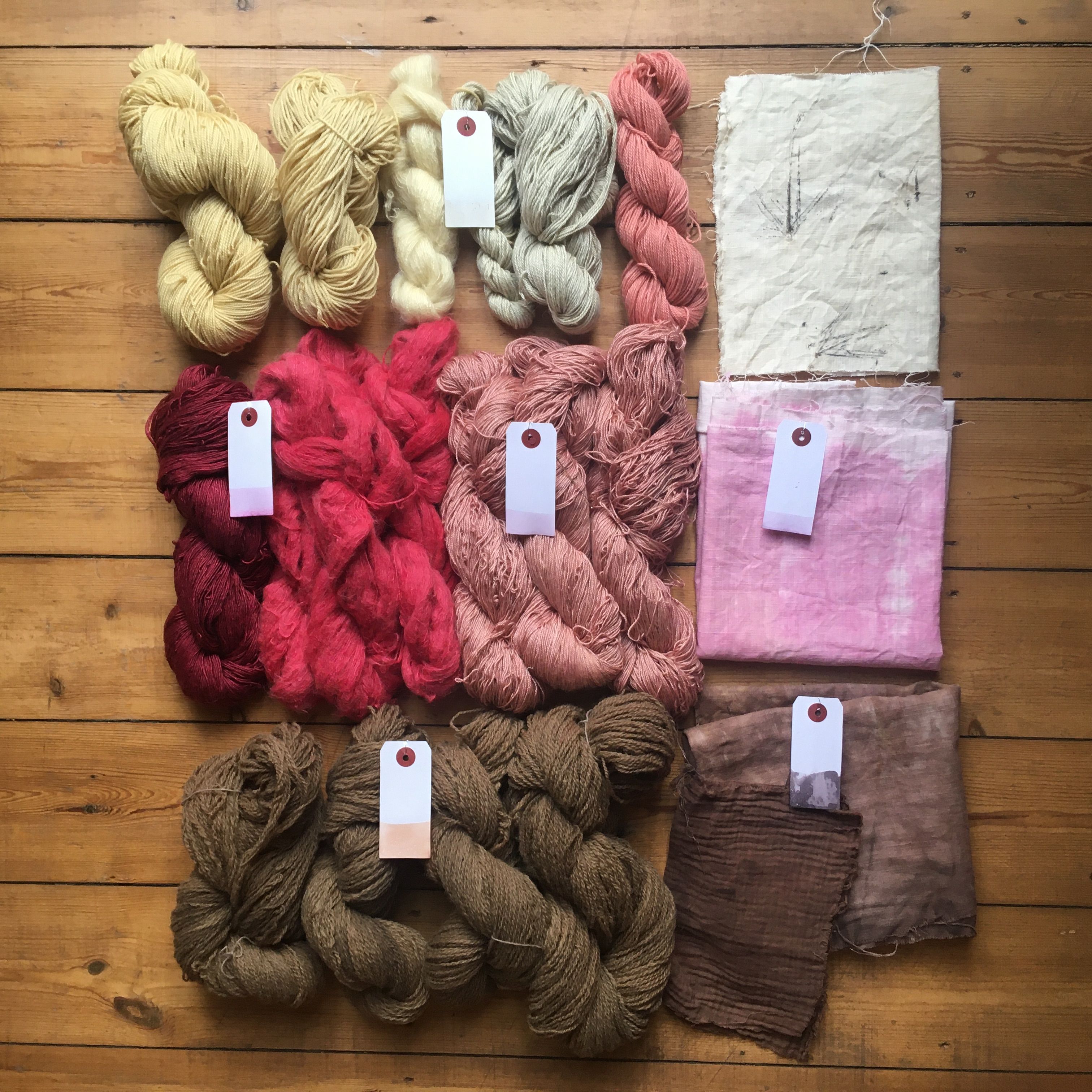 Natural dying is a very long process and requests a lot of water. It demands a lot of time and attention but it's very nice and the color results are impressive.
I'm really happy with the colors I get and want to try some more !
Studio visit¶
This weekend I visited a belgian wool vegetal dyer bynight. She showed me her studio and all the possiblities with vegetal dying.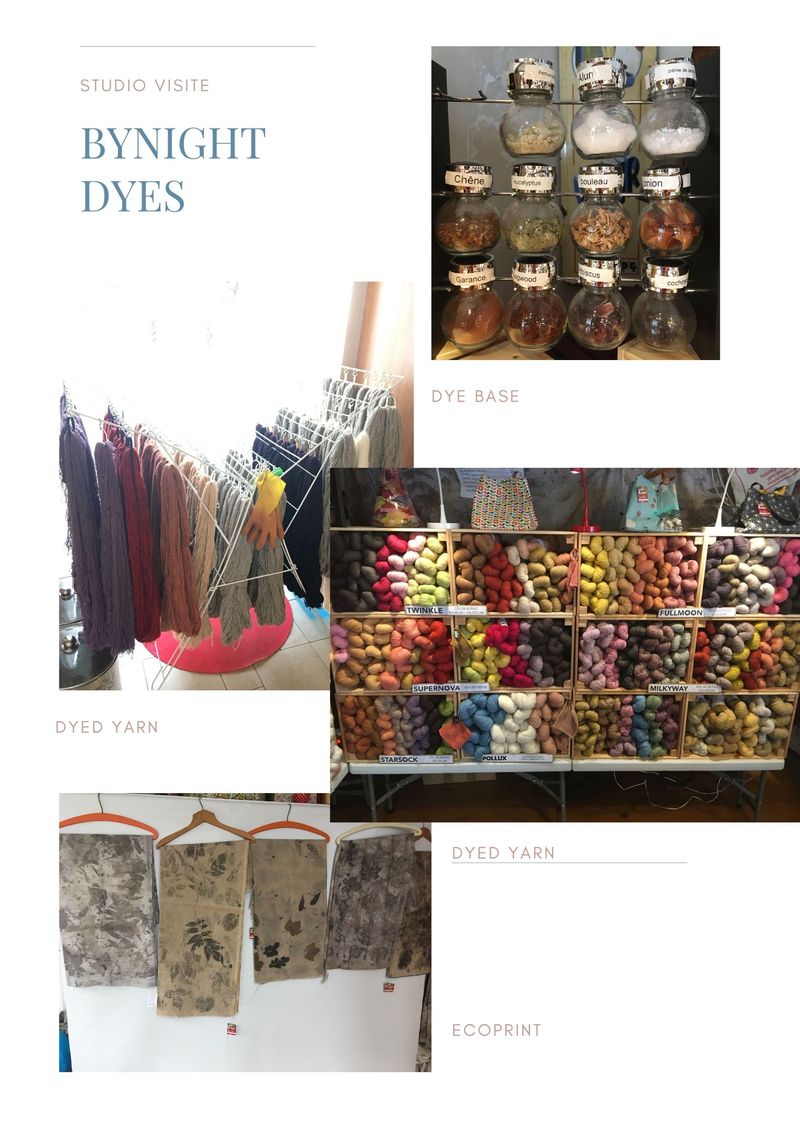 References¶
I used two books in order to get some recipes and ideas