About Bella¶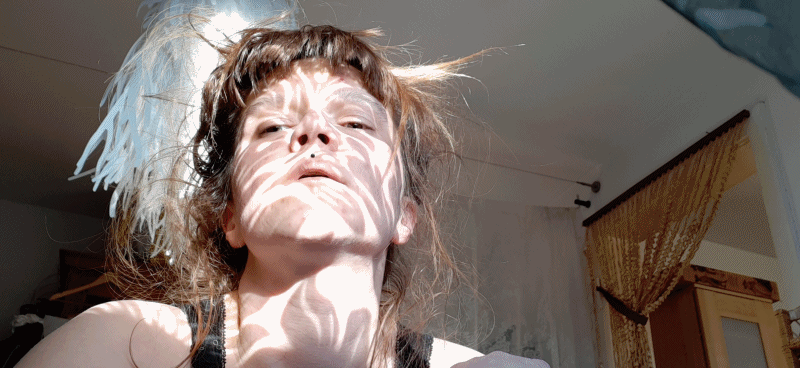 My background¶
Isabella Schuh is a freelance fashion and costume designer and a multidisciplinary artist based in the Ruhr Area, Germany. She is also working in social, cultural projects and various theatre and movie productions.
She studied fashion design in Granada, Spain and fashion and communication design at the Design Department in Düsseldorf, Germany. During her studies, she did an internship at the fashion label Mary Katrantzou in London in 2013 and curated the exhibition Pearls of Delphi, which consists of female artists, for the Art Walk 2014 in Essen. With the futuristic final collection Planet Radikal from 2016 she gained attention and presented it on the international 3D printing fashion catwalk at Platform Fashion 2016 in Düsseldorf and was among the top 15 of the renowned DfT Award 2016 from P&C. With the following fundings she was able to build up a workshop and textile lab since 2018 and invested in the further education of Fabricademy 2020/21 to learn more about the digital and sustainable production in fashion and textiles.
Previous work¶
In order to develop my own form of expression in fashion and textile design, I strive for an intensive occupation with digital manufacturing methods and classic handcrafts, which should transform fashion into wearable art. The current future technologies such as 3D printing, laser cutting through computer-aided design and electronic wearables enable a completely new perspective on the production of clothing with artistic and socio-cultural demands. The aim of my artistic development is to create a completely new style in my work by merging my traditional training with new digital technologies. As part of my last scholarship (IKF), I was able to gain experience in the Textile Lab in Amsterdam and expand my international network. Since then I was excited to start the fabricademy classes to deepen my knowledge into the new and sustainable technologies in fashion. I am constantly open-minded and looking for new materials and love to experiment with different techniques.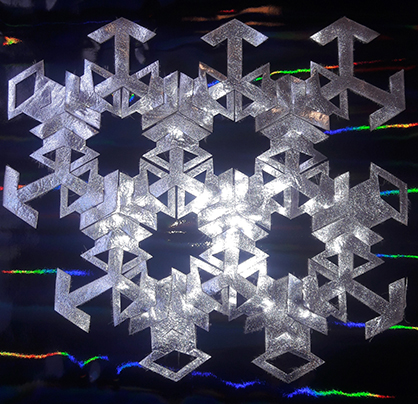 My first Modular Fashion swatch from lasercutted fake leather and inspired by arabic patterns. Made in the "Textile Lab Amsterdam" :)

This were the extras for the movie Easy World I designed the costumes for. A sci-fi dramady between steampunk, bubblegum and future. If you don´t know what to watch tonight, having 40min and understand "germish language", you can follow the link and watch it ;)
Planet Radikal¶
A Dystopian Fiction by Bella Radikal¶
Planet earth was full of waste and overflown with garbage and the only solution was to find a safe place to put what mankind did not need anymore. Scientists came up with the plan to clean our planet and transport all futilities to another planet and what they created is Planet Radikal – a cold wasteland, far enough away to get rid of all the toxic waste, bulky scrap and other unnecessary stuff. However, on board of the spaceships were not only things... For a long time, science had been inspired by nature and the abilities flora and fauna had. Extensively scientists have been experimenting with humans in order to create better-adapted species with special abilities and features. Misconstructions were the side effects, a collateral damage in form of mutants, hybrids of half man and half animals, which could not be used for the planned purposes. Besides the few successes, the experiments only produced human trash – crazy freaks, mutants with malformations, deformities and abnormities with absolutely no use. Consequently, those hominid beings were banned together with the garbage to Planet Radikal.
Editorial and 3D Printing¶
This is the piece "Winged Ant" of my collection Planet Radikal I copied the structure of insect wings and 3D printed them. Then I stitched them one by one on the top to design the shape.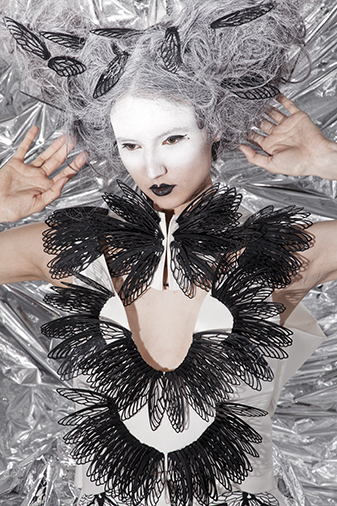 Photography and Edit by Katarzyna Salamon
Booklet: Planet Radikal or the Genesis of the mutants
Follow the link to see the first part of the Editorial and Concept of the Collection Planet Radikal
Fashion Clip¶
Planet Radikal
bella radikal - planet radikal from rainer stolle on Vimeo.
Directed and Edited by Rainer Stolle
Bomb my Dress¶
For this Art Fashion Performance I worked together with Graffiti Artists who were live painting my garments. The idea of Fashion Vandalism should combine the world of underground graffiti movement and the shiny world of fashion. The spontanious output in graffiti and fast action of painting is called "bombing" and the artists had to create a piece without much preperation in advance. The dresses were constructed out of flat and wide wall-like patterns from canvas fabric and white paint. In Fashion and Graffiti the most important thing is "see to be seen"...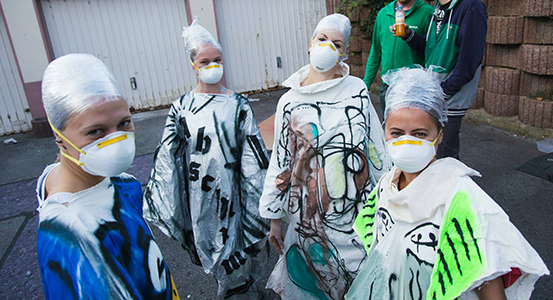 Bomb my Dress by Bella Radikal from Medienmalocher on Vimeo.
Video and Edit by Medienmalocher
Verwoben¶
This Performance was created for the "Entre Pasos Night Move" at the "Kunsthaus Essen". I designed a Pillow-like Costume-Scenography out of trashed clothes that I got from the "Diakonie" -a social welfare organisation-, were the performer is crawling like a catarpillar from one to another dress to slip in. The human is naked in nature and needs clothes to show off his status, his character or behind whatever "mask" he wants to be represented with. With this art piece I wanted to show the ability of the different personalities the body can swith into and the crazy dimensions of fast-fashion. In total I created 4 outfits that are interwoven in one comlete piece to also be the scenography.
verwoben from Laura Susanna Burgener on Vimeo.
Video and Edit by Medienmalocher Choreography by Laura Burgener Music by Meta Meat and 2kilos &more
---