About me¶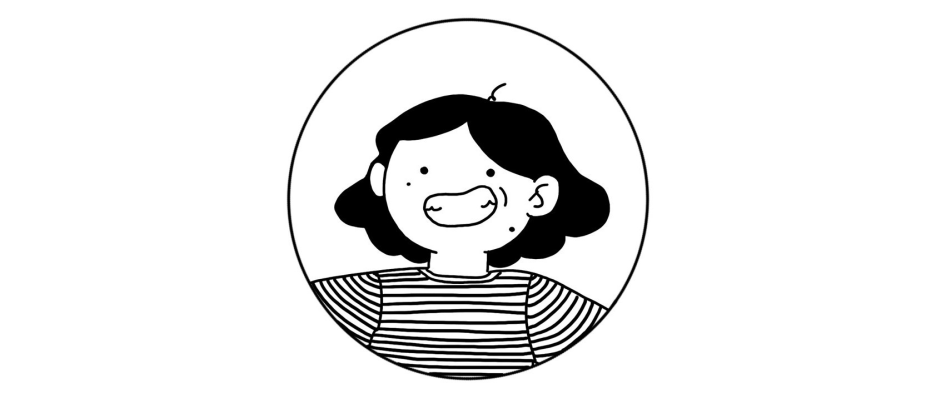 I was born and raised in Madrid in 1990, and for as long as I can remember I've always been driven to creating stuff with my hands. But there's also another side of me that loves being methodical, precise and knowing the science behind things. It wasn't until recently that I saw the potential of combining these two parts. And that is why I decided to join Fabricademy, so that I can learn more about textiles and fashion and how to integrate them with technology.
A short biography¶
Hello! This is Sara. In this page I will guide you through my life journey so you get a glimpse of who I am. My hope is to answer the questions: who am I, what have I done until now and how did I get to be part of Fabricademy? You can find some pictures in this page that illustrate my journey. Follow along with the audios that you can find below.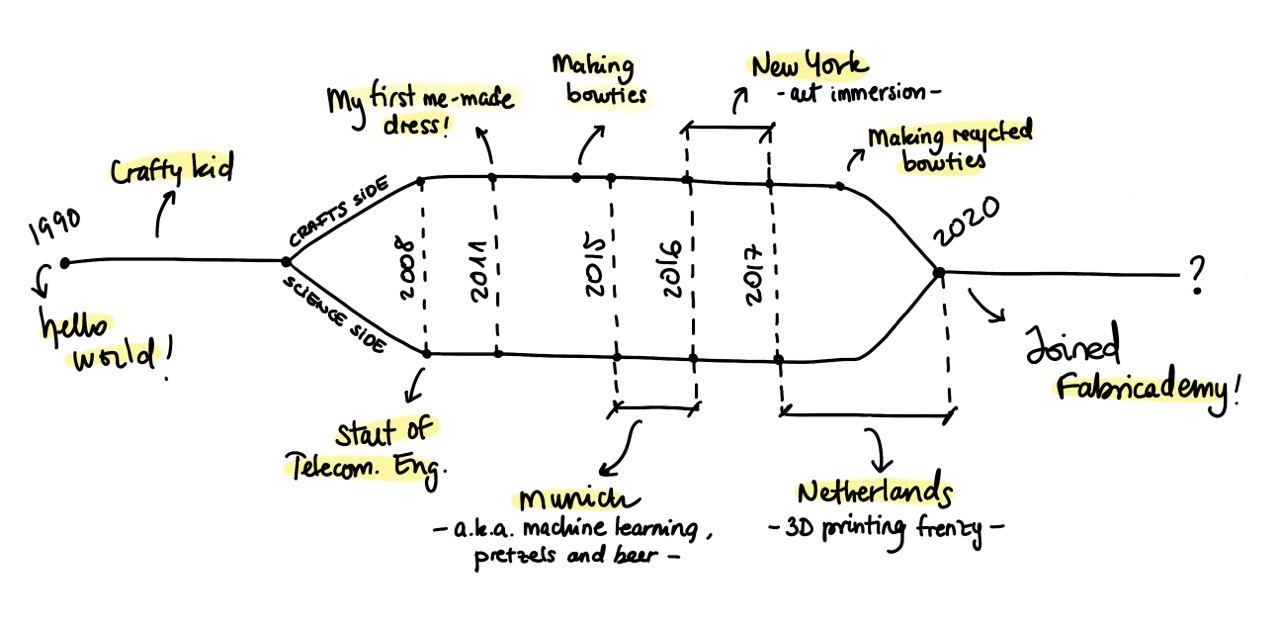 My tech years¶
It has taken me a while to get here. My creative side has always been with me in some way or another, but as teenager, this side of me became a bit more dormant because I was trying to figure out what I wanted to become as an adult. And at that point I chose to go for sciences. It was intriguing and challenging, and I wanted to figure out how technology works. So I spent a few years studying to get a degree in telecommunications and electrical engineering. However, because I'm the kind of person that learns mostly by doing, I spent quite some time tinkering and doing projects. You can see a few of them in the pictures displayed here. My favorite one is my bachelor thesis: a mirror which monitors your physical and mental wellbeing using the internet of things and artificial intelligence. And I love this project because it reflects some of my values, like wanting to put my effort and my energy in creating things that help people. Plus I got to tinker and program and do a lot of fun stuff while also making with my hands a piece of furniture that you could put in your house.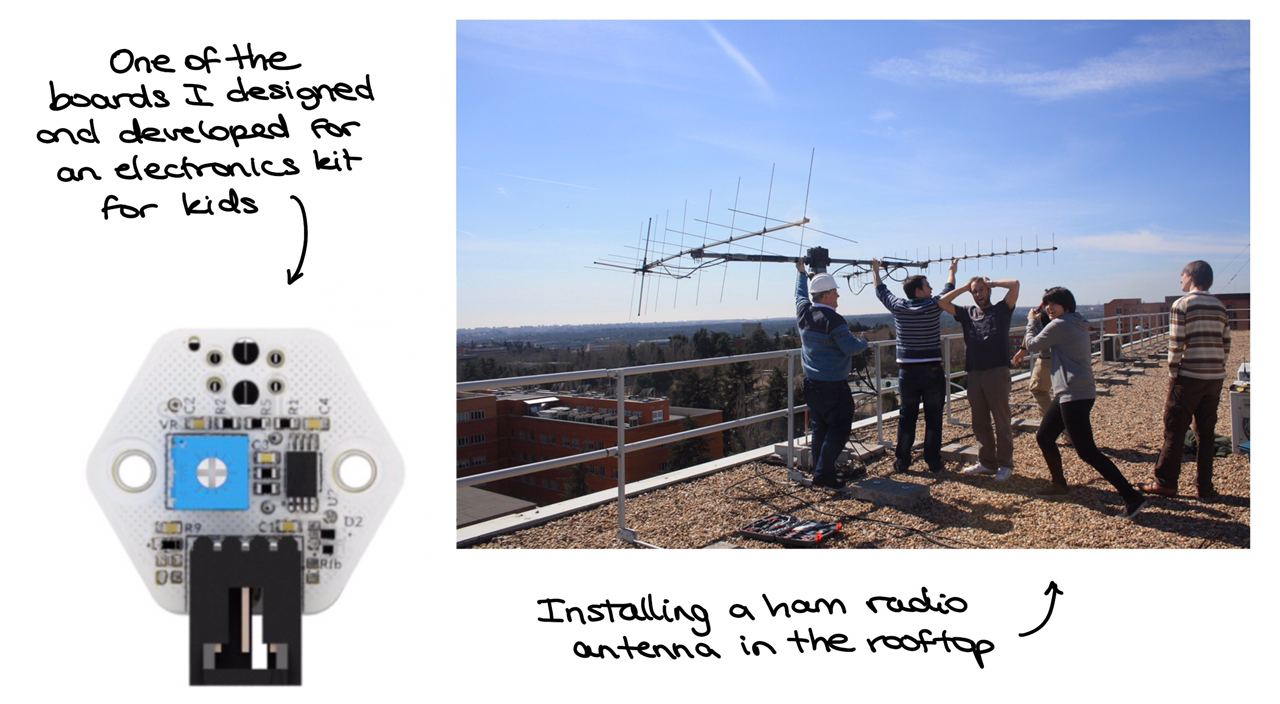 A mirror to improve wellbeing¶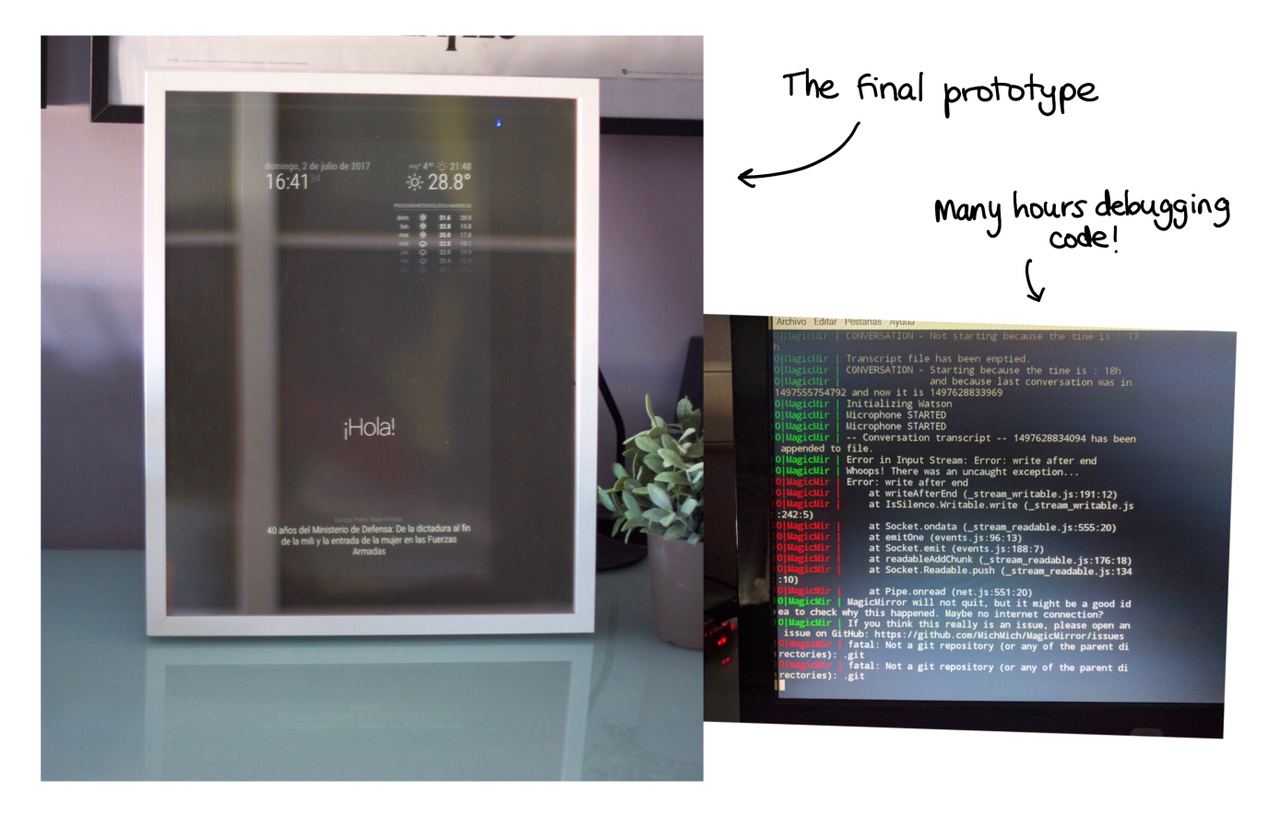 A robot arm that moves like a human¶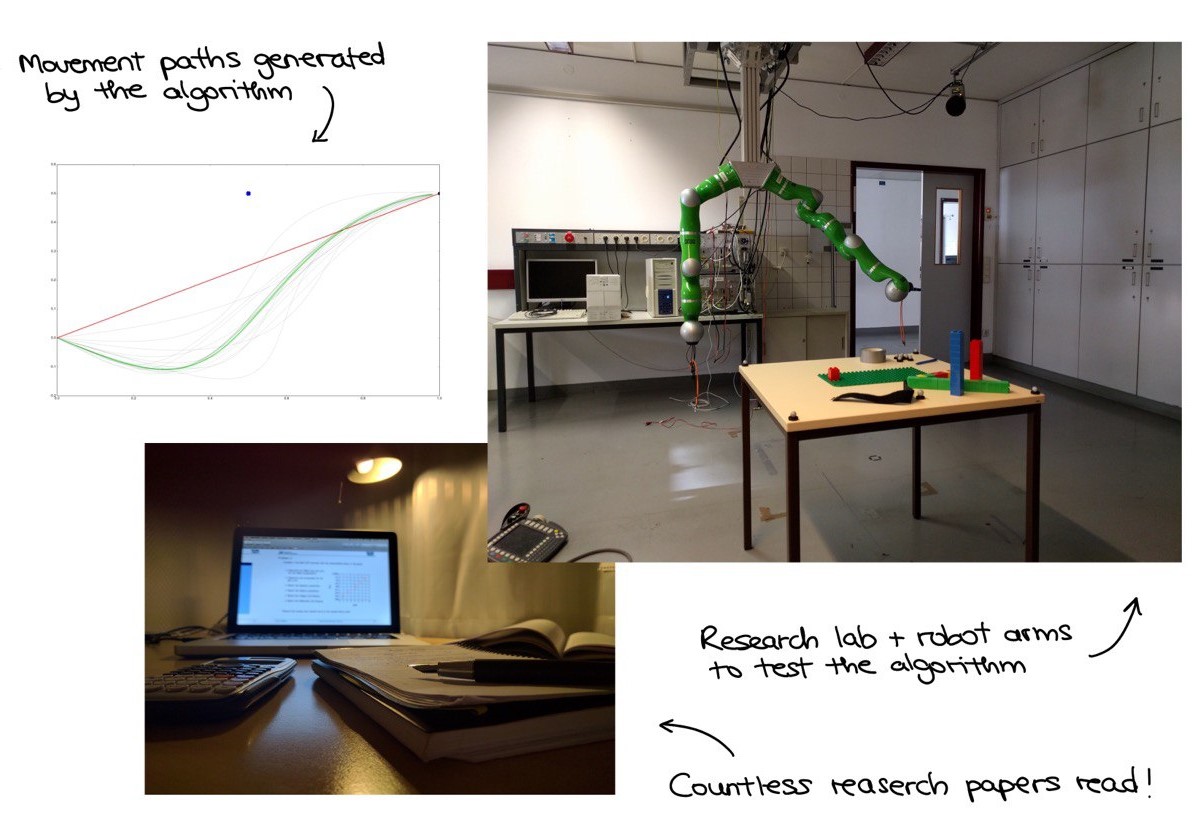 A crucial moment¶
In the midst of all this tinkering and technology stuff going on, something really important happened as well. I picked up my grandma's sewing machine and sew my first dress. I never wore it because it wasn't possible to, I didn't even use a pattern to put it together. But I was so hooked. It was a great experience. I remember the excitement after I saw my first stitches coming out of the machine. This impacted me in ways I could have never imagined. A while after that, my brother had this crazy idea of making bowties with hawaaian fabrics. And it sounded like fun, so I went for it and opened an Etsy shop. It was a great first experience in having a (very) small business. I decided to pick it up again in 2019, but this time I wanted to give it a more conscious thought, and instead of buying new fabric I decided to use second hand shirts found in vintage clothing shops.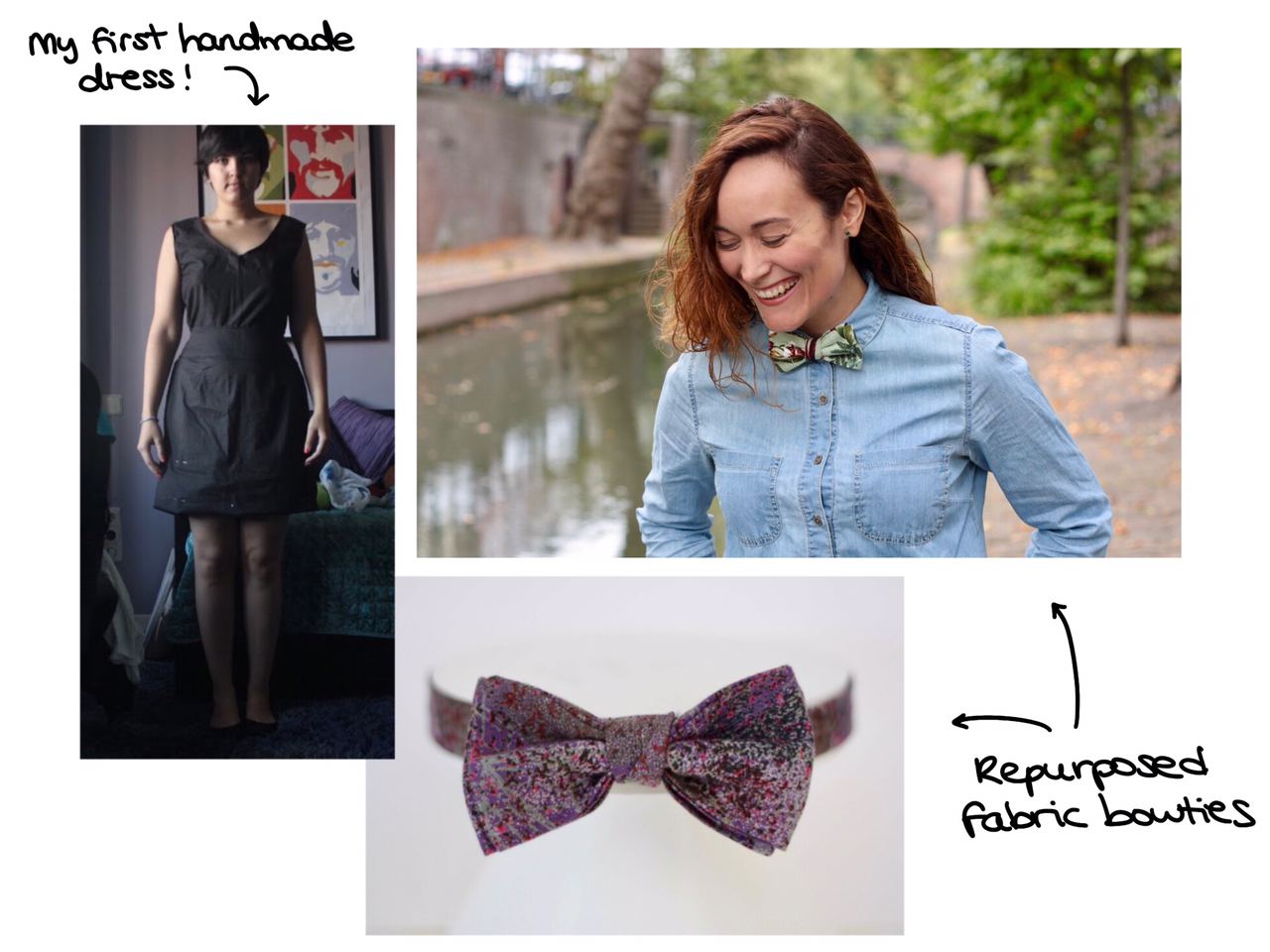 Getting to know new places¶
In a different realm, my curiosity (and probably as a result of a my family's love for traveling) led me to moving around for a few years. I lived in Munich for a year, where I got to experience for the first time working in an international atmosphere. After that, I was very lucky to be selected for a scholarship to work in New York with a Spanish cultural association. This was a much more art and cultural driven environment from what I had experienced so far, which I loved. This experience made me reevaluate what I wanted to be as an adult, because I found true joy in this new to me artsy and creative environment. That's why a few months later when I saw the chance of working in 3D printing I went for it. It was still a job in engineering, but the possibilities of the technology seemed endless and the atmosphere where I was going to work was so inspiring. So I jumped to it and moved to the Netherlands.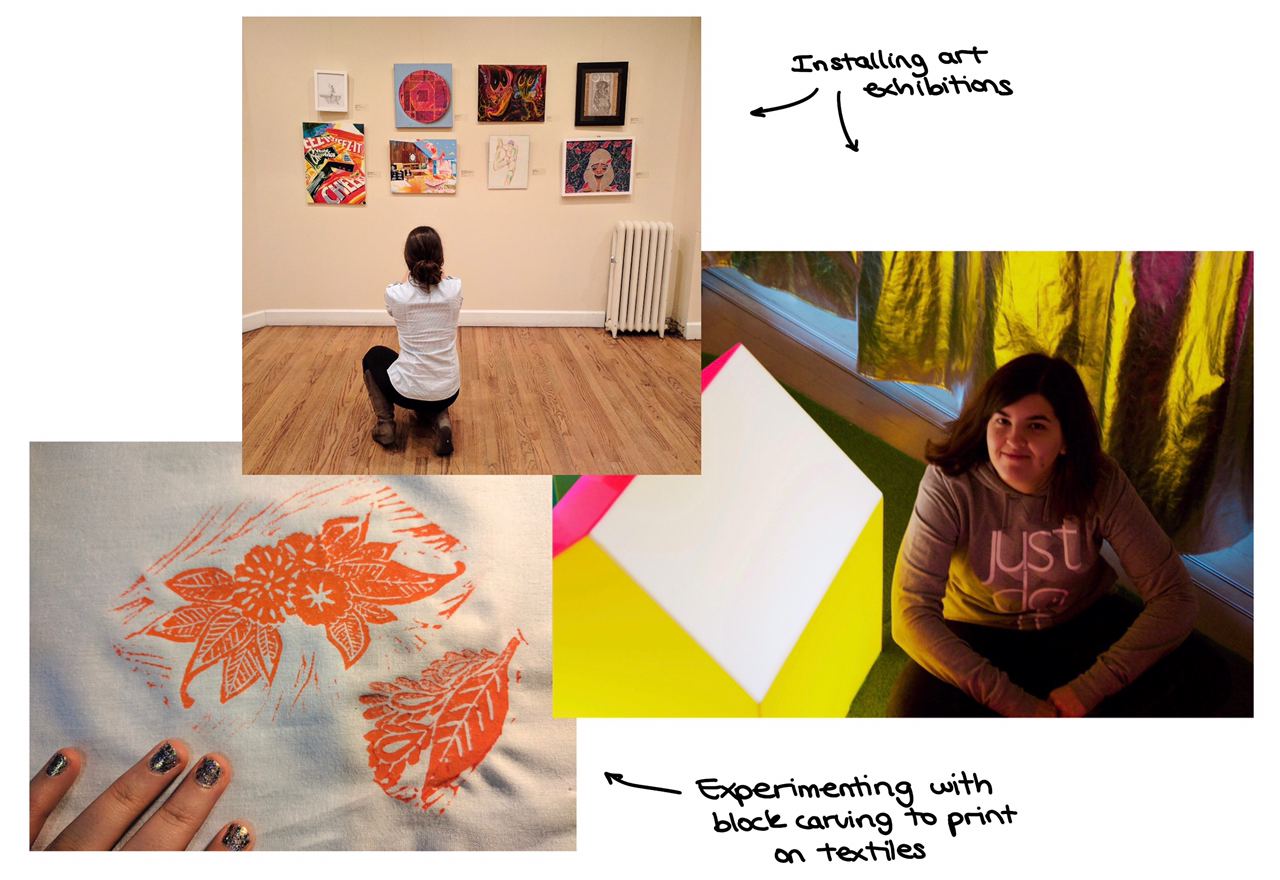 Merging tech + crafts¶
Which leads us to now! After a few years working in and enjoying 3D printing, I am ready for my next step, which is to combine the tech skills I've worked on for years together with the fashion driven creativity that has always been with me. I can't wait to see what comes out of it. And if you want to see it too, feel free to follow me on Instagram, drop an email, simply reach me. Thank you for listening.
Want to see more? Check out:
My email: hello@sara-alvarez.com
Sources¶
All pictures shown are taken by or given to me Sara Alvarez
Portrait inspired in Amiluu