Home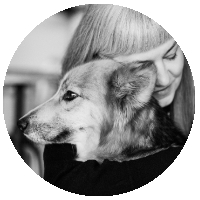 About me¶
I like to immerse myself in finding new things and ways to do them. In this course I hope to discover and learn new areas related to textiles and expand my knowledge of working in the FabLab environment. I know that this course is very intensive, so I'm a bit excited but at the same time eager to dive deeper.
My background¶
I was born and raised in Lithuania. During my school years I went to the school of art, and after 8 years there, I decided to continue my studies at Vilnius art academy. After finishing it, I pursued my career in design for next 20+ years. I was a manager of creative design studio for 10 years, created graphic designs, engaged in freelance opportunities, met marvelous people and done countless art projects. Because of my involvement in multiple activities I was lucky to meet and collaborate with artists and makers from all over the world. All of that led me to the world of FabLab. With small team we decided to start our new projects "FabLab Vilnius" and "Raccoons Lab" and that 6+ years of experience broadened my horizons even more. I learned how to work with IT and new technologies, worked as a STEAM educator and content creator. Here you can find some of my works.
Inspirations¶
I am excited about everything that is open source, ability to share and collaborate with others, to be able to make something work, even though it was just a crazy idea in someone's head before.
Don't have any concrete idea yet and so many inspirations around, so easy to lost. However, one book inspired me, so I am thinking now about a synthesis of everyday consumption, personal expression and aesthetics.
---
Last update: 2022-11-14