About¶
Hi I'm Olivia!¶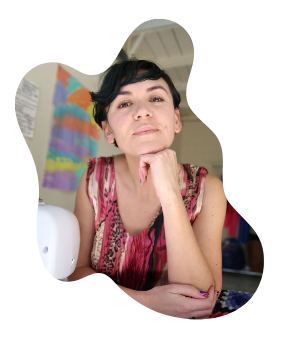 I am an artist, fashion technologist, audio storyteller, and teacher.
I love making my own clothes, thrifting in new cities, dreaming 24/7 (lol), and eating dimsum!
I'm so excited to join Fabricademy in Barcelona and experiment with new bio materials alongside an increadible cohort of peers. Follow along as I document my process here.
---
My background¶
I grew up in Berkeley, California. My cultural background is a mixture: my dad is Peruvian of Indigenous/African/Spanish ancestry and my mom is Jewish American with roots in Eastern Europe (Poland, Russia, Lithuania, and Czech). I think my fascination with textiles stems from both sides of my family: whether it's from my abuela, who was an Andean weaver or my Polish great-grandmother, who worked as a garment worker in a U.S. knitting factory at the turn of the 20th century!
Once upon a time, I was a radio journalist and traveled the U.S. recording people's stories. I recieved my Bachelors in Broadcast Journalism from Brooklyn College, in Brooklyn, New York. Later, I went back to school to get my Masters in Interactive Technology from ITP at NYU where I got to play with the lastest creative techtools and create new inventions for a world I want to live in.
After graduating, I wanted to bring the skills I learned back to home. For 3 years, I directed the David E. Glover Education & Technology Center, a multi-generational tech and design education space, offering free classes to the community in East Oakland, California.
In the begining of 2021, I took a sabbatical from work and created my own self-guided post-masters program focusing on sewing, fashion sustainability, pleasure activism, and witchcraft. The pandemic allowed me to slow down, reset, and focus on things that give me joy in this sicksadworld.
---
Previous work¶
In grad school, I made video games, augmented reality, interactive installations, and soft-curcuitry/fashion tech. All of my projects had a personal story behind them and I strived to make work that was useful and solved issues, either for myself or my community.
Right now I love transforming things into clothing. All kinds of things. And I love upcycling and creating wearable art out of unusual materials. Here are a few textile/fashion projects I've worked on:
Hot Pantz¶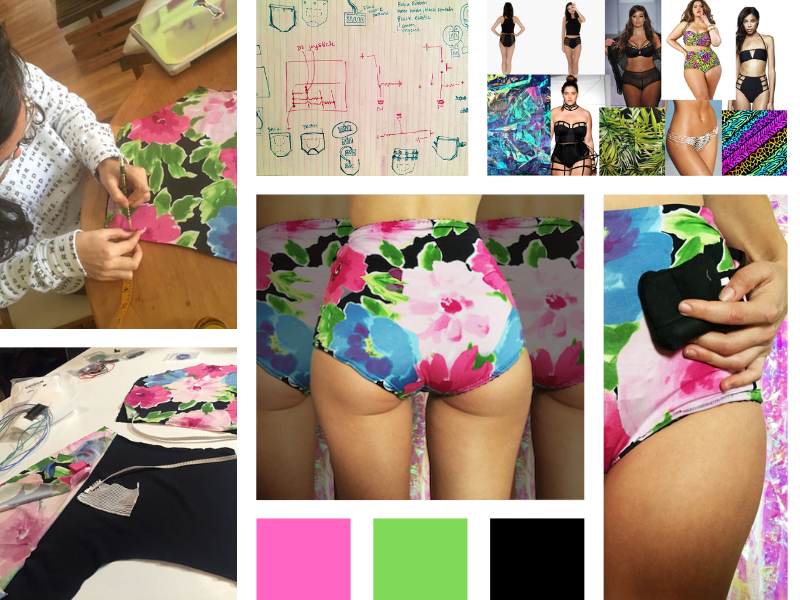 Hot Pantz (2016) is a high-waisted undergarment designed with thin cloth heating pads to soothe menstrual cramps on-the-go. I designed this product in a wearables class because I was having terrible pain during my period and wanted to design something that could soothe my pain while I was at school or work. After doing some initial interviews with women, it was clear that a product like this was needed but there was desire for it to be exciting and bright (not medical) and feel like a fun secret under your clothing.
The prototype was designed with a floral spandex outer fabric, a cotton lining, two thin mesh fabric heating pads (placed at the abdomen and lower back) connected with thin silicone wires to a microcontroller with usb charing capabilitites. The battery was detachable and housed in a soft neoprene pouch that could clip to the the garment.
Handmade Nike Jordan Air 1 Sneakers¶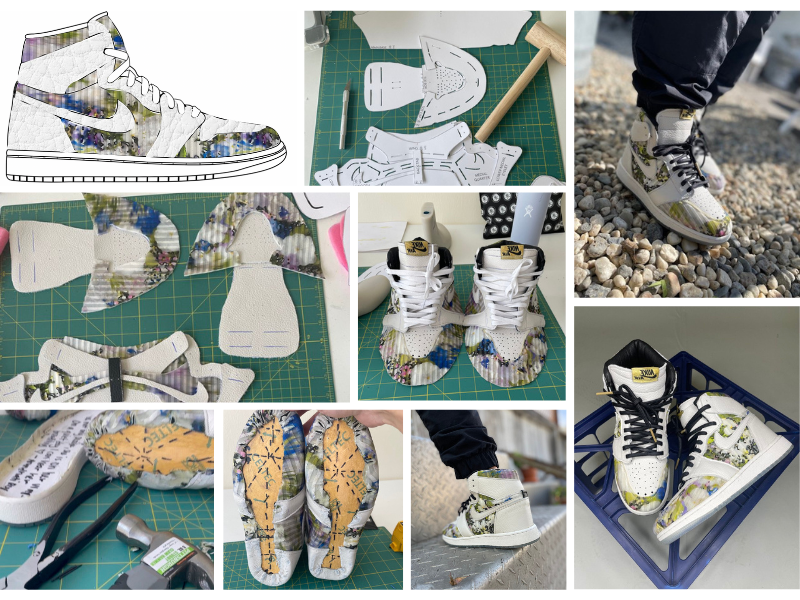 I made my first pair of sneakers by hand last year (2021)! I have always loved sneakers and feel so disappointed that most of the coolest ones with the best color combos are only in larger men's sizes. I've also noticed that sneaker design can be very gendered, like pink and pastel colors for girls. For a long time I've wanted to design cool sneakers made in smaller sizes for feet like mine. I found an online month-long class on how to make custom Jordan Air One sneakers and jumped at the opportunity.
This pair was made on my at-home beginner sewing machine (god bless her) so there are some imperfections. This class confirmed my love for wanting to continue to make sneakers and I hope to be able to make them here at Fabricademy using sustainable bio materials. You can see more photos of the sneakers here.
Bubble Pants, etc.¶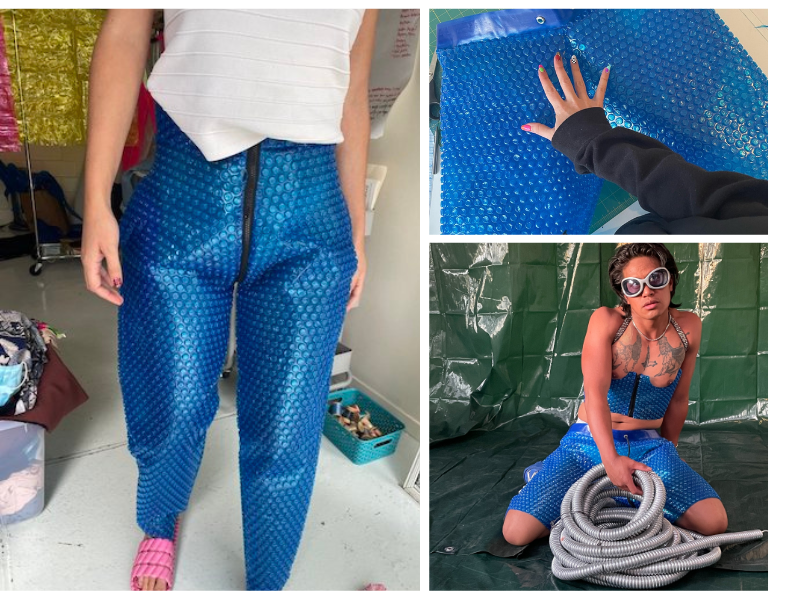 Bubble Pants, etc. is a fashion experiement with bubble wrap. This material was left over from a garden project my dad was working on. I saw it and immediately thought: I want to make a pant suit out of it (something inspired by the fashion worn by artist Lil Nas X). I had never made pants before so I got started by looking at tutorials on youtube. Because this is plastic and not made to be worn or shape to the body, I designed a zipper that went all the way around from the front to the back so it would be easier to put on and take off.
Later I designed basketball shorts and then most recently a corset to match, modeled above by a friend Adonis. I love working with plastic and translucent materials but know how toxic they are. So I'm super excited to be able to learn to make bio plastic and materials that can achieve the same feel and effect but with out harming the planet and people.
---
Why Fabricademy?¶
Since beginning to design and sew my own clothes, I have felt deeply conflicted about the state of the fashion industry and how polluting it is. Whether it's the plastic in almost all of the fabric being produced today, the amount of water used in production, the many underpaid hands our garments go through before they get to us, or where our clothes end up when we no longer want them -- this system is toxic. But we are all complicit because we all wear clothes.
I want to make clothes and wearable art that isn't wasteful. I want to learn how to create new bio materials that not only compost back into the earth, but actually feed it, giving more than we take. I want to figure out ways to produce less waste and recycle fabrics. When I learned about Fabricademy, combinging fashion with tech, biology, and a sustainability mindset -- it was as if it was made just for me!
During this program, I am most excited to experiement with bio textitles as well as natural dying methods. Since I already have some experience in wearables and soft circuitry I really want to push myself to dive deep into every subject. I'm already dreaming about sneakers made from bio materials and inflatable jackets made like soft robots! I also want to get better at making beautiful final documention.
---
Thanks for Following Along!¶
Keep in touch. You can follow me @olivia__cueva and see more work on my website.
---
Last update: 2022-10-09