1| State of the art, project management and documentation¶
Setting up the website for documentation¶
This week I worked on setting up the website and started to getting used to the documentation process.
I wanted to personalise my website to a different theme and more esthetic format but first I thought I would try to manage and use the basic mkdocs.yml. And finally, sticked to the Material theme - (I will see if I make a personalise Home page later on) I Changed a few things color, font, titles to get a more personnal page. Wile modifing the theme in mkdocs.yml with my logo and adding my favicon, the pipeline kept failing, finally with the essential help of Diane we discovered and fixed the problem and now this is the way to do it:
Be careful with the 'icon', you need to erase this line if you want to use your own image, and put your 'logo' and 'favicon' line at the same level as 'font' and 'palette'

FABRICADEMY¶
MOTIVATIONS
The first motivation is textile. I fell in love with textile in Canada when I took my first Fiber class. Since then textile is my material of predilection, at the core of my artistic production.

I have a strong personal interest regarding new technologies, biologie/science and new materials.

Learning is a vital process to me

The new way of learning and teaching of Fabricademy highly motivates me: breaking from traditional academism and letting creativity flow through sharing, experimenting.... It's a way to develop my technical and creative skills more in depth in a new textile field.

I'm also enthusiastic to be sharing and collaborating with a diverse local and international network. And to be part of the TextileLab Lyon, to have the opportunity to use their facilities as much as being part of their local creative network.
Fabricademy is a chance to experiment, expand my practice towards more hybrid methods, materials, projects and techniques; mixing textile craft to science/biologie and new technologies.
Project
In Fabricademy I wish to develop a project that merges digital motion with sustainable materials and colors; and using repetition and pattern as a creative process.
SUSTAINABILITY
During my design studies and design production, sustainability was a core and central theme in each of the design processes and creation I had to approach. It was essential to go in depth of each step of the design process (cultural use…) and build new thinking and shifting our way of produccion/use of the objects/materias/l and designed landscapes we live on.
But in my Fine art classes and my last years in Fine Art in Spain, (but also in the Art world in general), sustainability didn't seem to be as important. It was/is an art-theme/ an art-concept (as much as working on political preoccupations, the body, the landscape, color/form etc) Sustainability (was and) IS still not a practice in the art world.
As an artist and designer, it's a core and essential part of my thinking, and I try as much as possible to tend towards a more responsible environmental practice and production.
One of the texts that influences my thinking and practice is Vibrant Matter from Jane Bennett.
Inspirations¶
ISSEY MIYAKE Folds
Deleuze wrote that "If there is a properly baroque suit, it will be wide, swollen, puffy, bubbly, and will surround the body with its autonomous folds, always multiplying, more than it will translate those of the body."
Also worthy of the folds defended by Deleuze, the work of Issey Miyake, exacerbates fluid forms, a mobile architecture and a form of fabric adaptation. His works are at the intersection between textile design and art, and pleated by an elastic creative expression. He turns some simple fabrics into a double meaning object, as his energies accumulate and fuse these two different disciplines. As we see in the images ("Issey Miyake (dress) and Herb Ritts (photograph), Wrapped Torso, Herb Ritts, platinum print. Los Angeles, 1989 © Herb Ritts Foundation"), Issey Miyake, in his work investigates and explores the nature of folds and their implications in the act of wrapping, covering the body in motion.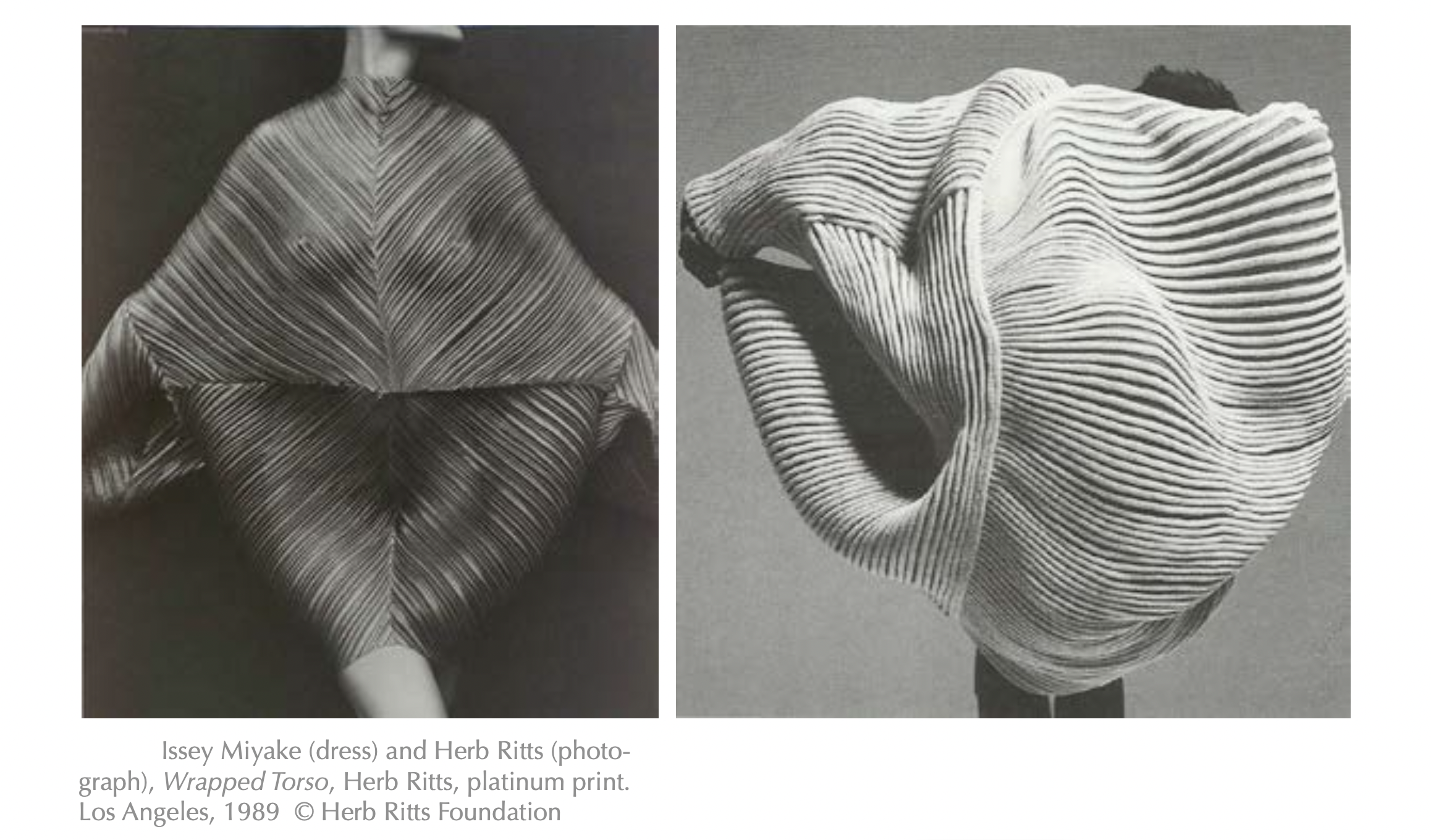 ANNI ALBERS ART+design
The global work of Anni Albers, artist, weaver, designer and teacher at the Bauhaus and Black Mountain, is an example in the field of textile art. Her work and her texts are an artistic reference to understand the world of weaving from the point of view of art and design. Anni Albers studied the shapes and geometry of constructions and woven structures, with a vision that blurs the barriers between art and design. Her artistic work developed the concept of pictorial weaving. Her works are woven with abstract motifs that emerge from the rectilinear rigidity that was produced in the Bahaus of her time. We note that the formal perfection of the warp and weft treatment by the artist appropriates the concerns that concern modern and abstract painting, but taking them to the field of textile production. She also dedicated herself to investigating the different fields of graphic printing, exploring levels of complexity that relate drawing to fabric. In her works, we clearly see that these preparatory drawings are as important as the fabric resulting from her works.
More about Anni Abers on Aware Woman
JOVENCIO DE LA PAZ Digital+Traditional weaving
A few month ago I attended a very inspiring lecture given by Jovencio de la Paz about his work, at the intersection of traditional weaving and modern computers.
In his own words:
"Sharing the same language of binary code, I see this relationship as both fraught and fruitful. Using the digital TC2 (Thread Controller 2) Jacquard loom, I manipulate, hack, confound, and fracture design software to explore and test the boundaries of how cloth is typically conceived. I push design software to the point of rupture or failure, capturing the physicality of these behaviors as the warp and weft of hand-woven textiles."
Copyright © Jovencio de la Paz
MORE INFLUENCES
Artists
Ann Hamilton
Ester Ferrer
Paul Klee - about the Line
Cinetic art
Jesus Rafael Soto
Gego
Essay writers
Jane Bennett

Tim Ingold

Pattern Poetry

Spatial Poetry
---
Last update: 2021-10-04