Research¶
Project Inspiration¶
I had been thinking about my project for a few weeks before Implications and Applications for multiple reasons. Those reasons being that I had a LOT of project ideas and because I would be traveling back to the US for a weekend trip at the beginning of December to get materials for my final project. Those small ideas ranged from mycellium surf board to edible bioplastic wrappers to a designing a head to toe handmade from raw material outfit. However, after evaluating my resources, skill set, and timeline and spontaneous brainstorming sessions with Louise I worked on combining my ideas. The biggest turning point in deciding which direction to go into was after Louise had introduced me to Mimmi Blomqvist, a ceramist that merges concepts of utilitarian objects and sculpture into common design and uses textile forms for slip casting porcaline.
State of the Art¶
Mimmi Blomqvist is a ceramist that merges concepts of utilitarian objects and sculpture into common design. Her practice of using textiles in the porcelain slip casting process was the biggest inspiration for what got my final project going.
Rachel Boxnbomi is an Israeli designer that designed a tea set called Alice for her final project at the Bezalel Academy of Art and Design. She uses fabric as her molds for her porcelain forms. When fired in the kiln, the fabric slowly burns away and the final piece of molded porcelain remains. Therefore, the hard ceramic takes shape from something soft – the fabric. Seams and a light texture are still visible on the surface of the tableware leftover from the fabric so that they resemble a hardened textile.
Valdís Steinarsdóttir is an Icelandic designer that has been turning byproducts from the meat industry into vessels made of bone and a bioplastic material for packaging. She sources her materials from local slaughterhouses and farmers before transforming them into new materials. The bowls and vases for Just Bones are made by grinding down the bones to a powder and she likens the process to the creation of MDF, which is made by breaking down wood into fine particles that are bound together by wax and a resin binder. She creates a glue that works as a binder for her vessels by putting the bones in sour fruit extract and then boiling them to collect the gelatine. The bone vessels stay firm as long as they're dry, but aren't waterproof and will dissolve in hot water in about a week. The different colours of the vessels are created by heating the bones at different temperatures.
My State of Art¶
My background comprises of Ceramics, Textiles, and Industrial Design. Throughout my creative career I have found myself intersecting my different practices in one project. My past work can be looked through on my portfolio site. Two examples that relate to my final project for Fabricadmy are:
Horse Poop Paper
Material research during COVID19 back home in California.



Ceramic Basketry
Intersecting my basketry and ceramics skills to explore form back in high school.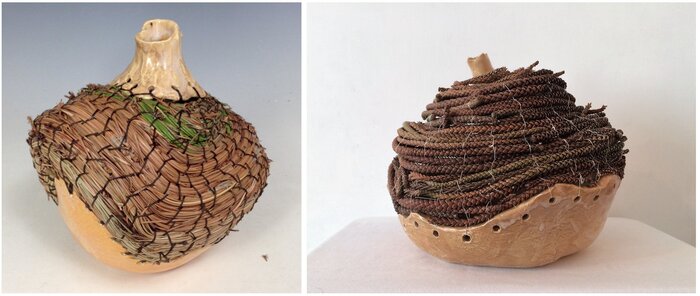 Project Proposal¶
Areas of Research¶
Slip Casting | Food Waste BioMaterials | Textiles in Iceland | Iceland's Glaciers and Volcanoes
Slip Casting¶
There are many different practices/techniques in the world of ceramics. Slip casting is the most practiced artisticly and industrially as it is a process that allows for easy reproduction of forms. The slip casting process can be broken down into 3 basic steps; Form, Mold, Casting. For those who like to read thorugh the process the American Ceramic Society has a thorough explaination. For more visual learners, the video below covers the process of making a mold for ceramic slip casting:
Food Waste BioMaterials¶
Recipe references and inspiration:
Materiom BioPlastic Cook Book
Recipies for Material Activism
The Chemarts Cook Book
Nature Lab RISD
Textiles in Iceland¶
For the Iceland's Wool Circularity
Iceland's Glaciers and Volcanos¶
For a more indepth understanding of glaciers and they're epic features here is a compiled document with notes and link from the US National Park Service site.
Project Life Cycle Analysis¶
The life cycle analysis of the materials and steps throughout the final process of the make of the Glacial Bio-Pottery dish set.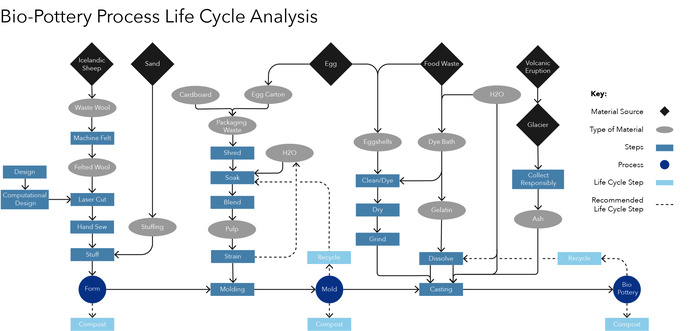 Material Sourcing¶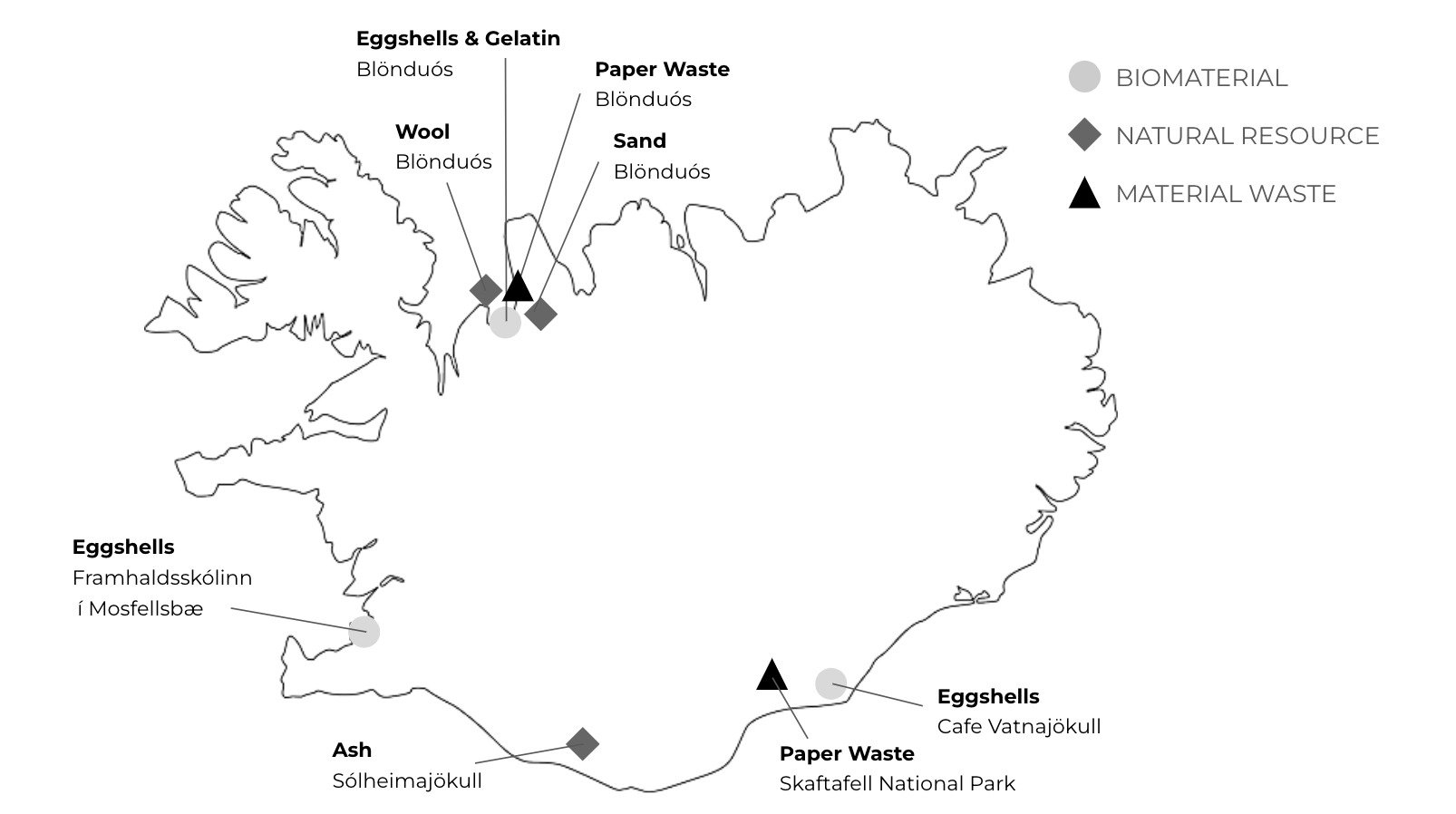 Community Engagement¶
With the help of Sigurgeir Thoroddson and Margrét Katrín Guttormsdóttir I was able to make a post in our county Facebook Group in Icelandic and English asking folks to collect their egg shells for me to use for my project. Below is the text from the post:
Hæhæ! Ég er að taka þátt í rannsóknar prógrammi á vegum Textílmiðstöðvar Íslands á Blönduósi og er að vinna að verkefni tengt lífrænum efnum. Ég er að safna eggjaskurnum og myndi kunna að meta ef þið eigið eggjaskurnir til aflögu að skila þeim í söfnunarkassa sem ég hef sett upp í kjörbúðinni á Blönduósi eða hjá Textílmiðstöð Íslands:
Þverbraut 1
540 Blönduós
Ekki hika við að hafa samband við mig ef þið hafið einhverjar spurningar!
Takk fyrir hjálpina!
Hello Everyone! I am participating in a the Fabricademy textile research program at the Icelandic textile center in Blondous and am working on a biomaterial research project that involves egg shells. I would appreciate folks saving their egg shells and leaving them at the collection boxes at either the Blönduós grocery store or textile center:
Þverbraut 1
540 Blönduós
Please don't hesitate to message me if you have any questions!
Thank you for your help!
And here is the set up photo and after 1 week I had 4 egg cartons and a bag full of egg shells: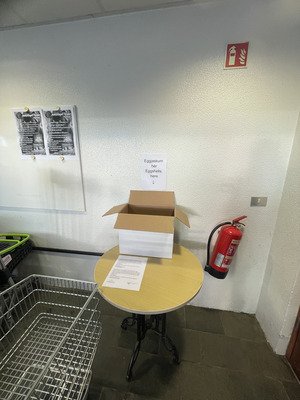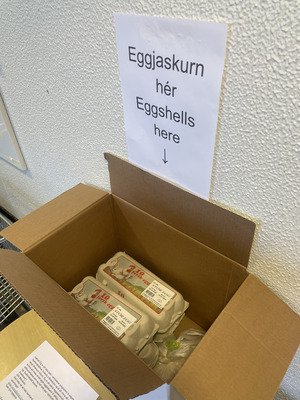 Creative Nomad Test¶
The main focus of my final project was material research oriented, but there was an underlying research of developing/reformulating a process to for a nomadic practice of Bio-Pottery casting. The nomadic aspect of my process came up in reflection of the materials and tools I was using compared to ceramic practice. Materials being nontoxic food waste and paper waste, allowing the practice could be done in a home kitchen environment. And be practiced on a very small budget. The accessibility of this process is something I was able to test and it brought a lot of insights into project organization, resources needed, and work/life balance when working in the home environment.
From Feburary 22nd to March 6th I went down to the South East of Iceland to stay with my boyfriend in is apartment at Skaftafell National Park. Before going down there had been a lot things I needed to prepare and plan for as the Öræfi area has very limited store options for getting supplies and no Fab Lab for a good 2 hour drive.
Prep Work¶
The preperations I focused on at the TextileLab were:
- Finalizing my recipe ratio tests in test molds
- So I wouldn't have to travel with a lot of material to contiue testing down South
- Eggshell collecting
- I knew I would be getting a lot of eggshell from Cafe Vatnajökull and Framhaldsskólinn í Mosfellsbæ, but knew I would need all the egg shells I could get
- Machine needle felting and laser cutting
- This was more so I could laser cut my felt for saving time, though I could have wet felted and then hand traced and cut from my paper model reference if I didn't have the Felt Loom or Laser Cutter.
Goals¶
My goals/things I hoped to get done for my 13 day test were to:
- Sew up and stuff all the forms
- Clean, dye, dry, and grind eggshells collected
- Prep paper pulp
- Make molds
- Cast as many pieces possible
Reflections¶
A lot things had come up when living out my creative nomadic practice that I had not anticipated:
Work/Life Balance:
- When working at the TextileLab I didn't realize the intense focus and time I deticated to working in the lab. That work flow didn't translate while I was traveling and staying first with my boyfriend's parents in Mosfellsbæ and even while I was down in Skaftafell. I had gotten in the routine of early mornings and late nights in the TextileLab and that work flow didn't translate well to when I was in a new space for a short period of time. I was able to do more mindless work like sewing and pulp prep, but being able to set up a mini workspace at my boyfriend's place wasn't really possible in the short time we were there for.
- There were also more errand running to purchase tools I needed and socializing with the family that I hadn't considered would impact work flow and focus.
- Working in the home environment is also very different to in a lab or studio, esspecially when you're living with someone else. There was considering the other person's day schedule and use of the apartment space. A lot of time went into setting up for the day and cleaning up within a much shorter work window then I had gotten used to at the TexileLab which made me have to become more efficient on the tasks I wanted to get done. For example while I was cleaning and drying eggshells I was sewing forms, prepping pulp and making molds all while being mindful of the living space I was working in. I was lucky that the weather was pleasently warm so I was able to work outside for the more messy parts of mold making, but had some accidents happen inside.
- Mindfull sink usage and drainage was something that I became aware of when working in a home kitchen studio. When doing a pour for a casting in the sink my mold leaked and a lot of my Bio-Material went down the drain as I had forgotten to cover the drain. Even with running hot water this caused the sink to clog and resulted in my boyfriend having to help me clean out the plumbing under the sink which costed about 3 hours of work time.
- Additionally the shredding of the paper created quite a mess that was luckily easy to clean up, but I had to bring the soaking buckets in most nights to store in the bathroom and shower so they wouldn't freeze over night. And it got to a point where it felt like my project was taking over the apartment.
- I didn't realize how much pulp I would need for my molds. And so I spent a lot of time prepping pulp to then dry out to bring back with me to the TextileLab to use there. The most time consuming part being the cutting up part of the pulp making.
- Freezer space was also something that I ran into an issue with. I could only fit some of the smaller molds inside it. I was fortunate that it was cold enough during the night to freeze my molds later on. But because of the amount of pulp I needed I wasn't able to make as many molds and pours as I had hoped for.
- I had forgotton to bring baking soda with me to achive the color I wanted my pieces to be, but luckily one of my boyfriend's coworkers had some I could borrow. But it was another set back on being able to do castings for a day.
Overall, after testing the nomadic aspect of my process I can say that there are a lot of things I will be more mindful of next time. The note worth things being:
- Proper estimation of materials needed
- Project planning
---
Last update: 2023-04-17