Home
About me¶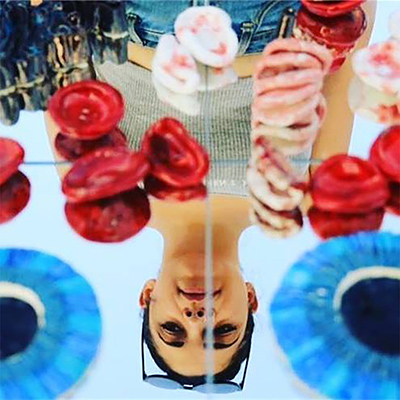 Me posing infront of my ceramic sculptures at a festival in 2016
Hello there! I am Marisa Satsia and I am a multidisciplinary artist and researcher based in Nicosia, Cyprus. I work in the intersections of biology, technology, visual art and human anatomy as I specialised in Medical Art. I also collaborate with School of Machines, Making and Make-Believe in Berlin where I created Medical Bodies, a 5-week online course on visual art, medicine, and the human body. Through my teaching at the School of Machines I met the most amazing people that inspired me to be the artist I want to become. I also just completed a residency in a makerspace in my hometown, where I experimented with designing and fabricating soft robots and making tools for biomaterial making and weaving.
Visit this website to check out my journey at Fabricademy :)
My background¶
I was born in Nicosia, Cyprus, in 1990 and moved to Scotland in 2009 to begin my studies at Duncan of Jordanstone in University of Dundee. Initially I went there to study Architecture, however, I did not enjoy it so much unfortunately! I decided to get into Fine Art school and start with a general course or foundation year in 2010. During my Fine Art studies (2010-2014), I experimented with photography, printmaking techniques, installation work, performance, embroidery, sculpture and ceramics.
As a child I was always fascinated by the natural and biological world and since then I have always been a curious human being. I remember my first science class in school as it was fascinating. I realised that science is an extremely visual discipline and I was mesmerised by scientific models of anatomy and natural history illustrations.
During my BA I started experimenting with microscopy and collaborated with a lab in my university through which I did visual research into haematology and the nervous system. I always knew I wanted to combine my love for biology and art and I went on and specialised in Medical Art. During this time I studied anatomy from cadavers and real human specimens in anatomical museums and dissection labs. At the same time I was learning how to combine my knowledge for human anatomy and my artistic skills in order to map the human body for educational purposes.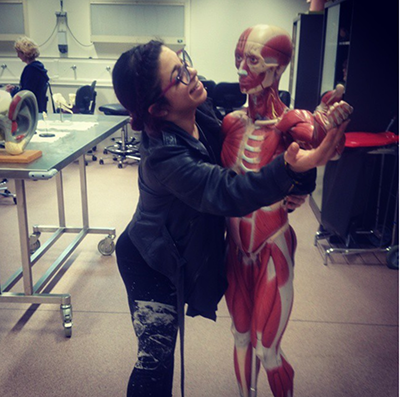 Me in Antwerp Medical school during an anatomical drawing workshop, 2014
In addition you can find my CV here.
Previous work¶
In the past year I have been experimenting with artificial intelligence, DIY Biology, bioart and during my residency I experimented with digital fabrication techniques for making soft robots and creating my own tools. I was fascinated by the fact that these techniques can assist us in creating tools that can help in our everyday artistic practice and processes. I was trully inspired by all the projects done here at fabricademy and I was following closely the documentations of previous participants as far as biomaterial making and fabricating soft robots.
"Creative Biology" workshop¶
During my residency I also put together a two part workshop called ''Creative Biology''. In the first part of the workshop I gave a lecture describing my work and also getting the audience familiar with terms such as bioart, medical art and DIY Biology. The workshop aimed to spark an interdisciplinary and intercultural dialogue and to introduce and explore the intersections in the fields of visual arts, biology, and medicine.I analysed the work of artists that work with biological materials and gave insights into how they are using scientific processes and materials in their artistic practice.
You can watch the lecture here-
Marisa Satsia .mp4 from Thinker Maker Space on Vimeo.
In the second part of the workshop we went on with a more hands on approach in which I instructed the participants into how to clone mushrooms from the supermarket and into how to replicate their biological selves through cultivating bacteria from their own bodies.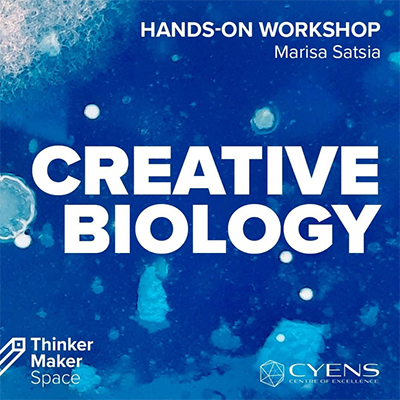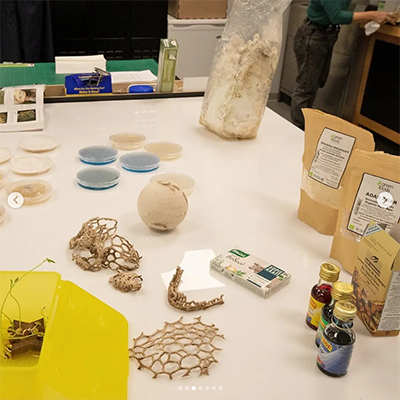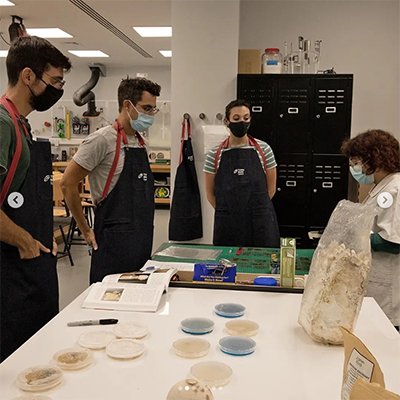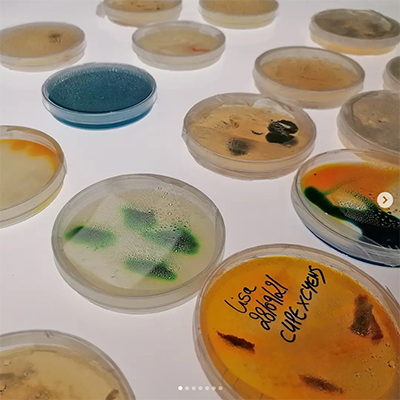 Soft Robots¶
During my residency I wanted to make an inflatable sculpture using digital fabrication techniques.When thinking about simulating the natural world and inner workings of human body such as muscles for example research led me to the design and fabrication of inflatable soft sculptures. These sculptures are as otherwise known as "soft robots" and are made from flexible silicone. Following the Soft robotics toolkit by the Harvard Biodesign Lab and the fabricademy's open tutorials, I have managed to design and fabricate my own soft robots. Inspired by biodesign, nature, and the properties of living tissues and systems, this project was part of a two month artistic residency and is an introductory exploration of the potential and integration of soft robots in a visual and multidisciplinary art setting..
I designed my perspex molds on Rhino and then used the lasercutter to cut them. I also made a few molds using the resin liquid printed and the Ultimaker 3D printer.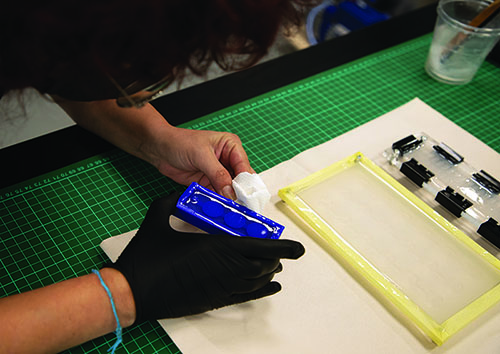 Pouring the silicone into the molds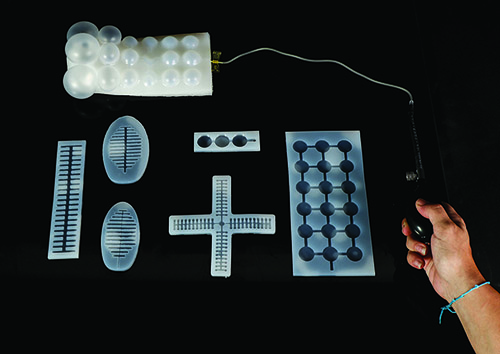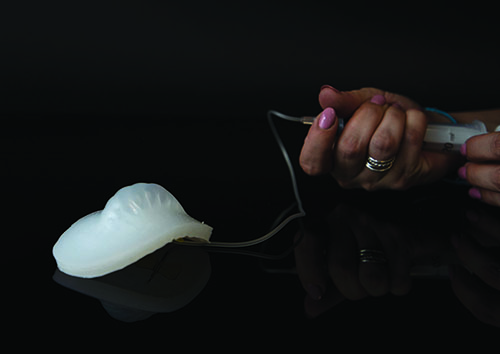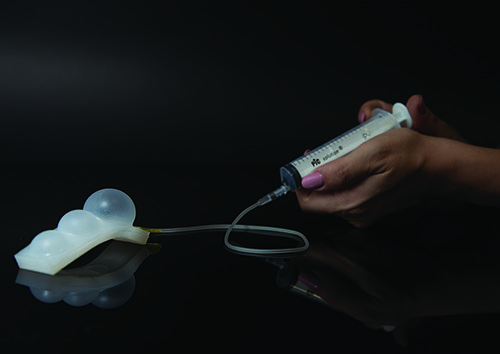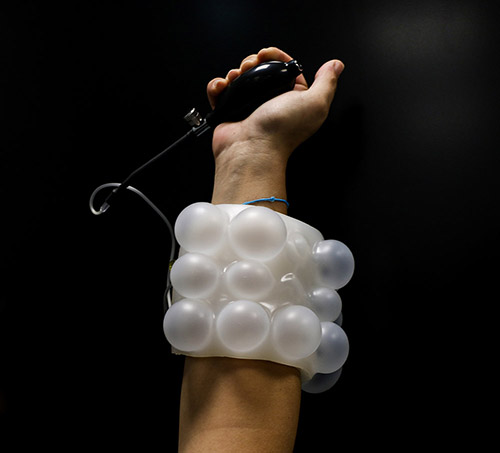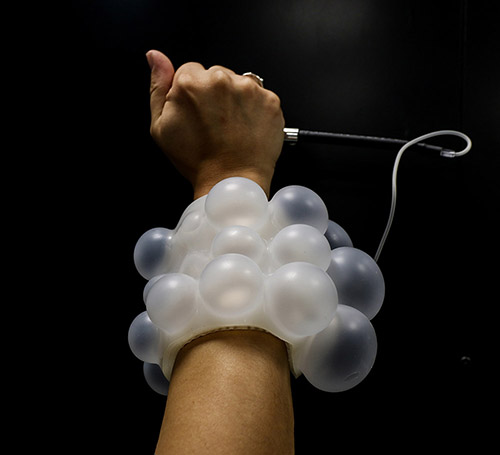 Here you can watch a video of me playing with my soft robots during my residency.
---
Last update: 2022-07-28