About this trip to come¶
Hello everyone! I'm Laora, and I am very excited about this journey to come!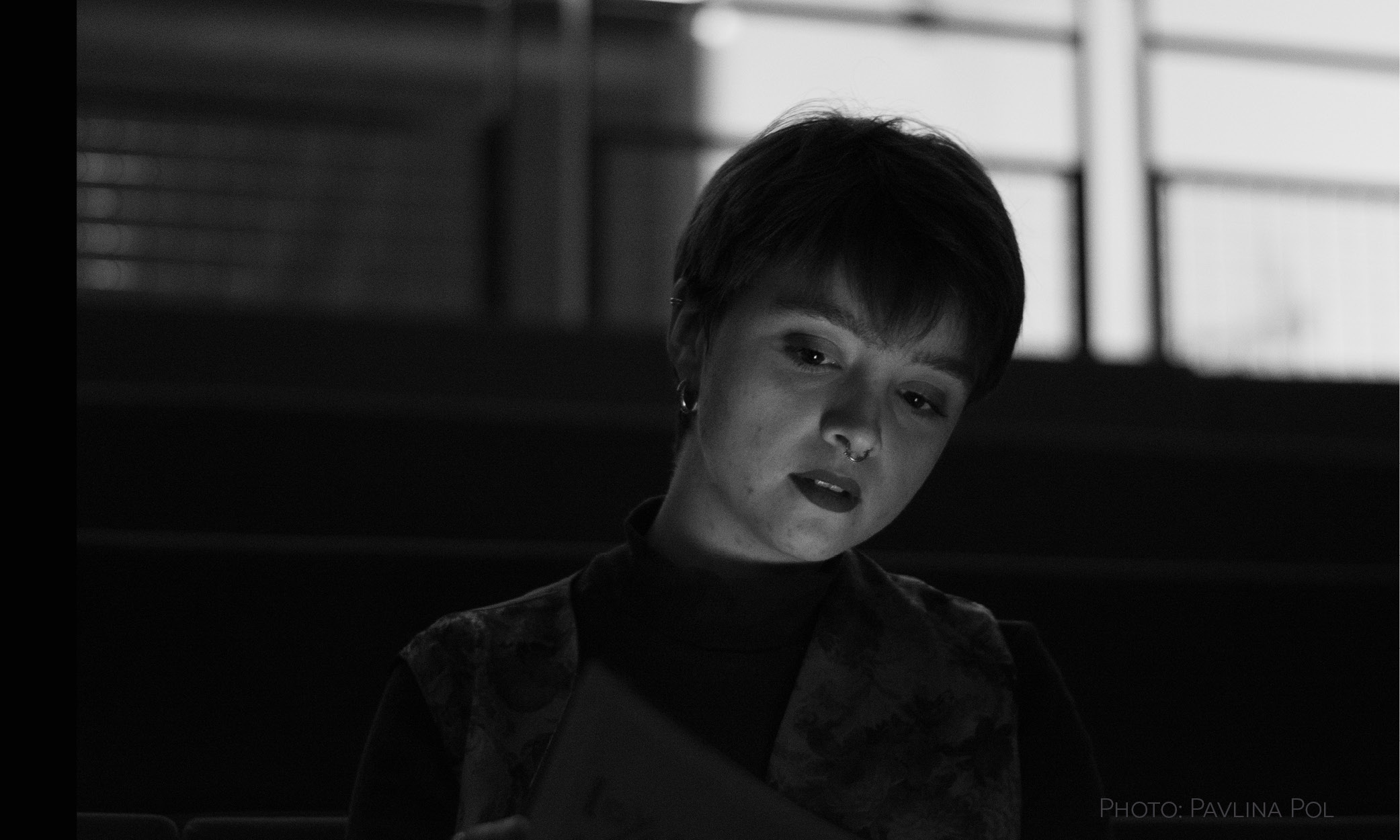 This is about to be a trip of everyday discoveries. I'm a french curious woman. I've just graduated from my Bachelor Degree in Fashion Design. During these courses, and with different internships, I could experience the creation of the fabric, or the ornament of it, tackling the issue of substainability.
My background¶
I was born in France, more specifically in Normandy.
As a child, I liked making arts and crafts and reading. And dreaming, of course!
After two years of preparatory class in a literary field; in Paris, I decided to pursue a design course, and I arrived in Lyon, which is a city I really like. This city used to have the monopoly of silk, and you maybe know the Canuts, men and women who were working in this industry. Nowadays, Lyon is still very active in the field of textile. You would be right to asy "Why design?" Well, I needed to create, not only with words, but also with my hands. I felt, at that moment, that it could help me find my place in the world, because I would like to mix aesthetic, meaning and usefulness in my future practice.
Why attending Fabricademy program?¶
I guess the main purposes of why I am attending Fabricademy courses are the search for meaning in what I do and the discovery of tools and skills that will help me shape and embody my ideas.
Actually, during my gap year, which happened during the post Covid time (when travelling was too complicated), I had the opportunity to wonder about the reasons that were leading me to pursue my path in the field of fashion, regarding how polluting this field can be. I met people who are dedicated to the idea of sustainable fashion, by changing the scale of production, or using second-hand materials. When I got told about Fabricademy, I felt that this would give me the opportunity to approach so many different subjects and themes about creating more sustainable pieces and garments, through innovation and creation.
I am also very keen on merging the idea of traditional craftmanships, and ones using new technologies!
Meeting some alumni from the previous year, and listening to them presenting their project was so inspiring and ringing bells!
Inspirations and interests¶
The possible intersections between the infinitely large and the infinitely small The idea that everything is interconnected, and that every action at a small scale can lead to a reaction at a larger scale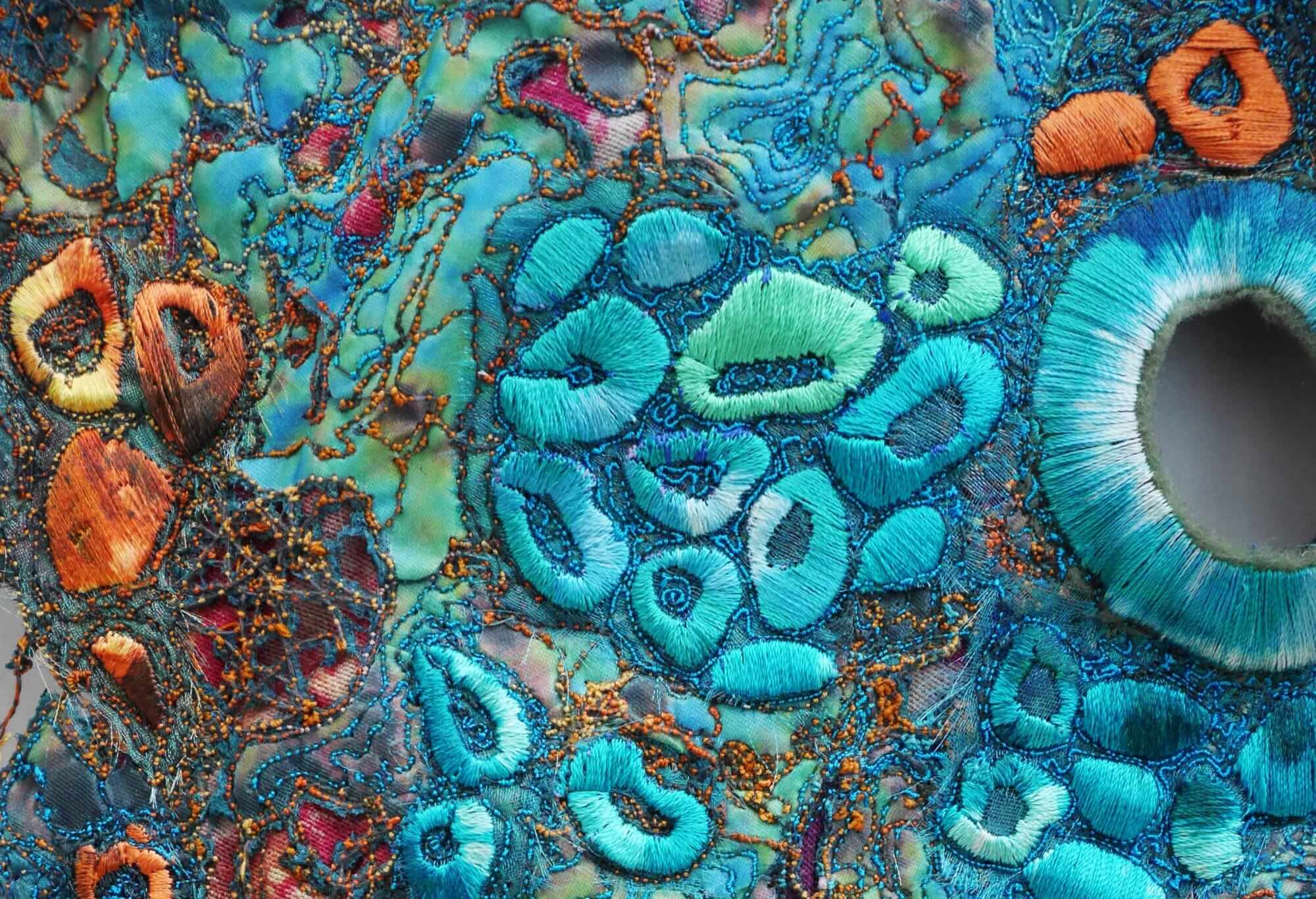 In Praise of Shadows, Jun'ichiro Tanizaki This book explains the use of light in the japanese tradition: it was meant to be subtle, to create shadows, and not to get rid of it like in our contemporary use of light. This is a very poetic book which analyses wider aspects of our society through the angle of light and shadow.

Pictures of Thomas Pesquet are also fascinating me: the landscapes get another dimension, the concealed elements become visible, more especially when talking about the modification of nature by the human activity. The pictures that were taken by night are really impressive, and here we can acknowledge that we have a specific connection with light.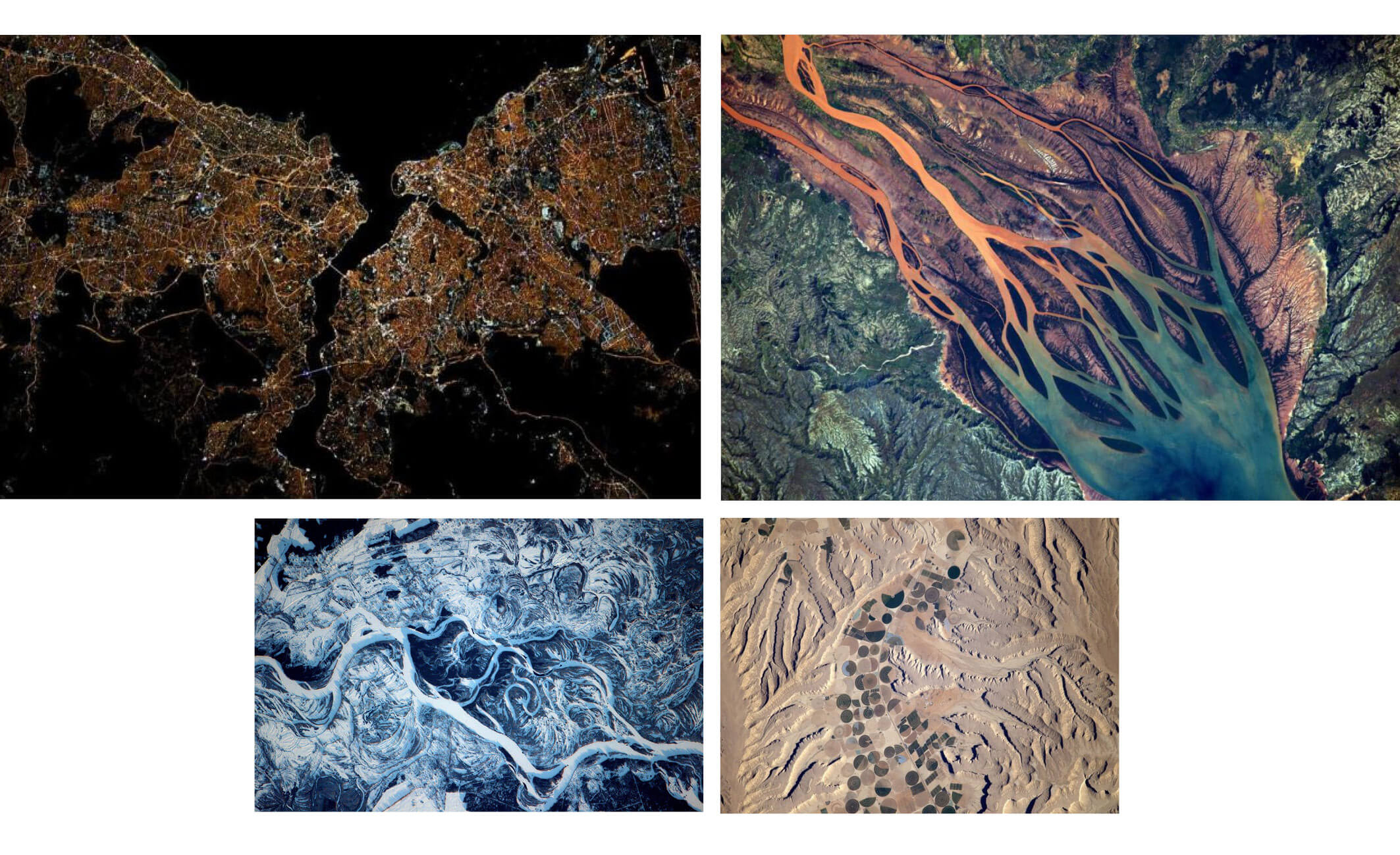 Talking about poetry, I would like to show you the work of Get Jojo (Joel Boucquemont) and his "Collection of Whimsical found art": in his collection book, the artist writes: "From just a few crumbs we, as a species, tend to create stories.[...] This tiny universe is in reality a portal to infinite worlds." I cannot download any pictures of his work here, but here you can find his website... enjoy!

I like organic shapes, such as what you can find in the work of Erno-Erki Raitanan. His process is to grow bacterias coming from his own body on a color gelatin film, and the results are very interesting.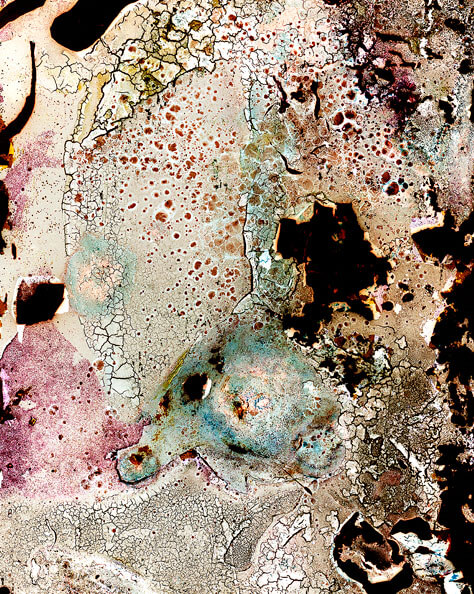 Previous projects¶
Labelinthiquement Limpide¶
According to a study made by the chair fo the French Institute of Premiere Vision Fashion, in 2019, 50% of the french respondents says that the lack of information about environmental-friendly fashion prevents them from buying more ethical and ecological items. From this statement, I imagined a project based on the providing of information on ecological labels in fashion.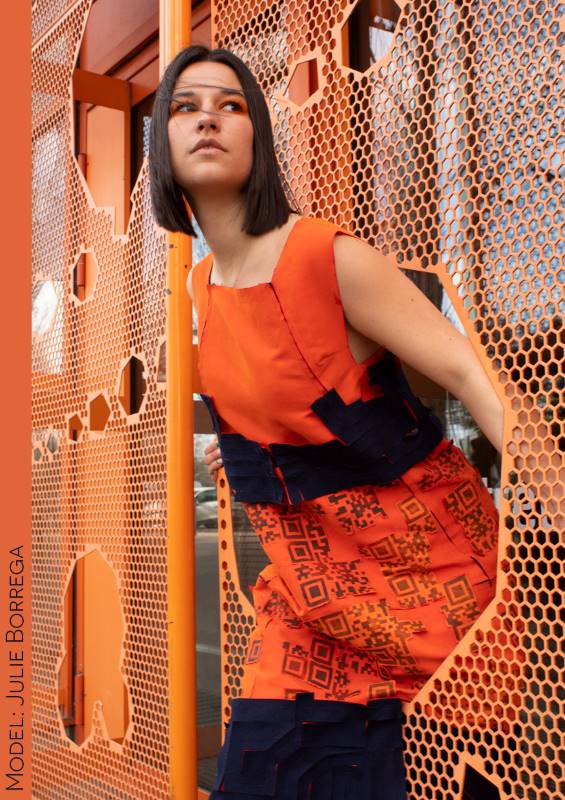 It's a crossover between the physical labyrinth, here a metaphor of the difficult path towards information on labels, and the QR code, a virtual visual labyrinth that works on the opposite way: as you scan it, you get a direct access to information. This dress enhances the interaction between the wearer of the dress and his clothes.
Actually, this piece was meant to be presented into a vitrine: the contrasted and vibrant colors were supposed to grab the attention of the client, and then push him to interact with the product. A QR code present inside of the labyrinthine fabric would instantaneously direct them towards a page on sustainable labels, with links to the official pages of each label.
Repairing Ourselves¶
How can we make our clothes last longer? This was part of my reflexion on this specific project. I used second hand clothes, specifically white shirts, that I disassembled and reassembled to design complete outfits out of it. I wanted to keep the most of the original clothes, and to keep some details (button tab, collar...) as traces of the previous existence of another clothes before. I used Sashiko embroidery combined with visible mending to connote the repairing of the fabric, in order to evocate the repairing of our relationship with clothes.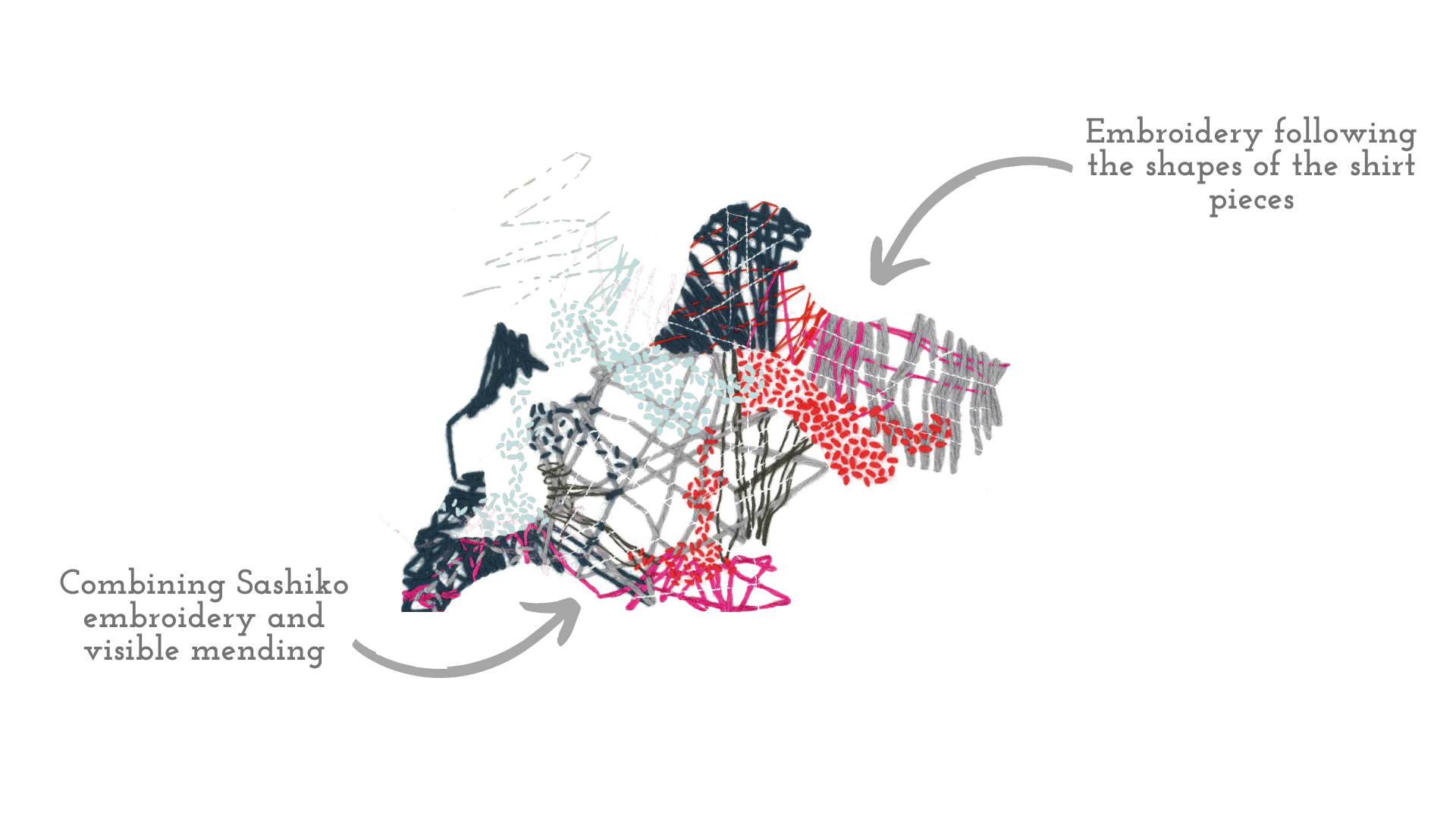 The hypothetic marketing model was based on preorder, with some variable choices possible on the garmments, such as the colors and placement of the embroidery. By making the customers involved in the making of their future clothes, I was imagining that it would create some kind of attachment to them, and clothes would last longer in the end.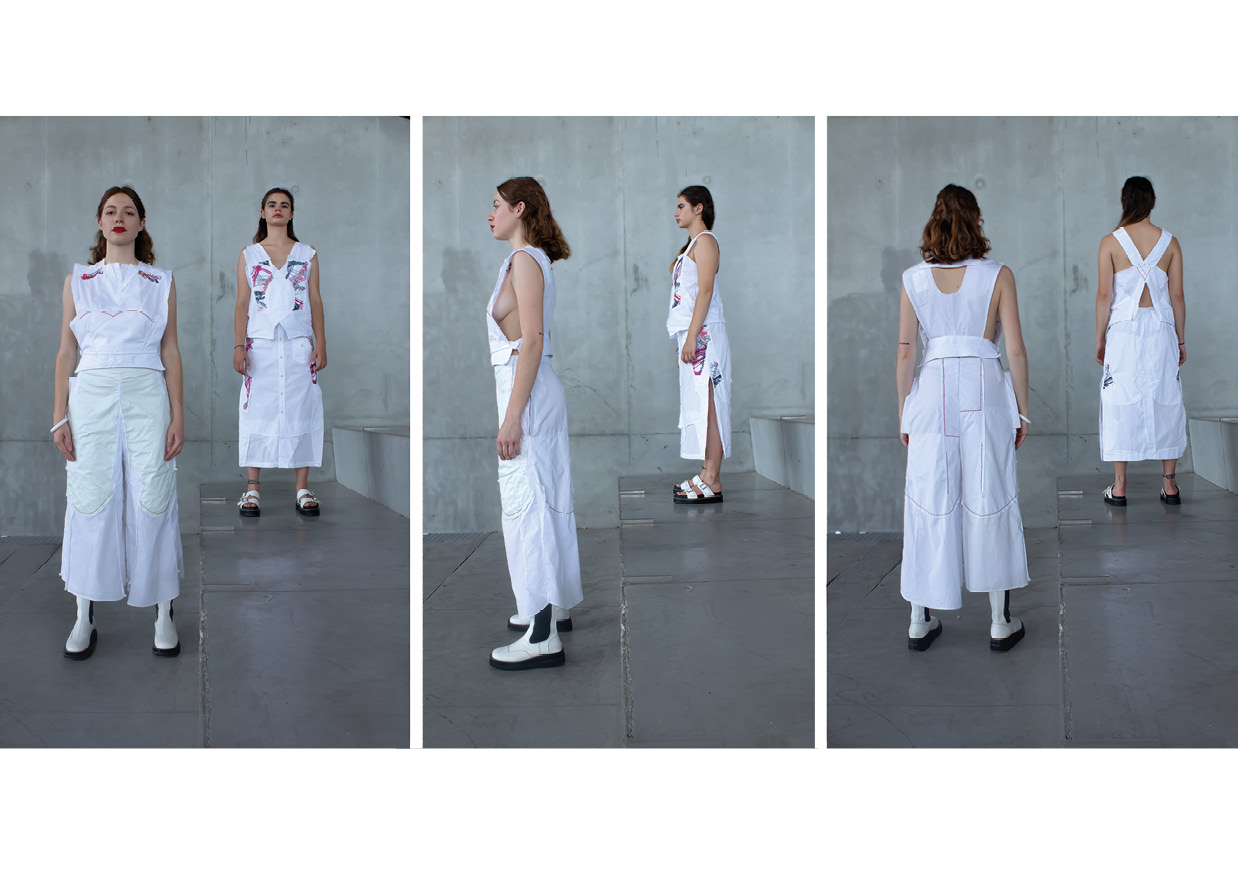 Any field of predilection for now?¶
Before the program starts, I have some favorite fields:
An exemple of previous explorations during a workshop in Le Textile Lab, Lyon, in February 2022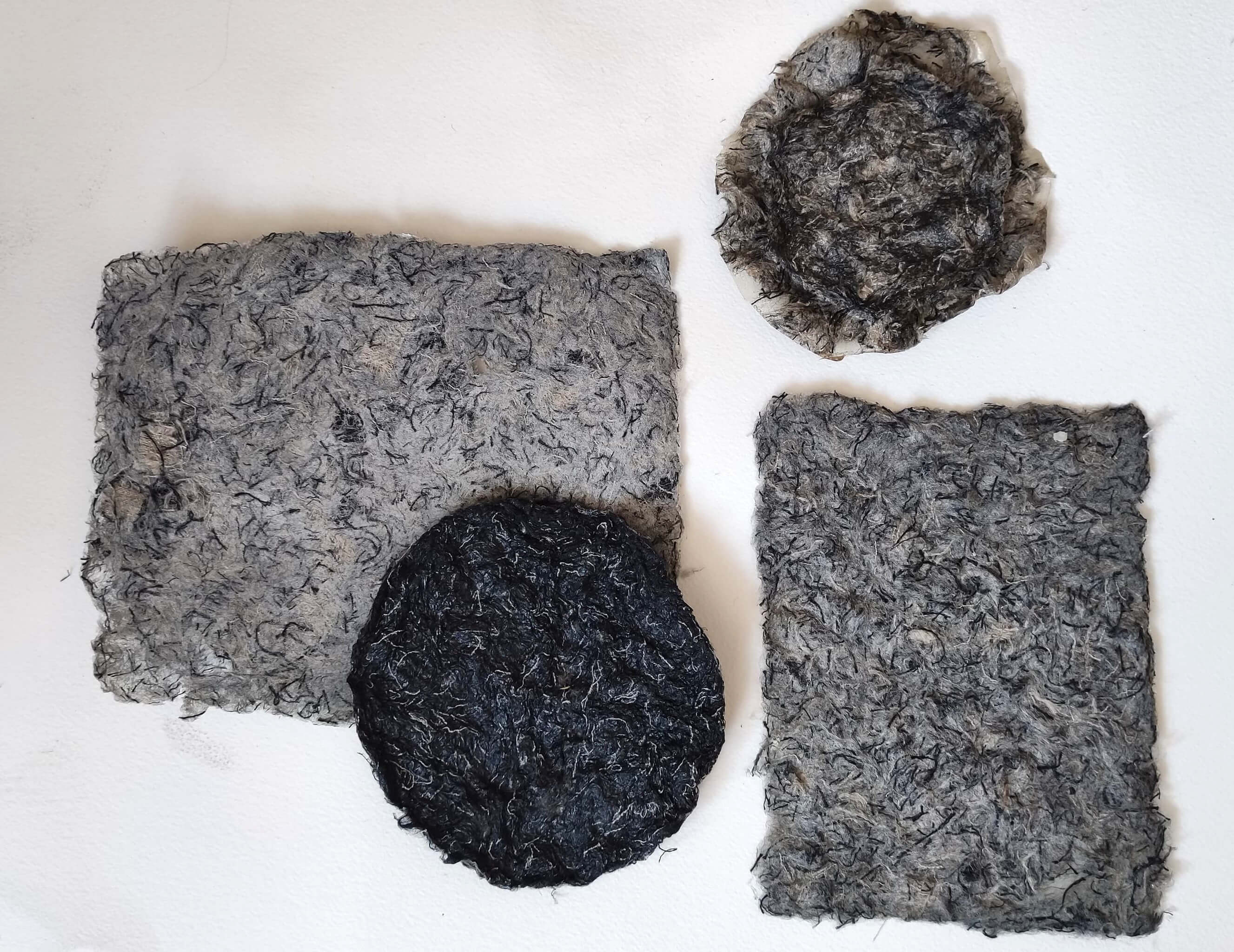 Biochromes (About this topic: during summer 2022, I had the pleasure to meet Tamara Louis, a belgian serigraphist who was really aware of the energetic and environmental cost of her practice as a fabric designer. I could experience the creation of vegetal inks, in order to serigraph fabrics. Another craftwoman, Dominique Vaes, showed me her indigo reservoir, and she gave me an insight into her process of dying fabrics with vegetal. That was so inspiring!)

E-textiles (and the eventuality to interconnect it with embroideries, in order to mix traditional craftmanships and newly technological ones)

Textile as scaffold
To me, these topics are part of my «confort zone» (eventhought E-textiles tackle the issue of electronics, in which I do not have much knowledge for now).
THE challenge to come¶
One of the main challenges for me during this program will be to accept letting machines and computers be part of my processes. I really like craftmanship, and I'm more willing to rely on my hands than on an electronic device.
I'm ready to start trusting devices! I guess knowing more about them, building them like in the course «Open Source Hardware» will give me a certain control over the machine (which is not currently the case.)
---
Last update: 2022-09-27