Introduction¶
Welcome!
I am Annah-Ololade Sangosanya and this is my personal Fabricademy page. I will be posting my work every week so feel free to navigate around!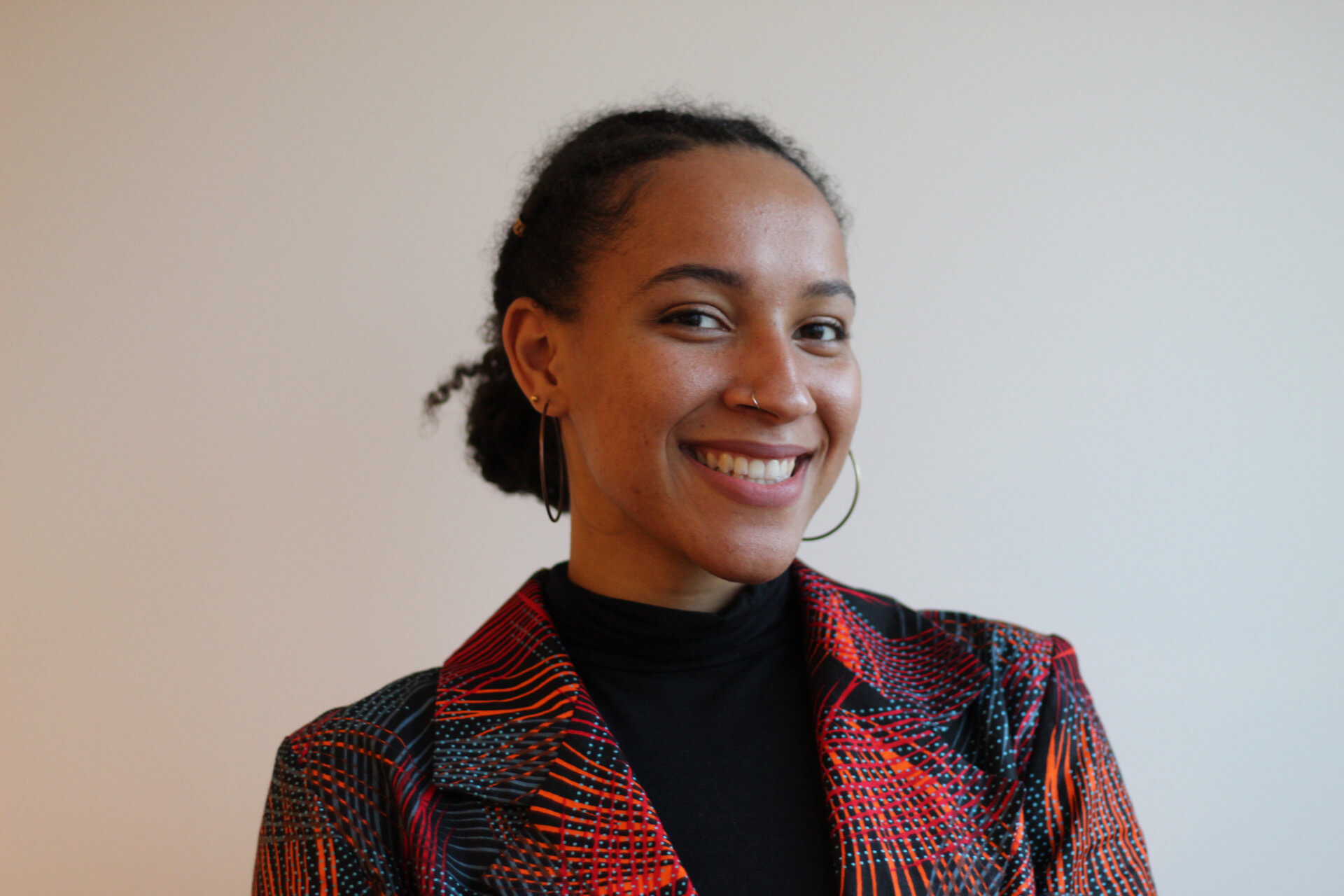 I am a freshly graduated 23 years old engineer in biology and biochemistry. I am french and nigerian and I have pretty much followed a scientific school cursus all my life. I am now qualified in bacterial, animal and plant cell culture, genetic modifications or thermical, chemical and biological industrial processes. This school cursus made me particularly sensitive to ecological issues, especially when I followed a course about analysing the life cycle of objects and clothes. Since I was young, I always loved sewing and recently made more and more projects towards upcycling clothes and pieces of fabric that would be considered as waste with the goal of finding ways to upcycle them better (ripped or stained clothes, small scraps).
I am not very advanced in the professional world yet but I want to make a difference while doing something that makes me happy, which I think I can figure out combining biology, chemistry and fashion at Fabricademy.
Background¶
2021-2122: Fabricademy Barcelona.
2021: internship in the EnobraQ start-up. Scientific bibliographic research; metabolic and genetic engieneering of microorganisms such as Escherichia coli (bacteria) and Saccharomyces cerevisiae (yeast) to express the RuBisCO plant enzyme and enhance its catalytic proprieties; biochemical characterization of the new enzymes; statistical analysis with Rstudio.
2020 quarantine: developpement of upcycling sewing projects and creation of a Youtube channel.
2018-2021: Institut National de Sciences Appliquées de Toulouse, Engineering diploma with a specialisation in biological engineering.
June 2017: obtention of the diploma "professional aptitude certificate - fashion industry jobs, loose-fitting clothing" as an independent candidate.
2016-2018: Université Pierre et Marie Curie, Sorbonne Universités. Bachelor's degree in Biology, Chemistry and Earth science. Presentetion of two collections of 8 looks each during the university talent contest.
2015: Creation of the concept of the brand "AOS" and publication of my work on the dedicated Instagram account.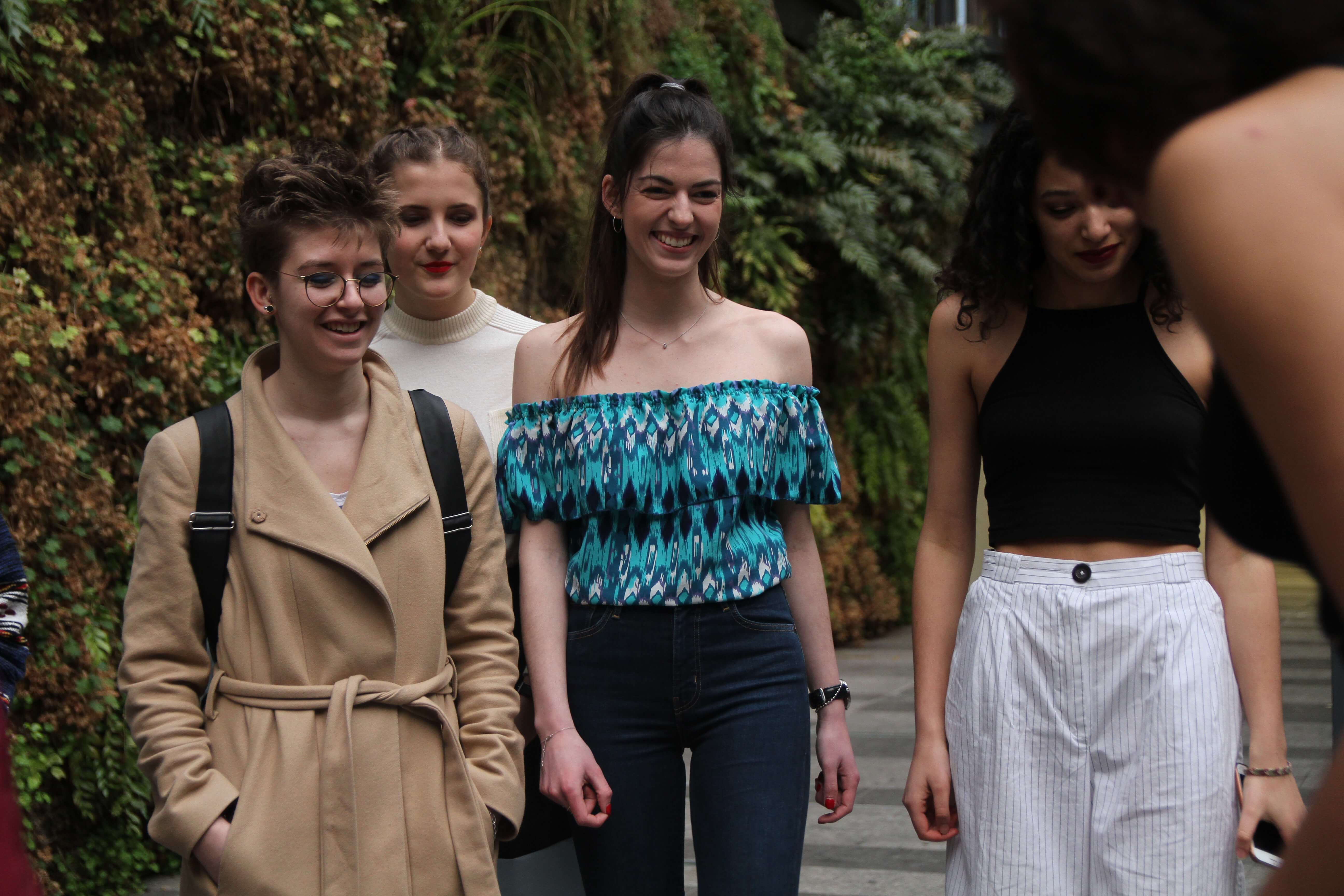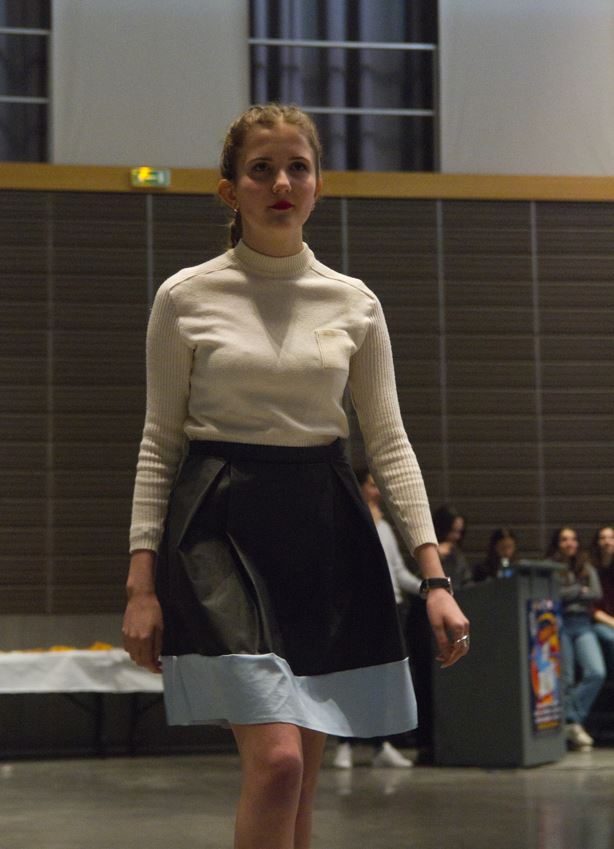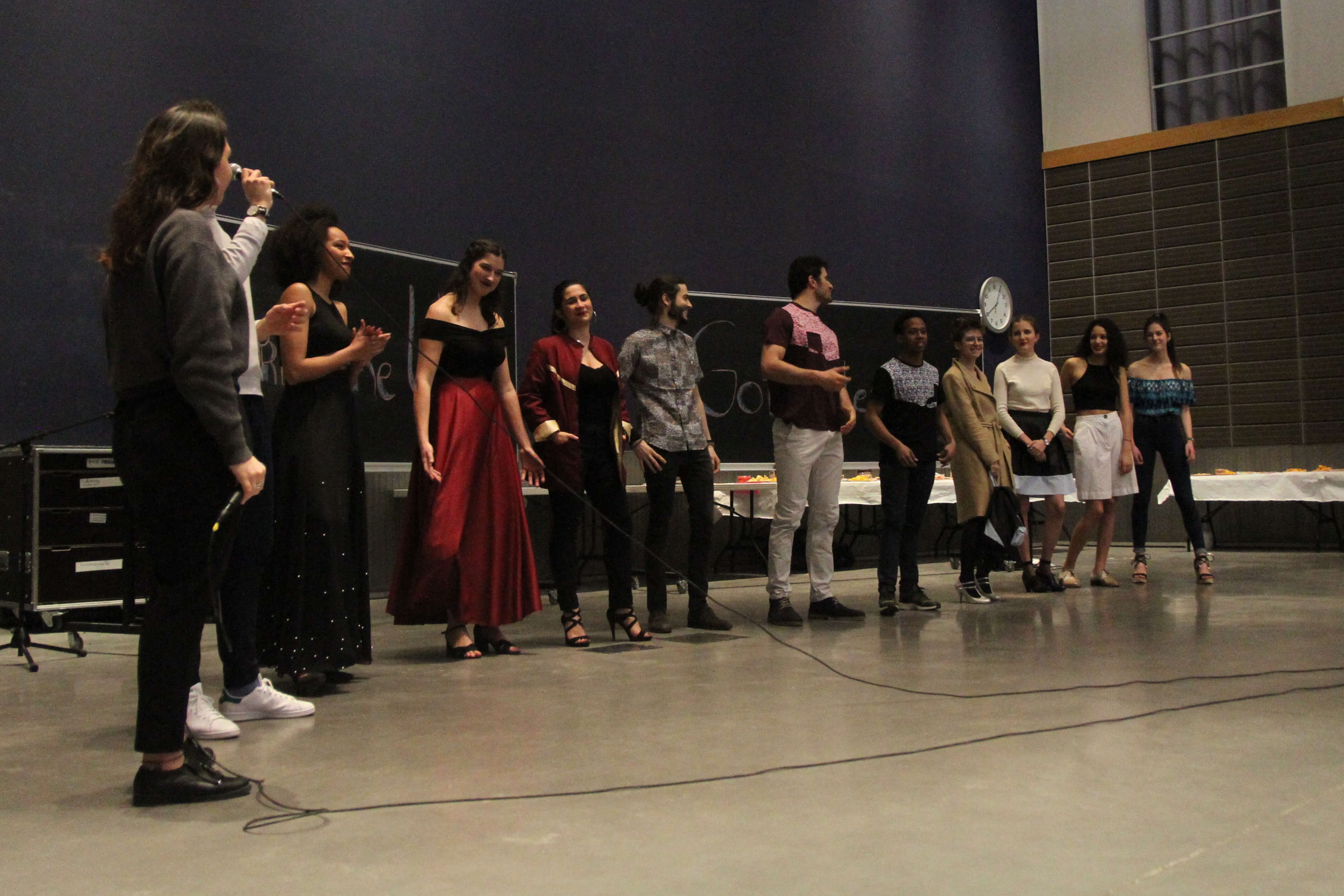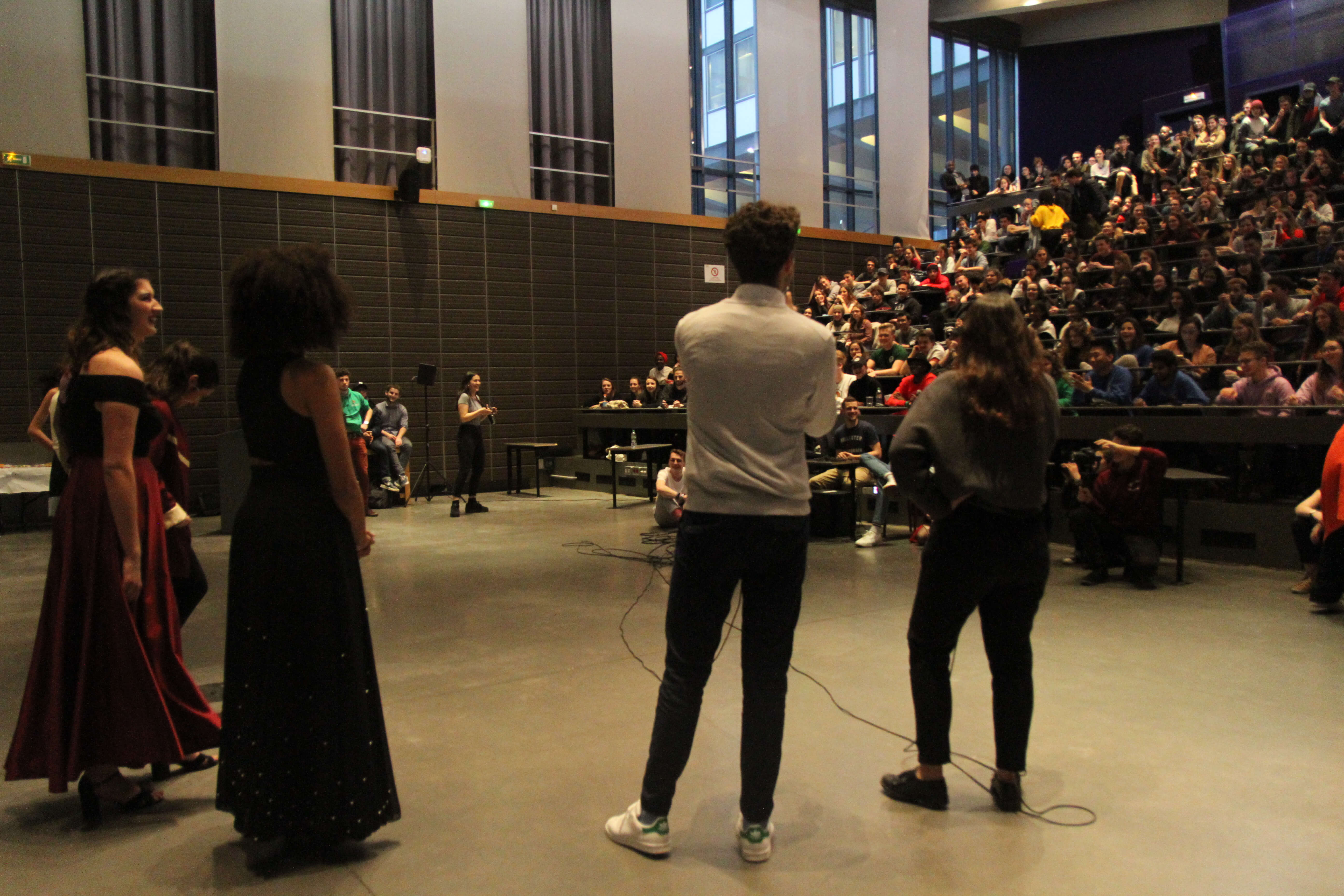 Recent projects¶
Upcycling Denim: recreating Alexander McQueen out of old ripped jeans¶
How to make a new product out of non-reusable old clothing? This is a question I asked myself after a school project about the analysis of a T-shirt's life cycle. Old clothing that are ripped, stained or not good enough to be sold second hand are most of the time decycled and considered as waste. In the best cases, they are used for isolation material. How to revalue these clothes which, at first sight, are only good to be thrown away? I tried to answer this question by taking two ripped and unwearable jeans and looking for inspiration among my favorite designers. I found inspiration in an Alexander McQueen denim dress that is made of many smaller denim pieces. This project allowed me to improve my technique in jeans sewing, pattern making using mannequin molding, gave me a first glimpse of the textile dyeing and allowed me to find other ideas of projects for the recycling of "waste" clothes.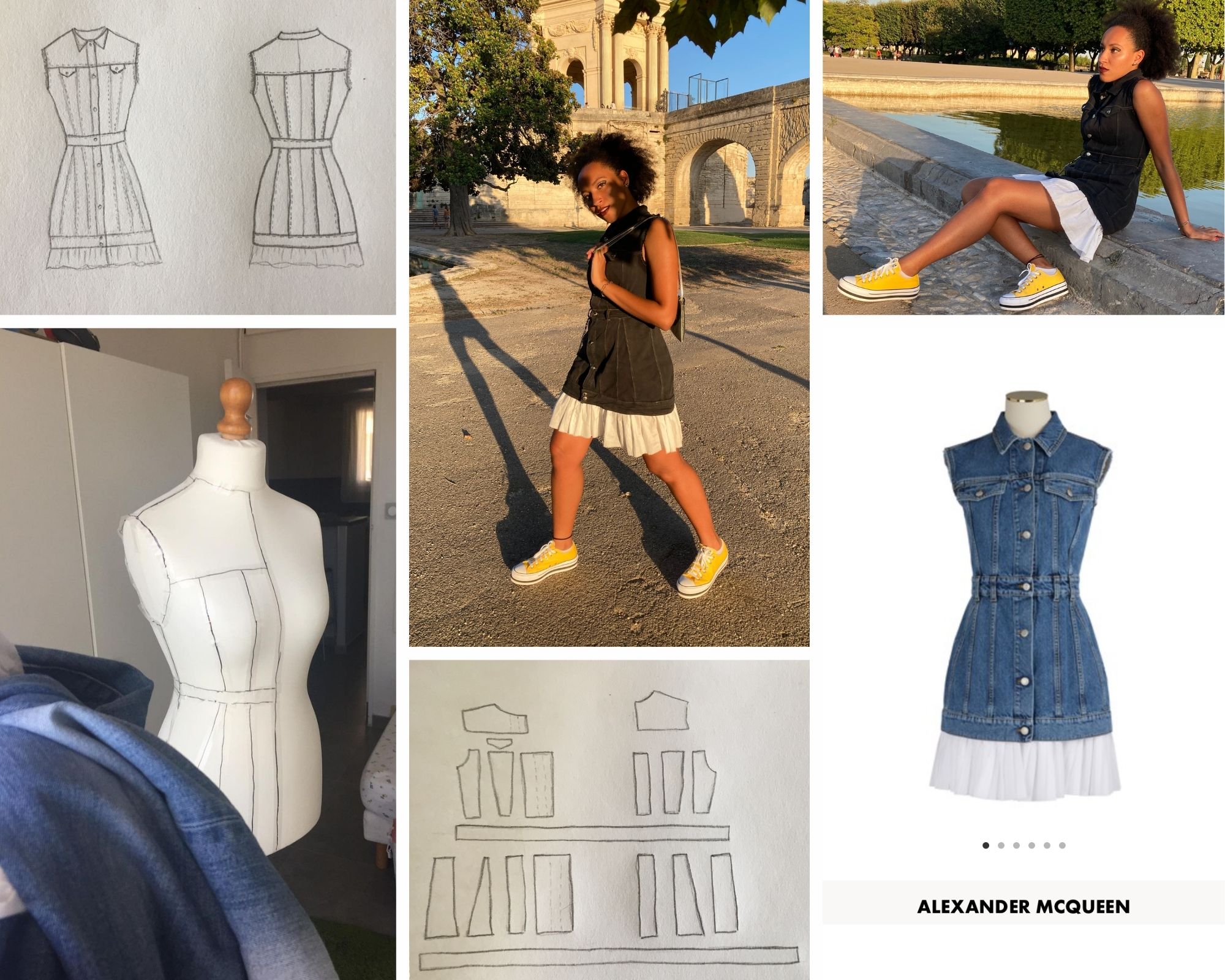 I made a tutorial video on my YouTube channel retracing all the steps of the making of the dress.
Getting acquainted with dyes¶
In my process of discovering dyes and how they work, I decided to totally unravel a denim jacket and to apply different treatments to the different pieces. I bleached some pieces to color them again afterwards and tried a gradient on one of the pieces. I then decided to sew the jacket as it was originally made.
This project allowed me to learn about dyeing techniques and to study the reaction of fabrics to treatments. It gave me the desire to continue exploring other techniques such as natural dyes as well as the creation of patterns using the wax technique that I discovered during a trip to Nigeria.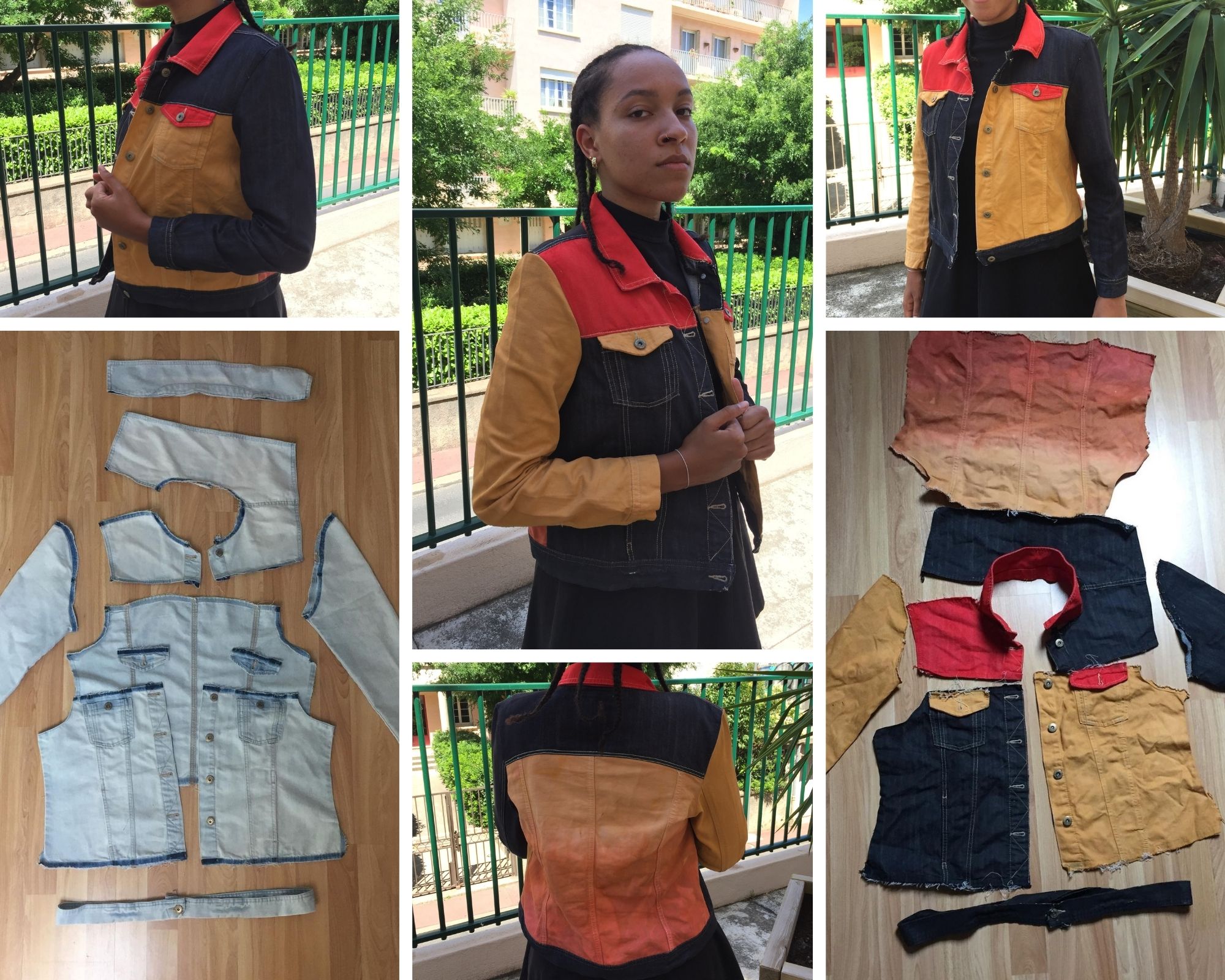 Tailoring and pattern making projects¶
The more I experienced with sewing, the more I learnt how to make complicated garments and to draw my own patterns, and the more I defined my own style. The further presented projects are a selection representing my current style: straight tailored shapes, bright colours and chic.
I drew this dress and imagined the pattern considering I wanted it to have the least pieces possible, due to the checkered pattern of the fabric I wanted to use. I combined the pattern of a blazer and a skirt to do so and used a thrifted tablecloth for the printed material. The lining was also thrifted.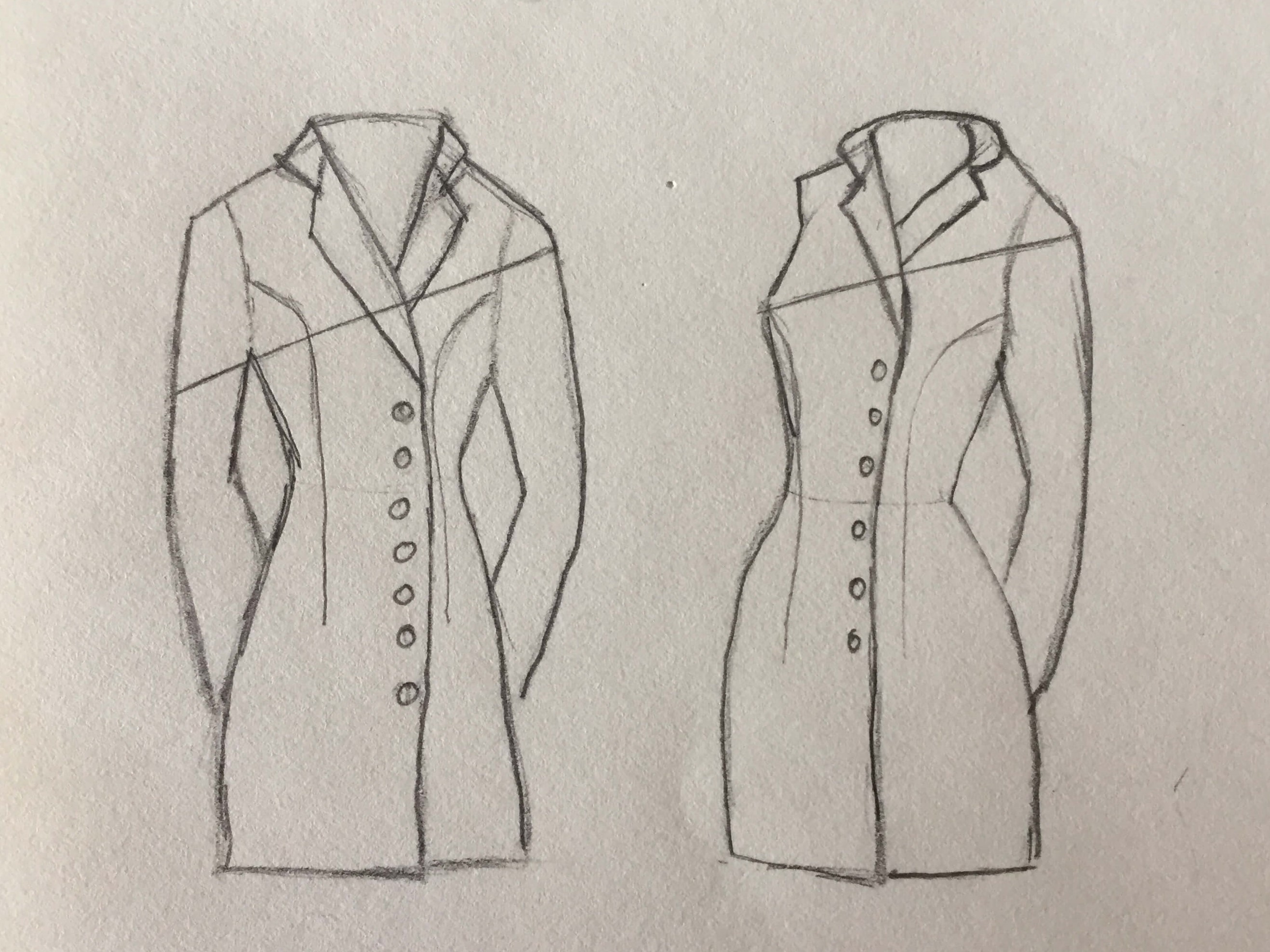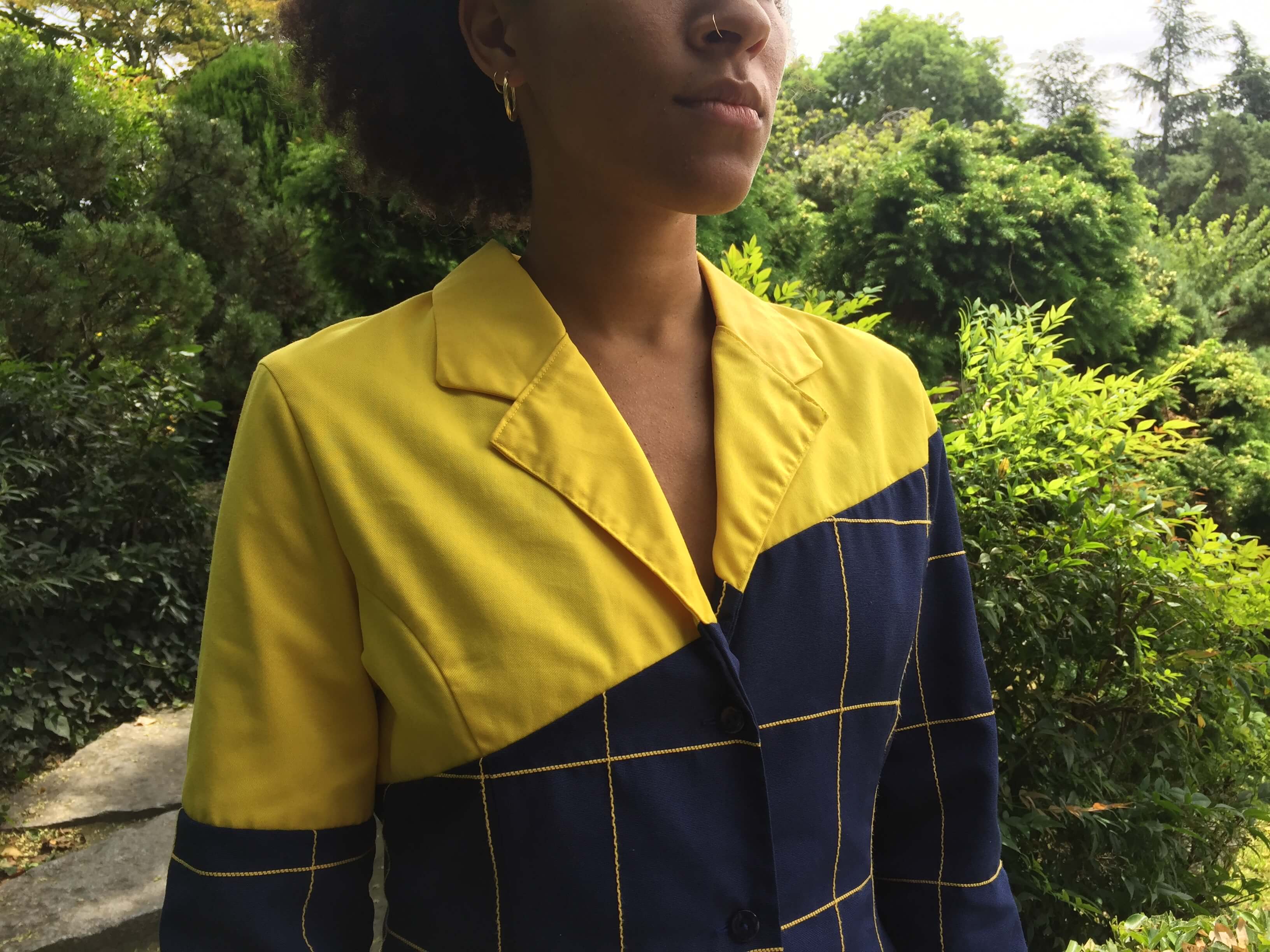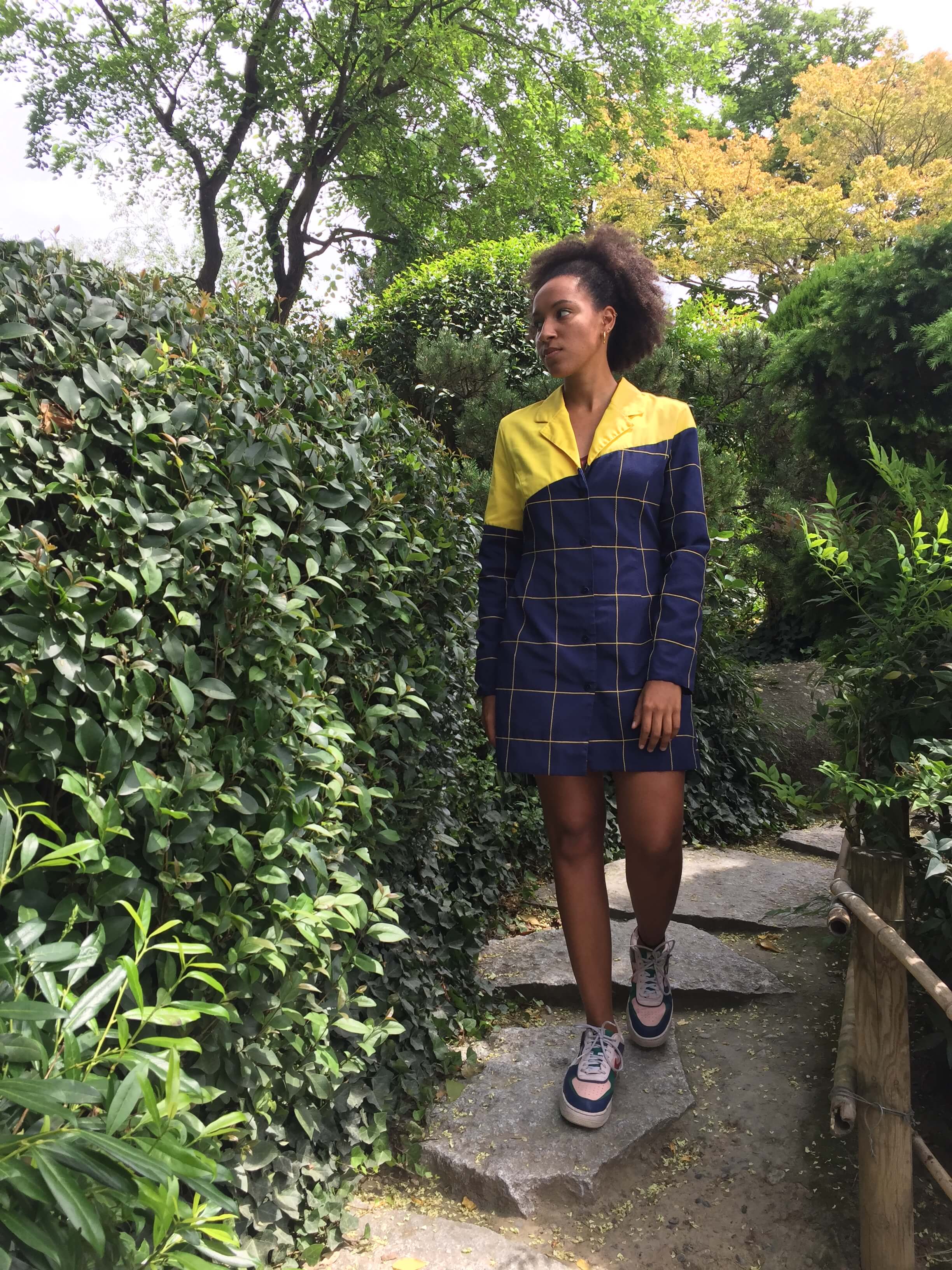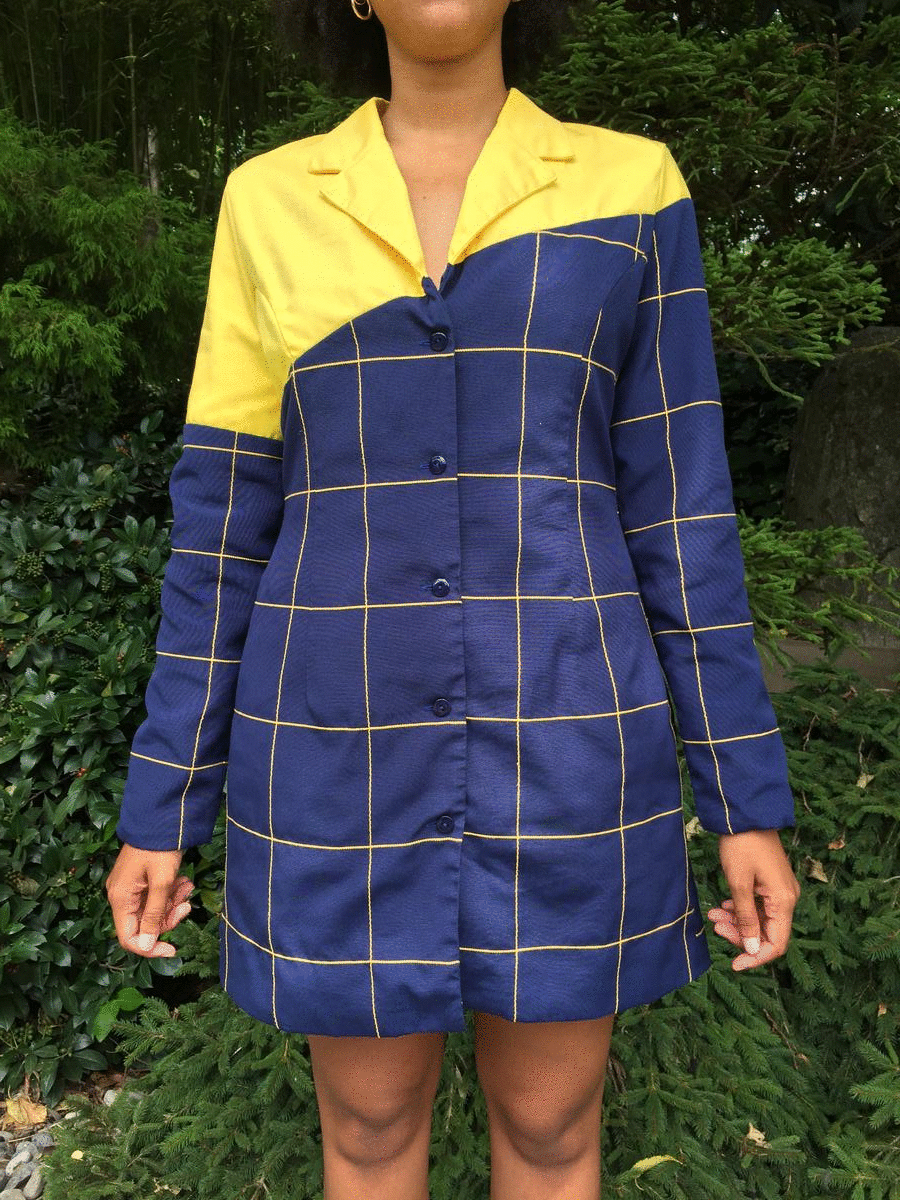 The fabric used for these suit pants and blazer was bought in Nigeria when I visited my family for the last time. I fell in love with the fabric colours and patterns and kept it for a long time before actually sewing something out of it. This two piece suit is very representative of my style.
According to the National Institute of Circular Economy, the cutting steps generate between 20% to 30% fabric scraps. In order to reduce this waste of material and ressources at my scale, I focused on making a pattern generating as little fabric waste as possible for this skirt. Thus, I focused on minimizing the curves and using as many square shapes as possible in order to reduce the scraps if the skirt was to be industrially produced.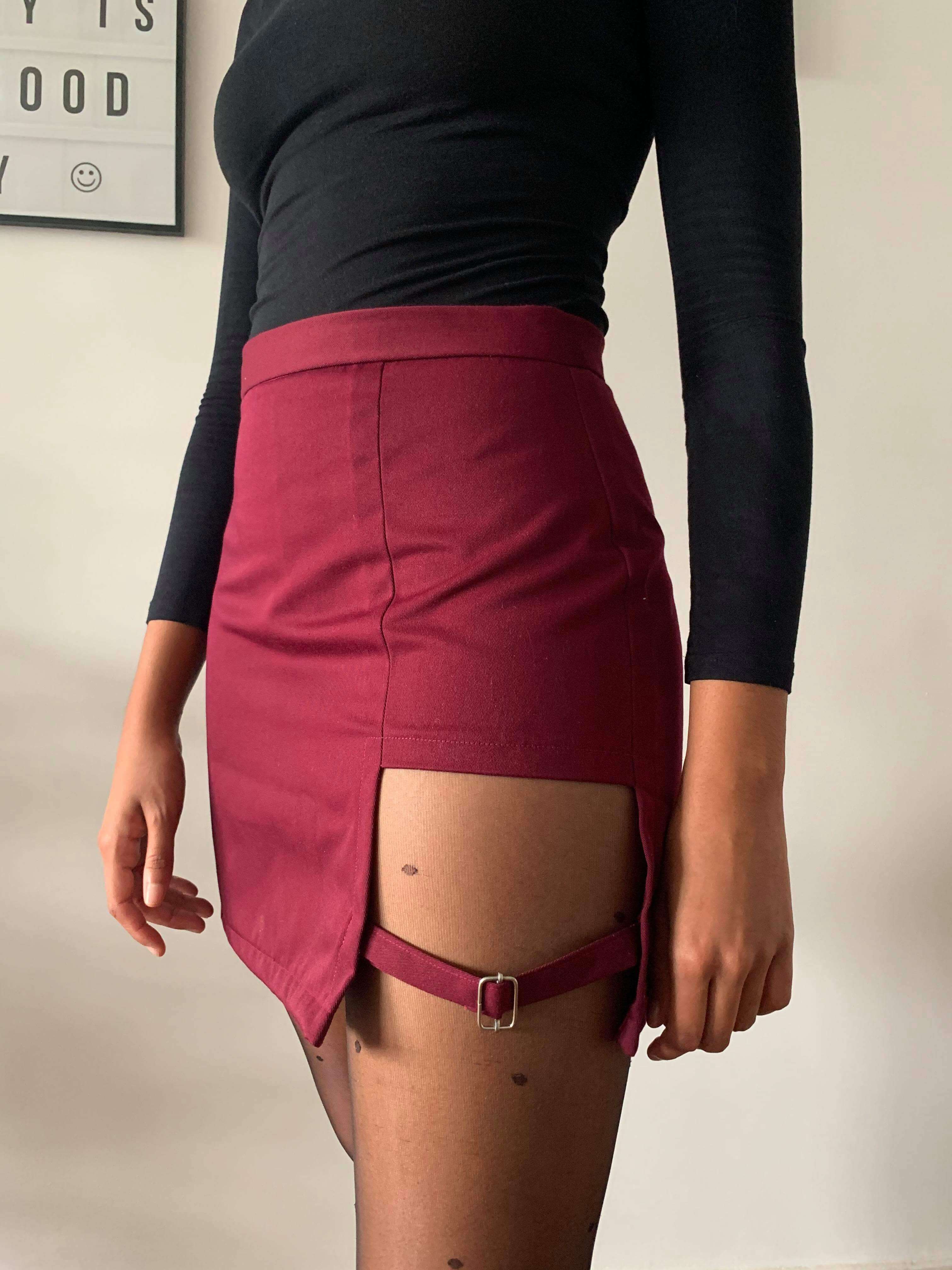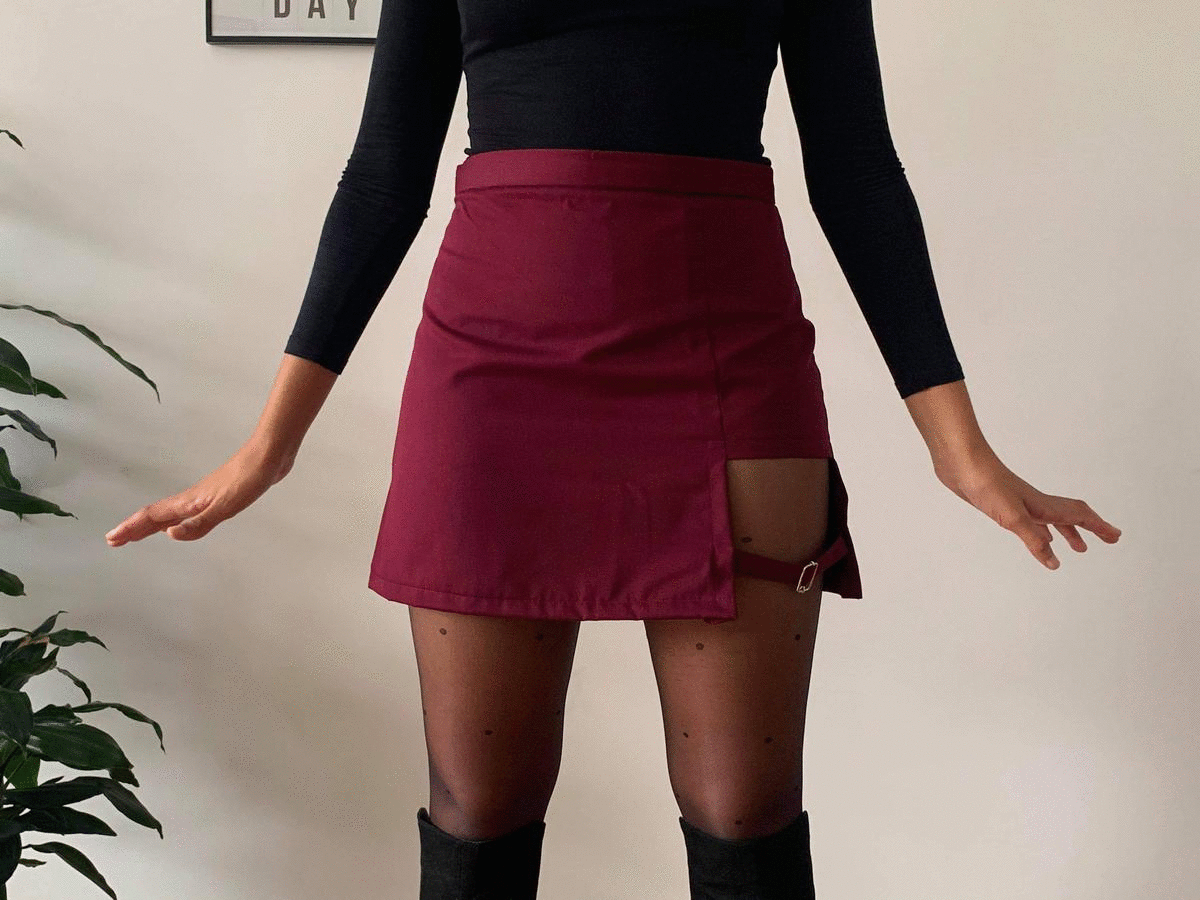 ---
Last update: 2022-09-22