HOME¶

Hi ! I'm Louise Massacrier. I'm an embroidery designer (graduated in june 2021) based in Lyon (FR) working between two fields : glass and textile. I love to mix the two because it allows me to play with light a lot. I like to challenge presupposed limits and see what happens !
MY BACKGROUND¶
I grew up in a family where experimentation, research and reassessment were the key-words to learn. I was lucky to be able to travel abroad, discovering and sharing with others, something I hope to do again soon ! I graduated with a Diploma in Textile Handicrafts in june 2021. I'm specialized in embroidery design but I tend to try new textile techniques like lace or loom weaving. You can have a look at my CV (included in my portfolio).
BIOLOGY LOVER¶
I'm fond of microbiology and virology. Before choosing Applied Arts, I studied biology for one year at the University. Things I learnt during this year enhanced my love for experimentation and research. To be able to work again with biology applied to textile design is quite exciting ! During my studies, biology was - and still is - a source of inspiration. For example, for my first diploma, plant histology inspired me to create colourful embroideries. It is also when I started to work on transparency from using silk organza to applying resin on cotton. And then I discovered glass work. Beads you see on the last embroidery are handmade using glass fusing techniques and then embroidered on silk organza. The patterns were supposed to be screen-printed with natural dyes but "you know what" happened so I didn't have access to the proper tools.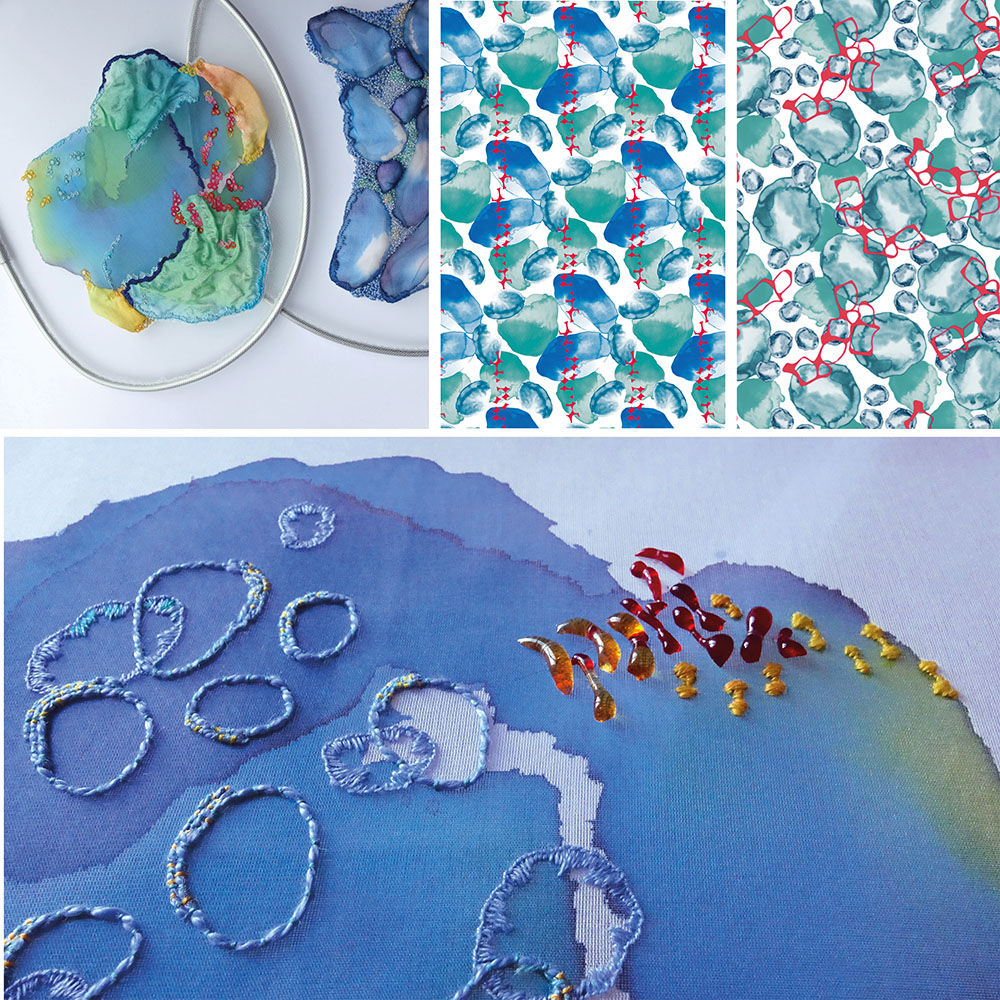 GLASS OBSESSION¶
I'm obsessed with light reflections and transparent materials. In 2019, I did an internship with Laure Forêt, a contemporary artist, who makes stained glass pieces of art but also works with textile and embroidery. She taught me the Tiffany glass technique and introduced me to glass work. I also had the opportunity to blow glass thanks to Ilse Van Roy. It was a mind blowing experience as I discovered a complete new field of creation. But the fact is that, with stained glass, manipulation isn't recommended because of the lead. And that made me frustrated because touch and handling is very important with textile. This is why I first started to mix glass and thread : to change the joint from poisonous lead to harmless thread. On top of that, this technique allows me to create 'articulated glass' and go from 2D surfaces to 3D ! You can find more about my work with glass and textile here.
Because I am still curious about what glass can add to my textile creations, I would like to keep on working with glass and textile throughout the different modules of Fabricademy.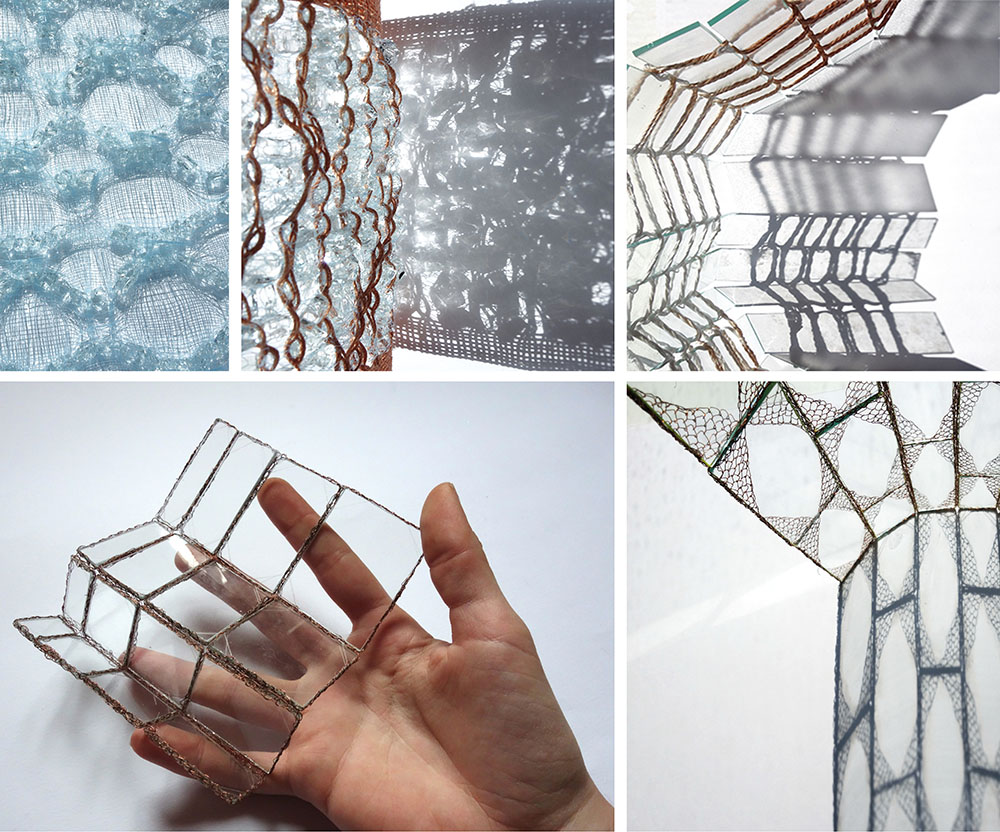 These gifs are light experiments I did when experimenting with glass surfaces. The first gif shows the light reflections on my (beautifull) ceiling of an articulated glass. the reflections move when I press one of the joints. On the other gif you can see all the light interactions you can have : shadows (on the right) and reflections (in the center). Diffraction isn't visible here (it needs a more specific setting).
WHY FABRICADEMY ?¶
Well… If you've already read the previous text, I think it is pretty obvious that Fabricademy offers me a great opportunity to fulfill my love for biology, material experiments and 3D creation. During my studies I realised that I rather like to mix different techniques/materials/media than specialize in a specific field. Fabricademy is going to open even more my creative possibilities. I only learnt hand techniques for my diplomas, which are soooooo interesting but also far away from new technologies and our current context. More than being two opposite worlds I really think that they can be used together without one erasing the other. This is why I want to know more about them. Another thing that got me interested in Fabricademy is the FabLab approach. Sharing your knowledge, your experiments and learning from all over the world is a common project that I'm grateful to be a part of.
I'd like to finish with a quote from Alok Vaid-Menon who I admire for their work :
The job of an artist is to replenish imagination. Which is to say : there are ideas we haven't considered yet. Feelings we haven't encuntered yet. Love we haven't surrended to yet. "Yet" is the most wondrous word ever built. Let's live there together. Redesign existence. [...] Impossible is an invitation to imagine something else.
Find me here Instagram | LinkedIn | Website
---
Last update: 2021-09-28