SURFACES AND MOVING ILLUSIONS¶
SURFACES AND MOVING ILLUSIONS | Letting go of glass flatness to add movement to the surface
FROM WAVY SURFACES¶
File : cc-wavesLM.gh
Working with the accumulation of slats also gives me the opportunity to create low relief surfaces. An impression of movement can be added to the surface. Not flat anymore, engraved patterns become even more surprising.
Creating a random wavy surface¶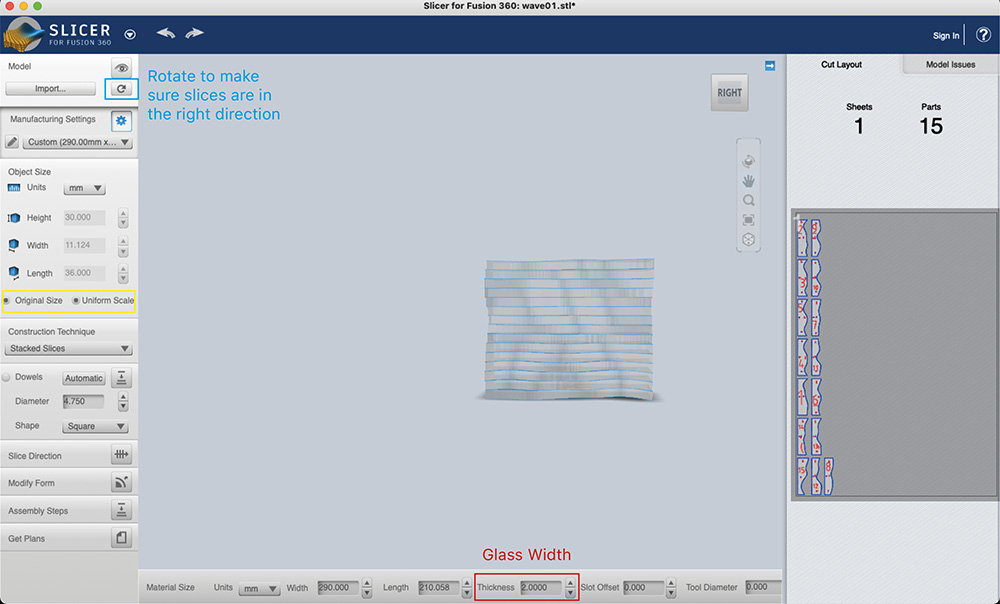 Wavy surface that can be repeated (seamless)

Cutting Pattern : Slicing with Grasshopper

Engraving pattern : Projecting the shape on the slices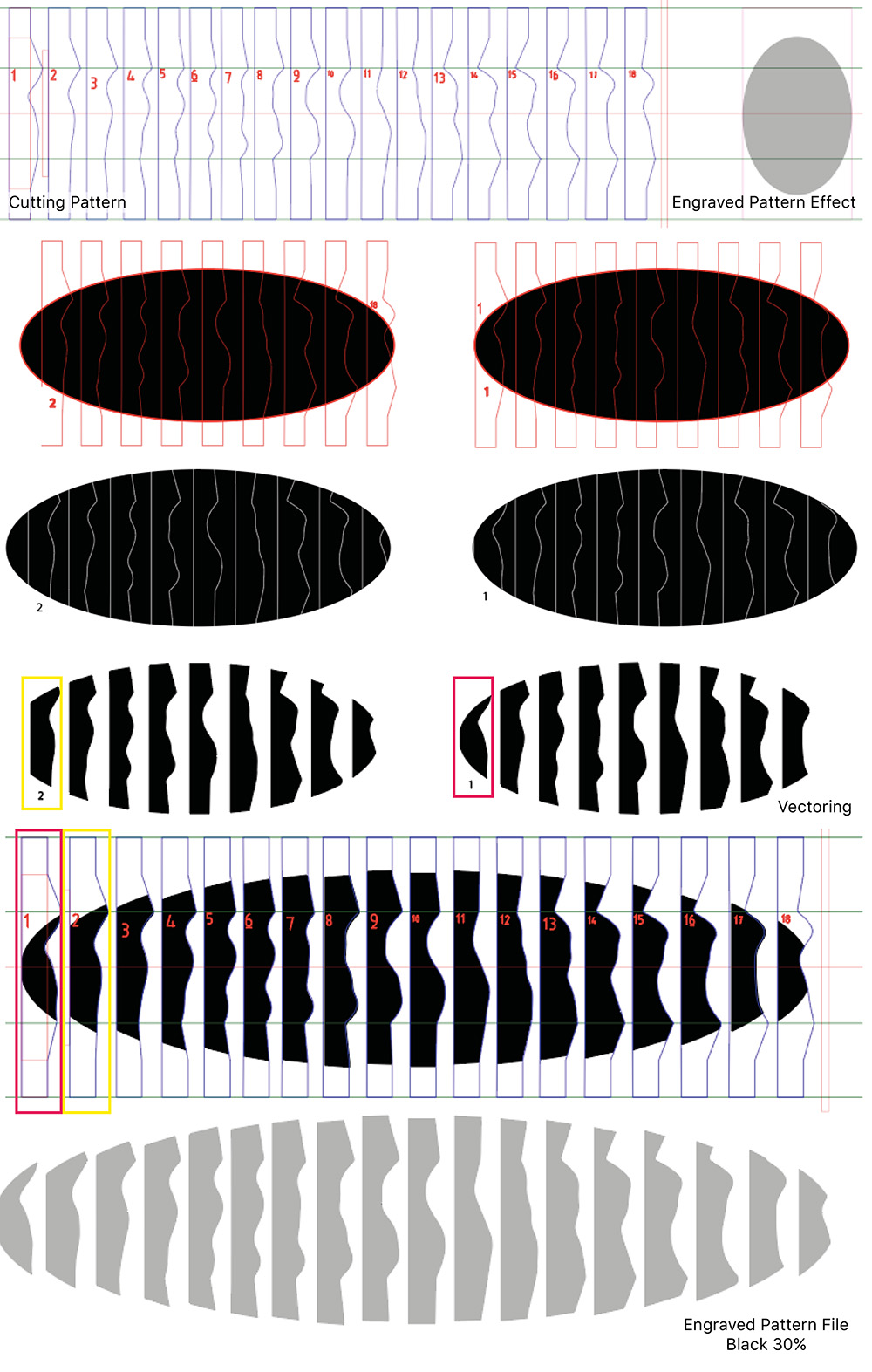 (Illustrator version)

(Grasshopper version)
Creating a low relief based on a picture¶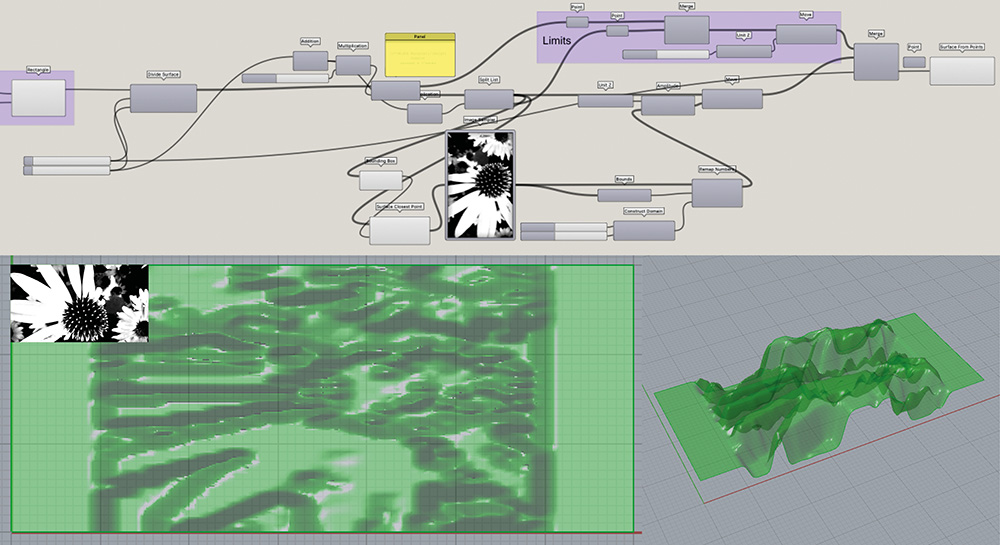 3D modelisation¶
After working on Grasshopper to be able to have the cutting pattern file and the engraved pattern file from only size of the sample and picture parameters, I worked on how I could do the 3D modelisation of my glass samples. Below, some results with Grasshopper custom preview and Rhino.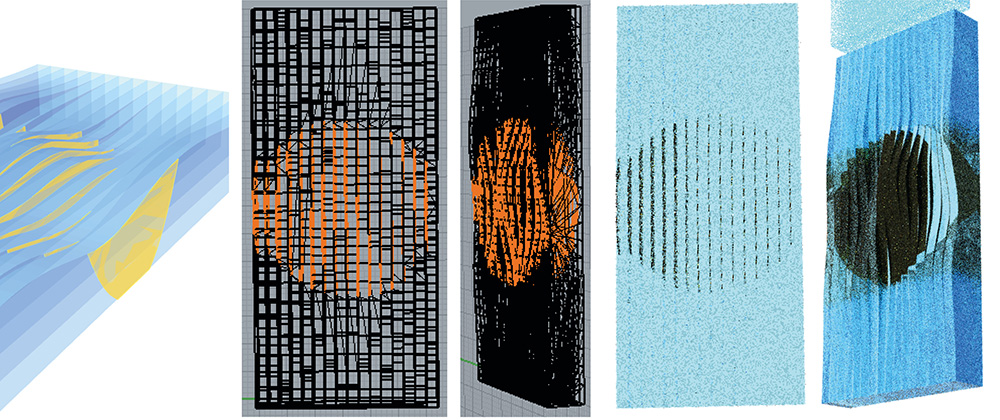 Sketchfab is great to have better results.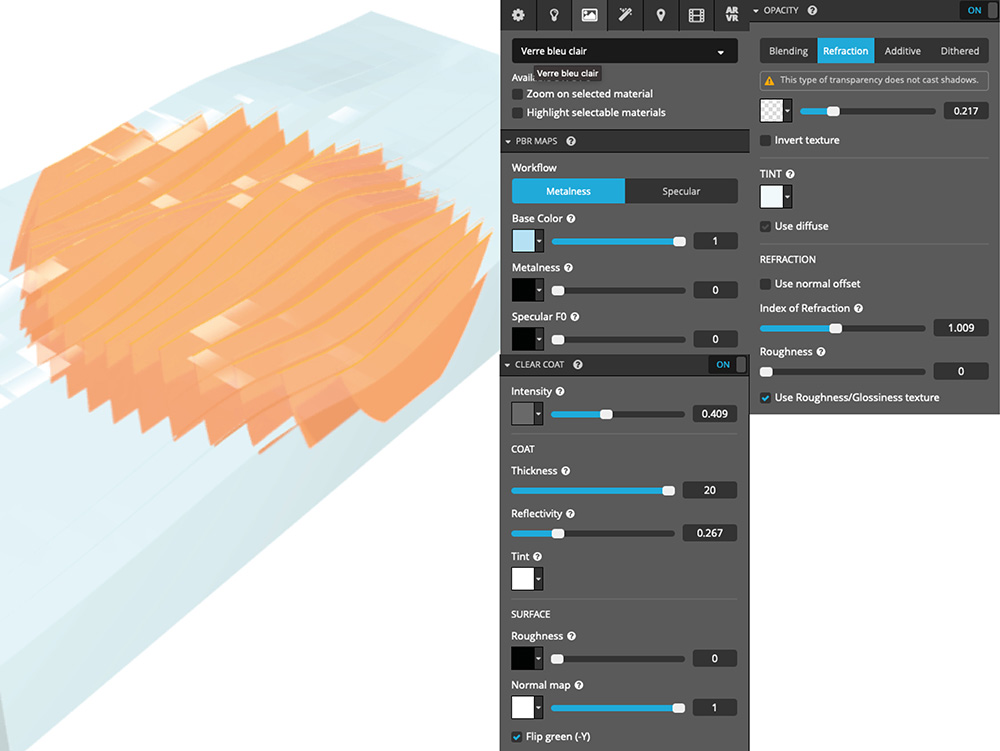 Cutting the glass¶
TO ARTICULATED STRUCTURES¶
Some mock-ups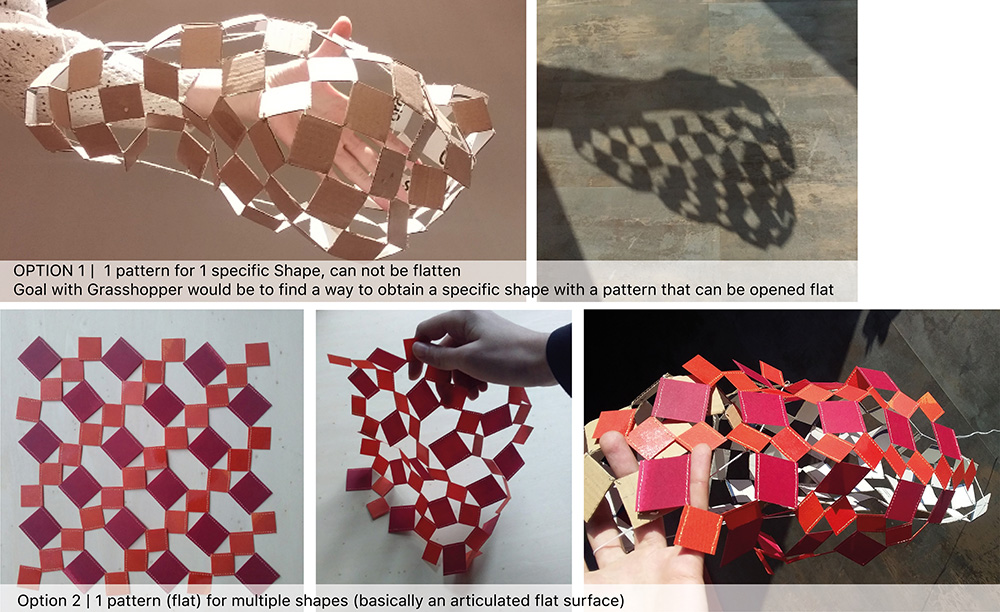 Moving illusions :
Static 3D Wavy Structure made of triangles
Moving 2D Auxetic Structure (can be opened/closed)
Shapes exploration with KangarooII¶
File : cc-tesselation-trianglesLM.gh (still need improvements)
Initial definition from Rhino Grasshopper -Tensile Structure Pavilion - Easy Kangaroo 2 & Weaverbird tutorial by ARKIM7 STUDIO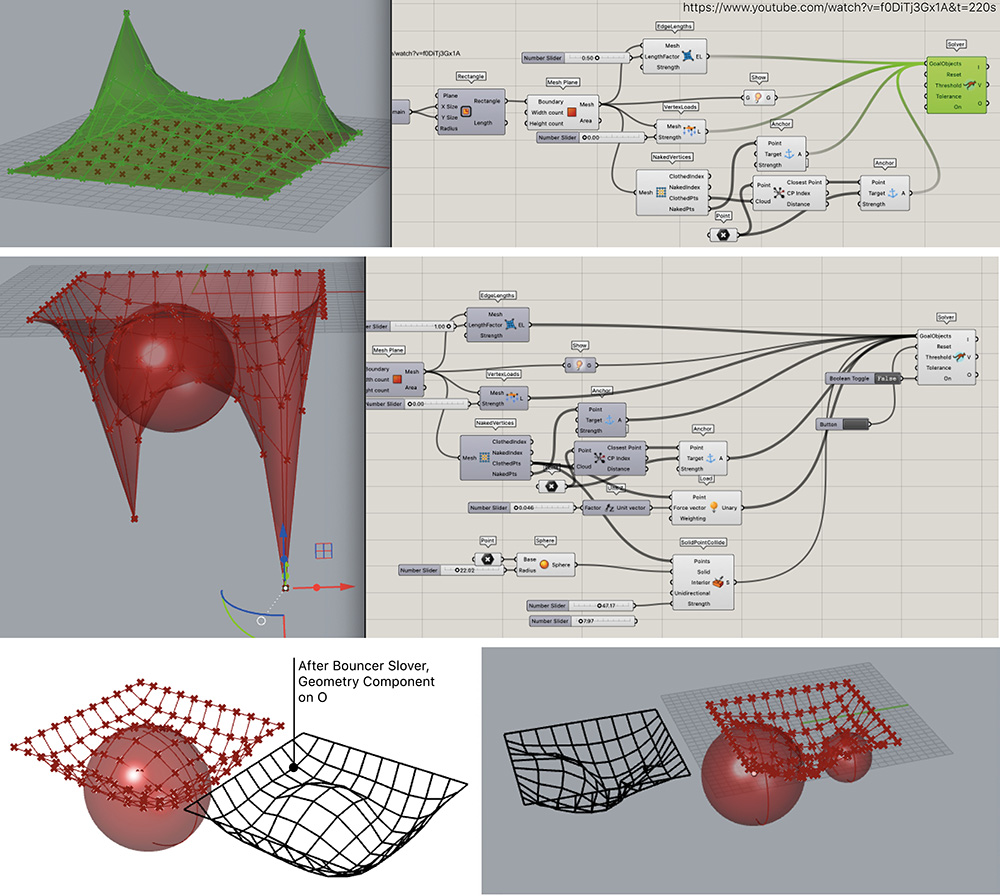 Applying a pattern on the surface¶
Applying a triangular grid to surface/mesh | As 3 points make a plane, triangles should be flat

Separating the grid with Checkerboard Components | Not working properly, still have triangles that are side to side (see red spots)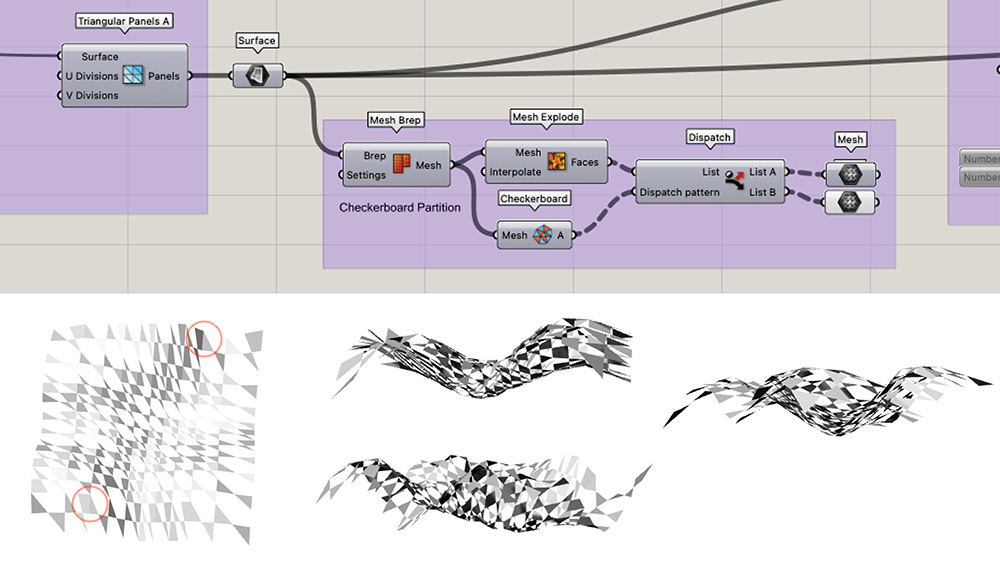 Obtain separated modules (with numbers) | Definition from Gediminas Kirdeikis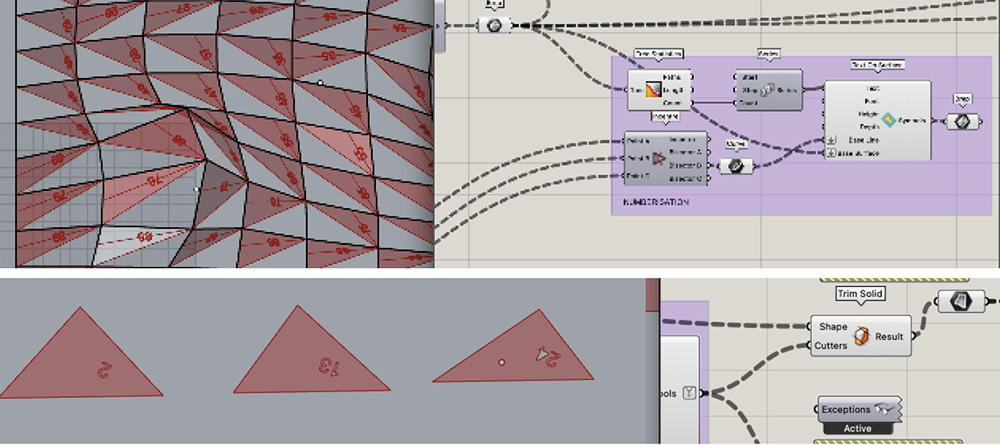 --> From those planar modules, the surface can be made and then crimped into a 3D printed frame like here
**Auxetic patterns¶
File : cc-auxetic-hexaLM.gh (different definitions, Auxetic 3 being the most efficient)

REFERENCES¶
---
Last update: 2023-02-03